10 Ideas to Start a SaaS Business in 2023
Software as a service, or SaaS, is one of the most promising business models in 2023. It's popular among entrepreneurs, investors, and customers alike. Learn about the most promising ideas you can tap into to build your own SaaS startup and make it successful.
SaaS market overview
Software as a service has become extremely popular in recent years, and both large companies and fresh startups are building SaaS solutions in all industries. For businesses, it's beneficial to use an off-the-shelf SaaS solution when the software they need is too large and complex to build on their own.
According to Statista, the market for SaaS solutions grew to almost $172 billion in 2022. 
The COVID-19 pandemic has only accelerated SaaS market growth, and according to Software Advice, SaaS products generate over $150 billion in revenue in 2022.
As you can see, out of all cloud services, SaaS is the most lucrative type a startup can build to generate revenue and bring value to other businesses or individuals.
In this article, I'll talk about all the ins and outs of building a SaaS business and the industries that have the largest demand for SaaS products. As all entrepreneurs know, the market is more important than the product itself, as the market dictates the demand. No product — not even the best and the highest-quality — can be successful if it's put in the wrong market.
That's why today I'll be talking mostly about what markets you can tap into and what SaaS ideas are definitely in demand in 2023. Everything else is in your and your development team's hands!
What is a SaaS business?
A software as a service web platform provides users access to functionality, tech support, and services according to a subscription plan. SaaS products are usually present on both web and mobile platforms, but mobile versions often have limited functionality due to the constraints of mobile app interfaces.
For example, it can be hard to perform some document management tasks on a small screen, especially when it comes to large spreadsheets.
How is a SaaS product different from a traditional software product from the perspective of a product owner? The main difference lies in the amount of customer support and maintenance you are expected to provide with a SaaS platform. You should always be there for your customers and make sure that your system is robust at all times, as any downtime or failure will hit your reputation hard. This is especially true for B2B SaaS platforms that businesses count on.
SaaS businesses take responsibility for handling and maintaining all the servers, databases, and infrastructure required for their products to run smoothly. Moreover, it's important to constantly add new features and functionality to a SaaS product and to monitor user behavior to find things that could be done more efficiently. This will help a SaaS platform bring constant value in return for the money customers pay monthly or annually. This is also why SaaS solutions can't be cheap.
The price of a SaaS subscription is based on multiple factors, such as the number of users with access to the account, the level of customer support, storage space, and additional services.
Now, let's talk about why starting a SaaS business is lucrative and beneficial and why SaaS is one of the best business models that works in multiple markets.
Why start a SaaS business?
Here are the main reasons you should consider building your own SaaS business for any target market.
Low initial investment
You can launch a SaaS business without needing to invest in expensive equipment and hardware. All you need is to develop the software. While doing so isn't cheap, it's still more affordable than setting up most other types of businesses that require large investments in real estate, equipment, and hardware.
Lots of options for an MVP
If you want to launch your product really fast according to the lean approach, a SaaS product is a good idea. It's easy to present a SaaS product to the public in lots of different ways, from a prototype to an ad campaign to cold emails about your offer and idea.
You can test the waters without even building an MVP just to analyze demand for your product and make sure you launch it in the right market and to the right target audience.
Predictable cost
The cost of developing a SaaS MVP is easy to predict because it's only the software you need to worry about. This means you can contact potential vendors with your idea, develop a detailed specification, and then ask for a quote to be able to choose the perfect option for you. This will allow you to calculate your project's cost. Not going over budget will be your vendor's responsibility once you sign a contract.
Easy to scale
SaaS products are relatively easy to scale up or down because doing so involves only the software (and probably your customer support staff). Otherwise, all you need to do for scaling your SaaS business is take care of the software aspect.
Easy to maintain
Maintaining a SaaS solution requires a systematic approach. With a SaaS product, maintenance will be the responsibility of your vendor who created the software in the first place. However, you can hire another team for maintaining the software at any time.
Maintenance and support is an integral part of any business and software product management, and since your SaaS business is solely based on software, that software is the only thing you actually need to maintain.
Ability to target any location
With the right technical solution, you'll be able to provide high-quality service for your target audience in any location. SaaS products can spread to any part of the world because they are located in a cloud.
Your marketing strategy will be the only thing that determines your growth in your target market.
Predictable revenue
Because SaaS businesses are usually subscription-based, you'll get a predictable revenue flow based on the number of users and their subscription plans. Scaling your revenue with a SaaS product is also easier than with a traditional software product because you need to provide the same service no matter how many users you have. You'll be doing more or less the same amount of work whether you have 100 or 10,000 users. The difference will only be in your customer support expenses.
Types of SaaS companies
Along with choosing a niche for your cloud-based app development, it's important to plan your SaaS business model. There are three main types of SaaS business models.
SaaS startup
A SaaS startup is a type of business that usually provides business process automation such as documentation management, data management, or team collaboration. Such platforms are relatively small and are often focused on a few crucial business tasks.
SaaS CRM startups
SaaS CRM startups help businesses interact with their customers and organize and automate communication for maximum efficiency. These are subscription-based companies that cover customer support, sales, and marketing.
Micro-SaaS startups
These are small SaaS companies that help businesses with specific tasks within a niche. This type of SaaS startup for beginners is perfect. If you're interested in finding micro SaaS ideas that don't require lots of investment in development, look at specific tasks businesses need help with on a regular basis. Micro-SaaS startups include SEO tools that help users perform keyword analysis and grammar checking tools.
Now that we've defined the types of SaaS startups in terms of their size, let's talk about the particular niches you can consider when building your cloud-based business.
Top 10 ideas for your SaaS startup
Let's now talk about the ideas for SaaS services, and how to find SaaS ideas in certain niches.
Property management
Property management involves lots of actors and lots of things to keep track of, such as legal issues, transactions, and contracts between landlords and tenants. Providing a SaaS platform for property management will make all these processes easy for everyone involved.
You can create a SaaS platform for both commercial and non-commercial markets and find demand. What problems does such software solve?
Real estate investors need to manage their property portfolios and deal with lots of property brokers at the same time. They should also keep track of the legal documents. Your SaaS product can help them keep track of all data about properties while carrying out financial transactions.
SaaS examples for property management include Appfolio and Buildium. The COVID-19 pandemic has increased demand for such services according to Buildium, and this demand isn't going away anytime soon. This makes property management one of the best SaaS business ideas in 2023 and beyond.
Workforce management
Managing employees has always been one of the pain points for large companies, but even midsize businesses need to keep track of their employees and build a system that will organize their work, schedules, qualifications training, payroll, and so on.
The pandemic has made workforce management even trickier since a large percentage of employees have started to work from home.
Marketing and sales automation
Any software that effectively helps other businesses increase their revenue will be successful. Marketing and sales automation software does exactly that: helps businesses build a system around their sales and marketing that's easy to sustain and support.
Marketing and sales automation SaaS tools allow businesses to integrate sales with marketing, analyze statistics, launch marketing campaigns, test new strategies, segment target audiences for a more personalized approach, and so on.
This category of SaaS businesses is by far the most lucrative and popular. This also means there's more competition, with large players such as Salesforce, Hubspot, Mailchimp, Klaviyo, and Everhour.
However, the demand for marketing and sales automation services is higher than ever as companies look for ways to sync their sales and marketing efforts and determine which particular strategies they should scale in order to maximize profits. A marketing and sales automation SaaS platform should have powerful analytics and lots of customization features that will allow each company to build its own marketing and sales system.
Freelance CRM
In 2020 and 2021, the growth of the freelance sector was unprecedented. During the pandemic, lots of people lost their jobs and moved online for new opportunities and sources of income. Many people took courses to improve or gain new expertise suitable for working freelance jobs.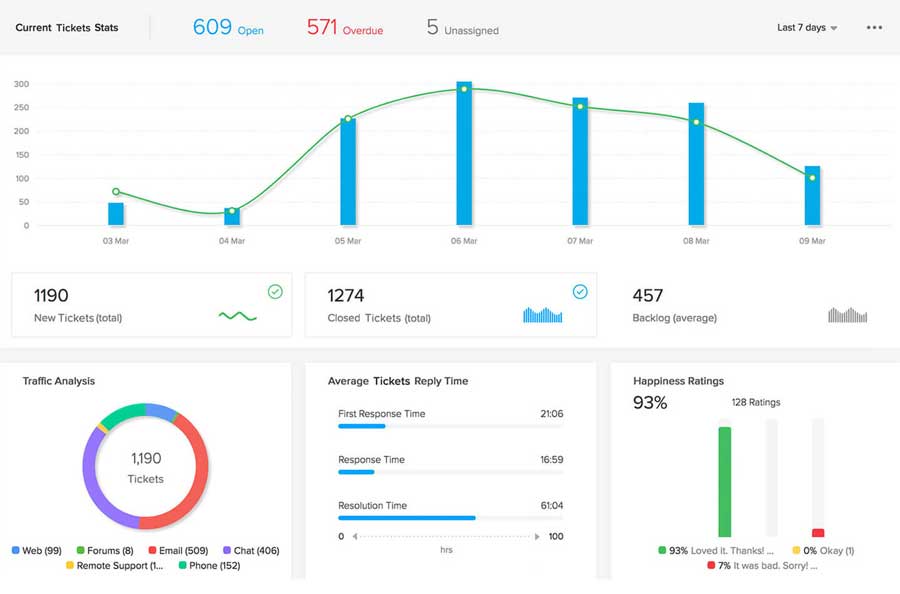 Long-time freelancers know that CRMs are an absolute must, as with high volumes of work and constant correspondence with clients, it's easy to lose track of things.
Freelance customer relationship management systems, or CRMs, help freelancers keep track of all their clients and orders on different freelance platforms, manage invoices and transactions, and organize their work schedules.
Because freelancers are self-employed, they need to do everything that usually requires a team, from marketing their personal brand to project management and reporting.
Zoho is one of the SaaS platforms for freelancers you can look up to.
Video rendering and editing
Video is the hottest content format in 2021 for marketing, social media, advertising, and education. One of the best ideas for a SaaS product right now is a video rendering platform. Your target audience would consist of designers, video editors, social media influencers, and marketers that need perfectly rendered videos.
It's time-consuming and difficult to get video rendering right, so you can add presets to make the process easy.
Online video rendering saves time and allows people with any kind of experience to get beautiful, high-quality videos. The market for video rendering solutions is not yet saturated, while demand is as high as ever.
Telemedicine
Telemedicine first appeared in mobile-first countries with poor access to healthcare. Mobile technology allows people from remote areas to get online consultations, check their health records remotely, and learn information about diseases and how to treat them.
Now, telemedicine is popular all over the world. People get prescription refills online, receive help remotely, and avoid overcrowding clinics during the pandemic. Clinics and hospitals, on the other hand, can use telemedicine to help patients who can't visit doctors in person as well as to expand their client base by providing online consultations.
SaaS telemedicine platforms for hospitals, clinics, and individual practitioners are in high demand. MDLive, PlushCare, and LiveHealth are the most popular telehealth applications on the market.
Corporate communication
The remote work trend is here to stay, and companies are looking for convenient and effective ways to keep communication between team members smooth no matter the distance.
Corporate communication tools are in high demand by companies of all sizes. However, to stay competitive as a SaaS platform for team communication, your product needs to be extremely feature-rich. It has to include text, voice, and video chats, group calls, video conferencing, file sharing, threaded discussions, and much more.
The biggest players on the corporate communication market today are Slack, Zoom, and Skype. Some companies prefer more niche platforms that provide extra privacy and security.
Social media marketing
Social media is a powerful tool for sales, marketing, branding, and customer relations. For businesses, social media is not about entertainment but about work, and in order to beat the social media game, businesses need to be present on all key platforms, be consistent with posting, and cater to the vibe and requirements of each platform.
It can be hard to manage posting schedules on different platforms while constantly generating content. Here's where SMM SaaS platforms come into play.
SaaS products that help companies organize and manage social media posts are in high demand. Such platforms need to integrate social media APIs and an auto scheduling feature — something that's rare among existing products.
Social media management SaaS platforms should also have powerful analytics so users can see what platforms are most effective and which content works best with their audience.
Blockchain invoicing
Blockchain-based SaaS products have yet to become mainstream, and while there are already a few products like this, you have a chance to become the leader.
Blockchain transactions will soon become part of most organizations, as this technology is already making its way into businesses in all domains and the blockchain market is growing rapidly.
Blockchain-based SaaS platforms will help organizations and individuals manage their blockchain transactions and integrate cryptocurrencies into their businesses.
Accounting
Some experts say that accounting jobs will be extinct in the next 10 to 20 years because technologies like AI and machine learning will be able to significantly automate an accountant's work. This makes accounting one of the best ideas for SaaS.
You can offer an accounting SaaS platform to businesses of different sizes, from individual entrepreneurs to small enterprises that need to calculate their taxes correctly.
Currently, there's already a large number of SaaS platforms for accounting, demonstrating the high demand. According to Fortune Business Insights, the accounting software industry will reach $20,000 million in 2026.
Final thoughts
In this article, you've learned about different types of SaaS businesses,SaaS project ideas, and how to launch a SaaS business.
Software as a Service is one of the best business models right now, as SaaS products don't require large investments in hardware and equipment and are easy to maintain and scale. Plus, if you have the right combination of connections and expertise, a SaaS product will be easy to market too.
Currently, the market of SaaS solutions is growing, with more and more industries benefiting from them. You can choose a niche with high demand and high competition, or you can do something more experimental like a blockchain SaaS product. However, there are lots of industries with a good balance of demand and competition.
If you want to create a SaaS platform, or need to know how to validate your SaaS idea, don't hesitate to contact us. We'll provide you with a detailed estimate and a quote for your project, or offer you more SaaS platform ideas. We'll also help you conduct market and competitor research. We've already created multiple SaaS platforms for clients in various industries.
Rate the article!
🌕 Cool!
🌖 Good
🌗 So-so
🌘 Meh
🌑 …