6 Steps for Creating an Agriculture App for a Farm Business (+ Popular Features)
Farming, which has existed since the dawn of humanity, is no longer considered as traditional and conservative as it used to be. Modern farming is digital, technological, and innovative; and with a growing number of people to feed, this trend is likely to continue. Mobile technology is already widespread in the agricultural industry, but there's still plenty of space for improvement. Let's see how to create an agriculture app that will optimize farming.
Farming app development: Trends and future
The main goal of agriculture app development is to optimize farming processes. Since most features for smart farming are already available on desktop computers and laptops, extending them to mobile devices is the next logical step, allowing farmers to use these technologies wherever they are.
Though there are already many digital products in the smart farming market, they don't nearly meet the demand, which continues to grow everywhere from the US to Asia and Africa. If you want to build an agri app, now is the right time.
According to Zion, the global smart agriculture market will grow from around $5 billion in 2017 to over $15 billion in 2025.
The biggest trend in the whole smart agriculture market is precision farming. Precision farming incorporates technologies such as the Internet of Things (IoT) and big data.
Managing data, flying drones, examining crops for diseases, creating farm maps for precision farming, and connecting with advisors — apps make all this available to any farmer on the go.
Agriculture development services
Are you planning to expand your agri business online? We will translate your ideas into intelligent and powerful farming solutions.
Types of farming apps
Technology has entered almost all parts of the agriculture production process: from seeding the crops to selling them to the end-user. Here are the types of farming apps that can help farmers grow their crops, take care of them, predict the environmental impact and track other parts of their farming business like cattle.
Weather forecast apps
Mapping
GPS tracking apps
Grain elevator apps
Ranching apps
Cattle management apps
5 best farm management apps 2021 to consider before developing an app
Here are a couple examples of the most popular and best farm management apps that lead the industry and set standards for future software products for agriculture.
Conservis – is a farm management system that allows to streamline the work process and uses powerful analytics to gather, store and analyse all the data in one place. It's basically a supply chain management system that shows you your whole workflow and alerts you if there are any bottlenecks in it.
SmartFarm – is a best weather app for farmers that uses AI, machine learning and Big Data to predict the environmental changes and your possible reactions to it. SmartFarm also stores all data in one place and analyses it.
Granular – provides financial insights according to data analysis, and unites farmers, advisors and operators in one platform for better team management. Granular's main focus is profitability and accurate financial decisions.
Agrivi – provides effective staff and resource management and allows creating clear and custom reports. Agrivi has a large database of different crops, pests and diseases, which allows you to prevent harm to your crops and predict your future harvest.
Agworld – is a cloud-based mobile farm manager app for collaboration – it allows quick scheduing and budgeting. Agworld has a set of features for precision agriculture, that helps all actors in the farming process work in one team for the best results.
Different farm management apps and agriculture startups are quickly adopting technology and use it in untrivial ways to optimise the work process for farmers. Let's have a closer look at them.
Agtech startups and how they use mobile technologies
The AgTech startups drive innovation and use all high-end modern technologies such as drones, DNA-sequencing, IoT technologies and tracking devices. Most of these AgTech companies use mobile interfaces to connect with their devices and gather valuable information.
For example, EarthSense uses an autonomous robot equipped with sensors and machine vision to gather information about crops and alert farmers if their attention is needed. Another AdTech company called Kray Technologies developed its own fully autonomous drone that brings fertilizers and pecticides directly to the crops.
Agriculture development services
Are you planning to expand your agri business online? We will translate your ideas into intelligent and powerful farming solutions.
12 most popular features for an agriculture app
There are so many kinds of agricultural applications that it's rather challenging to decide which features to include in your own app. Of course, the set of features you should include depends on the main goal of your app and on your budget. It makes sense to create an MVP and then add new features according to the demands of your target market.
According to a study by the University of Nebraska–Lincoln, the technologies most widely adopted by farmers for use in precision farming are soil sampling, GPS guidance systems, yield maps, and computers with access to high-speed internet.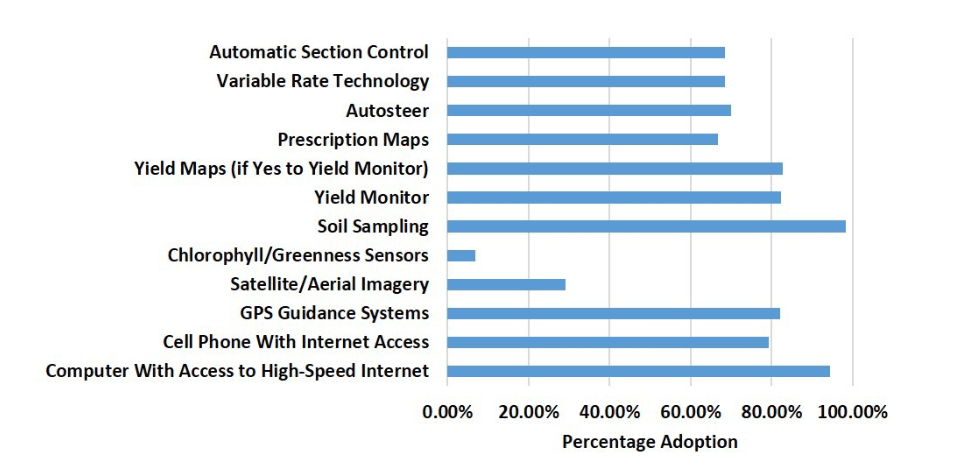 All a farmer needs to take advantage of these technologies is a smartphone with internet access and a mobile app.
Let's see how you can create an app for farming and what features you can include in your agriculture mobile application to make it a useful tool for farmers.
1. GPS and location-based services
It's hard to imagine an agriculture app for farmers without a map. Mapping allows farmers to use lots of location-based features, including tracking drone investigations and seeing local weather forecasts. A location-based service can also help to divide a field into polygons to investigate each one separately and to pin locations that need extra attention. With maps, farmers can also locate their specialty crops, pesticide applicators, and so on.
2. Integration with drones
Drones are becoming one of the most important and popular agricultural technologies. With drones, a farmer can see where crops are healthy and weak so they can make adjustments precisely where they're needed.
Thermal cameras on drones can help to detect water leakage and find out how much water crops get. Moreover, drones can spread pesticides and deliver soil samples to a farmer from anywhere.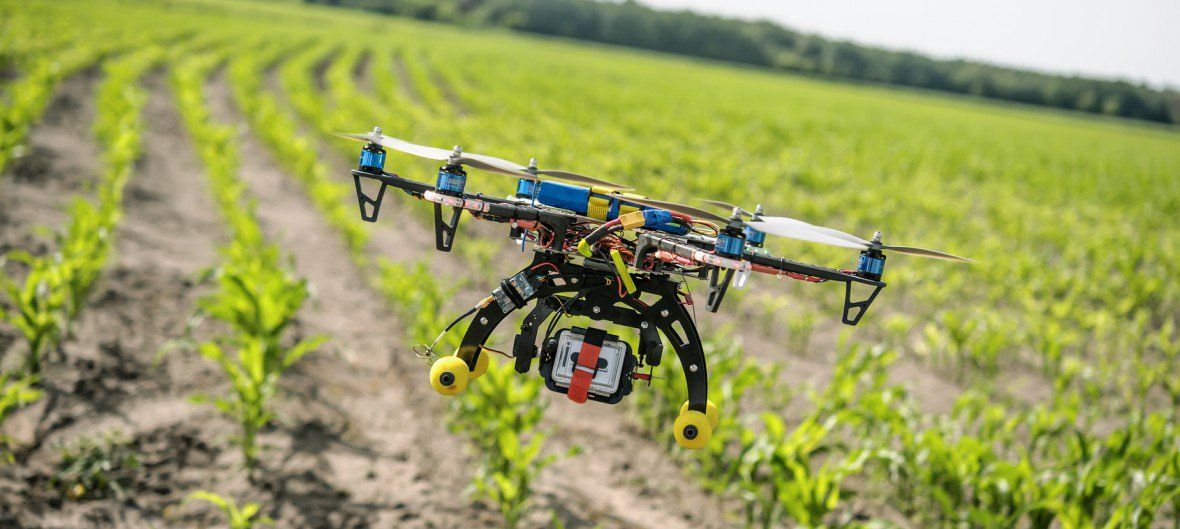 All this makes drones popular in agriculture. According to a forecast by the Association for Unmanned Vehicle Systems International, farms will eventually account for 80 percent of the entire commercial drone market.
However, drones are subject to some government restrictions. The FAA has mandated that drones may only be flown during the day and should be visible to the operator at all times.
3. Chat
As agricultural technologies become more and more complex, some farmers need advice when transitioning to more digital-oriented farming and trying out new technologies. This is what makes chat in farming mobile apps popular.
Advisor apps help to connect farmers to advisors and solve problems in a snap without having to be physically present on the field
An app called AgriSync connects farmers with advisors. Farmers can text their advisors and get an immediate response concerning their issue. AgriSync also features video chats, allowing advisors and farmers to have live video calls.
4. Broadcasting and video calls
Video streaming and broadcasting are also great features for an advisor app. They allow advisors to answer common questions and allow farmers to join live video sessions. Broadcasting also helps farmers share their experience and useful tips, creating a community inside your application.
5. Camera and machine vision
Some agriculture applications are centered around visual information and machine learning, which allows farmers to effectively recognize plant diseases at early stages, identify weeds, check nitrogen levels, and evaluate leaf damage. There are lots of open source libraries for machine vision – get help from professional developers to find out a perfect one for yourself.
All this is possible thanks to machine vision, which is based on machine learning. The biggest challenge in machine learning is getting enough data for the system to learn. However, there are ready databases of plants, their diseases and so on. You can use these databases and cloud based approach to build an agriculture application and help farmers.
6. Calendar
A calendar is important if you're creating a mobile app for managing crops. A calendar helps farmers schedule all their activities. A farmer can share a calendar with workers to keep processes neat and organized.
7. Push notifications
Push notifications are a must for any mobile application. They help farmers keep track of different activities they need to pay attention to, warn about any changes, emergencies, and new data, and remind about events planned in the calendar.
If you want to give even more information in your reminders, you can use rich push notifications including pictures and even maps.
8. Weather forecast
Though technology has made farmers less dependent on the environment, weather is still an important factor when it comes to growing crops. Weather forecast integration is a useful feature for an agriculture app. The key here is precise information that's constantly refreshed: every hour at least.
9. Listings of agricultural goods
Some applications are marketplaces for agricultural goods such as pesticides, seeds, and equipment. Agricultural marketplaces bring together consumers, dealers, and producers, allowing farmers to find the best deals.
In a marketplace app, each listing should have a photo and description of the product, delivery times, and so on.
Of course, if you want to create a full-fledged marketplace application, listings will be only one of the many features you'll need. To read more about features necessary for a marketplace, check out this article:
10. Payment gateway
If your application is a marketplace for farmers, it should have a mobile banking feature. Integrate a payment gateway for fast and easy payments.
11. List of diseases and treatments
If you want your app to be a useful reference for farmers, include a list of crops, possible diseases, and ways to treat them. This useful content can be an addition to a mobile app focused on machine vision or selling agricultural goods.
12. Analytics
Integrating analytics is a great decision for most agricultural apps that help with managing work processes. Analytics should be informative and give valuable insights on resources, crop health, changes in weather conditions, and so on.
When you make an app for agriculture, you need to remember about marketing just like any other app creator. You should also integrate other analytics for yourself to know how your app is doing. Analytics can show you how many users your app has, how much time they spend in your app, and what features they use most. This information can help you scale your application and change it according to market needs.
Steps to create an agriculture app
Creating a mobile app for agriculture is a complex process, and preparation is key.
Step 1: Vision and idea
First you need to formalize the answers to these core questions:
Who are your target users?
What is your target region or country? Which platform is more popular it this region – Android or iOS?
What problem will your app solve?
Who are your competitors? What can you do better than them?
How are you going to monetize your app?
After you've answered these questions, you'll need a technical specialist to translate your ideas into a defined set of features.
Agriculture development services
Are you planning to expand your agri business online? We will translate your ideas into intelligent and powerful farming solutions.
Step 2: Business analysis and technical specification
A business analyst is a professional with strong technical skills who is able to find the best technical solution for a real-life problem. Usually, the result of the business analyst's work is a technical specification: a formalized document that contains all details about the development process including features, deadlines, price, team members and more.
A technical specification is a result of business analyst's work. It will help you to develop a farm app, control the process, and test your project
A technical specification provides instructions for developers and serves as a guarantee for the client that they'll get exactly what they expect. If you want to create an agriculture app, this step is compulsory: it will help you to develop a farm app, control the process, and test your project.
Step 3: Pre-development stage
At this point, developers start to prepare everything for the project, from the backend and APIs to cloud storage, third-party services, and the app architecture. The preparation stage is one of the most important for a complex app because developers need to think ahead and create a foundation with future scaling in mind.
Step 4: Development and testing
At this stage, the farm app development starts. With a slight delay, the quality assurance team starts to test the application, feature by feature. Testing an agricultural application can be a challenge, as it's meant to be used outside in the field. That's why you need to make sure your team has experience testing products in real-life conditions.
Step 5: Deployment
This is when the world finally sees your app. Once your developers make sure the app meets all app store requirements, you're ready to deploy it and start getting statistics.
Your user acquisition strategy will depend on your target market. The best solution is to market your application directly to farmers with the help of traditional marketing and highly targeted digital marketing.
Step 6: Maintenance and support
Agricultural apps development doesn't end with deployment. No application can survive without constant maintenance. As new technologies and frameworks emerge and the world shifts to new operating systems, your app has to go with the times.
When you maintain your app after its deployment, you ensure it stays relevant and brings maximum value to your users
During the maintenance phase, you can also improve your features and develop new ones — or make slight changes to your project. This will ensure your app stays relevant and brings maximum value to your users.
IoT use cases in agriculture
1.Monitoring of climate conditions
Probably the most popular smart farming gadgets are weather stations that combine different smart farming sensors. Located across the field, they collect various data from the environment and send it to the cloud. The measurements provided can be used to map climatic conditions, select suitable crops and take the necessary steps to improve their productivity (for example, precision farming).
2. Greenhouse automation
Usually, farmers use manual intervention to control the greenhouse environment. The use of IoT sensors allows them to obtain real-time accurate information about greenhouse conditions, such as lighting, temperature, soil condition and moisture. In addition to collecting environmental data, weather stations can automatically adjust conditions according to specified parameters. In particular, a similar principle is used in greenhouse automation systems.
3. Crop management
Another type of IoT product in agriculture and another element of precision farming are crop management devices. Like weather stations, they should be placed in the field to collect data on specific crops; from temperature and rainfall to the water potential of leaves and the general health of crops.
4. Cattle monitoring and management
As with crop monitoring, agricultural IoT sensors can be connected to farm animals to track their health and record their performance. Livestock tracking and monitoring helps collect data on the health, well-being and physical location of livestock.
5. Precision farming
Precision farming, also known as precision farming, is about efficiency and data-driven decision making. It is also one of the most widespread and effective agricultural IoT applications.
Conclusion
There are many types of agricultural applications that solve different problems and help farmers work smarter and get great results with less effort. Though mobile software is used in many different ways in agriculture, there are some areas where agriculture app development appears to be particularly useful.
Online and offline software for drones, marketplaces, machine vision systems for disease management, and location-based apps are some of the current trends in the world of agriculture apps.
If you're consider entering this emerging market and you want to make your own farming app, you should start planning your application as soon as possible. You can visit this article to find out more about the work processes in Mobindustry.
Agriculture development services
Are you planning to expand your agri business online? We will translate your ideas into intelligent and powerful farming solutions.
Rate the article!
🌕 Cool!
🌖 Good
🌗 So-so
🌘 Meh
🌑 …