Best Sleep Tracker Apps of 2023: Features and Monetization Models
In this article, we talk about the sleep tracking app market, features, and monetization. Also, we provide you with a list of the best sleep tracker app.
Sleep tracker app market overview
The global sleep tracking app market is expected to grow at a significant rate between 2021 and 2025 according to a report by 360 ResearchReports. In 2022, the report expects the market will grow at a stable pace. By 2023, 360 ResearchReports forecasts 4.7% average annual growth for the sleep tracker app market.
Globally, the use of wearable sleep trackers is anticipated to grow over the next few years due to an increase in sleep disorders such as insomnia and sleep apnea. According to the American Academy of Sleep Medicine, about 30% to 35% of adults in the United States suffer from insomnia and about 10% suffer from chronic insomnia.
Sleep tracker app features
Onboarding
Keep your application as clear and simple as possible. This is important for any application, but it's especially important for sleep tracking applications. To present all of your app's functionality in a structured and user-friendly way, develop a tutorial that walks users through your application.
User profiles
A user profile in a sleep app should let users see basic information like their subscription plan, settings, personal stats, and session history.
Sound library
Most sleep apps have relaxing sounds to help users sleep better.
A sleep app sound collection usually consists of meditations, stories, soundscapes, and music. These collections are carefully curated to help users prepare for a good night's rest.
Statistics
Allow users to view statistics of their daily meditation progress. When integrated with wearable devices, your app can also display statistics on smartwatches and fitness trackers to demonstrate how a user's sleep quality improves over time. Personal statistics should be descriptive, so pay attention to how you present data and add animations.
Sleep tracking
Sleep apps provide users with a sleep tracking feature that monitors users' movements, heart rate, and other indicators. Sleep tracking apps are usually backed with scientific sleep analysis combined with audio recordings and heart rate analysis to give users a full picture.
User registration
Let your users choose between three methods of registration: registering via Facebook, Instagram, or other social media accounts, registering using an email, name, and other contact details, and registering via a phone number.
Push notifications
Use push notifications to improve user engagement in your app. You can use push notifications to notify users about the latest updates, chat invitations, and new messages.
Top 3 solutions to consider before creating a sleep tracker app
Unlocking a wide range of options
Sleep tracker apps help users track their sleep cycles, make note of dreams, improve bedtime habits and sleep patterns, and wake up better with smartwatches. They offer users an easy and fun way to sleep better with a simple tracker, sleep timer, and sleep clock.
Sleep cycle apps offer a wide range of features, including:
Sleep monitoring
Airplane mode
Sleep timers
Caffeine and alcohol consumption trackers
Exercise information
Stress level monitoring
If you're planning to build one of the best sleep apps, you may want to consider giving your users a variety of ways to easily track their sleep patterns and improve their sleep quality. In addition, you might consider providing access to long-term sleep tracking, graphs, and charts that show users' sleep trends.
Technology solutions for a power nap
To create the best sleep monitoring app, you need cutting-edge sleep technology. To improve the quality of sleep, sleep tracker apps listen for users' movements during sleep with a microphone. Sleep tracking apps calculate sleep metrics based on total sleep time and nighttime movements.
If you're planning to build a successful sleep tracking app, you need to think outside the box and should hire a professional iOS / Android app development company that understands your users' requirements.
One-stop solution for every age group
Sleep monitoring apps make it easy to track sleep patterns and suggest ways to improve sleep quality. As a startup, you can provide an easily accessible app that helps users in any age group overcome sleep deprivation.
All you need is a platform in the form of a sleep cycle app that's easily accessible to all age groups, including teenagers, older adults, and children.
Your app users shouldn't need to go to any other platform to track and control their sleep. Allow users to track their sleep over the long term, see sleep trends, view graphs and charts, and analyze their sleep to learn and improve their sleep quality.
Four steps to developing a sleep tracker app
Here are four steps to bring your sleep tracker app idea to life and simplify the development process.
1. Research your app's target market
When developing a sleep tracker mobile app, the first thing you need to consider is your target audience. Understanding your users' needs makes development easier and leads to a better final product. Find out as much as you can about your potential users. You can start by researching the following:
Demographics. Find out the average age of your users, where they live, what devices they use, and so on.
Behavioral trends. Find out what decreases a user's desire to download an app, your users' security expectations, and so on.
To develop an amazing mobile application, we suggest creating a user persona, or a detailed portrait of your ideal user.
2. Choose a monetization model
The next step is to choose the right monetization model for your mobile application. Now that you know your users' needs, you can predict what your users will pay for. Here are three monetization models to choose from:
Paid. This monetization model is straightforward: users pay once to access your app.
Freemium. With this model, users can download your app for free. They can then pay to upgrade their accounts or use premium features.
In-app purchases. With in-app purchases, users can pay for different items, features, or content inside your app.
Advertising. You can choose one of the following ad options:

Cost per click. Charge advertisers every time a user interacts with their ads in your app.
Cost per mille. Charge advertisers for every 1,000 ad impressions in your app.
Cost per action. Charge advertisers only when users complete a target action, such as installing an app or signing up for a newsletter.
3. Hire an app development team
The third step is to find a development team you want to work with. The first phase of development will include business analysis, developing a technical specification, estimating the development cost, and planning the project. Before diving into the actual development of your sleep tracker mobile app, you and your team should set up an app development workflow, choose the main features for the app, and design an app concept.
Then your development team should create project milestones and start working on the minimum viable product, or MVP.
4. Create an MVP
Creating a sleep tracker app is a complex project. We recommend launching a minimum viable product first and testing its technical and business performance. By using an MVP approach, you'll be able to find out what users like and don't like in your app. Then you'll be able to consider their feedback and improve your app.
How much does it cost to build a sleep tracker app?
The cost of developing a sleep tracker mobile app depends on these factors:
Product features
Product design
Hourly rate of your development team
Project size and complexity
Technology stack
Number of team members on the project
Time frame
The biggest factor that influences a project's cost is the hourly rate of developers, and that often depends on their location. For example, an application that costs $40,000 to build in the US will cost around $9,000 if developed by engineers in Ukraine.
Developing your project with a company based in Eastern Europe is cost-effective and gives you access to top talent.
10 best sleep tracker apps in 2023
#1 Sleep Time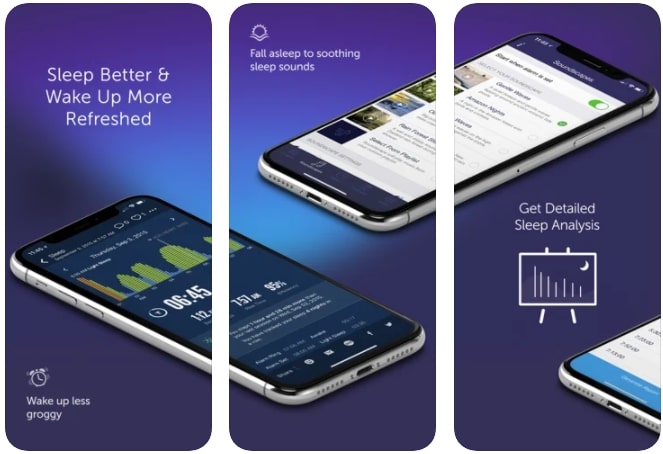 Sleep Time uses an accurate state-of-the-art sleep analysis algorithm to provide a complete overview of users' sleep patterns. The app tracks users' movements throughout the night and generates personalized data about sleep cycles in easy-to-read graphs and charts.
The Sleep Time smart alarm learns to wake users up at the ideal moment during their lightest sleep phase for maximum recovery. According to Sleep Time, when people wake up during deep sleep, it takes their body more than an hour to fully awaken, leaving them feeling drained.
Environmental soundscapes such as soft waves and rainforest storms help users quickly get swept away. The Insights dashboard provides a comprehensive report on a user's sleep state, revealing patterns and trends in variables that affect sleep.
#2 Pillow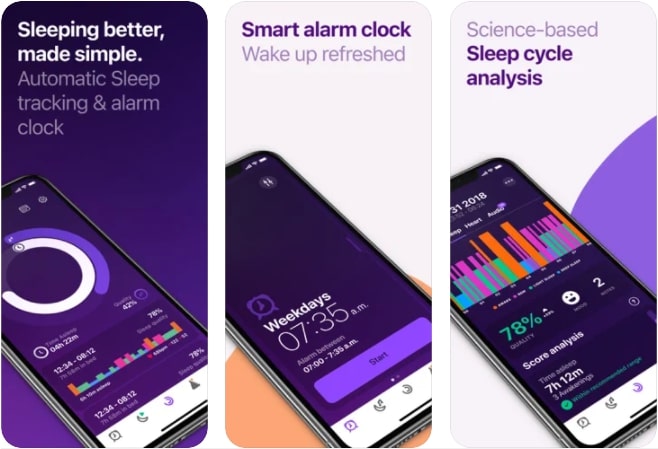 iOS: Free
Pillow is an advanced sleep monitoring and analysis app with a clean, inspiring design and an intuitive gesture-based interface.
Based on the latest sleep research, Pillow's advanced algorithm uses motion and sound detection to create a complete picture of users' sleep sessions. The detailed sleep stage chart displays wake time, REM sleep, light and deep sleep phases, and statistics on sleep sessions.
Pillow is fully integrated with Apple Health to help users better understand their sleep. The Pillow app visualizes health and fitness metrics including weight, blood pressure, heart rate, calories, and caffeine and alcohol consumption to show how they affect sleep quality.
#3 Sleep Cycle
Android: Free
iOS: Free
Sleep Cycle ranks #1 on the list of best sleep tracking apps. It's an extremely useful application with an intuitive interface that collects a lot of important sleep data.
Sleep Cycle monitors and analyzes users' sleep patterns. Users can choose a wake-up time and the app will gently wake them during the lightest phase of sleep so they get up refreshed and ready for the day ahead. The app uses a phone's microphone to detect movements while users sleep by analyzing sound and vibration.
Sleep Cycle analyzes data to determine if users are in light sleep, deep sleep, or in a sleep state known as random eye movement (REM).
It also determines the optimal time for users to wake up within a 30-minute window. The statistics panel in Sleep Cycle displays graphs and analysis of a user's sleep phases, while the Trends panel displays the sleep quality percentage and sleep and wake times. Users can even detect, track, and measure snoring.
The developers of Sleep Cycle continue adding features to improve the user experience, the latest of which is the ability to detect snoring. The app has its own patent on sleep tracking technology and has been featured in some major health and lifestyle publications.
#4 Sleep Score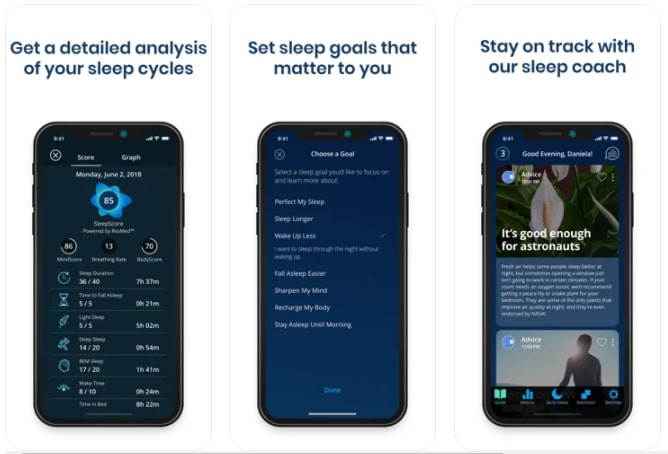 Android: Free
iOS: Free
Sleep Score is one of the best sleep tracking apps on the market, and the technology behind it is well researched and based on science. The Sleep Score creators claim they've spent years researching and studying several sleep models to make their app as useful as possible.
The Sleep Score team has developed their own "sleep score" based on six sleep parameters, and the Sleep Score app provides personalized recommendations for improving sleep. The app is also advanced enough to detect if two or more people are sleeping in the same bed. You don't need to put accessories under the bed for the app to analyze sleep patterns.
In addition, Sleep Score sells accessories that can analyze the lights and sounds in a room to better understand users' sleep patterns. Users trust this app based on science and structured data to help them track and control their sleep — and ultimately sleep better.
#5 Digipill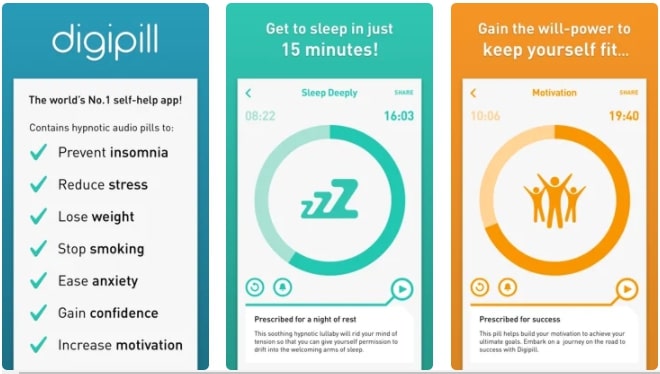 Android: Free
iOS: Free
Digipill is an app for relieving insomnia, minimizing stress, and increasing motivation and relaxation. Digipill wins for innovation, using a formulated blend of language and sound to engage and energize the mind, change users' thinking, and promote well-being.
Users can choose a sound pill according to their needs, relax with high-quality headphones, and close their eyes. The first pill is free. Additional pills can be purchased at the pharmacy, or users can get unlimited access to all pills by signing up for repeat prescriptions.
Each pill takes about 30 minutes to work and is called Deep Sleep (for a night's rest), Peace of Mind (to reduce anxiety), and Power Nap (for a refreshing sleep). Whether users need to calm down, find motivation, or unwind before bed, Digipill has a tailor-made approach for them.
#6 Pzizz
Android: Free
iOS: Free
Pzizz is an intense sleep system that sends users to sleep at the touch of a button. The application helps people "fall asleep and wake up refreshed."
Pzizz uses the science of psychoacoustics, which is a branch of psychology that studies the perception of sound and its physiological effects. Through clinical research, Pzizz has developed sound sequences and dynamic dream landscapes tailored for each part of the sleep cycle.
The sleep-optimized combination of sound effects, music, and voice-overs soothes people's minds and sends them to sleep at the optimal time so they feel refreshed the next morning. Pzizz invites users to sleep with the app for seven days before upgrading to the premium version for an "unforgettable sleep experience."
#7 Noisli
Android: $1.99
iOS: $1.99
Noisli exudes relaxation, using ambient sounds and colors to induce serenity. It also removes distracting background noise to improve concentration and productivity while working or to create a calm sound environment for yoga, meditation, and sleep.
Noisli lets users mix their own sound combinations. Users can combine echoes of rain, wind, thunderstorms, foliage, and waterways with the bustle of cafes and white noise to create the perfect stress-free atmosphere and can save their favorite combinations and share them with friends and colleagues.
The built-in timer can be used as a countdown to take a nap or fall asleep. Besides helping users overcome insomnia, Noisli can help users reduce stress, relax while reading, and relieve headaches and migraines. For parents, it can help their children sleep better.
#8 Sleep Genius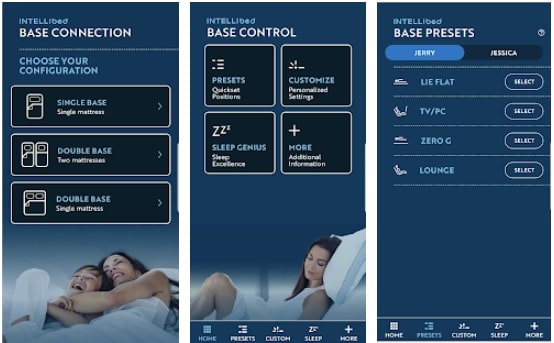 Android: Free
The developers of Sleep Genius claim that it's the best and most advanced sleep tracking app in the world and has been approved by NASA scientists. The Sleep Genius app is created by experts in neuroscience, sleep, and music to provide you with an app that not only tracks your sleep patterns but helps your brain relax and sleep well.
The Sleep Genius app has a variety of programs that users can customize according to their preferences and daily routines. These include sleep modes, cyclic alarms, relaxation programs, and naps.
Sleep Genius has also released IoT devices that help people create an ecosystem that promotes a good night's sleep.
Sleep Genius is based on research into what helps astronauts fall asleep. It will most likely benefit users and help them improve the quality of their sleep.
#9 Sleep as Android
Android: Free
As the name implies, this application is designed exclusively for Android users. Sleep as Android is on this list because it has nearly 250,000 reviews on Google Play, giving it 4.3 stars.
The Sleep as Android app uses advanced technologies such as motion sensors and sonar to detect movements and patterns while users are sleeping. It also comes with a smart alarm that won't turn off unless users complete tasks.
This sleep tracking app, compatible with various smart devices like Samsung Health, Google Fit, and Fitbit, is a must for Android users who want to improve their sports performance.
#10 Relax & Sleep Well
Android: Free
iOS: Free
Relax & Sleep Well is the work of clinical hypnotherapist and bestselling self-development author Glenn Harrold. This application will help you get rid of anxiety and teach you about healthy sleep.
Relax & Sleep Well includes four free stress relief recordings with hypnotherapy and meditation. Another 80 highly acclaimed Harrold recordings are available as in-app purchases, covering topics such as insomnia, anxiety, weight loss, mindfulness, confidence, and self-esteem.
Each hypnosis track includes background sound effects specially selected for their key and frequency to immerse you in a deep level of relaxation. Harrold's soothing voice combined with subtle soundscapes will immerse you in a dreamy and quiet state.
Quick summary of developing a sleep tracker app
A sleep tracker app can be successful and bring a lot of value to you as a business owner.
Key takeaways:
The global sleep tracking app market is expected to grow at a significant rate between 2022 to 2025.
Keep your application as clear and simple as possible. To present all of your functionality in a structured and user-friendly way, develop a tutorial that walks your users through your application.
When developing a sleep tracker mobile app, the first thing you need to consider is your target audience. Understanding your users' needs makes development easier and leads to a better final product.
Find an app development team you want to work with. This team should create project milestones.
Launch a minimum viable product first and test its technical and business performance.
Developing your project with a company based in Eastern Europe is cost-effective and gives you access to top talent.
If you're planning on building a sleep tracker app, you may want to consider giving your app users a wide range of options for tracking their sleep patterns and improving their sleep quality.
If you want to create a sleep tracker app but don't know where to start, contact Mobindustry for a consultation.
Rate the article!
🌕 Cool!
🌖 Good
🌗 So-so
🌘 Meh
🌑 …