Digital Trends in European Retail: Market Overview, Technology Challenges, and Use Cases
Digital transformation is an inevitable part of growth for almost any business, and modern retail needs it more than ever. People increasingly shop online and use mobile devices to search for products and deals, and the pandemic has only accelerated the growth of online retail
Ecommerce market overview
In recent years, ecommerce has become an integral part of the global retail economy. The digital disruption in retail industry caused traditional retail to transform dramatically with the adoption of new technologies and retail app development, and now both consumers and retailers are reaping the benefits of online retail.
Retailers are adding technology to the offline experience and opening new channels of revenue with online stores, digital payments, and other products of innovation in retail industry. Ecommerce isn't merely about building an online store. It's about building an entirely new experience and multiplying the value consumers get when buying products.
In 2021, the number of digital buyers globally is expected to surpass 2.14 billion.
According to Statista, in 2020, over two billion people made online purchases. The same year, ecommerce sales exceeded $4.2 trillion worldwide. In 2021, the number of digital buyers globally is expected to surpass 2.14 billion.
eMarketer predicts that by 2024, ecommerce sales will reach over $6 trillion worldwide. Many offline retailers have already felt the change. In 2018, only 13% of global retail sales were made online. In 2021, this number was expected to be almost 20%, and by 2026, 46% of all retail sales are expected to happen online.
The countries with the fastest growth in digital retail sales are Argentina, Canada, Singapore, and Mexico. In 2020, European countries also experienced significant growth in online sales.
eMarketer supports this data with their own research that shows a significant increase in online sales in Latin America and North America as well as in all parts of Europe.
As you can see, growth in online sales is happening in almost every part of the world right now. In this article, I'll answer the question "What is retail transformation?", and focus on European retailers that are now seeking ways to offer new sales channels to consumers, increase online order sizes, expand their audiences, and make their businesses more profitable and effective.
Europe is now adopting retail practices from the United States and China, which remain the worldwide leaders in online shopping. Here, you'll learn about ways to digitally transform your retail business and find out about the technology challenges in the retail industry and use cases of technology in retail.
Main drivers for retail digital transformation
Digital transformation doesn't happen overnight and requires lots of resources, structural changes, new staff, and definitely a lot of investment. Is it worth it? Before you start expanding your business to the digital realm, you need to know what you'll get out of it.
Let's look at the main innovation drivers in retail industry and the reasons businesses have started to transform their operations. You'll learn how you can adopt IT solutions for the retail industry and benefit from them.
Customer expectations
Customers now expect retailers to have digital means of communication, shopping, and delivery. They're used to ordering online, checking prices in their mobile apps, and getting an overall omnichannel experience when shopping.
This means that the shopping experience on your website, in your mobile app, and in your offline store should be interconnected and consistent. However, each channel should have its own unique perks and cater to different audiences that are used to shopping in a certain way.
Competition
Along with customers that expect online shopping possibilities from retailers, competition plays an important role. Once your competitor builds an ecommerce website or mobile app, they're already ahead of you, getting access to a larger audience and opening new sales opportunities.
Competition is a serious driver of digitalization in retail industry, as retailers who leverage online shopping are not only benefiting from new sales opportunities but also get more data about their customers and make their offers more personalized, which inevitably drives sales.
Supply chain complexity
The COVID-19 pandemic has disrupted the supply chain for many businesses and showed how crucial it is to have a solid supply chain and software that will help to mitigate risks.
Modern customers expect fast delivery and product availability, so if you run out of products and don't deliver them fast enough, you'll lose money. Retail store digital transformation helps them manage their supply chains, avoid overproduction or underproduction, and predict demand to match it with supply.
Need for personalization and better marketing
Retailers who provide personalized approaches to their customers beat the competition, as they offer exactly what their customers need. The key to personalization is data, and it can be acquired through digital channels with advanced analytics.
Through your ecommerce app or website, you can track user behavior, see what products are most popular among particular groups of users, and then automatically modify your offers according to users' preferences. This increases conversion rates and sales.
COVID-19 uncertainties
The world of retail changed when COVID-19 forced more people to shop online and give preference to physical shops with contactless technologies. Currently, offline stores are taking advantage of IoT technology that allows them to not only make shoppers feel safe but also to collect more data about shoppers, save money, and measure the effectiveness of each store.
Net zero retail
The EU passed a European Climate Law whose main goal is to lower CO emissions by 55% by 2030. Retailers will need to adapt their operations, production, and supply chains to comply. To do so, they'll need digital solutions for monitoring data about CO emissions for each group of products.
Legacy systems
Digital transformation is required even by retailers who already use software. Some retailers are facing challenges with legacy software that can't keep up with the growing demand for new technologies to increase efficiency. Old digital retail systems are hard to integrate with new technologies like contactless payments or new sales channels like ecommerce mobile apps.
Challenges of retail digital transformation
Most retailers rank digital transformation as their first priority, but the digitization of processes often ends up delayed. Let's talk about the hardships you may encounter when digitally transforming your retail business.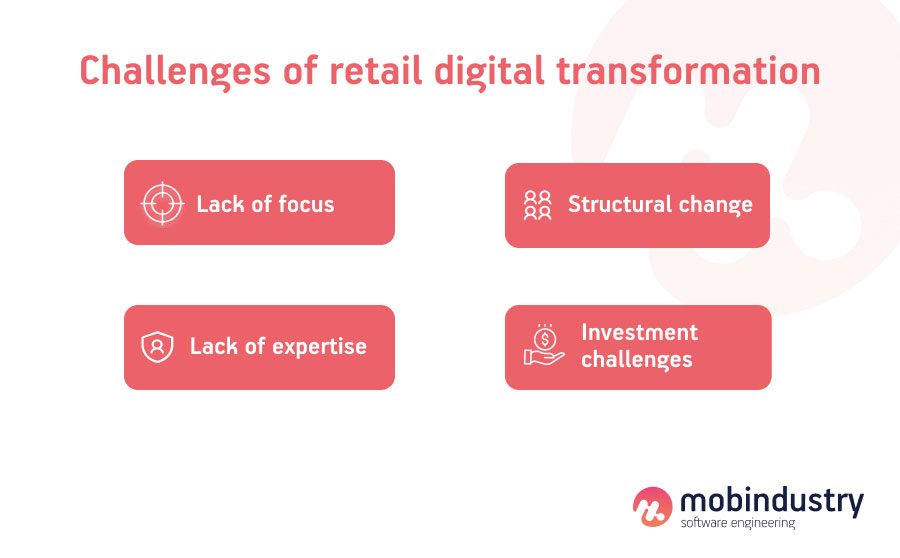 Lack of focus
The ultimate goal of any retail business is to increase sales and revenue. However, there are many steps you need to take to achieve this. Retail business transformation can do lots of things to your business, helping you:
Manage customer data
Automate business processes
Make personalized offers based on data
Manage the supply chain
Track user behavior
Automate order management
Increase brand awareness
As you can see, there are lots of things you can achieve and all kinds of KPIs you can track. It's easy to lose focus when you try to choose the best retail technology technology for your business.
The key to solving this problem is prioritizing. With time, you'll be able to build a system that will achieve all the goals you set, but you need to start with something small to be able to assess all the risks, pick the right technology, and successfully scale it.
Structural change
Digital transformation comes with lots of changes within your retail company, and all departments, stakeholders, employees, and organizations should be on the same page. You'll need to adopt new practices into your daily operations to make your digital retail system work.
Your digital transformation will most likely require training, structural changes, and opening new departments. It's extremely important to determine the responsibilities of each actor and make sure everyone in your company knows their roles.
Lack of expertise
Technical and business expertise in the digital retail domain is crucial for the success of your digital transformation. Sometimes, businesses get software created for them but don't know how to integrate it into their business processes and operations, or they don't know how to support it over time.
Before adding a digital layer to your retail business, you need to figure out what you will do in-house and where you need external support. Don't hesitate to involve third-party technical experts, get consultations, and seek outside training.
Investment challenges
Digital transformation requires significant investment, and many retail businesses operate on low margins, which makes it difficult for them to make a large investment at once. The lack of free funds that can be allocated to development can lead to delays and a pushback from leadership.
Before you plan your digital transformation, you should ask a few development companies for quotes to find out how much your software will eventually cost so you can plan your budget.
Digital transformation trends in retail and use cases for 2021
Mobility is a standard
Just 5 to 10 years ago, having a mobile application as a retailer was something unusual and was a serious competitive advantage. Today, people expect you to have a mobile presence, and inconvenient mobile websites don't cut it anymore. Even small businesses are using mobile app builders to get access to mobile audiences, as the mobile retail industry becomes more successful and widespread. Large retailers build custom mobile applications and add unique features that enhance the customer experience:
QR code scanners
Augmented reality
Gamification
Personalized push notifications with special offers
Location-based push notifications
Chatbots
Voice search
Mobile loyalty systems
Image recognition
Mobile payments
…and more.
According to OuterBox, 80% of consumers use their mobile phones in stores to compare prices, read reviews, or find alternative stores, and 90% of consumers check out products online before visiting a physical store. These changes in customer behavior cause further retail industry digital transformation.
In 2021, mobile sales are expected to make up almost 54% of all ecommerce sales. Worldwide mcommerce sales are projected to reach over $3.5 trillion by the end of 2021, 20% more than in 2020.
As you can see, having a mobile application is not only expected of retailers but is very beneficial for a business, as it opens a new sales channel, provides more data about customers, and allows for more personalized and targeted marketing.
Contactless technologies
Contactless technologies were becoming more common in the retai sectorl before COVID-19, but the pandemic has boosted demand. These technologies include:
Brick-and-click
Manual checkout
Empty tray detection
Scan and go with mobile
Tesco has implemented mobile scanning and manual checkout with a Scan as you shop feature. Now, Tesco customers can take scanned items from a Tesco store and pay for them with a digital cart or e-wallet. They can also scan discount coupons and vouchers that Tesco provides based on a customer's individual preferences.
Our Mobindustry developers created a Scan and Go app concept that allows retailers to speed up the purchase process in brick-and-mortar stores with contactless payments and allows consumers to scan products without queuing and order groceries from home.
Some retail companies like Schwarz and Edeka are creating their own IT departments. However, building a digital presence requires lots of resources, and outsourcing development can save both time and money.
Grocery delivery
Grocery delivery became especially popular during the pandemic, as many offline shops were closed and people had limited access to grocery stores that remained open. Grocery delivery became a way to provide customers with necessities while also keeping revenue coming in.
Even after the pandemic ends, grocery delivery is likely here to stay, as many people are already used to the convenience of online grocery shopping. According to Statista, by 2024, online grocery shopping sales will reach over $187 billion, while in 2020 they amounted to only $95 billion.
Retail businesses like Tesco, Carrefour, and Aldi reacted fast to COVID-related changes by creating new or improving existing grocery delivery services. You can do the same and attract new customers that are used to ordering groceries instead of shopping themselves.
Tesco has a grocery delivery service that's available on their website and in their mobile application. This convenient service allows Tesco to retain customers and get a steady revenue flow even during lockdowns. But even after the pandemic, the habit of ordering food online is here to stay.
Mobile-based payments
Mobile payments can be remote or proximity payments, made either through a payment gateway like Braintree or Stripe or through NFC at the point of sale.
Mobile payments are extremely convenient, as they allow consumers to pay with digital wallets and not carry cash or credit cards with them. Mobile payments are also fast, helping to reduce the checkout time.
Additionally, mobile payments provide extra security with technologies like tokenization, encryption, and biometric authentication. All this allows users to protect their sensitive information.
Loyal customers will come to you again and again, especially if you reward them with special offers, bonuses, or discounts for using mobile payments
For you as a retailer, mobile payments are also beneficial. First, the operating costs are lower for accepting mobile payments compared to other types of payments. You still need to pay a fee to a payment processor, but it's often cheaper than paying credit card fees and handling the paperwork that comes with all the physical receipts.
You also increase your store's competitiveness when you offer mobile payments, as they're just more convenient for users. Loyal customers will come to you again and again, especially if you reward them with special offers, bonuses, or discounts for using mobile payments.
Reverse showrooming
Reverse showrooming is when users check out products online before going to offline stores. This is why having a digital portal where you can showcase your products is extremely important. Your customers will be most interested in comparing product characteristics and prices and reading reviews, so make sure your online store has all this information.
Personalization
Personalization is the largest driver of both online and offline sales, but it's only possible with the power of analytics and big data that comes with ecommerce solutions.
But personalization isn't limited to online stores. You can use technology to personalize in-store experiences as well. Here are some options:
Upsell and cross-sell
Many online shoppers come to offline stores to collect their online orders, and a large percentage of them make additional purchases when there. Retailers now use in-store beacons to notify staff that an online shopper has entered the store, and this helps staff to recommend products related to those the shopper has ordered and to hand over online purchases faster. Buy online, pick up in store has become a great upsell strategy for retailers.
Location-based marketing
Some retailers see online stores as rivals to offline shopping, but in reality they often work together, complementing each other. Location-based marketing is one of the latest trends in ecommerce. How does it work?
When your customer who has your mobile app walks in close proximity to one of your physical stores, they get a notification about special offers and discounts at that particular store. The challenge of this feature is to get permission to track a user's location. But if you show your customers the perks of sharing location information, you'll be able to increase your reach and also gather more information about your customers.
QR or barcode scanners
Allow users to find more information about your products in-store with the help of QR or barcode scanners built into your brand's mobile app. Remember that 80% of users check information online while in a store, so you can make doing so easier for them.
Voice commerce
Voice assistants like Google Assistant, Siri, and Alexa are gaining popularity and are widely used for shopping. To make your customer experience inclusive, you need to integrate your ecommerce app with voice recognition so your customers can make purchases without a screen by just using their voice.
You should also support smart speakers so your customers can add products to their carts, place orders, and manage them just using their voice. Walmart's Voice Ordering is a perfect example of voice recognition in ecommerce.
Machine learning and forecasting
Predicting demand is a crucial part of a modern data driven retail, and the best technology that helps with that is machine learning and artificial intelligence. Special algorithms analyze previous fluctuations in demand as well as other data on customer behavior and allow you to accurately predict future demand.
This in turn helps you to plan inventory and manage suppliers, logistics, and marketing. Amazon, Asos, Macy's, and other large brands already use machine learning to predict demand.
Chatbots
One of the downsides of online shopping is the absence of consultants who can suggest the best product options or provide a personalized approach to each customer's needs. Chatbot technology can partly solve this problem.
Use consumer purchase history and other data to automatically craft tailored suggestions to your customers.
The advantage of chatbots is that they're available 24/7, and you can partially replace human support specialists. Chatbots are able to fulfill generic requests automatically. A chatbot can help your users pick a product, check the order status, or change the delivery date or other order details.
Final thoughts
IT and retail industry in the US and in Asian countries including China go hand in hand, and European retailers adopt the best practices of these countries to leverage their own sales by making their service more effective and personalized.
The ecommerce environment is represented not only by online shops, ecommerce websites, and apps but also by digital technologies in retail like IoT and NFC that are used in physical stores.
If you want to know more about how to power your retail business with any kind of digital solutions, make sure to contact us. We've created ecommerce solutions for some of the largest retailers in various European countries, and we'll be able to offer the best solutions for your business needs as well.
Frequently Asked Questions
The first step towards a digital transformation is to define your goals. What do you want to achieve with the digital tranformation? Do you want to attract new customers, win the competition or optimize your internal operations? You need to answer these questions and then consult with experienced IT specialists who will help you choose the best technologies and solutios for your case specifically
The main risks and challenges include lack of investment, lack of structure and expertise in your company. Though you can hire IT experts who will develop a technical solution for you, you still need to adapt it for your operations. This includes training your staff and changing the principles of work in your retail business. Often digital transformation comes with opening new departments and hiring more people, for example, delivery people who will bring products that your customers ordered online.
Rate the article!
🌕 Cool!
🌖 Good
🌗 So-so
🌘 Meh
🌑 …