What are the Pros and Cons of Mobile Technology in Healthcare
Mobile applications help people with most things, including taking care of their health. Currently, the mHealth market has lots to offer patients, doctors, medical centers, insurance companies, and average people. However, the adoption of mHealth apps is still slow, and the reason is the challenges and drawbacks we are yet to overcome.
What is mobile technology in healthcare?
What is mHealth, and why it became a thing? Basically, mHealth is the next step of e-health, when healthcare was digitized and moved to computers. Now it's time for smartphones. The mHealth app development is popular as ever and provides software for all kinds of mobile devices to educate, help, take care of patients and assist doctors in their day-to-day work.
Initially, mHealth apps were meant to help in developing countries that have few doctors and where people are constantly deprived of medical care. Since most people living in these countries do use mobile phones, it was just a matter of time before healthcare converged with the mobile market.
The impact of mobile technology in healthcare has been tremendous in the past few years. Mobile apps for healthcare do lots of things, from teaching human anatomy and providing access to information quickly when it's most needed to monitoring vitals and managing whole facilities by connecting doctors and allowing them to share information without red tape.
In 2017, there were over 318,000 mHealth apps, with 40% related to healthcare rather than just wellness. In 2019, this number will be significantly higher, and by 2023, the global mobile health market is expected to reach $102.35 billion. However, the adoption of mHealth applications is still slow.
Though 50% of people say that apps play a significant role in their own health management, only 4% of all mHealth apps are downloaded over 1 million times a year. Another 15% reach 50,000 to 250,000 downloads, and the rest are either downloaded less than a few thousand times or don't get downloaded at all.
Why does this happen? People are definitely ready for health-related technology: 79% of respondents say they are likely to choose a provider who facilitates interactions through a mobile device. The advantages of mHealth become the advantages of companies that successfully adopt it.
The reason that so few mHealth applications are successful lies in part in their drawbacks. In this article, we'll talk about the pros and cons of smartphones in healthcare, and discuss the use of mobile and wireless technology in the healthcare industry.
7 pros of mHealth
Here are the main advantages of mobile technology in healthcare, that make it a worthy investment for hospitals, healthcare organizations, and even individual doctors.
Fewer visits to clinics
This is an advantage for both medical practices and patients. While it allows medical centers and hospitals to get rid of endless lines, it also helps patients who don't have the opportunity to visit a doctor in person.
Sure, to diagnose a disease, a personal visit is required; but in other cases (for example, for a second consultation), a mobile app can help. How exactly?
Some developing countries in Africa have only one doctor per 10,000 people. This makes telemedicine a must-have tool to get help remotely
There are several types of apps that provide autonomy for patients. The first is medical reference apps that people can use to get more information about their conditions and prevent diseases.
The second, of course, is telemedicine apps. Telemedicine provides one of the greatest mHealth benefits: remote health. It's currently booming, and it's a popular trend anywhere. Some developing countries in Africa have only one doctor per 10,000 people. This makes telemedicine a must-have tool to get help remotely.
For highly developed countries like the US, telemedicine is also a great solution because it helps to reduce the cost of healthcare and get help when there's no time to go to the doctor in person because of work or personal reasons.
Medical center management
A mobile app paired with a web application can help to manage entire medical centers and connect managers, doctors, and patients in one united system. With the help of a hospital management system, you can effectively connect doctors, lab workers, and pharmacists.
mHealth apps can also manage doctors' schedules effectively by implementing real-time dynamic scheduling in the app so users can immediately see what times are free to book an appointment.
All this information can then be stored and processed by a single CRM.
Deep insights
A mobile app can not only gather data from wearables and data that shows how users interact with the interface but also analyze this data and give you valuable insights.
In terms of your app's performance, you can get data on:
How well your app works from the technical standpoint
How user-friendly it is
What features are the most popular among your users
What seems to confuse users, and what you might want to rethink
How many active daily/monthly users you have
How many downloads you get a month
All these metrics will help you improve your app from both the marketing and technical standpoints.
For mobile analytics we advise the combination of Google Analytics and Firebase analytics
Analytics will also provide you with all kinds of information depending on your app's goals. For example, if you develop an app for your hospital managers, you'll be able to find out:
How many patients and doctors actively use your app
Your daily flow of patients
The average wait time
How busy doctors' schedules are
Which doctors are overloaded
What time of the day is busiest
Your hospital revenue and how it grows with the help of an app
24/7 patient monitoring
It's a challenge to keep an eye on patients at all times, especially if they don't stay at the hospital. Wearables and mobile apps that serve as interfaces for wearable hardware are the answer. They track all kinds of vitals, from blood pressure and heart rate to glucose levels and sleep quality.
Patient monitoring benefits patients and doctors: patients can get help immediately, and doctors are always in control of their patients' health. Communication is also easy: chats and telemedicine help with that.
This allows doctors to measure vitals consistently and notice anything out of the norm early on so there's a better chance to prevent a serious condition.
Even some insurance companies are starting to use wearables to monitor their customers and offer discounts and special terms for those who stay active and lead healthy lives.
Effective learning
mHealth applications are a great help for medical students from all over the world. Students in the US use mHealth apps to get ready for assessments and exams, and people in developing countries can use them to learn about the latest medical discoveries, thus getting more expertise and share it on social media.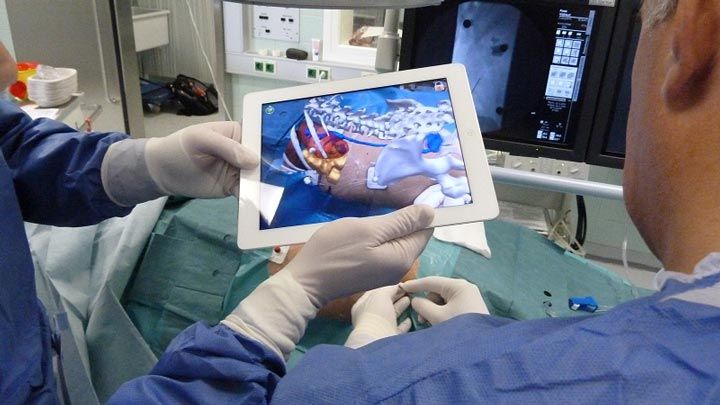 Apps for medical education have lots to offer:
Latest news from the world of medical research
Quick access to information about diseases, drugs, and therapies
Augmented reality for visual aids to human anatomy and surgery
Quizzes and tests for exam preparation
Chats and forums for exchanging experience
The main advantage of apps in learning is that they can store information from millions of books and visualize this information. Apps are accessible to anyone, and they can help not only students but also doctors who need reference sources in their practice.
Easy access in emergency situations
Traditional emergency services are lagging in most countries, unable to immediately detect a victim's location. That's too bad, considering that most people have smart devices that can locate them at any time, either through GPS or mobile phone towers.
Applications provide easy access to emergency services. So-called emergency apps often provide widgets that can be placed right on the smartphone's home screen for easy access. They can call either an emergency service or a caregiver – the second option is useful for elderly people.
Other emergency situations where apps can help a lot are accidents. According to Futurity, only one in ten people who needs CPR survives thanks to someone nearby helping out. Mobile apps that have clear instructions on how to behave in emergency situations if someone else is in trouble can help a lot. Accessibility is one of the biggest benefits of mHealth.
Some mobile applications even have embedded chatbots that help you find the best solution in a stressful situation. They ask clarifying questions and provide options for answers so a user doesn't need to waste time typing the answer and the artificial intelligence system is less likely to misunderstand the user.
More accurate diagnosis
Patient monitoring not only allows quick reactions in emergency situations but can also help determine the disease in the first place and predict how it will pace in the future. However, with this much medical data, a doctor needs the skill of interpreting it right: such a large amount of data can sometimes cause more confusion than clarity.
However, deep learning and big data are the most helpful mhealth technologies that help to derive meaningful conclusions from the data and determine the tendencies, that can help doctors make more accurate assumptions and choose individual treatment for diseases where one size truly doesn't fit all.
Less red tape
Though in many modern hospitals doctors already use electronic health records, not all hospitals have already made this digital shift and still use piles of documents to store their patients' records, information on inventory and many other data. Mobile technologies can help to digitize the work experience for doctors, who will find it far easier to fill in documents online right from their mobile devices, and get all the neccessary information in a few taps.
4 cons of healthcare apps
Lack of regulation
Though there are currently tens of thousands of apps for clinics, doctors, and patients, few are actually good. According to Karen Basen-Engquist, Ph.D., a professor in the Department of Behavioral Science at The University of Texas MD Anderson Cancer Center, "Most companies don't conduct a study to determine if their app actually helped users change or improve their behavior."
Because developers aren't required to show that their applications contain relevant and scientifically proven information, the number of low-quality and plain useless apps is disproportionately larger than the number of high-quality, valuable apps.
"Most companies don't conduct a study to determine if their app actually helped users change or improve their behavior."

Karen Basen-Engquist, Ph.D.
Even if the FDA and other regulators in other countries were to start demanding approval for all medical apps, it would be a major challenge considering the number of apps available. At the beginning of 2018, only around 200 healthcare apps were approved by the FDA. Compare this to 127.000 – the total number of mHealth apps on app markets in 2018.
Lack of value
As few apps become truly popular, we can see that most mHealth applications don't live up to expectations and don't bring the value that people need, overshadowing mHealth benefits.
According to Accenture, most patients only really want three features in their mHealth apps:
Access to medical records
Ability to book appointments with doctors
Prescription refills
The most popular mobile medical app function is access to medical records, and it's deeply connected with highly sensitive data. Only 11% of mHealth apps for hospitals and clinics have all three features. Though these features seem simple at first glance, most app developers don't risk implementing them. Why? The answer is security challenges and risks, which are the most concerning disadvantages of using smartphones in healthcare.
Security risks
There are many features in mHealth apps that require access to sensitive patient data. Because of this, many hospitals and entrepreneurs avoid adding these features to their apps. If there's a leak of data, the reputational and financial costs can be so high they can kill the company and the app in which so many resources were invested. This makes privacy in mobile technology for personal healthcare one of the major concerns.
Security is one of the biggest issues in the modern world, and because hospitals rely on insurance companies, personal data, and health records, security is even more important for them. It is also one of the biggest disadvantages of smartphones in healthcare.
To implement a simple chat where doctors can seamlessly exchange medical records and lab results, you need to make your app bulletproof. Usually, developers ensure security using:
Best practices of cybersecurity, like encryption and obfuscation
Regular security updates
Recommendations from various data protection regimes (e.g. HIPAA in the US)
Lack of accuracy
Many doctors doubt that the data most mHealth apps collect from wearables is accurate enough to make any sort of conclusions based on it. Sure, wearables of different kinds are used to monitor both inpatients and in-home patients; however, the FDA doesn't actually approve wearables for accuracy.
This confuses doctors, who don't know if they can rely on data from wearables whatsoever; and even if they can, they often don't know how to interpret it to make clinical conclusions.
The lack of research on how data from wearables actually corresponds to patient outcomes also poses a challenge for both doctors and patients. Because there's little trust in medical data coming from wearables, healthcare organizations are reluctant when it comes to funding the necessary studies.
These are all the main disadvantages of mobile technology in healthcare. Let's now analyze and compare both pros and cons of health apps.
Does it hurt then?
Mobile applications for healthcare help millions of people around the world to get proper care, learn the latest medical news, and save lives. Because apps are accessible for everyone, they're useful not only for mobile users in developed countries but in developing countries as well.
In this article, we discussed what is mobile health, and what are the pros and cons of mHealth.
Currently, there are over two dozen types of mHealth apps. They help with:
Personal lifestyle management
Nutrition habits and weight control
Reproductive planning
Hospital management
Remote help
Emergencies
Chronic disease treatment
Education
However, despite all the benefits of mHealth apps, there are still challenges we are yet to overcome before we can truly use mHealth technologies to their fullest potential. The future of mobile technology in healthcare depends on how well we cope with these challenges.
Security issues are by far the most important issues, as data infringement can cost billions of dollars to both healthcare companies and patients.
Because apps are accessible for everyone, they're useful not only for mobile users in developed countries but in developing countries as well
A lack of high-quality mHealth applications and lack of regulation makes it hard for doctors to pick a useful and safe tool for themselves and their patients. And while doctors know how to tell the difference between the good and the bad, their patients and average users find it much harder.
If you want to create a healthcare mobile app, keep disadvantages of mHealth in mind and avoid them by getting your app approved by official organizations, investing in security, and making sure your app serves a real purpose.
For healthcare mobile app development services or a consultation, contact us. Our healthcare app developers created mHealth applications and know how to bring value to your users and your business and use benefits of mobile devices in healthcare to their fullest.
Rate the article!
🌕 Cool!
🌖 Good
🌗 So-so
🌘 Meh
🌑 …