How Much Does It Cost to Create an Insurance Software Product for Africa? [Frontend + Backend]
Services are becoming more digitized every year. Customers and businesses use software for insurance companies to connect, and both benefit from fast and effective data collection and processing. However, this business is lagging compared to other domains. If you want your company to stand out, it's time to jump on the insurtech train
Why create an insurance app?
Insurance providers are trying to change the status quo and simplify the process of managing policies for their clients. Insurance companies in South Africa are currently the fastest to pick up on this trend and build a software for insurance. For example, in 2019, Naked Insurance won a Business App of the Year Award.
Naked Insurance delivers car insurance, and by integrating chatbots and artificial intelligence, they've managed to almost entirely automate policy management. The decision to create a custom software solution helped the business keep low costs while making the service more efficient.
Another example of a great software for the insurance industry is JaSure, a South African startup that's created an insurance app that allows users to get insurance on the go right from their mobile devices.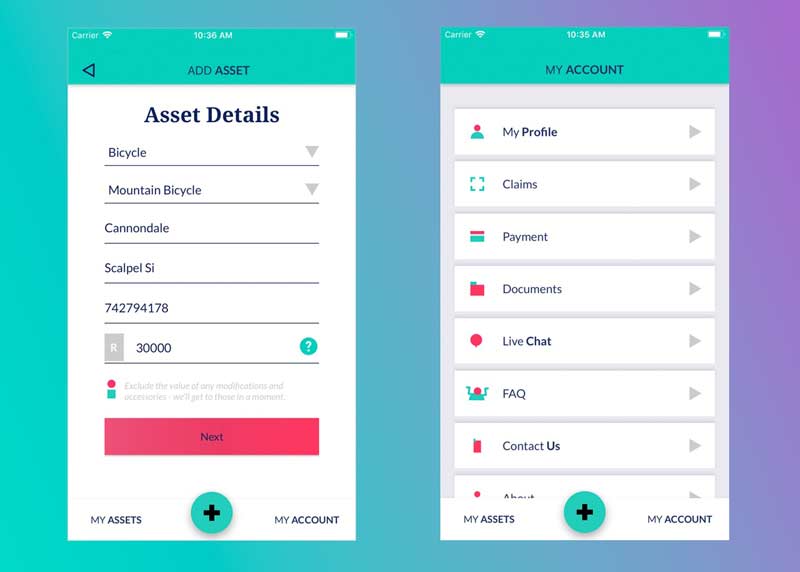 Currently, insurance companies in many countries are still struggling to deliver this level of service. Buyers need to research insurance policies, come to an insurance company office, and call the company if they need a consultation. For a business, this process is tiresome and costly: insurance companies need to hire consultants and spend time on operational processes. This sometimes results in poor service, and insurance businesses can have a hard time managing all their clients and segmenting them.
Because an insurance application has to be automated to bring real value to both your business and your clients, it requires complex backend functionality along with a frontend app. In this article, I'll talk about the must-have features of custom solutions for insurance and show you how much full-cycle insurance app development costs.
Most popular insurtech technologies
To make the most of an insurtech application, it has to have some complex but useful technologies. This is what helps modern insurance applications in Africa gather valuable data about customers, offer better service, and reduce operational costs.
1. Artificial intelligence
Artificial intelligence is meant to reduce people's workloads. In the insurance business, AI is usually connected to chatbots that are able to understand context and answer questions from customers.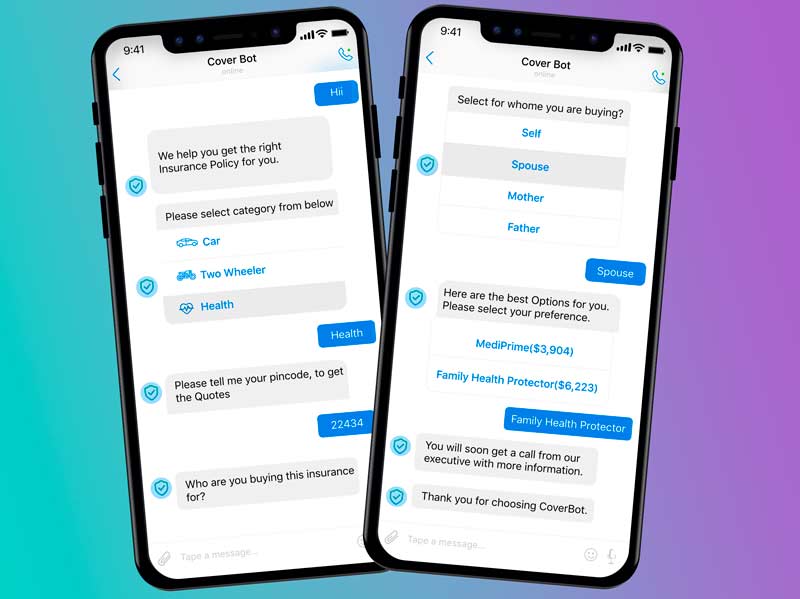 This allows companies to significantly reduce the time agents spend helping customers, as agents are only needed to answer non-trivial questions and resolve situations.
2. Machine learning
Machine learning (ML) is close to AI, but it's not the same. ML analyzes raw data and learns from it to later use insights from that data in real-world situations. Insurance companies acquire so much data about each individual client that it's hard to analyze it and find connections. Machine learning is the answer if an insurance company needs to:
Manage risks
Predict demand
Detect fraud
Process claims
3. Internet of Things
Internet of Things technology combined with cloud storage is a big part of insurance software development. In insurance businesses usually refers to wearables. Health insurance companies typically encourage their customers to take care of their health. And to track it, they integrate their services with apps for smartwatches and wristbands.
Data from wearables can then serve as a basis for discounts, special offers, and other benefits.
For car insurance, the Internet of Things can also be useful: most cars now track speed, fuel consumption, and driver behavior patterns that can affect insurance rates. This is where IoT connects with machine learning, which can make sense of the massive amount of data collected from each driver.
4. Mobile apps
Mobile apps are an interface and a means for clients to communicate with your insurance service. A mobile app can help clients choose the best policy, find great deals, receive discounts, and calculate expenses.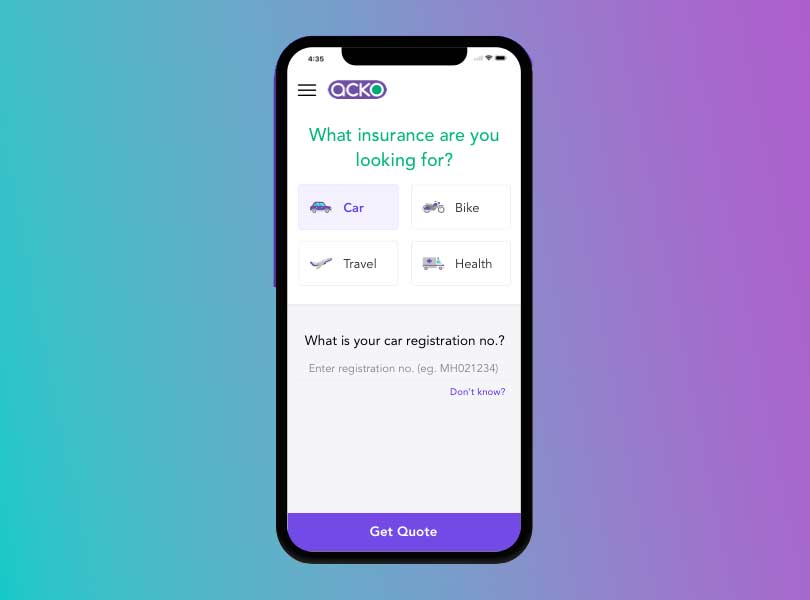 The functionality required of a mobile app depends on the type of insurance business. For example, health insurance apps can provide instant access to medical care by calling a doctor. A travel insurance application can show information about a user's destination, warn of potential risks, and help travelers learn about visa requirements.
In this article, we'll mostly be talking about health insurance apps, though other apps can have similar functionality.
How a mobile insurance app works
There are usually three actors when it comes to insurance:
Clients
Agents
Company managers or business owners
Each of these groups needs access to software. Clients need to connect with agents and the company, and the company needs to communicate with clients and agents. This is done through two main interfaces: a mobile app and an admin panel.
These pieces of software are connected by a backend: the core part of any software that stores and processes all data about users, the app's business logic, and other things pertinent to the apps functioning.
The admin panel is a web interface for insurance agents, managers, and others responsible for the app's content. It allows insurance company representatives to manage users and accounts, change information in the app, send notifications, and more.
The app for doctors or agents can be either mobile or web-based: it depends on the features and your audience's preferences
The mobile app is an interface for clients. But health insurance companies also interact with doctors, who will need their own app to send statements and communicate. This app for doctors can be either mobile or web-based: it depends on the features and your audience's preferences.
Many features in the admin panel are directly connected to features in the mobile app. For example, you can send notifications in the admin panel and users will receive them in the app. Let's see what the must-have features are for an app and its admin panel.
Must-have features for the insurance app
Login and registration – Allow your users to register in several ways. The best are by phone number, email, and social media (e.g. Facebook). Don't forget to add functionality for restoring passwords.
Client profiles – Quickly show all necessary information about clients and their current policies, recent payments, etc.
Doctor profiles — You'll need to add doctors' profiles to your app. Some types of insurance might also require profiles of insurers or other actors that your clients need to get in touch with when filing an insurance claim.
List of products and policy details – Show your products and services and allow users to purchase them right from this page.
Purchasing and renewing insurance policies – This functionality is similar to an online store. Integrate payments for fast and easy purchases.
Payment gateway – Allow users to pay for policies right from their smartphones. You can integrate any payment gateway that's popular in your target market. For Africa, this could be PayU, Paygate, Wirecard, or PeachPayments.
Maps and routes to hospitals or offices – Depending on your type of insurance, you can show routes to hospitals, clinics, or other locations.
In-app calling – Allow your clients to call your specialists right from the app instead of looking for your company's phone number.
Live chat – There are several ways you can go about adding this feature: you can create a live chat with your employees answering the inquiries or develop a chatbot that can hold a basic conversation and determine if a client needs more precise help. You can integrate your chatbot into any messenger, such as Facebook Messenger or WhatsApp.
Document access and sharing – Allow your employees, clients, doctors, insurers, and pharmacies to share documents or even edit them if needed. This will make your service significantly faster. Note that this feature requires a high level of security, so be sure to establish and maintain it with constant checkups and maintenance.
Claims status – An important feature that allows your customers to keep track of their claims.
Push notifications – A must-have feature for everything from notifying your clients of claim status updates to promoting your new policies. Push notifications help you retain and inform users, and they're often paired with deep links that direct a user to a particular page in an app.
Other useful features:
Insurance company information page
Basic diagnosis and treatment tips
Patient treatment list
Patient prescription list
Settings
FAQ
Privacy policy
Quick connection with customer support
Log out
Doctor booking
VIP membership
Wearable tracking
Features for the doctor's app
A doctor's app can be either a web or a mobile application: it's up to you. The main goal is to connect patients with doctors.
Create patient statements – Allow doctors to create statements and send them directly to your insurance company so you can start the process of fulfilling them.
Send statement to insurance – Requires a high level of security to avoid revealing patients' sensitive data. Statements should be protected by encryption and safe network requests.
Pharmacy list – Your insurance probably compensates for drugs as well. To connect with pharmacies, allow doctors to create prescriptions for patients and send them to you so you can quickly connect with your partner pharmacies.
Other useful features:
Login
Text and video chat
Document scanner
Push notifications
In-app calls
Patient visit time counter
Creating photos of a patient
Must-have features for the admin panel
Client list – You can integrate your current CRM into your app to have your customer list along with your user list in one place.
Client management – Manage your client list, edit information about each client, and get access to information that your app has gathered.
Insurance history – See what policies your customers have purchased and see their claim histories.
List of organizations – Have a list of your partner hospitals or any other organizations that partner with your insurance program.
Organization management – Create, edit, and delete hospitals or other organizations; edit their map locations, ratings, and other information.
Policy management – Manage your policy conditions: edit information, add new details, and change prices.
Levels of access – Create different levels of access for doctors, hospitals, your insurance company or other companies, and pharmacies. This will dictate the set of features and data each group of users can access.
Push notifications – Create your own push notifications and send them from your admin panel absolutely free: no more expenses on SMS and emails.
Live chat – Allow your managers to answer questions from app users. You can see what users are typing in real time to get ready to answer, or go further and develop a chatbot that will answer typical questions while you spend time on more complex inquiries.
Machine learning – If you use any discount program based on data from wearables or insurance history, you can grant discounts automatically by allowing the system to analyze data and react accordingly. For example, you can let the system find which drivers haven't had an accident for one year and allow your software to apply discounts to them automatically.
Analytics – derive valuable information about your users and your app at the same time. Learn how much revenue you get from your app to later manage your finances more effectively, find out a number of active daily and monthly users, control the performance and get a full picture of your app's demographics.
How much does an insurance app cost?
The cost of any software product depends on several factors:
Feature set
Technology stack
Number of platforms
Design complexity
Cost of third-party services
Hourly rate of the development company or a software engineer
The feature set and hourly rate of a company are the two most important factors that influence the price of an end product. In this article, we'll provide you with an estimate of each feature in hours for a commercial solution. Note that this estimate doesn't include preparatory work, communication, design, testing or business analysis. All this depends on a project, so ask for a detailed estimate to see the amount of investment needed.
Admin panel development estimate
| | | |
| --- | --- | --- |
| Feature | Min hours | Max hours |
| Architecture setup | 16 | 20 |
| Database methods | 16 | 20 |
| Customer list | 6 | 8 |
| Service history | 16 | 20 |
| Prescription details | 16 | 20 |
| List of organizations/hospitals | 6 | 8 |
| Ratings of organizations/hospitals | 8 | 10 |
| Create organization | 8 | 10 |
| Customer management | 16 | 20 |
| Payments | 18 | 32 |
| Price range management | 12 | 20 |
| Database and architecture setup | 85 | 145 |
| Levels of access | 16 | 20 |
| Login + registration + restore | 28 | 38 |
| Client profiles | 8 | 10 |
| Doctor/insurer profiles | 8 | 10 |
| Insurance company information page | 6 | 8 |
| In-app calling | 30 | 80 |
| Live chat | 30 | 60 |
| Document access and sharing | 8 | 12 |
| Purchasing and renewing insurance policies | 20 | 32 |
| Claims status | 6 | 8 |
| Maps and routes to hospitals/offices | 6 | 8 |
| List of products and policy details | 6 | 8 |
| Push notifications | 16 | 20 |
| Payment methods | 28 | 40 |
| Total | 429 | 687 |
Doctor's app features
If you're a health insurance provider, you'll need a separate app for doctors and hospitals. However, you can add these features to your admin panel and provide another level of access.
| | | |
| --- | --- | --- |
| Feature | Min hours | Max hours |
| Patient photos | 6 | 8 |
| Statement creation | 6 | 8 |
| Sending statement to insurance | 6 | 8 |
| Patient visit time counter | 8 | 10 |
| Login + registration + restore | 28 | 38 |
| Total | 54 | 72 |
Insurance app features
| | | |
| --- | --- | --- |
| Feature | Min hours | Max hours |
| Preparation (architecture setup, certificates) | 24 | 34 |
| Registration + login | 28 | 40 |
| User profiles | 14 | 20 |
| Doctor/insurer profiles | 14 | 20 |
| Insurance company info page | 14 | 20 |
| In-app calling | 24 | 32 |
| Live chat | 14 | 40 |
| Document access and sharing | 12 | 16 |
| Purchasing and renewing of insurance policies | 24 | 32 |
| Maps and routes | 12 | 14 |
| Status claims | 8 | 24 |
| List of products and policy details | 12 | 24 |
| Push notifications | 12 | 14 |
| Settings page | 15 | 28 |
| Payments | 12 | 16 |
| Total | 239 | 374 |
We assumed we were using Flutter when creating this estimate, so it will cover two mobile applications — one for Android and one for iOS. Your developer will only need some time to adjust the app for these platforms.
The final estimate will also include time for communication and procedures like code review and merging. The time of delivery depends on the number of team members: if you have a strict deadline, a development company can always add another developer to accelerate the process.
Final thoughts
Mobile insurance applications help insurance companies of any kind to reduce costs and streamline the process of providing service to their customers. With a mobile app, a user can conveniently buy a policy, make a request, and get a consultation without having to interact with your employees right away.
On the other hand, with a mobile app you get even more valuable information about each customer. This information can help you make your interactions more personalized and thus increase customer loyalty.
Contact us if you want to know more about business opportunities, the development process, technologies, or additional features — or if you want to get a more precise estimate to know how much it will cost to create an insurance software. We also provide consulting services.
Rate the article!
🌕 Cool!
🌖 Good
🌗 So-so
🌘 Meh
🌑 …