How to Build a Dating App Like Tinder, Lovoo, and Badoo and Succeed on the Dating App Market
Want to create a top grossing app? Dating apps are among the most profitable apps on the App Store and Google Play. Tinder, Badoo, and other worldwide leaders have set a high standard for dating app development
Dating app market overview
Dating apps have become the most convenient way to find a lifetime partner, a casual date, or a one-night stand. Over 40% of all heterosexual relationships in the world now start online, and though many people criticize online dating for making people too picky and hesitant to commit, traditional ways of finding a partner have been declining for the past couple of decades.
In the US alone, around 50 million people have tried online dating at least once, and the average dating app user spends $243 per year on dating subscriptions, according to Statistic Brain. The most popular dating apps and websites charge between $10 and $22 a month on average: Match costs $20.99 per month and Tinder gives access to its advanced functionality for $9.99 a month.
The average dating app user spends $243 per year on dating subscriptions
The global market of dating appls was valued at over $7 billion in 2020 and is expected to grow at a CAGR of 5.6% from 2021 to 2028, according to Grand View Research.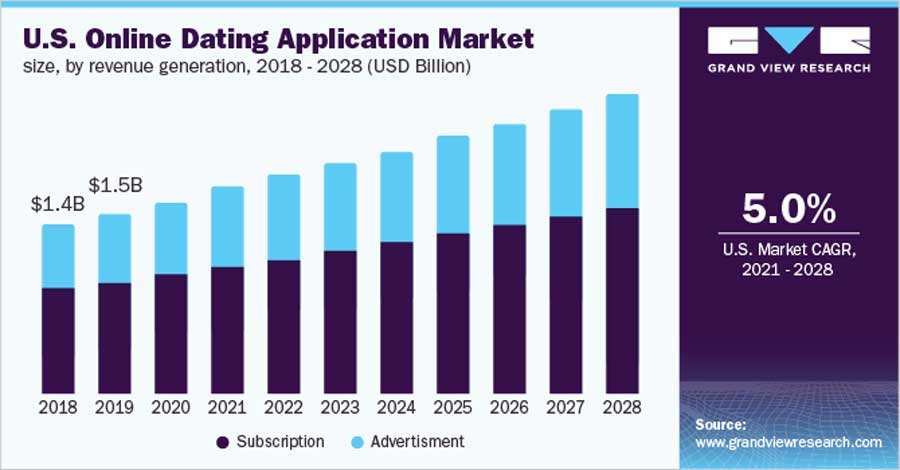 The growth in popularity of online dating services was acceleraged by COVID-19 pandemic, when people had less opportunity to meet offline due to lockdlowns and restrictions of the movement. In 2020, Tinder reported they had 3 billion swipes per day, and OkCupid experienced a 700% increase in registered dates between March 2020 and May 2020.
Let's talk more about the main players on the dating app market. According to Statista, these were the most popular Android dating apps in the US in 2020: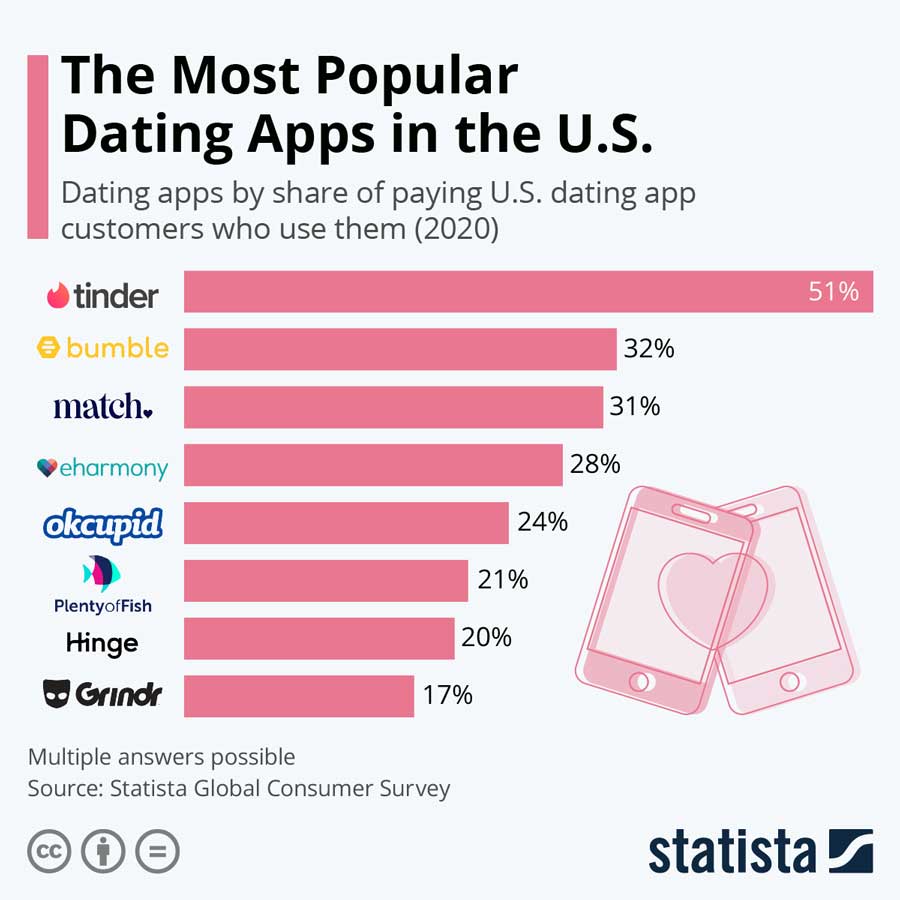 Tinder and Bumble are considered the two most successful market leaders. Both use a simple system of left and right swipes for liking or skipping profiles. While Tinder and Badoo have a wide audience, other apps are more specialized. For example, OkCupid is a dating app for those who seek commited relationships and not hookups, and Grindr is made specifically for gay men.
In this article, we'll talk about what you'll need to make a dating app like Tinder, Badoo, or Lovoo. You'll read about main features, cost of making dating app, monetization strategies, and more.
How to create a dating app in 7 steps
Step 1. Choose your strategy
Tinder and Badoo have become market giants, but their competitors constantly find ways to find their own niche, try a new strategy, and cater to a new audience. Let's talk about what types of dating apps there are and how you can make something fresh to attract an audience.
Dating apps provide different services, as users may have different goals when they look for an app:
Matchmaking
Social dating
Adult dating
Niche dating
The first thing you need to do is choose the type of your app. Then you should think of what will make it special.
To create a dating app that's different from your competitors, you should either help your users achieve their goals more effectively or take a different strategy. You can do this in two ways: either target a specific audience or change the way your users are matched. Here are some examples of apps that have managed to stand out from the crowd.
1. Bumble only allows women to text men first. This helps to avoid having 100+ messages in the inbox and also lets men know a potential match is interested.
2. Hinge focuses on closer social connections by matching people who have common friends.
3. Happn suggests only users who are close to you according to geolocation data.
As you can see, there are lots of different algorithms that focus on different goals. Other apps like Clover, Lumen or Badoo have a unique twist to them as well. Figure out your own strategy. But if you can't come up with an idea yet or don't know how to make it happen technically, consult a mobile development agency.
Dating app development services
Are you planning to create the next big dating app? We can help you build an affordable dating application
Step 2. Decide on your monetization model
You can return your investment in many ways, and it's better to figure out your monetization strategy before your app goes live — and even before it's planned. Here are monetization strategies to choose from:
In-app ads
Subscriptions
In-app purchases
Freemium model
The freemium model is the most popular for dating apps. It provides free access to the app's core functionality and offers advanced features for a subscription or one-time purchase.
Tinder combines several monetization strategies: it offers a subscription for accessing Tinder Plus, but you can also purchase separate features — for example, to increase the number of Super Likes you can give or to unswipe profiles.
Badoo uses gamification elements to encourage users to swipe and interact with others by letting them earn bonuses in the app. However, paid users can boost their profiles and get that content instantly without having to spend time earning it.
Step 3: Plan your app and its marketing
The next step is to thoroughly plan your project from the technical standpoint. Decide on your technologies, the feature set, and the scope of your MVP to be able to quickly deploy your app and check your idea. To effectively develop an app, you'll need a technical specification, as it allows for detailed project planning and effective communication with your developers.
Before you even start the development process, you should also make a marketing plan and set a budget. Because there are already lots of dating apps, marketing may take up a bigger part of your budget than development itself, so be ready to invest in different types of marketing, such as influencer outreach.
Step 4: Design your project
UI/UX design is one of the most important parts of your application, especially if your target audience is younger people. Your layout and visual elements should be concise, bright, and have something new. However, note that your app's main goal is to connect potential partners, so make sure you make this process as easy as possible.
To give your app a personal touch, include subtle animations that guide users through your app's functionality.
Step 5: Develop and release the app
After you plan and design your project, it's time to start development. For an MVP version of your app, we recommend using simple cross-platform technologies that will speed up development. In this way, you'll be able to deploy your app in just a few months and save money for marketing and experimenting.
To test your idea as soon as possible and save budget for marketing, we advise cross-platform technologies that will save you time
For custom dating apps, we suggest Flutter. This cross-platform framework from Google is fast to develop with and provides apps with a native feel. After you know exactly what your app is supposed to be, you can create two native apps for iOS and Android for better performance and wider functionality.
Step 6: Market your application
Find creative ways to market your application and make sure you don't invite your new users to an empty environment where there's no one to choose from. Allocate your budget to different marketing strategies and see what works best. Also, make users your allies: encourage them to invite their friends to your app through social media.
Step 7: Maintain and improve the app
Your app will need to be maintained after it's deployed, as new operating system versions and devices come out each year, as do updates to third-party services.
Be ready to plan up to 50% of your initial budget for yearly support and maintenance if you expect to add new features. Improve your app constantly based on feedback and industry trends and standards.
Top 9 dating app must-have features
Sign-in and log-in
Allow your users to quickly register and enter your app. Be sure to add several log-in options such as social media accounts, email, and phone number.
When requesting access to social media credentials, it's a good idea to let users know that your app won't post anything on their profiles. This will make users feel safe and make them more likely to use your app. Use Facebook, Google or Instagram API for social media authorisation.
Onboarding tutorial
Show users how your app works. If you plan to create an app like Tinder, don't expect your users to know what swiping is and how it works because you may have some users that are still new to this idea.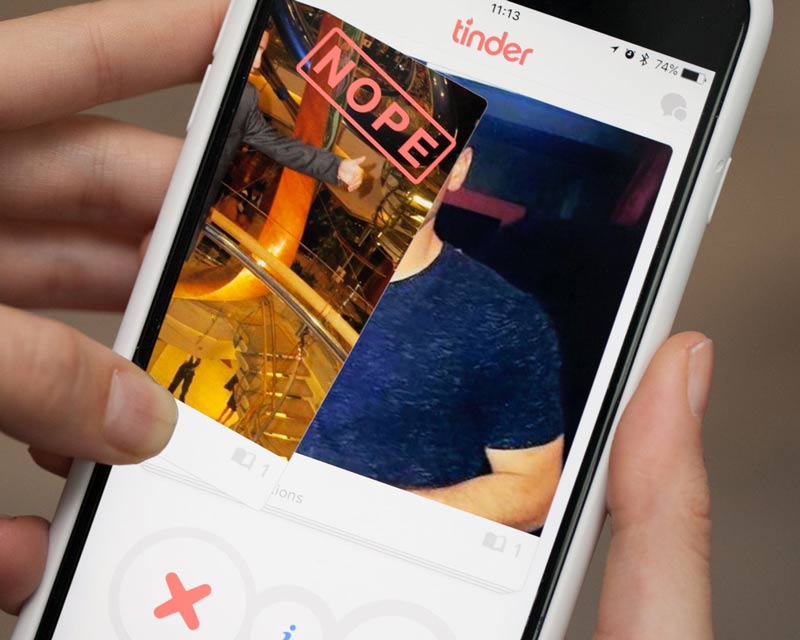 Moreover, your dating app model might differ from that of Tinder or Badoo, so provide a short tutorial once a user enters the app.
Personal profiles
How personal profiles look will depend on your app's idea. Profiles usually include preference settings, such as a geolocation radius and preferred gender of a potential partner. To increase the chances of finding a perfect match, allow your users to share information about themselves. A photo is a must for most dating apps, as is personal information like age, interests, and preferences.
Tinder, for example, only requires age, location, and a photo. There's an option to add a profile description, but a user can skip it. Badoo, on the other hand, has a more comprehensive questionnaire with questions that concern plans for children, smoking and drinking habits, sexual orientation, and more.
Settings
Settings can be placed inside a personal profile and allow users to customize their experience in your app: for example, users can set an age or location range, manage notifications, or purchase additional options in your app.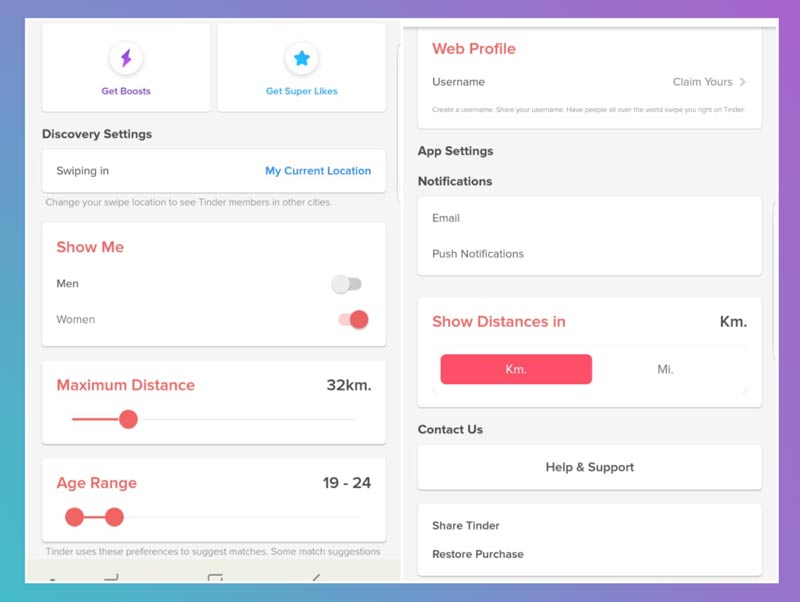 Geolocation
A geolocation feature is common for dating apps nowadays, as people are looking for a potential date within their city or even district.
Chats
Text chats are a default option for dating apps, but you can also add video and audio chat options. You should also allow users to block a chat if they don't want to continue the conversation and to report a user in case of harassment so your moderators can intervene.
Matches
For this feature, you'll need to set up business logic that detects which users liked each other to make a match. You can come up with another idea, however. For example, Badoo just shows users all those in their area and lets users text each other freely without having to swipe left and right.
However, Badoo also has Tinder-like functionality that will open a chat only after users match by mutually swiping each other left.
Push notifications
Send your users notifications when they're matched with others, receive a message, or get new views on their profiles. Don't forget to develop a retention strategy: for example, send a push notification after three days of no activity. Make sure you don't send notifications too often, but still remind users of your app.
Admin panel
You'll need an admin panel to control your application, moderate it, and manage users, notifications, and analytics.
We suggest Flurry and Google Analytics for the most comprehensive insights in your dating app
Analytics is a vital part of an admin panel, showing you how many active users you have, how much time they spend in your app, and even how your app performs technically.
We usually suggest Flurry and Google Analytics for the most comprehensive insights.
Best technology stack for a dating application
The technology stack of your dating application will depend on your team, budget and needs. There are lots of technology options for dating apps, let's see a few of them.
Android: Java or Kotlin
iOS: Swift
Cross-platform: Flutter or React Native
Backend: Python, PHP, Ruby, Node
Dababase: MongoDB, Redis, NoSQL, PostgreSQL, MySQL
Third-party services: Google Maps API, Mapbox, PayPal, Stripe, Braintree, acebook SDK, Twitter SDK, Instagram SDK
Cloud storage: Google Cloud, Amazon S3, Azure
Notifications: OneSignal, Firebase, UserNotifications
Machine learning: AmazonML, MonkeyLearn, Rapid API
Analytics: Google Analytics, Data.ai, Flurry
We recommend using a Flutter framework that allows you to build one application that you can then release to both Google Play and App Store. However, you can also build two native applications, like Tinder that uses Java for Android and Objective-C for iOS.
What business model to choose for your dating app
There are lots of business models for dating applications, from subscription services to paid messages. Let's analyse the business models of Tinder, Lovoo and Badoo, as these are the most popular and successful applications in the world. For example, in 2020 Tinder made $1.4 billion in revenue.
All three applications have a similar business model: they are freemium applications, but by subscribing to their services for a monthly or annual fee, users get access to unique features.
For example, by paying for Tinder Plus or Tinder Gold, you get access to these features on Tinder:
Unlimited swipes
Passport (find match at any location)
More than 1 Super Like per day.
Rewind Feature (undo the last swipe)
1 Boost every month
These features enhance the user experience and make it more convenient and easy to find the best match.
Badoo has a slightly different business model. While users can also purchase a paid subscription, they can also purchase credits.
A premium subscription gives users access to these features:
See who liked your profile in Encounters
See who added you to their "Favorites" list
Browse through profiles anonymously
Undo your last vote
Chat with the most popular Badoo users
Contact new users right away
Your messages get priority in the recipients inbox
Unlock "cool" stickers
No ads
With credits, users can increase their exposure in the application, and buy some "Spotlight" time that allows them to prioritize their ranking and have more potential matches to see their photo.
How much does it cost to develop a dating app?
In this article, we've mentioned the main features you'll need for your app: others will depend on your dating app business model and idea. Make sure you don't make a clone of popular dating apps. The mobile market is already full of dating solutions, so you'll need to come up with something new to be successful.
So how much can a dating app cost? According to our rough estimate, the cost to make a dating app like Tinder would be around $35,000 to $50,000 to develop in Eastern Europe. A US or the UK dating app development company can charge over $150,000 for the same scope.
Note that the cost to build a dating app will also include maintenance and payments for the third-party services your app uses. Maintenance of a big app with a large number of users can take from 20% to 50%of your initial app development budget each year.
To get a detailed estimate, you need to go through a project discovery phase. During this phase, a business analyst will help you translate your idea into a concrete set of features, functionality, requirements, user stories and other documentation vital for the team to work on your project and be on the same page.
Final thoughts
There are already many dating apps on the market, but the number of active users continues to rise, albeit not as rapidly as a couple of years ago. However, with a great idea for dating, you can still attract users and monetize your app.
Two main things to focus on in dating mobile app development are design and the user experience. Avoid mediocre design and a poor user experience. Getting a match in your app should be as simple as possible: this is what made Tinder popular. However, if you want your dating app to be more serious, you can follow another strategy and request more personal information and more actions from the user to provide them with more relevant matches.
If you want to build your own dating app, be sure to contact us for a detailed feature-by-feature estimate.
Dating app development services
Are you planning to create the next big dating app? We can help you build an affordable dating application
Frequently Asked Questions
A freemium model is the most popular monetization strategy for dating applications, however, some apps creatively use other monetization options like in-app purchases, advertising, or even make their apps paid. Your business model will depend on your target market and the features you plan to implement. For example, in Badoo users can buy credits to increase their visibility, because they have a feature where they show a pool of users available for a chat without a match.
The cost of creating a dating app depends mostly on your team's hourly rates, and of course on functionality you plan to implement. According to our rough estimate, the cost to make a dating app like Tinder would be around $35,000 to $50,000 to develop in Eastern Europe. A US or the UK dating app development company can charge over $150,000 for the same scope.
Rate the article!
🌕 Cool!
🌖 Good
🌗 So-so
🌘 Meh
🌑 …