How to Build a Subscription Platform Like OnlyFans
Subscription social media apps like OnlyFans have become popular over the past few years. OnlyFans has a social media-like format, which makes the app extremely customer-friendly.
OnlyFans is in widespread use not only among adult entertainers but also among top celebrities, bloggers, and influencers.
Despite the presence of the OnlyFans app, the niche is open for competition. In this article, we discuss the important features of apps like OnlyFans, milestones in the development of OnlyFans, the platform's technology stack, and possible monetization models for your own app. Let's get started!
What exactly is OnlyFans?
British entrepreneur Tim Stokely founded OnlyFans in 2016. Its main goal is to help content creators and artists "monetize their content while developing true relationships with their fans." Users can publish content that can only be accessed by paying fans, who must subscribe to creators in order to view pictures and watch videos.
Since the launch of OnlyFans, the site has paid over $600 million to creators. Creators can allow their fans to pay for content through a monthly subscription ranging from $4.99 to $49.99 (OnlyFans retains 20% commission). Content creators are able to have free pages where theycharge fans to access pay-per-view (PPV) content. Some members have both a free page and a subscription page to optimize their earnings.
OnlyFans users can also tip if they want on-demand content specifically tailored to their interests and tastes, paying more to connect with content creators.
More than 130 million people have joined OnlyFans.
This increased attention has prompted OnlyFans to position itself as a forum for musicians, fitness instructors, and chefs. However, a number of famous celebrities such as Bella Thorne, Cardi B, and Taiga have also created accounts on the site to post sexually explicit videos.
When the famous actress Bella Thorne made an OnlyFans account and earned millions of dollars in a few days, OnlyFans added transaction restrictions that capped the PPV price at $50 per post and new fan tips at $100. In addition, the app changed the frequency of payments in some countries from weekly to every 21 days.
The company says a growing number of banking partners and payment service providers are pushing it to make changes. OnlyFans is currently trying to attract $1 billion from outside investors.
How to develop an OnlyFans alternative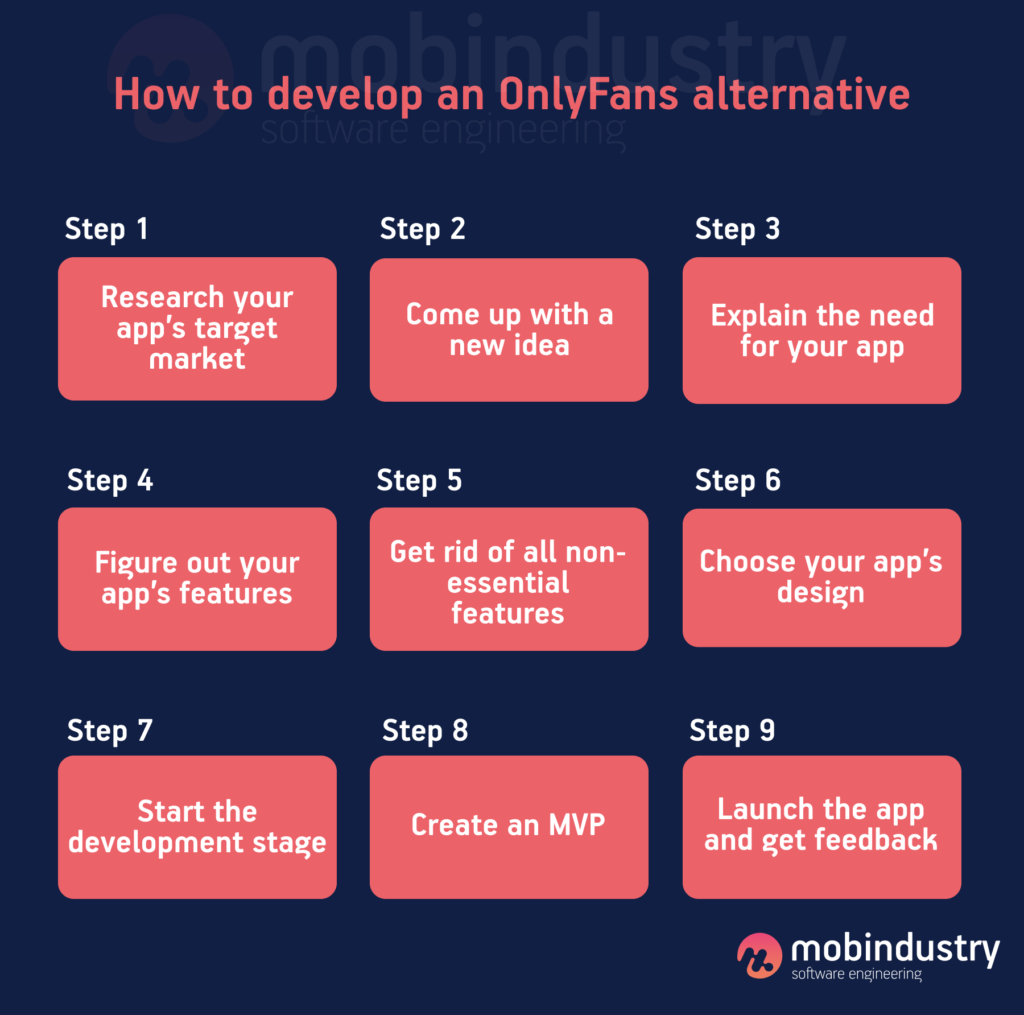 Step 1: Research your app's target market
When developing an app like OnlyFans, the first thing you need to consider is the target audience. Understanding your users' needs makes development easier and leads to a better final product. Find out as much as you can about your potential users. You can start by researching the following:
Demographics. Find out the average age of your users, where they live, what devices they use, etc.
Behavioral trends. Find out what decreases a user's desire to download an app, your users' security expectations, and so on.
To develop an amazing mobile application, we suggest creating a user persona, or a detailed portrait of your ideal user.
Step 2: Come up with a new idea
The second step is to come up with an idea for a better app than OnlyFans that has richer features that will encourage customers to use it. If you want people to use your app, you have to give them something better than what they already have.
Step 3: Explain the need for your app
Using idea validation, you can determine if there is a market for your application. With Google Keyword Planner, you can find out how many people are searching for the kind of app you're trying to build. You can also create a landing page that summarizes the idea behind your application and invite users to subscribe to a mailing list to find out more.
Mobile and Web App Development
Are you planning to expand your business online? We will translate your ideas into intelligent and powerful solutions.
Step 4: Figure out your app's features
Once you've validated your app idea, you have something people want to use and want to pay for. If you want to go the extra mile, at this point you can create wireframes. Remember to be as specific as possible when putting your idea on paper. It's necessary to describe in detail the user's path through the application as well as any intended functions. This will help your developer better understand what you want.
Step 5: Get rid of all non-essential features
As you study the document on threads and functions, look for functions that can be removed. Offer only your application's core value. Features that are nice to have but can always be added later as an update should not be included in the first version. As a result, you can lower your initial development cost and get to market faster.
Step 6: Choose your app's design
Many entrepreneurs express a desire to have a simple design and focus on developing the application. But when it comes to development, user experience is just as important as the application's appearance. "Design is a way to make technology useful," says Vinod Khosla of Khosla Ventures. Find a developer specializing in user interface and graphic design.
Step 7: Start the development stage
The next step is to find a development team you want to work with. Look for a development company with a solid design team and a solid development team to help you. Before hiring a developer, verify their credentials and the apps they've created. Chances are if you like one of the apps in a development company's portfolio, that company might work for you.
The first phase of development will include business analysis, developing a technical specification, estimating the development cost, and planning the project. Before diving into the actual development of your app, you and your team should set up an app development workflow, choose the main features for the app, and design the app concept.
Business analysis
A competent business analyst knows how to calculate and avoid risks, monitor development progress, and bring a high level of return on investment soon after launch. As a result of business analysis, the team provides you with a complete plan with clear milestones.
Design & development
The design of the site will affect the impression of users and make them come back, so you should try to make the site as fashionable, simple, and convenient as possible. Firstly create a basic style. The second step is to develop functionality such as a login form, profile management, chat, payments, settings, accounts, and messaging.
Mobile and Web App Development
Are you planning to expand your business online? We will translate your ideas into intelligent and powerful solutions.
Frontend development
A simple-looking platform is the achievement of a development team that has spent a lot of time and effort combining design, performance, and functionality. When planning functionality, you need to think through absolutely all the details.
Backend development
Backend development requires close attention to detail and excellent developer skills. Basic backend development consists of setting up the environment; launching the project; architecting and designing the database; preparing for deployment; implementing authorization; creating functionality for subscribing, unsubscribing, and blocking users; managing profiles, notifications, and payments; and integrating with a payment system and digital wallets.
Testing
A project as large as creating an application like OnlyFans requires a huge amount of testing at all stages of implementation in order to avoid errors and improve the user experience.
Deployment
The next step is to deploy the application to your server and push it to application platforms.
Step 8: Create an MVP
Creating an application like OnlyFans is a big and complex project. We recommend launching a minimum viable product first and testing its technical and business performance. By using an MVP approach, you'll be able to find out what users like and don't like in your app. Then you'll be able to consider their feedback and improve your app.
Step 9: Launch the app and get feedback
App store usage and user behavior data will give you an idea of how to improve your app when it hits the App Store and Google Play Store. Follow user feedback and keep building. The first version of your app should include only basic functionality. After launching on the app stores, it's time to evaluate and present the rest of the features that were missing in the original version of the application. If those features are no longer relevant, you can share it with analytics and reviews.
Key feature set of OnlyFans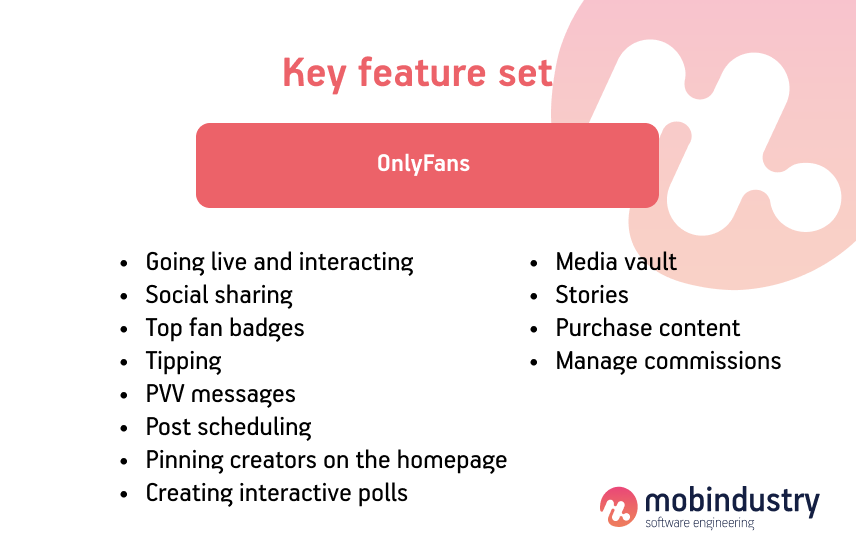 Going live and interacting
Users can interact with their favorite authors and artists via live streaming video in addition to chat. Streams can also be viewed later.
Social sharing
Allow creators to share their posts on popular social networks like Facebook, Instagram, and Twitter to expand your follower base.
Top fan badges
By using digital badges, you can reward your most loyal users with access to completely exclusive content. As a result, user loyalty and retention rates will skyrocket.
Tipping
Many people tip because they think it's fair. In other words, people tip because they believe they have received a service that they think deserves a little extra money. Give advice to creators in threads, posts, and private messages. Tipping gives creators a second source of income and gives fans the opportunity to show that they care about what creators do.
PVV messages
OnlyFans allows creators to send Pay Per View messages to all fans at once. You can also allow users to attach media files to messages and set a price for them.
Post scheduling
OnlyFans has a large number of full-time creators as well as a large number of part-time creators who fit OnlyFans into their busy schedules. Equally important, with OnlyFans' international reach, creators can count on fans from every country and every region of the world! For these reasons, the ability to schedule publications is incredibly useful. This feature allows users to create a queue of content to release at any time.
Pinning creators on the homepage
It's important for users to create and publish content from their phones. OnlyFans has a mobile-friendly website. Besides downloading videos, users can use their phones for PPV messaging as well as to download videos.
Creating interactive polls
For OnlyFans creators, participation is key.
And there's no better way to get people interested than a survey. To encourage your fans to participate, create a poll. "A well-crafted Facebook survey is one of the most powerful Facebook marketing tools available to today's social media marketers," says Neil Patel, founder of Neil Patel Digital and a New York Times bestselling author.
Media vault
Photos, videos, and live streams are stored in the vault so users can republish them later. In addition, OnlyFans gives creators access to their cloud storage from within private messages. Creators can add media files to publications simply by clicking a button.
Stories
Stories are a great way to share highlights of the day. Provide fans with a daily dose of content quickly and easily without post-processing.
Purchase content
Users can pay creators for downloadable content using any available payment method.
Manage commissions
Administrators must be able to adjust the commission rate based on market conditions and other important factors.
Tech stack for an app like OnlyFans
There are many tools that can be used to develop an application like OnlyFans. However, we can list the approximate tech stack that our team would use for such a product.
| | |
| --- | --- |
| Programming languages | Kotlin, Node.js, Swift |
| Frameworks | Flutter, jQuery, SocketCluster |
| Database | MySQL |
| Cloud solutions | Amazon Web Services (AWS), Google Cloud Platform |
How to monetize your OnlyFans-like app
The most common ways to monetize an app like OnlyFans are:
Premium subscriptions
Content creators can charge subscribers any amount of money for a monthly subscription. This allows creators to make money from their content and lets platform owners earn money on commissions.
Live streaming
Creators can launch live streams while subscribers submit requests.
Premium messaging
Users can communicate with creators using private pay-per-view messages. Users can write to content creators for free, but they have to pay to see the responses.
Referral program
Content creators will benefit from a referral program. Creators can recommend the app to others and receive a percentage of their income if they sign up.
Mobile and Web App Development
Are you planning to expand your business online? We will translate your ideas into intelligent and powerful solutions.
How much does it cost to build an app like OnlyFans?
The cost of developing an app like OnlyFans depends on these factors:
Product features
Product design
Hourly rate of your development team
Project size and complexity
Technology stack
Number of team members on the project
Time frame
The biggest factor that influences a project's cost is the hourly rate of developers, and that often depends on their location. For example, an application that costs $40,000 to build in the US will cost around $9,000 if developed by engineers in Ukraine.
Developing your project with a company based in Eastern Europe is cost-effective and gives you access to top talent.
Final thoughts
Apps like OnlyFans are on the rise because social media giants like Facebook and Twitter can't keep up with the demand for alternative entertainment. As a result, OnlyFans has been able to gather loyal followers among users who have completely different expectations for the social media site. When it comes to photos and videos, people are tired of censorship.
They are attracted to the idea that they can forge close connections with artists while benefiting from direct access to interesting content. Contact Mobindustry if you would like to develop an application similar to OnlyFans.
Mobile and Web App Development
Are you planning to expand your business online? We will translate your ideas into intelligent and powerful solutions.
Frequently Asked Questions
Research your app's target market
Come up with a new idea
Explain the need for your app
Figure out your app's features
Get rid of all non-essential features
Choose your app's design
Start the development stage
Create an MVP
Launch the app and get feedback
The biggest factor that influences a project's cost is the hourly rate of developers, and that often depends on their location. For example, an application that costs $40,000 to build in the US will cost around $9,000 if developed by engineers in Ukraine.
Rate the article!
🌕 Cool!
🌖 Good
🌗 So-so
🌘 Meh
🌑 …