How to Create an NFT Marketplace: Challenges and Opportunities
In this article, we explain what a non-fungible token (NFT) is and how to create an NFT marketplace for your business.
What is a non-fungible token?
A non-fungible token, or NFT for short, is a piece of digital content associated with a blockchain. NFTs can be texts, images, audio recordings, domain names, trading cards, and in-game items. Each element of an NFT is unique and cannot be replaced with another object. This is why we call such assets "non-fungible tokens."
NFTs run on the Ethereum blockchain and are based on the ERC-721 standard. Standardization of NFT issuance allows for a higher degree of interoperability among blockchains, i.e. the ability of blockchains to interact with each other. As a result, non-fungible tokens can be transferred between different decentralized applications.
Properties of non-fungible tokens:
Indivisibility. Non-fungible tokens can't be divided into parts.
Authenticity. It's easy to check information about a token and its owner.
Non-interoperability. Since each token is unique, you cannot exchange them.
Tradability. NFTs can be traded on various cryptocurrency exchanges. Thus, their owners can benefit from advanced trading systems. The ability to group, trade, and sell NFT tokens on markets opens up endless possibilities for NFT holders.
Standards. NFTs can interact with multiple ecosystems thanks to the ERC-721 non-fungible token standard and its best version of the ERC-1155 multi token standard. These two standards enable the creation of NFTs for digital collectibles.
Liquidity. The fact that non-fungible tokens can be traded instantly increases their liquidity. The target audience of NFT trading platforms ranges from beginners to avid traders. This means that digital assets are available to more buyers.
Programmability. Non-fungible tokens are fully programmable like any other digital asset. Today's NFTs are often associated with complex mechanics including crafting, forging, and random generation.
Scarcity. Thanks to smart contracts, developers can tightly limit NFT offerings. Coders can apply certain properties that cannot be changed after the launch.
What is an NFT marketplace?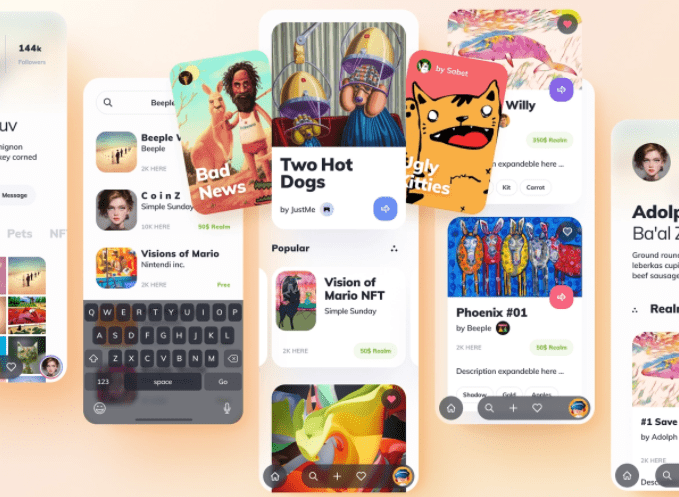 Unlike Bitcoin or Ethereum, you cannot directly exchange non-fungible tokens on crypto exchanges. NFTs are bought and sold on dedicated platforms. An NFT marketplace is a decentralized platform that allows you to store and trade non-fungible tokens.
On such a platform, all types of NFTs can be offered at a fixed price or sold at auction. Most NFT platforms require buyers and sellers to have crypto wallets in order to conduct transactions. Some NFT marketplaces are more exclusive, while others aim to ensure that everyone can create and sell their art.
On universal platforms like OpenSea, Rarible, and Mintable you can find everything from art to domain names. On these marketplaces, you can turn any creations into NFTs and start selling them.
Other platforms are built for particular niches and focus on selling certain assets. For example, Valuables lets you sell and buy tweets (you've probably heard that Twitter CEO Jack Dorsey sold his first tweet at auction as an NFT). Factory Mirror is in the digital hologram market.
Niche NFT marketplaces are gaining popularity because they have clearly defined target audiences and solve specific problems. In addition, you can find proprietary trading platforms available only to approved creators, such Foundation.app.
You definitely should think about the type of platform you want to provide before creating an NFT market.
How does an NFT marketplace work?
NFTs are implemented using smart contracts. Each token comprises a set of unique information (metadata) recorded in its smart contract, and chain units provide for an NFT's invariability and security. To build an NFT marketplace, you need to create a token protocol, usually on the Ethereum network.
A token protocol is a special group of smart contracts that implement certain trading platform functionality. In addition, a token protocol integrates with the marketplace system.
Now let's talk about how an NFT marketplace works from the client side. For the most part, NFT auction platforms have a common user journey. First, the user needs to register on the platform and install a digital wallet to store NFTs and cryptocurrencies. Registering on the platform basically means registering a wallet.
The sellers can then create their collection by uploading items to display their work. The user can also choose which payment tokens they would like to accept for their art and set an additional commission if the platform offers it.
How to create an NFT marketplace
You must select the functionality you need for your NFT marketplace and find the most appropriate development approach.
Basic functionality for an NFT website
What features should you implement first for your NFT marketplace? Your main goal is to allow users to create and sell NFTs. You can then add additional features to offer your website visitors a great user experience. We recommend starting with the following:
Storefront. As with any other marketplace, your NFT marketplace must showcase items.
Convenient search. Make sure users can easily find the NFTs they're interested in. It would be nice to divide NFTs into several categories like art, photography, domains, memes, and music.
Filters. A filter system will help users navigate your NFT application and select items they want. Thanks to filtering, users will be able to select and purchase NFTs fast. Popular filters include highest price, lowest price, recently added, and most viewed.
Listing creation. Creating a collection should be simple and fast. On the screen for creating a collection, users should be able to upload a file and enter the token information such as a name, description, and tags.
Listing status. This feature will be useful for sellers going through the collectible validation process. By checking the listing status of items, sellers can check the verification stage of their goods.
Buying and auctioning. Building a convenient auction system is one of the key stages in the development of an NFT trading platform. Be sure to include an expiration date for auctions. This way, you give users additional control over their bids. In addition, an auction watchlist allows users to track current bids.
Ratings. This feature will be useful for new users who don't know which NFTs to choose. Plus, you can use ratings to reward sales leaders and prove their reliability.
Wallet. This feature allows users to send, store, and receive cryptocurrency and non-replaceable tokens. For convenience, allow users of the NFT marketplace to connect their preferred wallet.
The functionality of a non-fungible token marketplace is not limited to what we've described above. You can try adding unique features to improve your user experience. For example, you can build a strong community on your platform by creating a forum.
It would also be nice to implement a push notification system. Push notifications will keep users informed about new collectibles or the current status of their NFTs.
Ready solutions vs custom marketplace development
We've identified the functionality you need for your NFT marketplace. Now it's time to talk about the technical implementation of your project. Let's find out how to create an NFT trading platform.
When it comes to building an NFT platform, you have two options. First, you can use off-the-shelf tools. This option will be cheaper. Plus, you'll get to market faster.
The SDK offered by OpenSea is an example of such a tool. With the OpenSea SDK, you will get an NFT marketplace with OpenSea infrastructure and your unique design. Alternatively, you can use the services of a reliable custom software development company. Software development experts will know how to create an NFT marketplace that meets all of your requirements.
With custom development, you can add any new features on demand. This way, you will have no problem scaling and improving your platform to attract more users. Another advantage of custom software development is that you can carefully protect confidential information. This is especially important for exchanges with non-fungible tokens, where failure to comply with security laws could have negative consequences.
Custom development process for an NFT marketplace
Business analysis
During the business analysis stage, you need to describe the business side of your project: for whom your product is being created, what functions you need to implement, and what kind of user flows you need to create. The more closely you study users' behavior, the more convenient a solution you can create. Nobody likes complexity. Therefore, our task during the business analysis stage is to build a simple and effective trading platform architecture.
UI/UX design
When designing a marketplace, the user interface and user experience (UI/UX) are critical. The user interface should be clear and simple. A good UI/UX strikes a balance between usability and a beautiful look for your platform. I highly recommend consulting a professional when designing your product's UI/UX. If users are having trouble interacting with your marketplace, you've given your money away.
Smart contract protocol development
The back end handles your platform's logic. When developing an NFT marketplace, developing a smart contract protocol will be different from the similar step in the standard custom design. An NFT marketplace is a decentralized platform, so most of its data is verified on the blockchain.
Frontend development
After choosing the best framework for the project, software developers implement all necessary functionality on the client side. The main task here is to ensure fast platform operation, reliable performance, and reliability.
Testing
Skipping this step would be a big mistake. Finding and fixing bugs quickly ensures your product is ready to launch. Additionally, software testing helps ensure that your platform performs as expected and meets your project requirements. Remember that a properly tested software product provides reliability, security, and high performance.
Launch and support
After making sure your platform is bug-free, it's time to launch your NFT marketplace. Many people think this is the last step, but software needs to be constantly maintained and updated. Also, based on personal experience, I can tell you that 80% of customers come back to their development company to implement new features in order to meet growing user expectations. So don't lose touch with your development team, as they will hopefully be your reliable partner for years to come.
How much does it cost to build an NFT marketplace?
The cost of developing an NFT marketplace depends on these factors:
Product features
Product design
Hourly rate of your development team
Project size and complexity
Technology stack
Number of team members on the project
Time frame
The biggest factor that influences a project's cost is the hourly rate of developers, and that often depends on their location. For example, an application that costs $40,000 to build in the US will cost around $9,000 if developed by engineers in Ukraine.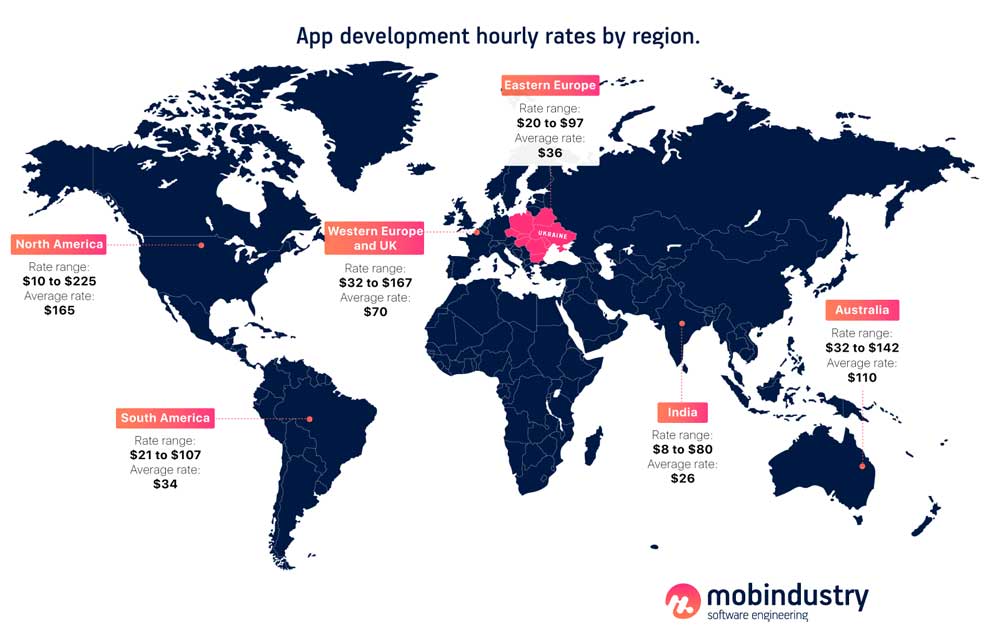 Final thoughts
Today, non-fungible tokens, or NFTs, are attracting more and more attention. They are of great interest to avid collectors looking for unique digital objects. For this reason, starting an NFT business seems like a promising venture for early adopters.
However, it is extremely important to understand how NFT marketplaces differ from other e-commerce platforms. This way, you will increase your chances of success with a unique platform that will appeal to passionate digital art aficionados.
If you want to create an NFT marketplace but don't know where to start, contact Mobindustry for a free consultation.
Rate the article!
🌕 Cool!
🌖 Good
🌗 So-so
🌘 Meh
🌑 …