Mobile Retail: How to Save Money with Push Notifications
Large businesses spend up to $10.000 per month to outreach their customers with SMS and email. We have a better solution that costs almost nothing and boasts high retention rate just like SMS — push notifications. In this article we'll show you how much money you can save by just implementing push notifications into your mobile app and enjoy its benefits.
Getting in touch with your customers
A mobile device is the best way to reach people that's ever been invented. A phone is the first thing many people grab in the morning and the last thing they check before going to sleep.
Businesses have started taking advantage of this, and today there are three main ways to run a marketing campaign:
Email
SMS
Push notifications
These tools are used to promote and sell products using promo campaigns, notifying users about new discounts or loyalty programs. And while one SMS or email doesn't seem expensive, the budget can become huge when it comes to mass messaging.
It's hard for many entrepreneurs to decide which of these to use. You have dozens of competitors, and it's crucial to reach your target audience at a reasonable cost. So when to use SMS, push notification and email?
There's no definite answer. Each way to inform a customer is effective in different situations. In this article, we'll compare email, SMS, and push notifications to help you decide which is best for your business.
Email: for extensive information
There are certainly some downsides to using email, but there's no doubt that it's a standard for any ecommerce business. It's actually really hard to imagine an online shop without email.
Though the open rate of emails is lower than that of SMS or pushes, email can offer good or even excellent ROI
It is used to get feedback from customers but also to notify them of changes, especially concerning user accounts. Usually, customers register through email, verify their accounts, and receive new passwords. In any case, your business will need email account.
But is it fine to send information about special offers by email? It may be okay, but you should note that it might take a long time for customers to see it. This means that email doesn't work for news that people need to see immediately. For example, it's a bad idea to send an email when an order has been delivered – most likely, your customer won't see it in time and receive it.
Though the open rate of emails is lower than that of SMS or pushes, email can offer good or even excellent ROI, according to Hubspot.
On mobile devices, the email open rate reaches between 50% and 60%, compared to 15% on desktops. People tend to read emails on mobile first, and this happens mainly due to notifications that are sent by apps like Gmail and Outlook.
Pros
Unlimited size
Easy to refer to later
SMS: you will be heard
The SMS (or text message) open rate is far more impressive: almost 90% of SMS are opened within three minutes of receipt. That sounds great, right?
Because of this, SMS is a great tool for time-sensitive information about discounts, special offers, and deliveries. SMS is also used for two-factor authentication.
Another great thing about SMS is that modern providers can send not only text information but also media files. The limit of 160 symbols is still there, though. This means that SMS are only suitable for sending short messages.
SMS message can also contain links, but people don't always open them. And while SMS can reach customers without an internet connection, they might not be able to act until they're back online.
That's why you shouldn't use SMS for information that your users might need later. Your customers probably won't return to these messages to open a link. Besides, SMS messages are easy to delete and hard to search through.
The main downside of SMS is without doubt the price. One SMS sent to a customer in the US costs $0.0070 on average. If you have a client base of 200,000 customers, you'll spend $1400 to send just one message to each customer. In terms of SMS vs email marketing spending, emails are way cheaper.
And surely you'll need to send more than that. The number of SMS messages you'll need per week depends on what you'll use them for. You'll need to send information on delivery statuses occasionally, but if you plan to inform your customers about special offers, then once or twice a week is optimal.
Pros
Great open rate
Reach without internet
Immediate reach
Cons
Expensive
Hard to estimate conversion
Character limit
Push notifications: spread a word at no cost
Push notifications appeared later than SMS and emails, but they quickly became popular, originating from social media. As more services began to appear as mobile apps, push notifications naturally became a great way to communicate with customers.
What are main pros of push notifications?
First, pushes boast high open rates, just like SMS. Moreover, it's easier to measure how successful they are due to advanced analytics tools you can embed in your application.
Second, push notifications are less intrusive than SMS messages. They don't interrupt the activity of a user but just appear in a device's status bar. Of course, this makes them very easy to delete – a mere swipe to the right will make a push notification disappear. That's why push notifications are only suitable for immediate news and updates.
The conversion rate with pushes is high due to deep links, which allow you to direct users to a specific place in an app. For example, if you send a push about a discount for a certain product, the notification can send your customer right to the product page where it can easily be ordered. This is one of the greatest advantages of push notifications for an ecommerce business.
Another reason pushes feature better conversion is that they can be highly targeted according to location, sex, device, preferences and other parameters. This makes push notifications very personalized.
There is a way to increase the open rate even more, however, and that's by implementing rich push notifications.
Rich push notifications draw more attention with the help of media. Pictures, GIFs, videos, and even maps make such messages more engaging and appealing.
Many providers offer the first million pushes for free, then charge $1 per 1 million push notifications.
Cost of push notifications is another argument for using them: notifications sent by Firebase or Urban Airship are totally free, and the number of those you can send is unlimited.
Pros
Great open rate
Deep links
Immediate reach
Rich media
Very low cost or free
Cons
Character limit
Possible only in an app
Compare side by side
Each of these ways to reach your customers works and serves a purpose. Email is good for long messages, SMS is good if many people from your target audience don't own smartphones, and push notifications are perfect for active app users.
Take a look at the table below for a summary email, SMS and push notifications comparison: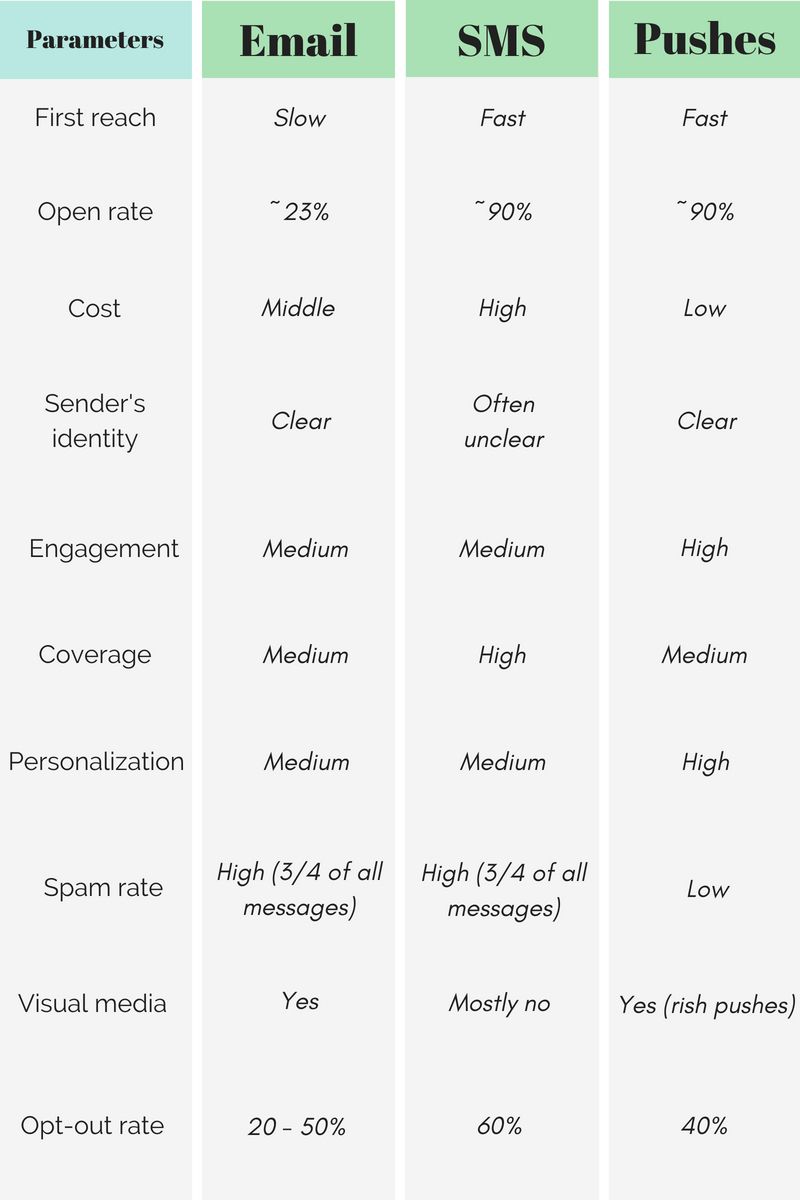 In terms of saving on your marketing budget, however, push notifications definitely win. SMS messages are way too expensive, especially if you have a large client base. Comparing push notification vs email, the latter is pretty expensive too, and doesn't reach customers as well as push notifications.
In order to use them, though, you'll need a mobile app, and that will require a budget. But along with the ability to send push notifications you'll benefit from a bunch of other useful features and possibilities that will help your business develop. These include:
Advanced analytics
Access to a new market
Location-based services
Access to native device functionality
If you're not sure you want to dedicate money for a native mobile app but you're still interested in how push notifications can help your business, consider developing a cross-platform app first.
Let's talk money
So to what extent can you really save money on marketing by using push notifications? Let's compare the prices.
Email
The cost of email marketing depends highly on your number of subscribers. Most providers offer custom pricing plans if your client base is larger than 25,000.
The price range is broad, and depending on your customer base, you can expect to pay $15 to $250 per month for unlimited emails for 1000 subscribers.
For 25.000 subscribers you'll need to pay from $150 to $350 per month depending on the pricing plan and additional features.
SMS
Just as with emails, pricing for SMS marketing varies depending on the number of clients and your provider. Each provider offers additional services that are included in your monthly payment.
If you have over 1000 subscribers, expect to pay from $50 to $500 per month to support your SMS marketing channel.
If you have 25.000 subscribers your budget will fall somewhere between $500 and $1000 per month.
Push notifications
Push notifications are the cheapest option. Many providers offer the first million pushes for free, then charge $1 per 1 million push notifications.
As you can see, this can save you a load of money.
Final thoughts
In this article, we compared email, SMS, and push notifications, to help you decide which you should use in your marketing campaign to achieve the best results.
In our opinion, push notifications can substitute for costly SMS messages entirely – they're almost identical in their open rate. On our opinion, push notifications are the best option: when used with deep links they provide great results at a lower price. Plus, push notifications can offer better UX. Try to implement push notification in marketing strategy to increase customers loyalty.
Email, on the other hand, will probably still be necessary for your business. The difference between email and push notification is primarily in the amount of content you can share. If you need to send your customers more information, you'll need to use an email.
However, make sure you don't send too many emails – that's the main reason most people opt out of receiving them.
If you want to save money, use both emails and push notifications – this will reduce your marketing budget a lot.
Ecommerce development services
Are you planning to expand your business online? We will translate your ideas into intelligent and powerful ecommerce solutions.
Rate the article!
🌕 Cool!
🌖 Good
🌗 So-so
🌘 Meh
🌑 …