Top 10 Dating Apps: Best Features and Business Models
Mobile dating app market is full of different and unique apps. In this article I'll compare 10 best dating apps of 2023. You'll find out what statistics can tell about the dating app market.
What can statistics tell us about the dating app market?
When it comes to dating apps, Tinder is probably the first that comes to mind. When we add up the downloads of all dating apps worldwide, Tinder is in the lead on both the App Store and Google Play. In second place is happn, which has only a third as many downloads. Happn accounts for 17% of total dating app downloads, whereas Tinder holds 51% on both of the app stores.
Now that we've established that Tinder is the king of dating apps, let's see who's also in the running on each app store. Besides Tinder, the top dating apps vary by app store. On Google Play, right after Tinder comes happn and then LivU. On the App Store, Bumble and Hinge are in second and third.
Now, let's see what the top dating apps are in different countries. Tinder takes the first spot in every country we've analyzed, but the apps in second and third place differ.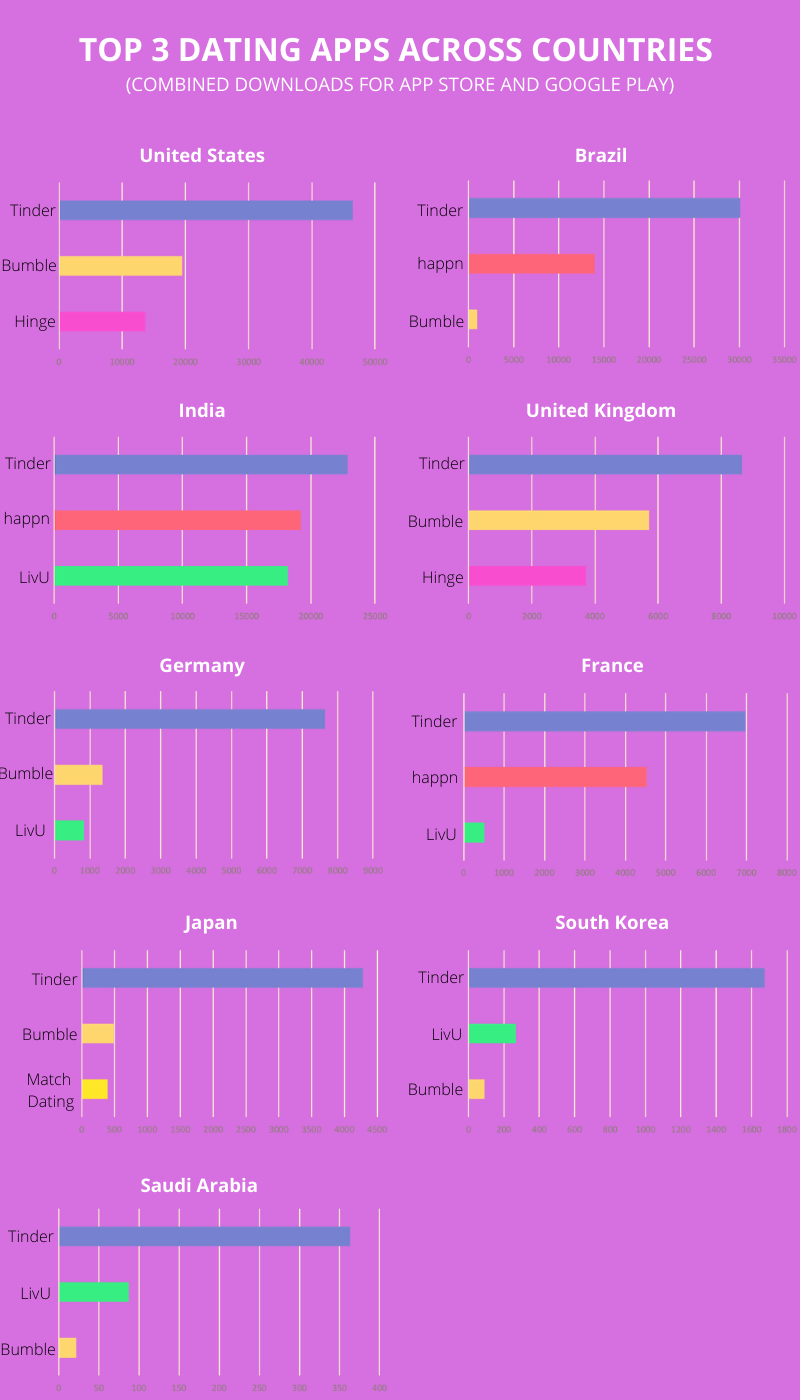 From the infographic above, we can say that Bumble and LivU are in the top three in the largest number of countries. Bumble is in the top three in seven out of the nine countries we've analyzed, while LivU is in the top three in five out of those nine.
Top 10 dating apps in 2023
Even though Tinder wasn't the first dating app, it revolutionized how the dating industry works. Tinder is quite simple: all you need to do is create a brief profile and start swiping to find a match.
To use Tinder, you have to be at least 18 years old. And as of recently, you don't have to have a Facebook account. Once you sign up, you'll be asked to create a profile with a bio (up to 500 characters) and up to six images. Your Tinder account can be linked to your Instagram account and include information on your work and school. You can use the discovery settings to allow other users to find you and can adjust settings regarding who you see.
In the Tinder interface, you can see only a user's photo, name, and age. To see additional information you need to tap on the photo. If you like someone, you can swipe right; if not, swipe left. If you really like a prospect, you can swipe up and use one of your Super Likes. If two users swipe right on one another, the app will show a screen with a match and an invitation to send a message. But remember that the free version of Tinder has a limited number of swipes.
You can sign up for Tinder Plus or Tinder Gold to get features like unlimited swipes. Tinder provides users with great usability thanks to its large photos, easy profile settings, and elegant interface. And Tinder doesn't let people message you unless you match, so you won't get unwanted messages. Tinder is the most popular dating app today, which means you're likely to find someone you like on this app.

Bumble is quite similar to Tinder, but its functionality is slightly different. The key difference is that when a man and a woman match, the woman has 24 hours to send a message. Men don't have that opportunity; they need to wait for women to message them first. This way women don't get unwanted messages. If a man really likes a woman, he can prolong the time to 48 hours. Women can do the same if they don't have time to chat. If a match is same-gender, either person can start the conversation.
Bumble's 24-hour approach gives people a little push to start a conversation.
Also, if you accidentally swipe on someone, you can just shake your phone and the match will be undone. The swiping process works almost like Tinder's, only swiping up lets you scroll through additional photos instead of Super Liking someone.
Bumble is famous for its friendly environment and for being a safe place for women to find companions. The app has a strict policy of no inappropriate pictures and content and requires users to treat each other with respect. If you're a woman who doesn't like making the first move, this app may not be for you. But if you're a woman who knows exactly what she wants and isn't afraid to do something about it, this app is a perfect match.

Grindr is the most popular and biggest dating app for the LGBTQ+ community. To sign up, you can use your Facebook profile or enter information manually. Grindr asks new users to set a profile picture, add a short description, and make it clear what they're looking for. In the app, you can favorite people if you want to message them later.
Mobile app development services
Are you planning to make a dating app ? We will translate your ideas into powerful solutions.
You can also choose a location to find nearby matches. To start a conversation, you just need to tap the messaging icon on a user's profile. Grindr lets you share your location with your date to make meetups easier. And if something goes wrong on your date, you can report it or block your date's the account. But remember that you have a limited number of free blocks.
The app has a free version, but it lets you see only 100 profiles from your area. If you want more options, you can get a Grindr XTRA subscription, which lets you see up to 600 profiles in your area, only see users who are online at the moment, block ads, and access other perks for $20 a month. Grindr Unlimited ($25 a month) lets you see an unlimited number of profiles, find out who has viewed your profile, and browse in Incognito mode.

OkCupid is another popular dating app. Unlike the previous apps we've listed, OkCupid asks you to fill out a long profile that reveals your personality. You can also link your Instagram account. The OkCupid app has a fascinating process for matchmaking. It offers you a list of questions to answer to help you find someone with similar views. This approach makes matches more compatible and saves you from awkward first date conversations.
Note that the Matches option is for browsing possible matches, not to see people you've matched with.
On the downside, OkCupid has a clunky interface with small photos. To see a user's profile, you need to tap on their photo. Another problem is that OkCupid allows anyone to message without any restrictions.

At first glance, you may think Hinge is similar to Tinder. But if you look closely at its functionality, you'll see that it's very different. Hinge uses common interests to match users. To find out your interests, the app asks you to answer a few questions in a Tinder-like interface. For example, Hinge might ask Have you ever been to Paris? To answer yes, you can swipe right. This approach makes answering questions fast and easy. Users are allowed to message each other only if they match, so you won't have any unwanted conversations.
Mobile app development services
Are you planning to make a dating app ? We will translate your ideas into powerful solutions.
Hinge has a free version with limited likes and a limited ability to see who liked you. The paid version is called Preferred and costs $9 a month.
Happn is a mobile dating app that shows you profiles of people you've crossed paths with. This ensures you always have something in common with your match. The app uses GPS to track your movements, but it doesn't show other users your location in real time. Happn has its own slang, calling matches "Crushes." Another interesting feature of happn is that you can like someone secretly. They won't find out about it unless they like you back.
If you're not that shy, you can use a Charm button to let someone know you're interested. But this feature costs coins that you have to buy in the app. You can begin a conversation with someone after you match. Happn integrates with Facebook, Instagram, and even Spotify so your potential matches can see what kind of music you like.
Plenty of Fish combines Tinder's matching approach and happn's nearby feature.
The app has its own distinguishing feature called "Spark" that allows you to quote part of your match's profile as an icebreaker.
Similar to other dating apps, Plenty of Fish questions you on your likes and dislikes. The app is completely free and doesn't charge to message or browse matches. The signup process is quite lengthy, however, and the mobile layout looks a bit inconvenient.
Badoo is a dating app with a unique concept. At first it looks just like Tinder, with swiping and discovery features. But Badoo finds you a match based on which celebrity you like. It uses facial recognition technology to scan the faces of potential prospects and finds ones that look like the celebrity you've picked. Unlike other dating apps, you get a smaller pool of potential matches.
Match Dating is quite an old dating app. To sign up, you need to fill in the usual personal information and answer a few interest questions. To show that you like someone, you can send them a "wink." Match Dating will also send you daily personalized matches based on your interests and has a personalized dating coach that sends recommendations of people who match your desires.

LivU is a video chatting app that's often used as a dating platform. As always, you have to fill in profile information to start matching. If you want, they can filter matches by gender. You can add friends, send messages during a video chat, use video filters and effects, and block users who exhibit inappropriate behavior. To go to the next match video call, you just need to swipe right.
A quick summary of mobile dating
Tinder is the most used dating app worldwide, accounting for more than 50% of total mobile dating app downloads.
India, France, and the United Kingdom have quite fragmented markets, with apps such as happn and Bumble taking a big part of the download share.
Dating apps that have a simple signup process and a sleek interface are in highest demand.
To compete with Tinder, your mobile app has to have a unique value proposition. For example, Bumble and Badoo are popular thanks to their interesting approaches.
If you're thinking about developing a mobile dating app, don't hesitate to contact Mobindustry for a free consultation.
Get an example of the Discovery Phase documentation for your digital project
Get our exclusive materials on software development for business
Rate the article!
🌕 Cool!
🌖 Good
🌗 So-so
🌘 Meh
🌑 …