Top 10 Ski Mobile Apps to Learn from
Ski resorts are thriving. Each year, thousands of ski and snowboard aficionados head up the mountain to set new records. Mobile apps make winter sports more approachable and exciting. We've prepared a list of the hottest ski apps for committed skiers.
Over the last few decades, skiing has evolved into a mainstream winter activity. According to the report by Swiss researcher Laurent Vanat, around 400 million skiers visit 6,000 ski areas each year. The rapid development of ski tourism has caused the rise of a large number of ski mobile app development to cater for every skier's needs.
There are ski apps for tracking the weather, snowfall, discounts, and runs down the slopes. With a few taps on their phones, users can book accommodation and ski lessons, rent equipment, and look for scheduled events. Ski resort apps are often developed alongside smartwatch versions to make them even more convenient to use.
Ski app features
Most ski apps have a wide range of features, bringing outdoor winter sports to a new level. Dedicated both to beginners and pros, to one-man skiing and conquering slopes with friends, ski apps have the following functionality stack:
Tracking
Weather forecasts
Maps
Booking
Safety kit
Social communication
Tracking
Similar to fitness trackers, ski apps use a skier's phone or wristband sensors to measure the skier's daily activities and display metrics including speed, distance, verticals, airtime, time spent on lifts, and calories burned. Skiers can track their riding achievements, see progress during the season, and compare data with previous years.
Thanks to the in-app trackers users alsways know at what speed they're riding and the time they're spending on lifts.
Weather forecasts
Ski apps provide avalanche reports and regular updates on weather/mountain conditions. Some apps allow users to contribute data on hazards and obstacles on traces in order to inform other skiers about dangerous routes or slippery slopes. Skiers can use geotags to indicate the exact places other skiers should avoid.
Maps
All ski apps contain maps of mountain terrain and resort facilities. Many apps integrate augmented reality (AR) technology to enhance the user experience and give skiers more detailed information about slopes. By simply pointing their camera at a peak, a user can get information about its height and traces as well as tips on how to ski it. An AR-powered app places digital overlays on a skier's live view. Usually, these overlays include information about lodges, restrooms, restaurants, lifts, and recreation areas.
Streaming
A feature that allows skiers to stream video while on the slopes is a way to attract hardcore winter sports enthusiasts and inspire others. Streaming works as self-promotion but also helps to promote winter sports. Users can stream right on their phones or connect an action camera with an app.
Booking
This feature allows users to book accommodation, equipment, skiing/snowboarding lessons, and lift tickets within an app and far before the beginning of the ski season.
Safety kit
This feature's main mission is to ensure that skiers come back safe and sound. It shows user where there's a stronger internet signal and automatically sends the user's current location to the server every hour so rescuers can use this information in case the skier is absent for a long time and connection with him lost.
Social communication
Ski apps feature in-app messaging and groups so users can share their sessions online with friends and other riders. Social features include private chats, photo and video sharing, joint challenges, and halls of honor. An in-app community helps riders not to lose sight of their buddies in vast ski resort territories. Users also can rate each other's content.
How to promote a ski app
Social marketing
Social marketing has long been an important part of app promotion. By effectively using social media, you can build an audience, drive demand for your app, and increase downloads. And that fact that the average age of potential ski app users is between 20 to 40 makes social marketing the perfect tool for creating a community of skiers and snowboarders. Don't forget to focus on your users: regularly respond to their reviews, provide support, and ask them to share their experience using your app.
Engaging content
To encourage users to follow your social pages, make sure to post news and useful information about promos, app updates, and new features. For ski resort apps, skiers will be happy to learn about lift queues, forecasts, the best traces, tutorials for beginners, etc. By creating an online community for people interested in winter sports, you'll be able to introduce your app to more people.
Reward system
Give new users a welcome bonus in the form of an immediate promo code. Incentivize long-term users with tangible rewards such as discounts, stars, badges, and even real money they can spend on lift tickets, ski lessons, or food and drinks.
Gamification
Gamification is a great way to catch the interest of your target audience and improve user retention. Implementing game elements in a ski app will encourage user to solve quests and complete levels in exchange for rewards or new features. Puzzles and simple tasks will refresh your app.
The 10 best ski applications
It's easy to get buried under an avalanche of apps dedicated to alpine sports. So we've gathered the top 10 apps for skiers and snowboarders.
Ski Tracks
Google Play rating: 4.2
App Store rating: 4.3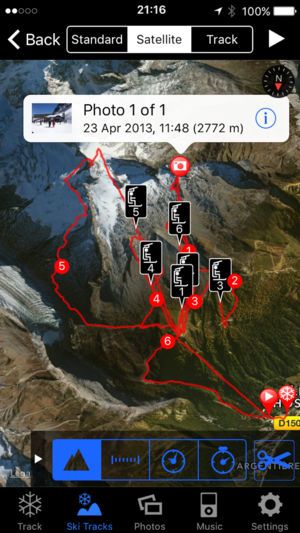 Available for both iOS and Android, this app works as a GPS tracker to record a user's ski sessions. Ski Tracks collects comprehensive data, including maximum and average speed, total distance traveled per day, and slope angle. All of these metrics can be logged, divided into different runs, and plotted on a map.
No data or phone signal is required, which makes Ski Tracks an ideal app for the backcountry. Battery efficient technology allows users to record up to 14 hours, as the app runs in the background. What's more, it has support for Apple Watch, Android Wear, and Pebble, so there's no need to get the phone out. Both the iOS and Android version cost $0.99, and there are no in-app purchases.
OnTheSnow Ski & Snow Report
Google Play rating: 3.9
App Store rating: 2.6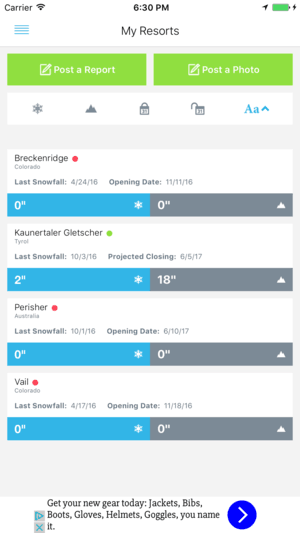 The Ski & Snow Report app is produced by OnTheSnow, the worldwide leader in snow reports and ski conditions. This app delivers daily snow reports and current conditions from the slopes of more than 2,000 ski destinations globally. It's also a place where skiers can check for the latest discounts and coupons on lift tickets and gear. Ski & Snow Report sends notifications when ski resorts receive fresh powder on their slopes. Extras include trail maps, resort details and reviews, and skiing news. The app is free for both mobile platforms.
Ski app development services
Are you planning to build a ski resort app? We can offer you the topmost mobile solution.
Mountain Hub
Google Play rating: 3.4
App Store rating: 4.1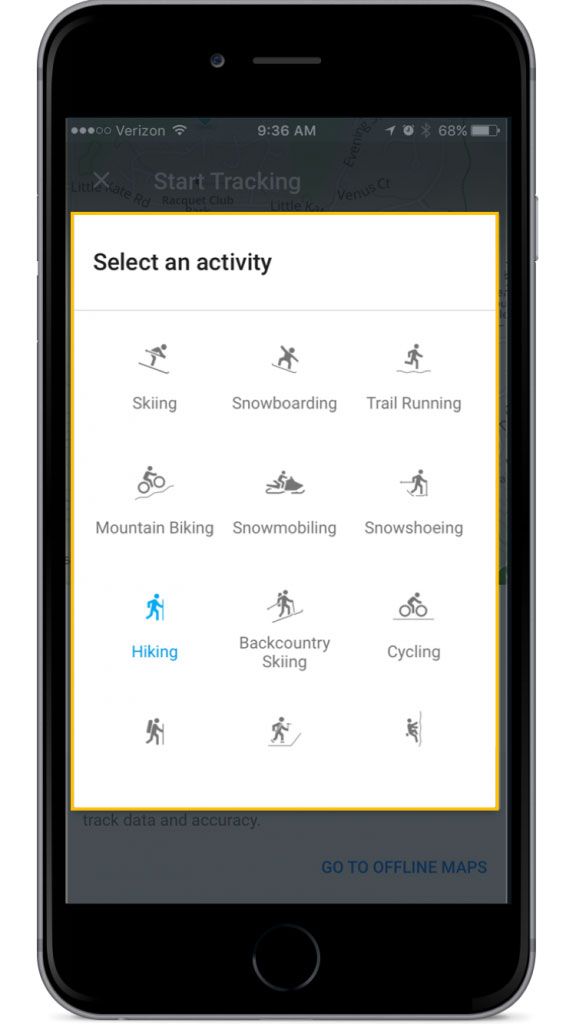 Mountain Hub is a community-fueled app that allows users to map out a mountain and geotag possible concerns and hazards. It can be used as a planning app, a safety aid, a track logger, and a navigation app. This app provides updates about current conditions and adventures from other members of the community. The option to save maps for offline use will come in handy for those wandering away from civilization. There's no subscription fee or in-app purchases: Mountain Hub is free for iOS and Android.
PeakFinder
Google Play rating: 4.5
App Store rating: 4.7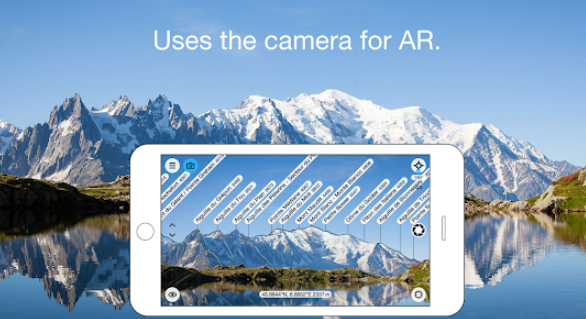 PeakFinder is a mobile app that helps you explore the mountains around you. Using an elevation model of the entire planet, PeakFinder overlays images viewed through your camera showing the names and elevations of nearby mountains. You can use PeakFinder to tag your saved photos "like a postcard," says creator Fabio Soldati. The app comes with a one-time fee of $ 4.99 and is offline and available for Android and iOS.
Skiresort
Google Play rating: 4.3
App Store rating: 4.5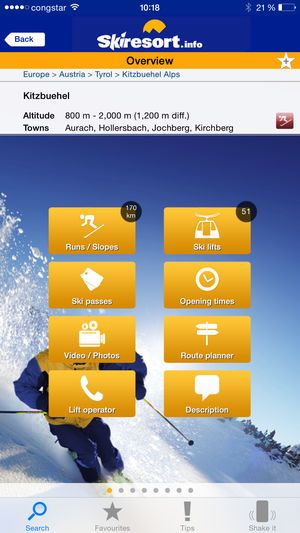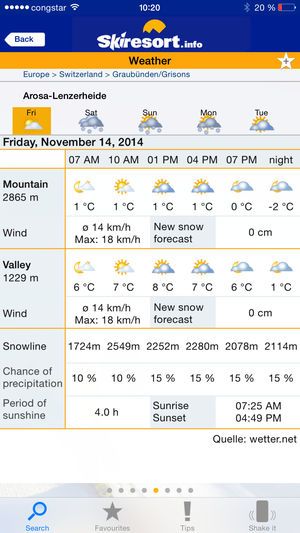 This app offers an extensive amount of ski-related information and can be used as an ultimate guide for skiing and snowboarding. Skiresort contains detailed information about over 5,000 ski resorts and ski lifts worldwide, zoomed-in trail maps, data on snow depth and weather conditions (updated four times a day), webcams, and live streams. It shares info with users regarding ski pass prices and opening times and accommodation for ski holidays. Skiresort is free but contains advertisements.
OpenSnow
Google Play rating: 4.5
App store rating: 4.6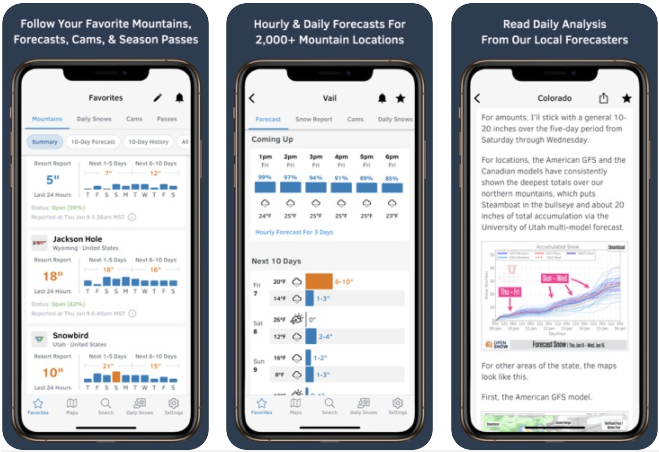 OpenSnow was created by a group of gunpowder-obsessed weather forecasters.
"We wanted to make the best predictions for ourselves and our friends," said co-founder and CEO Joel Graz.
Value Proposition: Tracking and forecasting mountain snow for skiers and snowboarders looking for the best snow, especially in the western US. The staff includes local forecasters who blog on snow conditions in the field on a daily basis.
OpenSnow is available on iOS and Android, OpenSnow is free to use, though the "All Access" premium subscription ($19 per year) includes ad-free, longer-range forecasts, alerts for particularly powdery days and 24-hour access to snow camera feeds from resorts. This year, updates include new graphs and table views that allow users to compare 10-day and night forecasts across multiple locations. The team is also working on offline trail maps and an update to its snow report functionality.
Slopes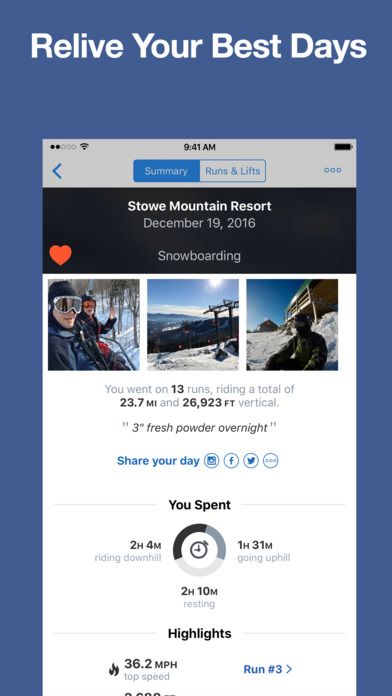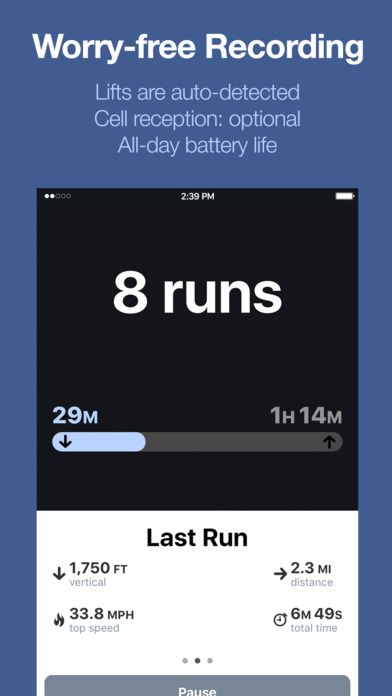 Slopes is an iOS-only skiing and snowboarding tracking app that tracks ski lift rides and downhill runs even when there's no internet connection. Users can add photos and notes, view a timeline and breakdown of the day's activity on the slopes, and track their stats over the season. It also allows users to replay their runs with heat maps. All stats are easily accessible from Apple Watch. A premium subscription adds more detailed winter, terrain, and satellite maps and an option to relive runs on a virtual 3D mountain.
SkiTracker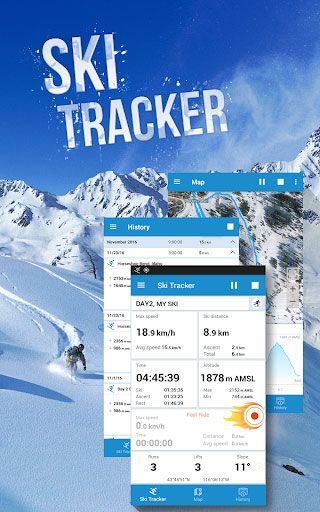 Ski Tracker is a freemium ad-supported app for skiers and snowboarders. It measures the maximum speed, records tracks, marks slopes on the map, and provides full statistics on a user's winter sports activities. Premium subscribers get an ad-free experience and extra tools like a more detailed map and the option to add geotags to photos. Users can activate a 30-day premium version to try out additional functionality.
Wrapping up
There are many ski tracking applications on the market offering similar features but with distinctive functionality of their own. This allows skiers to choose the app that provides the most valuable information for them. One of the most important features for ski applications is the ability to work offline, since internet connections are often lost in the mountains. Almost all ski apps serve as trackers, collecting stats and helping riders watch their progress. The only disadvantage of such apps is that they actively use GPS, discharging the battery fast.
Ski app development services
Are you planning to build a ski resort app? We can offer you the topmost mobile solution.
Rate the article!
🌕 Cool!
🌖 Good
🌗 So-so
🌘 Meh
🌑 …