Top-Notch Android App Development
Mobindustry has developed and maintained hundreds of Android apps for everything from retail to social media. We provide android app development services for many types of businesses and make sure people enjoy our apps on a wide range of Android devices from different manufacturers.
Kotlin
Kotlin is a young programming language that allows effective interaction within a developers team. We use it to build flexible and maintainable applications
Java
Java is the universal programming language we use to develop solid mobile apps with few dependencies
Android SDK
Android SDK is a comprehensive set of tools we use in our work. It includes libraries, debuggers, emulators, API documentation, and sample source code
Dialogflow
We use this powerful tool from Google for building voice- and text-based conversational interfaces used in voice apps and chatbots
Android Pay
We integrate Android Pay to provide an easy and fast payment gateway for users of our clients' mobile apps
Voice Control
With voice control users of applications we develop get an ability to control apps with voice via Google Assistant, that can perform different useful actions
Databases
We have lots of experience choosing databases that suit the particular needs of an app. In Android, we usually choose among Room, Realm, ORMLite, and SQLite
How we build great Android apps
---
The biggest challenge in custom Android app development is making sure the app works perfectly on thousands of unique Android devices. Before we begin development, our experts study the market and the target audience to find out the most popular devices that we should prioritize support for. Our goal is to build Android apps that people actually use.
Mobindustry has a team of talented engineers who are able to strike a healthy balance between cutting-edge and time-proven technologies. This makes our apps both reliable and up-to-date. We're also versatile, building Android apps for smartphones, tablets, Android watches, and Chromecast devices.
We choose the technologies that best suit your project, and if there are no ready solutions, we provide our own. To ensure code quality, our Android app developers regularly refactor our applications and cover them with unit tests. This makes maintenance easier in the future.
Model-View-Presenter is a development architecture that divides the whole application into three layers: a data layer, a UI layer, and a presenter layer, which works as an intermediary between the data and UI layers and reacts to user input. An MVP architecture is generally used to build user interfaces, as it shows how the interface changes according to data and user behavior.
Model-View-ViewModel divides an app into business logic with basic data, the UI, and a UI model that reflects all changes in the business logic.
With MVVM, we enjoy all the possibilities of data binding, which allows us to completely separate the UI from code. This enables designers and developers to work separately and minimize the app's logic.
Clean Architecture usually distinguishes four layers: business logic, use cases, interface adapters, and frameworks. In reality there can be any number of layers, but they can't be affected by each other according to hierarchy. Independence from frameworks and databases makes apps built with Clean Architecture maintainable and flexible.
Project example: ALLO, a huge electronics retailer
Allo is a big electronics retailer that owns over 250 physical shops around Ukraine. This is a android application development project we are proud of. We developed an Android retail application that has all the features necessary for making a purchase anytime and anywhere, including geolocation, a payment gateway, a catalog, product pages, and search with advanced filters.
After the app's launch our client noticed an increase in overall sales and revenue. This clear benefit for business gave a big push to the app development process, and currently our development team is maintaining the Allo Android app and adding new features that optimize the delivery process.
We frequently update our client's app on the App Store, optimize its profile, and support users by responding to their requests.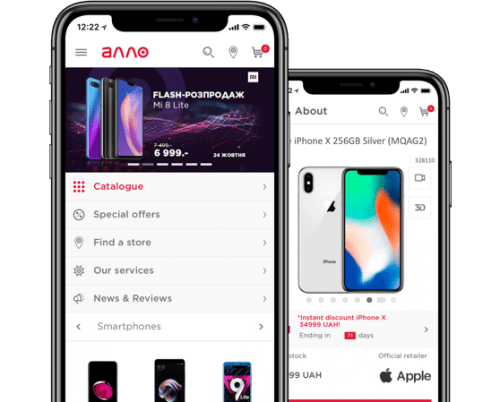 Our experience in Android development
We have:
Created hundreds of Android apps for large enterprises and small startups

Created Android watch apps

Created an NFC app for Android

Integrated Google Assistant to boost a client's business

Maintained and supported Android apps