Effective Mobile Analytics
We use advanced mobile analytics in every app we develop. Without analytics, an app is useless, as there's no way to control its quality. Our team can integrate any kind of analytics into a mobile app, allowing you to get valuable insights into your app's audience (devices they use, behavior, locations), user growth, revenue, and most-used features.
Firebase
Firebase offers lots of tools like Crashlytics and MLKit we use to build, test and support our apps. A/B testing, push notifications service and Google Analytics help us to boost our client's business
Google Tag Manager
We use Google Tag Manager to track user behavior and see which elements in your application work as they should and which confuse users or get ignored altogether
Crashlytics
Crashlytics gives extensive data concerning the number of crashes and user activity. We use it also for real-time monitoring and statistics
Flurry
Flurry analytics offers audience segmentation, funnel analysis, and user path tracking, that allows us to get valuable information about the app audience and send them personalized notifications
Market analytic
After the app is ready and analytics are integrated, it's time to promote it on the app stores. Mobindustry helps with promoting apps on app stores by working with Google Play Search Console and iTunes Connect
How we use mobile analytics
---
Mobile analytics help you achieve several goals as a mobile app owner: maintaining the app's quality, receiving feedback from users, and getting to know your audience better.
Information about your app's quality includes bug and crash reports. With the help of analytics, you can learn valuable information about your users: the devices they use, operating system versions they run, where they're located, their demographics, and their in-app behavior. Analytics allow you to quickly react to user feedback and adapt your app to market requirements.
We have broad experience integrating analytics tools in mobile apps. The analytics tools we use are high-quality third-party products. We choose tools for each individual case to provide you with the information you need to boost your business and meet your KPIs.
Project example: ALLO, a huge electronics retailer
Allo is a big electronics retailer that owns over 250 physical shops around Ukraine. We developed an iOS retail application that has all the features necessary for making a purchase anytime and anywhere, including geolocation, a payment gateway, a catalog, product pages, and search with advanced filters.
After the app's launch our client noticed an increase in overall sales and revenue. This gave a big push to the app development process, and currently we're maintaining the Allo iOS app and adding new features that optimize the delivery process.
We frequently update our client's app on the App Store, optimize its profile, and support users by responding to their requests.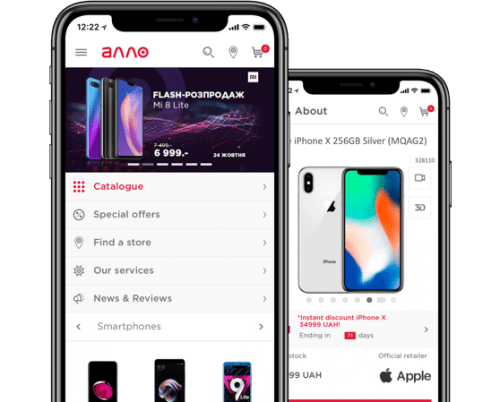 Our experience in mobile analytics
We have:
Integrated mobile analytics in hundreds of Android and iOS apps

Increased our client's user base from 100 to 100,000 monthly users

Provided thousands of useful analytics reports for our clients and made improvements according to them