The shared mobility industry is thriving. Ridesharing, carsharing, bikesharing, and scootersharing companies are popping up like mushrooms after a spring rain. The main driver of their success is environmental concerns. All efforts now are addressed at reducing emissions and traffic congestion. Thanks to this, alternative means of transportation have been able to go big in a short time.
Out of all shared mobility options, scootersharing appears to be the best option for a startup as it requires a smaller budget than carsharing. Plus, scooters are more fun to ride than bicycles. E-scooters help to solve the first-/last-mile transportation problem.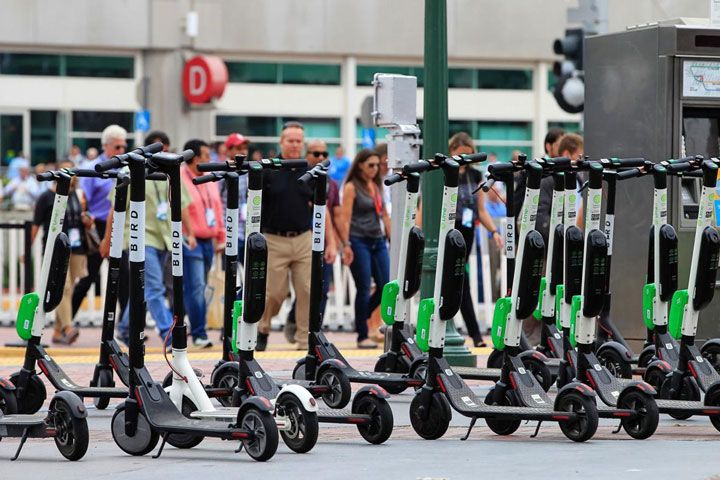 As Tier investor Elmar Broscheit points out in an interview with Euronews, 20% of ride-hailing (e.g. Uber and Lyft) rides are under 3 kilometers (1.9 miles). This 20% dramatically slows down the other 80%, amplifying congestion and pollution. Cities have been looking for last-mile solutions for a long time. Building bicycle lanes is not a new trend. Electric scooters can serve as an add-on to public transportation, and they produce no emissions.
That being said, let's go back to the financial part of the matter. The main question is which method of app development to opt for. For starters, let's take the process of launching a scootersharing startup step by step.
How to start a scootersharing company
Before launching your own scootersharing business, one takes the following steps:
Study the market
Receive permissions
Purchase scooters
Choose payment methods
Decide on technologies and features for your app
Buy a ready solution or request a custom app
Set up a scooter repair shop
Launch advertising and marketing campaigns
Study the market
The first thing you need to do is to conduct a thorough study of the scootersharing market to learn about the competitors. Analyze their strategies and compare their strongest features and prices. Find out who their users are. With this information, you'll have a better understanding of what scooter operators have in common and how they differ from each other. By checking their winning and weak points, you might come up with your own ideas that haven't yet been implemented.
Receive permission
As scooters are part of road traffic, a scootersharing operator has to receive official permission from local authorities in order to start a business. Without completing all procedures, you risk getting your scooters confiscated/banned right after the launch. Ask local officials where your users can ride and park scooters.
Find a scooter company
Screen the list of scooter manufacturers to form your own fleet. There are a wide variety of players in the market, but you should search for those that offer vehicles suited for scootersharing. This means they already have embedded IoT systems (in-scooter devices and smart locks), high-capacity batteries, and anti-vandal precautions.
Choose payment methods
All payments for scootersharing are conducted online by credit/debit card (Visa, MasterCard, American Express), e-wallet (PayPal, Stripe, Google Pay, Apple Pay), or local payment processors available in your country or city. The advantage of accepting different means of payment is that you'll be able to cater to all your users no matter what payment method they prefer.
Decide on technologies and features for your app
Make a list of the features you'd like to see in your scootersharing app. Find out what technologies are usually required. Apart from the mobile app, you'll also need an admin panel to manage your fleet and payments and collect analytics. If you have only a vague notion about the technical side of things, you can get a consultation from a company who specialized in mobile app development.
Develop an app
Here you have to make a major decision: buy a ready solution or develop a custom app from scratch. Both options have their pros and cons, which we'll consider in detail a little bit further.
Apart from the mobile app, you'll also need an admin panel to manage your fleet and payments and collect analytics.
Set up a scooter maintenance service
Say your scooter is broken, stolen, or just ran out of power. Who's going to save the day and make sure your property is restored and fuctionating again? For this purpose, hire scooter maintenance staff who will be in charge of ongoing repairs and recharging batteries. They can also gather up scooters left along pathways at the end of the day and put them back in the streets in the morning. Following a GPS signal, they can track down stolen scooters and identify scooters that require a battery charge.
Launch advertising and marketing campaigns
Once you decide on the app features and area of operation, it's time to plan your marketing campaign. There's a myriad of ways to promote your service, from posting on social media to hiring seasoned marketers who use advanced AI-powered tools.
What are the cornerstones of a scootersharing business?
Scootersharing requires two fundamental components: physical resources/hardware (scooters, on-scooter devices) and software (mobile app, admin panel, and server).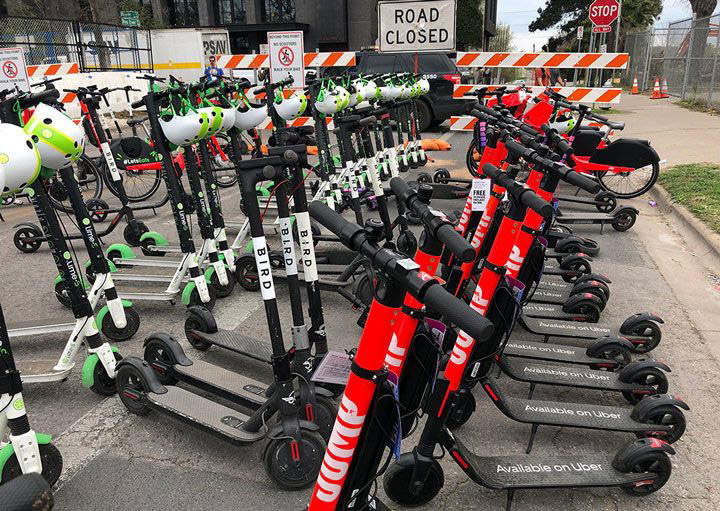 Hardware. Unless you're planning to start your own production, most likely you'll buy a fleet of scooters from an existing scooter manufacturer. There are companies specialized in producing scooters solely for rental means. These scooters are more durable and come equipped with high-capacity batteries, IoT controllers, and anti-vandal protection. They're also white-lablel, which means you can put your scootersharing company's name on them and design them to your liking.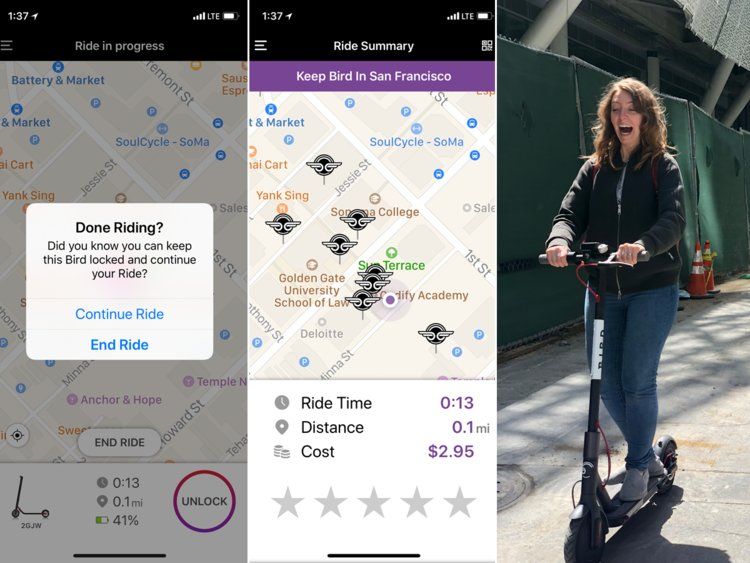 Software. Another important aspect to consider is software. The system that operates the whole process is based on three pillars: a server (backend), admin panel, and mobile app (frontend).
Keep in mind that these systems are all required: exclude one and the other two will stop running. Steady and seamless operation is ensured by high connectivity and synchronization between the three parts of the system. This means that each component must show high performance. Frequent app crashes, payment system issues, or scooters failing to unlock will scare away users as well as investors.
Steady and seamless operation is ensured by high connectivity and synchronization between the three parts of the scootersharing system: a server (backend), admin panel, and mobile app (frontend).
There are two ways to obtain software for your scootersharing endeavour. The first is to license an out-of-the-box solution, in which case you won't have a chance to change anything at later stages.
The second is to build custom scootersharing software tailored to your needs. Both options have their advantages and disadvantages, and it's up to you which to choose. Let's look closely at the benefits they offer and the obstacles they bring.
An out-of-the-box solution or a custom app
Out-of-the-box solution
Some scooter manufacturers – often based in China – offer all-inclusive packages: scooters at an attractive price (say $400 each) along with scootersharing software.
China is one of the top scooter manufacturers globally. The electric scooter and motorcycle market in China was worth $7.7 billion in 2017, and is projected to reach $12.5 billion by 2025. Within China, government support for electric scooters is limited and battery swapping facilities and recharging stations are only available in a few cities. But the market is growing steadily.
However, Chinese manufacturers are mainly focusing on the export market, offering a wide range of electric scooters at different price points and with different specifications. So it doesn't come as a surprise that many scootersharing startups fill their fleets with scooters from China. For instance, Bird and Spin are using Mi scooters produced by Xiaomi's subsidiary Ninebot.
Such scootersharing companies as Bird and Spin are using Mi scooters produced by Xiaomi's subsidiary Ninebot.
Now, let's talk about pitfalls of choosing a ready solution for your startup. Even though you can get a cost-efficient package in the space of a few months, you won't be able to make free use of the software you've paid for. At the same time, you won't get a chance to test the software unless you provide a 15% prepayment (around $10–15K) and sign a contract.
In such a way, scooter companies try to protect their data (APIs) from theft, though usually they use standard protocols suited for every IoT device. Apart from this, you're obliged to pay a monthly service fee for each scooter in your fleet (about $10–15 per scooter).
Let's sum up the pros and cons for buying out-of-box scootersharing software:
Pros
Cheaper (for the first year)
Convenient
Suited for a short-term project
Only takes 1–2 months
Cons
You don't have rights to the software
You need to pay a monthly service fee
You can't alter the code
You receive a standard design and features
You can't test the API before purchasing
The vendor can see your database and transactions
Custom solution
Your second option is to build custom software. The main perk of this option is that you decide on what features to implement and technologies to integrate and can make suggestions during the development process. This way, you can tailor your app to your liking. If you're building your own app, you'll pay only for the product and won't be charged any service fees. And only you will have access to the app's admin panel.
It's also possible to integrate third-party services (analytics tools, payment gateways, messengers) and create a user-friendly UI/UX. You can add/change/delete any feature along the way. Another advantage is that a custom app isn't limited to one model of scooter and can connect with different IoT controllers.
However, when choosing to develop scootersharing software from scratch, you need to understand that development might take 1.5 to 2 months or more depending on the list of features.
A custom app isn't limited to one model of scooter and can connect with different IoT controllers.
What tools are used for scootersharing app development?
1. Admin panel
Frontend: ReactJS
Backend: Node.js
2. IoT controller API provided by the e-scooter supplier
3. Mobile app: cross-platform framework (Flutter or React Native)
Let's list the pros and cons of a custom app:
Pros
All rights to the software belong to you
You can take out a patent for features and white-label your software
You can integrate third-party services
Custom software can support different scooters
Unique UI/UX
You can add/change/delete features
You'll receive a three-month guarantee on bug fixes*
The database is yours
Suited for a long-term endeavour
No service fees
Can recoup the cost of development in less than half a year
Cons
You receive only software, which means you still need to buy scooters separately
Development might take 1.5 to 2 months or more depending on the list of features
You can sell your ongoing business including software, since all rights on code belong to you
*Guarantee if you build an app with Mobindustry.
What the numbers say
Out-of-the-box software. Let's calculate the cost of a ready software solution along with 100 scooters:
$400 – price of one decent scooter equipped with an IoT controller and smart lock (we won't include shipping, customs fees, and taxes)
$40,000 – cost of the entire fleet
$10,000–15,000 – cost of preparations and app deployment
$13 – monthly service fee per per scooter ⇒$1,300 per month ⇒ $15,600 per year
Total:
Estimated cost: $40,000 + $10,000 + $46,800 (per year for 3 years) = $96,800
Delivery time: 1.5–2 months
Custom software. In the second case, we build a scootersharing application from scratch. In this case, we also need to calculate the cost of 100 scooters.
$40,000 – cost for a fleet of 100 scooters
$25,000 – cost of software development
Total:
Estimated cost: $40,000 + $25,000 = $65,000 (forever)
Delivery time: 2–3 months
If you want you can sell your ongoing scootersharing business including software, since all rights on code belong to you.
Please note that costs of running and maintaining the software for the first year will be the same for both options. However in the long run you'll be spending more on the out-of-the-box solution due to the service fees you're obliged to pay.
Also you'll be able to recover the funds spent on the software and scooters during the first year. In the second year you'll start to generate first incomes. Given the fact that you don't have to spend extra if you use your own software, your revenue will be higher than that of a business using a ready-made solution.
Wrapping up
As you can see, even after conducting a fair comparison, it's still hard to give a clear answer as to which option is better – out-of-the-box software or custom development. It depends on your goals and resources. However, it's safe to say that when you buy a ready solution, you'll come across limitations. A custom application gives you the freedom to be your own boss. If you would like to request a more detailed estimate of the development cost and delivery time for your app, contact us for a free consultation.
Scootersharing app development services
Do you want to build your own scooter sharing app? We will transform your ideas into a full-fledged mobile product.
Get a Free Consultation!