About My Style
Multiplatform image-based miniblog
Custom camera and filters
Make your photos and use filters to get it look better.
Gallery
Keep your works and make them better.
Social features integration
Let your users share their opinion, exchange thoughts, and ideas either on a post thread or in chat.
Fashion app
AboutMyStyle will inspire you and others every day.
It's about sharing the nice things in life with girls from all over the world. AboutMyStyle is about Fashion, Lifestyle, Food & Drink and Beauty
Features:
— Unlimited uploads
— Share your photos instantly on Facebook and Twitter
— Make new friends through giving and receiving likes & comments
— Access from the web at AboutMyStyle.com
— Free filters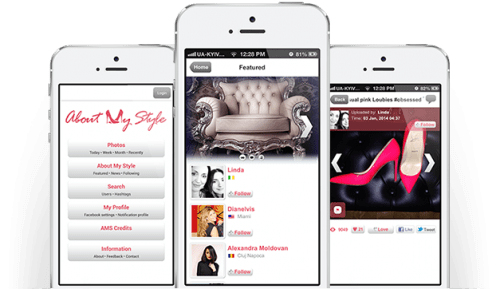 We have implemented
Our team developed iOS, Android and web applications for passionate people to share their personal style.
ASP.NET MVC framework was used to handle both webserver and webapi requests with processing many users at once taken into account.
Strict multilayered service-oriented architecture has been used all over the development process to support any kind of design\work-flow changes and enhancements.
Amazon Web Services was chosen for the hosting provider.
Technologies

ASP.NET MVC
Bootstrap

KnockoutJS

Microsoft SQL Server 2012

HTML5

CSS3
Want to experience a successful project?
Get a free consultation and see if our service is right for your business