DiveAdvisor
Blogging, dive logging and communication platform built for Scuba Divers and Scuba Businesses.
Location Based Service
Use the constantly updated map to check the best spots for diving.
News feed and social features
Share your expressions with friends and give them some good advice.
Media streaming
Let everyone know about what you got.
A Social Scuba Diving Network
Dive Advisor is a comprehensive communication tool tailored to the needs of the Scuba Diving Community and Industry.
Network provides divers with the most extensive directory of dive sites, shops, certifications & marine life.
It offers divers real and trusted advice based on user generated content in the form of Dive Logs, Reviews, and Media.
Dive Advisor enables Divers and Dive shops to follow and message each other through a safe and non-personal space.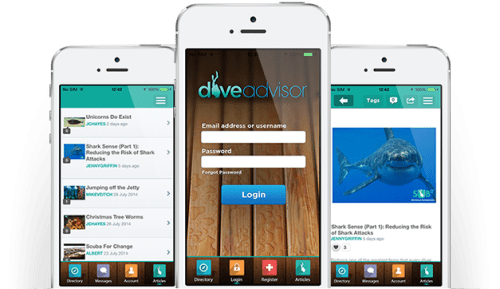 We have implemented
Technically this is pretty simple app, however we faced a challenge with tons of wiki-organised data with cross-links and media that had to be imported into the application with an ability to be updated from a remote storage through API and web CMS. Though the app has pretty much of data in it to be shown in internal wiki, on the world map and so on.
Technologies
Android
iOS SDK
Java

HTML5

CSS3
Want to experience a successful project?
Get a free consultation and see if our service is right for your business