Ideas Britain
A mobile-first platform that brings ideas to life
Concept development and implementation
Cycle of app development:
from idea on a paper right to the AppStore.
Cloud service integration
We build and maintain application in all aspects:
from traffic to storage scaling.
Social features integration
Let your users share their opinion, exchange thouhts and ideas either on a post thread or in chat.
The app that turns ideas into reality
The first platform to combine mobile, gamification and social to incentivise and reward the next generation of entrepreneurs.
The iOS app allows the users to take part in the competitions by submitting their ideas.
Other users can like, comment and invest the app internal currency into the ideas and make them win the prizes.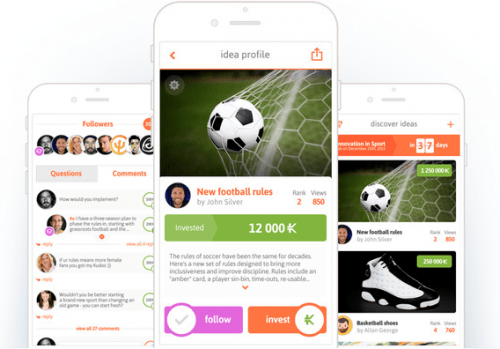 We have implemented
Mobindustry team has taken the idea of the app and performed business analysis and UI/UX design before starting the development itself. Application is developed using Objective-C and COCOA framework for iOS platform. As for the backend, we have taken Google App Engine as a data storage platform and covered it with Python business logic layer plus Django framework for data management and administration.
Technologies
iOS SDK
Python

Google App Engine
Sprout Video
Flask

HTML5

CSS3
Want to experience a successful project?
Get a free consultation and see if our service is right for your business