ShareGurl
An app that makes your trip to Fire Island fun, friendly and dangerously easy.
Social networks features
Never miss your friends plans and get a full access to the events list.
Maps & Location
Check your friends location and be one step ahead.
Finance Management
Track your partner's expenses and plan yours!
iOS app that makes your trip to Fire Island fun. Gurl, your summer just got fabulous.
ShareGurl is a brand new, app that makes traveling to Fire Island Pines and Cherry Grove way more fun and friendly.
• Find out when your Facebook friends are planning trips to Fire Island
• Still have a bed available this weekend? Post it so a friend can be spontaneous!
• Make the most of your weekend with a full list of events, including your friends' RSVPs
Plus… tons of other features that make planning easier:
• housemate expense tracking
• a map that actually works in Fire Island!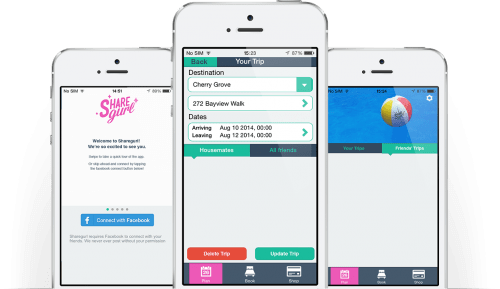 We have implemented
Mobindustry team has taken the idea of the app and performed business analysis and UI/UX design before starting the development itself. Application is developed using Objective-C and COCOA framework for iOS platform.
Technologies

MS SQL Server 2012
ASP.NET MVC
iOS SDK

HTML5

CSS3

Want to experience a successful project?
Get a free consultation and see if our service is right for your business