Triposo
#1 app for people who appreciate spontaneity and serendipity as ways to enjoy travel
Location based service
The app contains offline maps and routes and gives you the ability to build your own route based on what you need.
Recommendation service
Use recommendations and tips to get the best route to save your time and money.
Continuous Integration
Get your development process constantly upgraded.
Android version of the app for travellers
One travel guide for the whole world. It's free and works offline.
The offline traveler's app, that helps you to feel the new city you appeared in, according to your interests and available time.
Triposo offers you the best travel guide for your phone. Complete and up to date information from the best open sources and handy maps. Download city or country guides and use them offline while you travel. They are all free.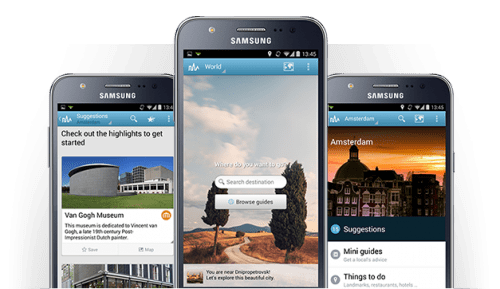 We have implemented
Triposo is technically one of most challenging projects. Having an offline maps integrated into it, we had to implement a unique distribution system when one instance with code base had to be distributed to multiple apps in the AppStore and Playmarket: each of them for separate region (Paris, London, Rome, etc.) having its own set of locations, references, and guides.
From the other side, we had and intelligent system to build a custom guides through the city, based on the willings and appreciations of each user.
Technologies
Android
Google Cloud Messaging
IntelliJ IDEA
Java
SQLite

HTML5

CSS3

Want to experience a successful project?
Get a free consultation and see if our service is right for your business