How to Create a Celebrity App Like Cameo
Want to develop an app like Cameo? In this article, we talk about how the Cameo app works, what main features are important to make an MVP for an app similar to Cameo, and how much it would cost to build this MVP. We also provide you with initial steps to develop your own Cameo-like app.
How does the Cameo app work?
Cameo is an app that connects C-list and B-list celebrities from the music, sports, and film industries with fans who would like to receive personalized video messages or send them to their friends.
This app allows users to wish their friends a happy birthday with a personalized video from, for example, Snoop Dogg. Prices are different for every celebrity and range from $15 to $ 3,000.
So how exactly does Cameo make money?
The app takes 25% of every purchase, and the platform suggests users only shop online to skip Apple's outrageous 30% App Store commission.
Cameo customers have purchased over 560,000 videos from approximately 20,000 celebrities. On Cameo, famous people record videos, known as "Cameos," that last a few minutes and then are delivered via text or email. Most Cameo videos are ordered as birthday or anniversary gifts, but some have gone viral on social media.
To book a celebrity Cameo, users press the Book button on a celebrity's profile, then answer a few questions like What is your name? What is this video for? and What would you like the person to say? The app has tons of celebrities: comedians, musicians, actors, models, athletes, etc. Today, the Cameo app even has a COVID-19 relief campaign category from which all profits go to charity.
Business analysis

To find out if your Cameo-like application will succeed, you must first look at the business logic. At Mobindustry, our business analysts outline the business logic of all applications we develop. A business analyst helps you get a list of technical requirements that will accompany your project.
A business analyst knows the requirements of your application and what will work best for your users. In this way, they ensure your application will serve its purpose and will be useful to end users while meeting your wishes and requirements.
MVP features of an app like Cameo
An app like Cameo can consist of numerous features. Here are a few of the main features that are necessary for a Cameo-like application. You can use this set of features when you make an MVP for your own app.
One-on-one video streaming
Apps like Cameo provide users with a unique opportunity to communicate with their favorite celebrities. One-on-one video streaming can be the core feature of your app. When adding a video call feature.
Remember to let users turn the camera on and off, show the screen, and mute/unmute the microphone.
User registration
Let your users choose between three registration methods. The first is to sign in via social media accounts like Facebook or Instagram. The second is standard registration from scratch using an email, name, and other contact details. The third is registration via phone number.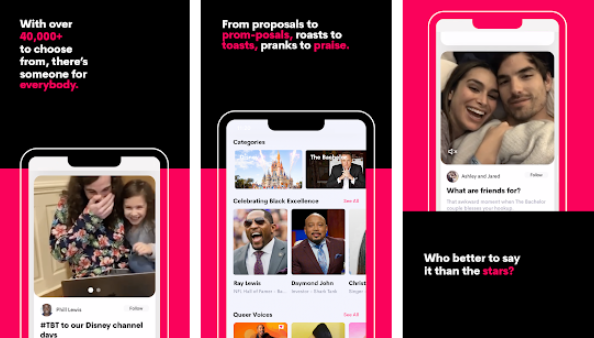 Profiles
Personal profiles in Cameo provide users with information about celebrities. On a celebrity's profile, users can see personal information about the celebrity, example videos, what it costs to book the celebrity, the celebrity's general response time, reviews, and videos the celebrity has already created for other users.
Public feed
In the public feed, users can share their videos and see what others share. This feature is similar to the Instagram or TikTok feed. People are used to receiving information in this form, so adding a feed to your app would be a good idea.
Comments
Cameo has a comments section where users can discuss videos and ask questions. The comments section serves as a messaging platform for users to chat with celebrities and ask them anything they're curious about.
Geolocation
With geolocation, users can find celebrities they're interested in who are nearby.
Push notifications
Use push notifications to improve user engagement in your app. You can use push notifications to notify users about the latest updates, chat invitations, new messages, and when their favorite celebrities are online.
Cameo revenue streams
Cameo's main source of revenue today is the 25% cut it receives from every transaction.
This is much less than, for example, YouTube's projected 45% cut of creators' ad revenue. Cameo also completely avoids the increasingly capricious ad-supported business model of traditional social media.
"The great thing about this [Cameo] compared to having a startup where you've got to build an audience and sell eyeballs is, this is a transaction," says Paul Hardart, director of the entertainment, media, and technology program at New York University Stern School of Business.
Cameo is currently experimenting with a new option where brands can license celebrity content to reuse in a campaign. For example, as Galanis explains, Charlie Sheen charges $550 for a regular cameo, but for a brand, he can charge up to $5,000. The company is currently testing this brand level with around 10 celebrities.
Four steps to develop a video app like Cameo
Here are four steps to make your Cameo-like app idea come to life and simplify the development process.
1. Research your app's target market
When developing a celebrity mobile app, the first thing you need to consider is the target audience. Understanding your users' needs makes development easier and leads to a better final product. Find out as much as you can about your potential users. You can start by researching the following:
Demographics. Find out the average age of your users, where they live, what devices they use, etc.
Behavioral trends. Find out what decreases a user's desire to download an app, your users' security expectations, and so on.
To develop an amazing mobile application, we suggest creating a user persona, or a detailed portrait of your ideal user.
2. Choose a monetization model
The next step is to choose the right monetization model for your mobile application. Now that you know your users' needs, you can predict what your users will pay for. Here are three monetization models to choose from:
Paid. This monetization model is quite straightforward: users pay once to access your app.
Freemium. With this model, users can download your app for free. They can then pay to upgrade their accounts or use premium features.
In-app purchases. With in-app purchases, users can pay for different items, features, or content inside the app like stickers, filters, and gifts.
Advertising. You can choose one of the following ad options:
Cost per click. Charge advertisers every time a user interacts with their ads in your app.
Cost per mille. Charge advertisers for every 1,000 ad impressions in your app.
Cost per action. Charge advertisers only when users complete a target action, such as installing an app or signing up for a newsletter.
3. Hire an app development team
The third step is to find a development team you want to work with. The first phase of development will include business analysis, developing the technical specification, estimating the development cost, and planning the project. Before diving into the actual development of your mobile app, you and your team should create an app development workflow, choose the main features for the app, and design an app concept. Then your development team should create project milestones and start working on the MVP.
4. Create an MVP
Creating an app like Cameo is a big and complex project. We recommend launching a minimum viable product (MVP) first and testing its technical and business performance. By using an MVP approach, you'll be able to find out what users like and don't like in your app. Then you'll be able to consider their feedback and improve your app.
How much does it cost to build an app like Cameo?
The cost of celebrity mobile app development depends on these factors:
Product features
Product design
Hourly rate of your development team
Project size and complexity
Technology stack
Number of team members on the project
Time frame
The biggest factor that influences a project's cost is the hourly rate of developers, and that often depends on their location. For example, an application that costs $40,000 to build in the US will cost around $9,000 if developed by engineers in Ukraine.

Developing your project with a company based in Eastern Europe is cost-effective and gives you access to top talent.
Quick summary of developing an app like Cameo
Developing an app like Cameo is hard and time-consuming. But if done correctly, your app can become successful and bring a lot of value to users.
Key takeaways:
When developing a mobile app, the first thing you need to consider is the target audience.
Choose the right monetization model for your mobile application: free, paid, freemium, or advertising.
Find a development team to work with. The first phase of development will include business analysis, developing a technical specification, estimating the development cost, and planning the project.
We recommend launching a minimum viable product (MVP) first and testing its technical and business performance.
If you want to create an app like Cameo but don't know where to start, contact Mobindustry for a free consultation.
Rate the article!
🌕 Cool!
🌖 Good
🌗 So-so
🌘 Meh
🌑 …