How to Develop Employee Scheduling Software: Features and Cost
Managing a workforce is hard. It's even harder when a company operates more than one location and has more than a dozen employees. The magic wand that saves the day for many businesses is employee scheduling software. There are a lot of out-of-the-box applications on the market; however, many business owners seek a custom solution tailored to the needs of their company.
If you own or manage an organization such as a restaurant, hotel chain, school, or hospital, you should be familiar with employee scheduling software.
The global employee scheduling software market is expected to grow at a significant rate during the forecast period 2021 to 2026. In 2020, the market grew at a stable pace, and with the expansion of the use of strategies by key players; the market is expected to move beyond the forecast horizon.
Assigning tasks, swapping shifts, accounting for different hourly rates and different work locations – the very thought of being in charge of these processes is enough to cause a headache. On the one hand, according to Deputy.com, using a spreadsheet to plot timelines and schedules can take up to 20% of a restaurant manager's time. That's up to 140 hours a year spent creating schedules by hand.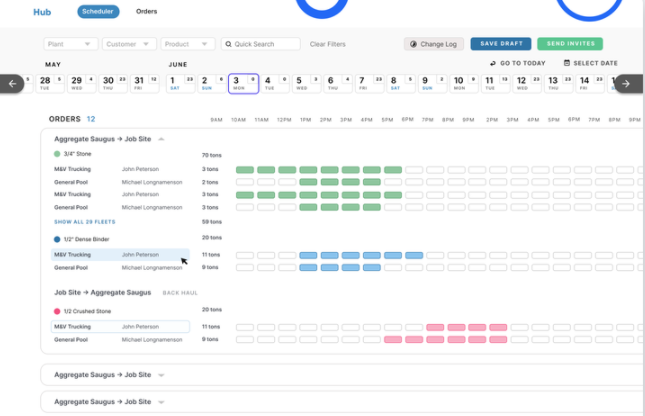 On the other hand, employees who don't have a well-structured schedule admit to wasting 50% of their time at work. Coming into work without knowing what's on the agenda or not knowing your schedule in advance decreases productivity. According to Bersin by Deloitte, employee turnover is 174% higher without real-time scheduling capabilities.
Employee scheduling applications address both problems. Adopting an online scheduler allows companies to decrease labor costs, drastically reduce no-shows, optimize workflow, and increase employee satisfaction.
However, most staff scheduling tools offer a standard package of features that might not fit the workflow of every business. Therefore, employers have to manually create schedules and get by with the features that are provided.
Considering how many different factors should be taken into account when scheduling, many companies with a large number of employees decide to create a staff scheduling app from scratch. This ensures that all company requirements and business goals are fulfilled.
Benefits of employee scheduling software for businesses
Employee scheduling software can bring profit to any company. The main benefits of such applications for businesses include:
Saving time
Scheduling is one of the many tasks that take small business owners away from their core responsibilities. Employee scheduling software can automate much of the scheduling process, giving entrepreneurs more time to focus on other tasks to help grow their businesses.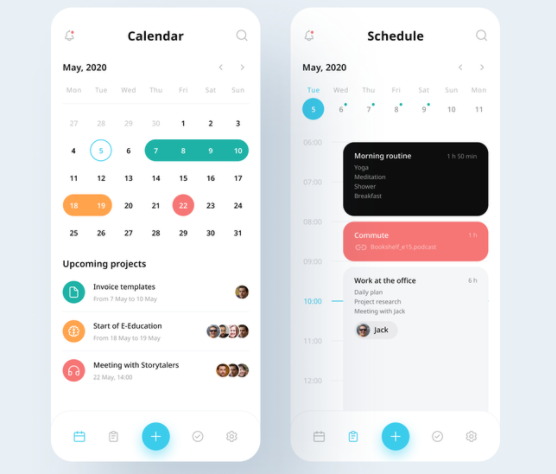 Keeping mistakes to a minimum
Scheduling software minimizes the chances of making a scheduling error (like scheduling someone who is on vacation) because staff also has access to the platform and can request scheduling changes. Such an approach to scheduling keeps everyone informed and ensures there will be fewer mistakes.
Ensuring tax & labor law compliance
Most employee scheduling software platforms have integrated labor law compliance checks and can inform users if scheduling practices are in violation of regulations (overtime, early hours). This can help business owners avoid heavy fines.
When workers have access to and influence over their work schedules, they tend to be more satisfied and less likely to leave
Caring about employees
An investment in employee scheduling software is an investment in your workforce. Employees want their schedules to be managed efficiently and transparently, and with as little confusion as possible. When workers have access to and influence over their work schedules, they tend to be more satisfied and less likely to leave.
How out-of-the-box employee scheduling software works
Employee scheduling software is able to perform many different functions related to managing the workforce. Many companies use employee scheduling software; however small and mid-sized businesses usually embrace ready solutions, as building custom scheduling software is expensive and time-consuming.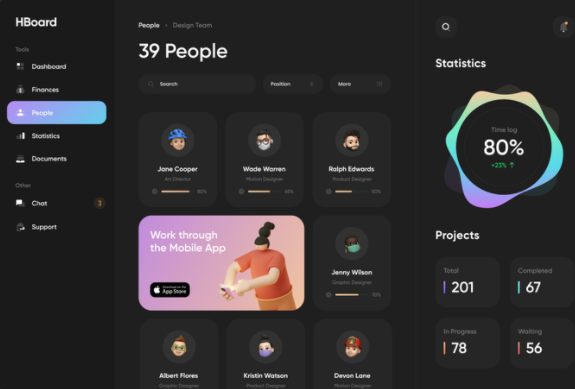 There are a variety of scheduling tools, both paid and open source, that offer employee scheduling automation. Most comprise the following:
Online portal
Scheduling
Employee access
Reporting
Support
Mobile access
Monthly fee
Online portal
When a company signs up with an employee scheduling software provider, they receive access to their own online portal. Employers can use this portal to upload employee data including names, contact information, job titles, training and qualifications, and availability (making notes of shift preferences and time-off requests). Employees should also be able to access the system and input information about themselves.
As a rule, out-of-the-box employee scheduling software is cloud-based; however, self-hosting on a local server is also possible.
Scheduling
Almost any employee scheduling application has the look of a calendar that can be viewed by days, weeks, or months.
Empty cells in the calendar represent time slots in which employers can schedule people. Employers can create a shift and then add employees to the shift, set recurring shifts, copy old shifts, and upload schedules from third-party sources (like an Excel spreadsheet).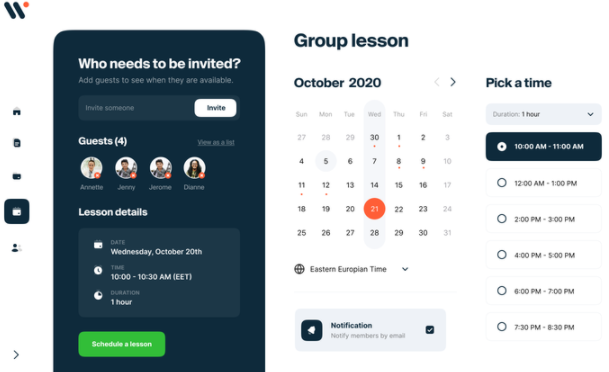 Some online employee scheduling software allows employers to build out the framework of a schedule, then auto-populate the rest. For example, you can indicate that you need five waiters at your restaurant on Wednesday evening and the application can allocate your workforce in the most efficient way to fill that need.
Another great feature is the ability to assign shifts to specific locations. This can come in handy if a company operates multiple locations or manages a distributed workforce. Some employee scheduling platforms integrate with mapping software so employees can see where they're working each day and get directions.
Employee access
All employees should have access to the scheduling program so they can view their schedules, clock in and out, and request time off and sick days. With permission, they can add time preferences, bid on open shifts, request to swap shifts, or even set their own schedules. Employees can also opt to receive scheduling updates from the platform via email or in-system notifications.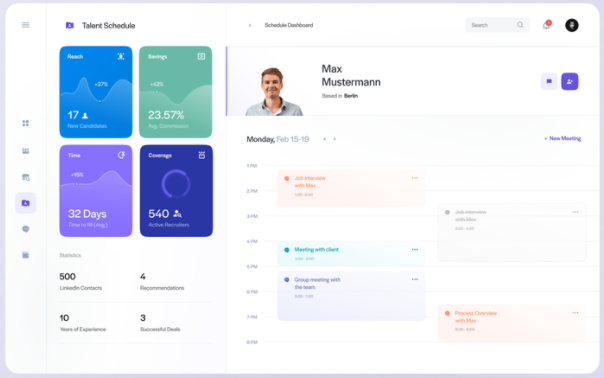 Receiving reports
One of the biggest benefits of employee scheduling software is that it can provide employers with insights into how they're scheduling their workforce. For example, say a store owner scheduled three salespeople to work last Tuesday and generated a certain amount of profit. The application will use that information to determine which salespeople should work this Tuesday.
Around the clock support
When choosing a third-party service, a business owner needs to make sure the vendor provides complete support. After all, not being able to set the schedule can become a serious issue.
Ideally, employers want access to a software provider 24/7 and through multiple means of communication (phone, text, email, live chat).
Mobile app
Progressive scheduling software should have a mobile app or an interface that's mobile-friendly so employees can access their schedules and use time tracking tools on the go.
Monthly fee
Employee scheduling software is actually cheap. Vendors typically charge a monthly fee based on the number of employees using the software and the number of branch offices or chain locations. Average prices amount to a couple of dollars per employee per month. Additional features may cost extra. It's also common for a vendor to charge a minimum monthly fee.
Types of employee scheduling software
Employee scheduling systems provide solutions for companies' scheduling needs. There are two types of staff scheduling software:
Static scheduling
This type of scheduling is usually embraced by companies with fixed shifts (restaurants, hotels, hospitals). They rotate employees on two or more shifts during a 24-hour period with a predefined periodicity. The software can remember the routine and streamline scheduling by defining which employees are scheduled for a specific shift during the day.
Dynamic scheduling
This type of scheduling software is designed for shifts that constantly change. It also handles shifts with varying clients and locations, such as for technicians, pet sitting services, or home care providers. In this case, employees are scheduled for shifts at different times and locations. The software helps to avoid scheduling conflicts by ensuring everyone gets real-time updates.
Apart from these two types of employee schedulers, there are also two different ways to deploy these applications.
Web-based
Many companies use this type of deployment because web-based software can be accessed on any computer. Nothing needs to be installed and data doesn't have to be backed up manually. At the same time, you're assured your data is secure.
Server-based
In this case, the database and software are installed on a local server. Hence, this software can only be used by employees within a local network. Data backups must be done regularly so you can restore data if the server goes down.
What makes a good employee scheduling app?
Most popular employee scheduling software includes the following features:
Scheduler: A scheduler is essential for viewing weekly, biweekly, and monthly shifts. Users can filter schedules by location, specific shifts, or tasks. They can also view who's assigned to a certain time and location. A scheduler usually looks like a standard calendar.
Schedule templates: A template serves as the base for creating schedules, which can be tuned based on shift requirements. This feature saves time, especially if schedules repeat.
Employee account profiles: All important employee data (names, contact information, job titles, trainings and qualifications, availability) is stored in an employee's personal profile.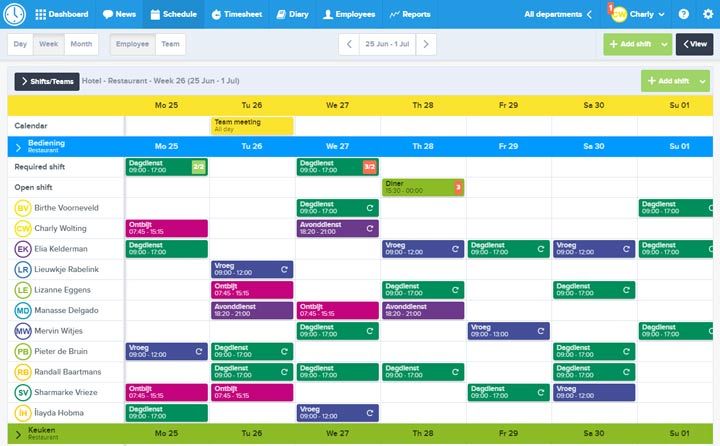 Shift management: This is a complex feature that may fall into the following categories:
Auto-assign shifts: Automatically assign employees based on qualifications, availability, etc. This information is available in employee account profiles.
Swap shifts: Scheduling apps should make it easy for employees to pick up, drop, and swap shifts. After a manager approves these requests, the schedule should be automatically updated.
Employee availability: Staff can indicate the days and hours they're available to work in order to prevent scheduling conflicts and missed shifts.
Time-off requests: Employees can send requests for leave and time off within the system and receive instant notifications as to whether their requests are approved.
Task management: This feature may refer to allocating tasks or assigning tasks, or to both at once.
Task allocation is when an application takes all existing tasks and divides them among all available employees so that each has the same workload.
With a task assignment feature, an employer can define which employees should work on particular tasks.
Notifications: This feature ensures employees get information about shift changes and reminders about upcoming shifts. Managers can also receive alerts when employees submit requests for time off or to swap shifts.
Time clock: Apart from employee time tracking, this feature includes the ability to control where and when employees can clock in and what devices they can use to do so. Managers can edit clock-ins and clock-outs as well as round to the nearest minute or other interval.
Reports and analytics: Provide insights into labor costs, schedules, and employees as well as calendar reports, financial reports, time clocks, and data export options. Executive summaries are vital to keeping management informed about the entire staff's schedule and work information.
Overtime alerts & early clock-in restrictions: Scheduling software should have checks in place to help companies comply with labor regulations such as overtime laws and advance notice requirements for schedule changes.
Advanced features
If you want your employee scheduling tool to be versatile, you can add advanced features:
Live chat
Mobile app
Third-party integrations (HR software, payroll service, point-of-sale systems, Excel spreadsheets)
Multi-location support
Communication (one-on-one and group messaging)
Payroll
Examples of employee scheduling software
Here are some noteworthy examples of employee scheduling software:
When I Work
When I Work is an easy way for businesses to schedule, track time and attendance, and communicate with their hourly employees. Put your schedule and watch in every employee's pocket with free iOS and Android apps. Track free time, employee availability and manage shifts with just a few clicks. Integrate with your payroll provider to streamline the process and avoid human error. Get started with a 14-day free trial now.
Features:
Overtime alerts
Time clock
Versatile clocking in/out
Early clock-in restrictions
Shiftboard

The Shiftboard software has many features designed to streamline the workforce planning process. It has everything you need to keep managers running smoothly and give your employees the information they need to do their job well.
Features:
People management
Scheduling
Web-based job applications
Employee account profiles
Centralized reporting and analytics
Scoro
Scoro makes tracking and scheduling more efficient with a variety of work management features. Assigning tasks and scheduling shifts is done in its own scheduler, where you can view individual workloads and available slots for your employees. Visual clarity allows you to create realistic deadlines for tasks and avoid conflicting shifts. Employees can also manage their own priorities, deadlines and projects. Automatic updates optimize calendar events and activity reports. Meanwhile, a shared calendar centralizes all schedules and appointments to keep everyone up to date.
Features:
Business dashboard
Calendar management
Time-tracking
Comparative reports
Company news feed
Custom fields
Custom tags
Use these examples as references when you plan to develop a web-based employee scheduling software.
How much does it cost to develop online employee scheduling software?
We've estimated the core features any employee scheduling application must have. Here are what the numbers say:
| | |
| --- | --- |
| Feature | Cost, hours |
| Scheduler | 24-32 |
| Schedule templates | 16-24 |
| Employee account profiles | 8-16 |
| Shift management: |   |
| – Auto-assign shifts | 24-32 |
| – Shift swapping | 24-32 |
| – Employee availability | 24-32 |
| – Time off requests | 16-24 |
| Task management | 16 |
| Notifications | 16-24 |
| Time clock | 8-16 |
| Reports and analytics | 24-40 |
| Overtime alerts & early clock-in restrictions | 8-16 |
Note that the cost to develop employee scheduling software also includes:
Business analysis
Preparation stage
Design
Deployment
Maintenance and support
Wrapping up
Whether to buy or develop employee scheduling software for your business or startup is up to you. The first option is cheaper and faster, while development from scratch requires time, money, and an experienced development team above all. To find professionals quickly, you can always outsource development and build an employee scheduling software of your own.
The main drawback of out-of-the-box solutions is their inability to cater to all the needs of your business. In this case, custom software prevails. If you've made up your mind and want to develop a web-based employee scheduling software for your business, Mobindustry can provide thorough expertise and fulfill all your requirements by implementing top-notch features.
Rate the article!
🌕 Cool!
🌖 Good
🌗 So-so
🌘 Meh
🌑 …