Top 8 Best Power Bank Sharing Apps
With the rise of the sharing economy, the market for power bank sharing apps has grown extremely fast. In this article, we review the best power bank sharing companies in the world. If you plan to build a power bank rental service, this competitor research will be useful for you.
If you're interested in launching your own power bank sharing startup, visit our webinar. You'll learn how to choose reliable suppliers, create a business plan and build a mobile application for your future business.
Power bank sharing app business model
Key partners. Power bank sharing companies cooperate with local festivals, airports, shopping centers, hospitals, cafes, and other establishments. They also work with banks for payments and with manufacturing and design companies.
Key activities. A power bank sharing business requires activities such as marketing, supply chain management, and operations.
Key resources. A power bank sharing business requires branding, research, promotional materials, an online location map with charger availability, a security system, and an official website.
Value proposition. Power bank sharing allows people to take full power banks from charging stations.


It solves customers' problems of dead batteries in public places that don't always have power outlets available.

Customer relationships. To keep and grow their customer bases, power bank sharing companies maintain fully charged power banks and rely on promotions along with quick customer service (via online chat, chatbots, and help lines).
Channels. Power bank sharing companies reach their customers through websites, social media platforms, and public places.
Cost structure. The most important costs of the power bank sharing business model are power banks, partnership fees, charging stations, maintenance, customer service, app development, and marketing.
Revenue streams. Revenue comes from payment for the use of power banks, membership plans and subscriptions, and additional fees if a power bank is not returned or is returned late.
8 best power bank sharing apps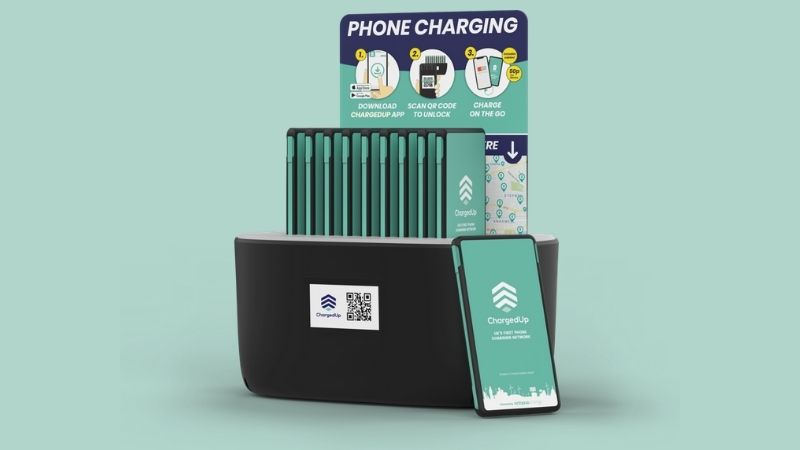 ChargedUp is a UK startup that offers a mobile charging network. The company's founders — Hugo Tillmouth, Charlie Baron, Hakeem Buge, and Forrest Skerman Stevenson — drew inspiration from bike sharing and closed an initial investment round of £1.2 million. ChargedUp wants to solve the problem of dead phone batteries with its charging network. Today, ChargedUp has over 2,000 power bank stations across Europe.
ChargedUp sets up multiple distribution points throughout each city in which it operates. These points are located in places where people spend most of their time, such as cafes, bars, and restaurants. An app allows users to find a nearby charging station, take a shared power bank, and then return it to any station in the network and only pay for the rental time.
To use ChargedUp power banks, users have to create an account in the ChargedUp app with a valid mobile phone number and enter a six-digit code sent by SMS. To unlock a power bank, a user needs to scan the QR code at a ChargedUp station. Power banks include cables for all types of phones so users can charge their devices on the go.
ChargedUp users can choose to pay as they go or rent a charger for a day. The pay-as-they-go option entails an hourly rate for up to five hours, after which the rest of the day is free. When renting, a timer in the app shows information about the rental price.
RedShare is a New York City-based company that provides on-the-go smartphone charging services. The company wants their portable power banks to take away the headaches of charging phones. RedShare provides users with a fast and convenient solution when they're on the go and need to recharge.
To use the RedShare power bank service, users need to download an app that's available for iOS and Android devices. Users can also use WeChat or AliPay. To rent a power bank, a user only needs to scan the QR code located on a RedShare station screen. Then a fully charged battery will unlock and pop out of the station for the user to take. When users are done with power banks, they can just return them to any RedShare station in New York.
RedShare power banks use cutting-edge FastCharge technology that charges smartphones in about an hour. Each power bank comes with a Lightning (iPhone) cable, a USB-C cable, and a Micro-USB cable.
The rental period starts five minutes after taking a power bank, and rental periods are rounded to the nearest hour. The daily maximum power bank charge varies by location. For any additional days after the first 24 hours, RedShare charges a small rental fee plus tax based on the location.
After three days, the rental period expires and the portable power bank is considered purchased. In this case, the user's credit card is charged $35 plus tax.
Powerqube is another popular power bank sharing service located in venues across the United States. Powerqube offers portable batteries that charge a user's electronics safely and quickly. Powerqube power banks can be rented from and returned to any Powerqube station in the US.
The service works based on the same model as other power bank sharing services. Users scan a QR code in the app, take a power bank, and return it when their phone is charged.
So what differentiates Powerqube from other power bank sharing services?
Powerqube stations and chargers are made of UL 94 V-0 flame retardant materials to ensure the highest level of safety.
Powerqube portable chargers meet stringent US, European, and Japanese standards. In addition, they're produced by the world-famous lithium-ion battery manufacturer that supplies batteries for LG Chemical, Panasonic, and Lenovo. Furthermore, to protect the environment, Powerqube chargers can be recycled after more than 800 rentals.
Brick is Sweden's leading phone charging network. It prevents users' devices from dying with Bricks (power banks) that users can easily rent and return at stations in Stockholm, Gothenburg, Malmö, other cities in Sweden, and even locations around Europe. Brick cooperates with hotels, shops, popular bars, and cafes to install their power bank stations.
To rent a Brick charger, a user must register a payment method in the app. Pricing information can be found in the app before, during, and after charging.
Mobile and Web App Development
Plan to launch your own power bank sharing startup? Leave your email to get a detailed instruction
CoCharge is another power bank sharing company in New York City that offers a cost-effective charging solution. For about a dollar an hour, a user can take a power bank out of a CoCharge station, plug it into their phone, walk with it as much as they want, and return it to various locations around town.
Unlike other power bank services we've described, CoCharge offers monthly membership. Users can buy short-term hours or become members through the CoCharge app.
The service has three pricing options:
Short-term hours
$1/hr — Users can charge their devices for one hour and use as many power banks as they want. Any amount of time less than an hour is still billed as one hour.
$9/10hrs — Users can charge their devices for a total of ten hours.
Monthly membership
Users can charge their devices for unlimited hours and use as many power banks as they want while they have an active membership.
If a power bank is missing for more than 48 hours, it could result in a $30 (plus tax) fee being charged to the account holder who rented it. Additionally, if a user doesn't return a power bank for more than 48 hours, any short-term hours on the user's account will be reset to zero.
PowerNow is Asia's leading mobile charging service provider. The company specializes in providing solutions for mobile charging with chargers in shopping malls, transportation hubs, restaurants and entertainment venues, tourist attractions, and major exhibitions.
Using human-computer interactions, PowerNow provides complete self-service rentals and helps merchants improve their value-added services. Meanwhile, it tackles the need to improve the user experience, improve service efficiency, and reduce the costs of manual operations.
PowerNow charging stations come in form factors that fit anywhere from check-in counters to lobbies. With tens of thousands of stations worldwide, PowerNow offers power bank rental services everywhere from shopping malls to office buildings. PowerNow power banks are designed and manufactured to be ultra-thin and fit in a regular pocket.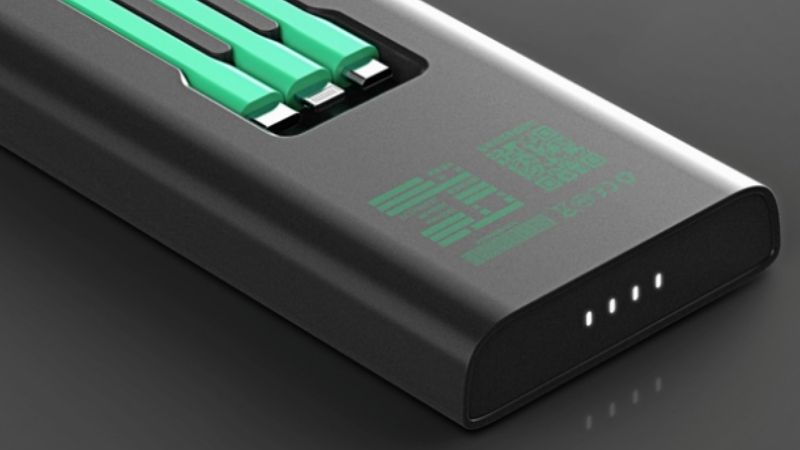 Plugo is Asian smart and fully automated power bank sharing service. It provides users with a network of internet-connected power bank terminals that can be viewed in real time in the Plugo app. The service also has an integrated one-click rental payment system. Plugo provides fully charged batteries in exchange for refundable deposits.
The service has two membership plans:
Basic membership. Users pay as they go after providing a refundable deposit.
Deposit required
Charge per rental
Referral program
Pay with major credit cards, debit cards, Net Banking, mobile wallets, and UPI
Premium membership. Users can pick a quarterly plan with unlimited swapping for 90 days or an annual plan for 365 days. With a premium membership, users pay only once per quarter or once per year and get complimentary vouchers from merchants.
Naki Power is a large European power bank sharing company with hundreds of charging stations in Paris, Berlin, Brussels, Munich, and Madrid.
Now that you're familiar with how power bank sharing apps work, let's explore the pricing of Naki Power so you can understand how much to charge for the use of your services.
Naki Power charges €0.50 for 30 minutes and a maximum of €6 per day. If a Naki Power bank isn't returned within five days, it's considered purchased and the customer is charged €30. To encourage customers to use power bank sharing, some establishments may offer free hours or discounts.
Payment methods are configured in the Naki smartphone app. Currently, users can pay using Apple Pay, Google Pay, credit card (Visa or Mastercard), and PayPal.
When customers start the rental process, a temporary hold is placed on their payment method (€14.90 with a credit card or €30.00 with PayPal).
This is just to make sure users have enough funds to pay for the rental. At the end of the rental period, only the cost of the rental is charged.
Mobindustry's experience developing power bank sharing solutions
Mobindustry has lots of experience developing sharing economy applications for scooter sharing, ride sharing, and especially power bank sharing projects. We've developed a number of power bank rental systems with integrated payments for easy rentals and returns.
Developing such a system will take us less time than other companies because of our expertise and ready-made solutions.
Our goals when developing a power bank sharing solution are to provide customers with high-quality service, create convenient and intuitive user interactions with the mobile app and charging stations, and encourage people to use the charging system.
While working on power bank sharing projects, we've overcome challenges like working with charging station hardware and encouraging people to return lost chargers.
Our first step when we start working on a project is to analyze our client's business needs and create technical specifications for both the iOS and Android applications. We then develop wireframes and documentation and estimate the whole project. To make sure we release the app as fast as possible, we create a list of must-have features for the minimum viable product (MVP).
We know not only how to develop an app for customers of your power bank sharing service but how to make an application for your charging stations themselves.
If you want to build a power bank sharing solution or if you have any questions on this topic, contact Mobindustry for a free consultation.
Get an example of the Discovery Phase documentation for your digital project
Get our exclusive materials on software development for business
Rate the article!
🌕 Cool!
🌖 Good
🌗 So-so
🌘 Meh
🌑 …