Mobile App Maintenance and Support
Operating system and library updates
Bug fixes
In a perfect world there would be no bugs. All software would work as it should and developers would write bug-free code. In reality, however, this is impossible. Bugs occur for different reasons, and the best thing that can be done is to fix them. We can get rid of bugs in any code after thorough testing and work to minimize them in future.
App updates
Don't want your users to feel like you've abandoned them? Then you need to regularly update your app. Our mobile application maintenance and support team can provide updates that are timely and valuable for your users. As a bonus, we're really creative about describing updates on the app stores.
New features
Just like technologies, your business changes over time, and your app must too. We offer mobile application maintenance services for iOS and Android apps that include implementing new features. Our development team can easily integrate new features into your mobile application or change existing features. New functionality can expand your business possibilities and offer more value to users.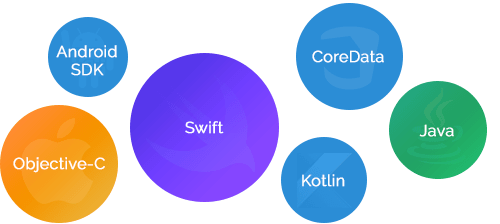 Operating system and library updates
New operating systems and libraries come out each year and our application maintenance service is always ready for action. Google and Apple regularly provide new instruments to developers, and we make sure to use them to your business's advantage. As soon as a new operating system goes live, we immediately update your app so that it works perfectly on all devices.
Code maintenance
Unfortunately, you can't just write code once and leave it at that. Code needs constant attention, maintenance and support. After the first release of your app the work is only beginning. At our company we don't like poor code and abandoned apps. That's why we're glad to maintain apps. While some developers consider this work boring, we know that it's just a natural part of any product's life cycle.