Best Concert Apps for Music Fans in 2023 to Learn from: Features and Business Model
The music industry is booming, the number of artists is overwhelming, and there's no time to keep up with everyone. Mobile apps make life so much easier for concert-goers. With an app, everything you need to buy tickets and follow bands is right on your phone. In this article, I'll explore the world of apps for going to concerts. Find out what apps are buzzing right now and what to consider when developing a mobile event app.
What are the 8 must-have features for concert apps?
Concert apps usually base their feature sets around electronic tickets and online event management. If you want to build an app for a broad audience, make sure it runs on iOS and Android. Start thinking about what will make your app stand out from the crowd before searching for mobile app development services. It can be a feature or some kind of benefit.
Want to create app for concert and events? I'll present you with a basic list of features that a concert app should have.
Registration
Today, registration in apps has to be fast and easy. Consider adding registration through social media.
Event feed
Make your app's feed organized and clear. You can use solutions by Stream, PeakMetrics, and others to build custom feeds.
Search and categories
To make search easier, separate events by types (concert, play, festival) and filter them by location, artist, date, etc.
You can use the Google Search API for Android or the Lookup API for iOS
Payments
Integrate your app with services like Stripe, Braintree, PayPal, and Apple Pay.
Tickets
Users should be able to buy tickets and check in through your app.
Event tracking
Let users track events they have tickets for and events they might like to attend.
Push notifications
Help users not to miss events they want to attend by sending notifications.
Geolocation
Almost every concert app suggests events for users based on their location, so don't get left behind. You can integrate the Geolocation API by HERE (for iOS) or the Google Awareness API (for Android).
Concert app development services
Want to create a fire app for concerts? We'll turn your idea into a powerful and profitable digital solution!
5 factors to consider when working on a concert app
In the ocean of mobile apps for concerts, it's hard to stay afloat. Let's discuss what factors may affect your chances of succeeding with a concert app.
Marketing. Make sure you market your app right, and don't skip this step. You can partner with event organizers to make your app more visible.
Customer support. Users sometimes have questions about purchasing tickets. You can add a chatbot to answer simple questions and hire a team of people to help with more complicated questions.
Fraud prevention. Keep your users and business safe by letting users report events they find odd and by hiring a fraud prevention team to check events and decide if users should get refunds.
Team. A skilled development team will help you deliver your project.
Omnichannel. Build a scalable app. This means your app should have a mobile and web version so more people can use it.
What are top 10 best app for concert tickets?
Bandsintown
Songkick
StubHub
SoundHound
DICE
RA Guide
Ticketmaster
Eventbrite
Vivid Seats
SeatGeek
Bandsintown is an app for live concerts. It connects artists with their fans. To help them do this more conveniently, the company released Bandsintown Concert, a free concert discovery app. This app simplifies concert discovery by allowing users to track their favorite artists. It integrates with a user's Apple Music, Soundcloud, and Spotify accounts to track favorite artists and send alerts when those artists will be in town.
Bandsintown Concerts collects tour dates from more than 200 primary ticket providers. The app is ranked #23 in the Music category on the App Store, was named one of TIME Magazine's 50 Best Apps of the Year, and is listed among Business Insider's The App 100: The World's Greatest Apps.
Primary features of Bandsintown Concerts:
Ticket purchasing
Music library synchronization and artist tracking
Concert notifications for artists
Concert search
New artist recommendations based on user preferences
Calendar
Friend invites
Photo and experience sharing
Similar to Bandsintown, Songkick integrates with services like Apple Music, Spotify, Facebook, and Deezer, then tracks users' favorite bands and sends notifications when musicians announce tour dates and concerts. Users can buy tickets right in the app. Songkick gives all ticket options and prices for every tour date and location.
With over 15 million users worldwide, Songkick has won awards including Cult of Mac Must-Have app, Billboard App of the Month, and UK iTunes App of the Week.
Primary features of Songkick:
Ticket purchasing
Band activity tracking
Music library integration
Concert notifications
Reminders for ticket payments
Comprehensive concert listings for major cities worldwide
New band recommendations
Concert planning with friends
Music player
StubHub is an app for selling concert tickets. Ticket prices on StubHub may be lower or higher than face value. The app serves as a marketplace for selling and buying tickets to concerts and different events. In 2019, StubHub was ranked #1 in Newsweek's America's Best Customer Service ratings. The StubHub mobile app is ranked #40 in the Entertainment category on the App Store. StubHub is especially handy for people who have bought a ticket but can't go to the event.
StubHub backs every order, so people can buy tickets with 100% confidence. Another useful feature is a 360-degree view of venues. It makes selecting tickets easier.
Primary features of StubHub:
Event search by category, interests, and location
Event recommendations based on a user's Spotify account, music library, and favorite artists
Artist info (song previews on iTunes and artist bios)
Venue info (Yelp tips and suggestions for things to do nearby)
Interactive seat maps
Virtual reality view
Discovering and sharing favorites and events with friends
Order tracking
Mobile tickets
Apple Pay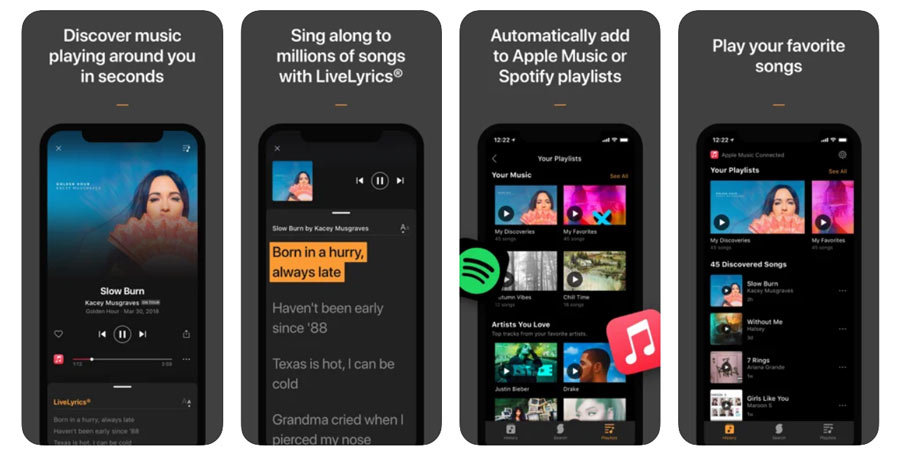 SoundHound is a very useful app for concerts and events. It helps users discover music that's playing around them. All a user needs to do is click a button, wait a few seconds, and SoundHound will tell them the name of the song and the artist. Just like the rest of the apps we've talked about, SoundHound connects to users' Apple Music and Spotify accounts so they can listen to songs, build playlists, and explore music based on preferences.
One of the best features of SoundHound is that it shows lyrics so you can sing along to your new favorite songs. The app is ranked #53 in the Music category on the App Store.
Primary features of SoundHound:
Song discovery
Personal history page
Free built-in YouTube music player
Spotify connection
Automatically transfer discovered songs to a Spotify playlist
Search by lyrics
Real-time song lyrics
Hey, SoundHound (voice control)
Social media sharing
DICE is a globally operating mobile app that provides users with an exclusive experience by working directly with artists big and small. People can buy tickets in the DICE app and if something changes and they can't make it to the show, the app will give them a full refund and resell the ticket. Tickets on DICE are always exclusive and don't get into the hands of scalpers. For this reason, artists like Kanye West collaborate with DICE to sell tickets for their special parties and gigs. DICE is ranked #52 in the Music category on the App Store.
Primary features of DICE:
Ticket purchasing
Ticket refunds
Waiting list
Recommendation engine
Artist search
Friend invites
Resident Adviser (RA) is an online electronic music magazine that showcases electronic music events worldwide. To improve their user experience, they released RA Guide, a mobile app that helps users discover good dance floors, concerts, and other events. The app gives users a completely personalized experience based on their tastes and locations. RA Guide is ranked #70 in the Music category on the App Store.
Primary features of RA Guide:
Personalized event discovery
Ticket purchasing
Apple Wallet support
Payment through Apple Pay, PayPal, or debit/credit card
Listings in 120+ countries
Facebook and RA account log-in
iTunes and Apple Music library connections
Custom listings
Gig notifications
Ticketmaster is one of the best app for buying concert tickets. It has access to millions of live events and simplifies the whole process of event selection. Ticketmaster is an official ticketing partner of the NFL, NBA, NHL, and USTA. The app is ranked #6 in the Entertainment category on the App Store.
Primary features of Ticketmaster:
3D venue maps
Ticket listings
Free ticket sharing with friends and family
Apple Wallet support
Favorite event, artist, and venue alerts
Eventbrite is a global platform that allows anyone to create, share, find, and attend events, from music festivals, marathons, and conferences to gaming competitions. This platform discovers upcoming events near users and sends personalized recommendations based on their interests. Users can buy tickets right through the app.
Primary features of Eventbrite:
Personalized event recommendations
Event sharing
Add upcoming events to the calendar
Ticket purchasing
Credit/debit card storage and secure checkout
Event details
Check-in through the app
Concert app development services
Want to create a fire app for concerts? We'll turn your idea into a powerful and profitable digital solution!
Vivid Seats is a global online ticket marketplace with a mobile app that helps people buy and sell tickets to sports events, concerts, and theatrical productions. It is one of the best app for tracking concerts. What's great is that users get a 100% Buyer Guarantee and in-house order support. The Vivid Seats app is ranked #53 in the Entertainment category on the App Store. In 2017, StubHub lost its spot as the official ticket provider of ESPN to Vivid Seats.
Primary features of Vivid Seats:
Rewards
Last-minute ticket purchases
Mobile tickets
Concerts near you
GPS tracking
Price choice
Personalized recommendations
Interactive seating maps
Seat View
Search filters
Music Scan
SeatGeek is the largest event ticket search engine on the internet. Use this app for upcoming concerts search. With the SeatGeek app, users can buy and resell tickets. Deals presented in the app are color-coded based on how good the deal is, providing users with an interactive seating chart and real photographs of the view from different seats. SeatGeek has a 100% buyer guarantee. Customers can find a good bargain with this service, as resellers may sell tickets for less than face value. The SeatGeek app is ranked #33 in the Entertainment category on the App Store.
Primary features of SeatGeek:
The best details with Deal Score
Personalized event recommendations
Real views from seats
Mobile phone event check-in
Sell tickets or send them to friends
Event info
Ticket purchasing
Get an example of the Discovery Phase documentation for your digital project
Get our exclusive materials on software development for business
Conclusion
When developing a mobile application for concert-goers, remember to research your competitors, create a strong marketing strategy, hire a skilled development team, think through your fraud prevention model, and make sure your project is scalable.
If you have any questions on this topic or want to build your own concert application, don't hesitate to contact us. The Mobindustry team will be happy to help you with your project.
Concert app development services
Want to create a fire app for concerts? We'll turn your idea into a powerful and profitable digital solution!
Frequently Asked Questions
The cost of software development can range anywhere from $15,000 to $100,000 and beyond depending on your project scope, developers' hourly rates, feature complexity and other factors. There's no way to accurately estimate a project without proper planning, so it's best to define your requirements and the business goals you want to achieve, and then ask for a quote from companies with relevant experience. Depending on the location, the cost of development can be 2-4x different.
These are the main factors that influence the cost of developing any software product:
Project scope
Tech stack
Feature complexity
Team structure or collaboration model
Developers' hourly rates
API integrations
On average it takes 2-3 months to build an MVP of your software, but depending on your needs and number of features, it can be down to one month
Rate the article!
🌕 Cool!
🌖 Good
🌗 So-so
🌘 Meh
🌑 …