Creating a Podcast App: Best Apps to Record and Listen to Podcasts
In this article, we overview the podcast market, then talk about how to create a podcast app and how much it will cost.
Podcast market overview
The global podcasting market was valued at $9.28 billion in 2019 and is expected to grow at a compound annual growth rate (CAGR) of 27.5% between 2020 and 2027, reaching $60.5 billion.
During the COVID-19 outbreak, listeners around the world are spending more time at home due to work from home policies and restrictions on public gatherings. This has changed the dynamics of the podcast market, as the target audience before the pandemic was people who listened to podcasts while commuting.
However, the industry is expected to continue to grow as listeners are busy listening to content indoors and working from home. In addition, several podcasts are now launching to provide timely updates on the coronavirus outbreak.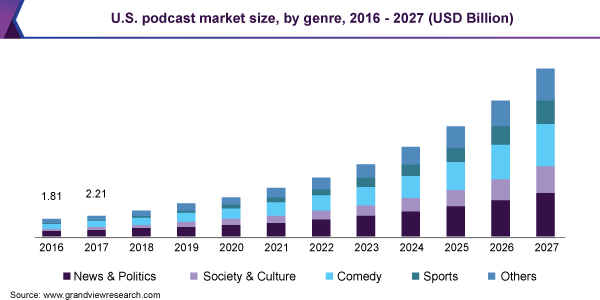 The podcast market has been dominated by North America, which held a 40% share of the global market in 2019. This may be due to the rapid adoption of the latest technology in the region and the large US-owned podcast platform providers. Some of the key players in the podcast market include:
Amazon
Apple
iHeartMedia
Pandora Media
Spotify AB
Google Podcasts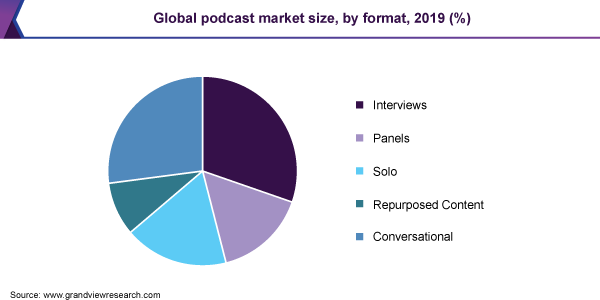 Key benefits of building a podcast app
Attract a large audience
With the right marketing, you can attract an audience, and now is the perfect time for it, as podcasts are becoming more and more popular. Surely, most podcast listeners use large platforms like Spotify or Apple Podcasts, but you can get a share of this large market by offering something special to your users.
Build a community
Many users refer to podcast hosts as their group of friends, as podcasts are often personal and informal. This allows you to build trust and create a community around your platform. To increase this effect, you can narrow down the genre of topics your platform covers.
Get an additional marketing channel
If you have your product, you can market it through podcasts on your very platform, or partner with businesses so they can tell your listeners about their products. In any case, podcasts are great for monetization and sponsorships. Using these monetization strategies, you can keep your platform free and compete with large platforms with paid subscriptions.
Increase loyalty
Podcast listeners often get used to a specific host, their voice, jokes, and charisma. Track the podcast performance on your app and make sure to invest in podcasts that are popular with users and have a low churn rate.
Main types of podcast apps
Storytelling podcasts
These podcasts are similar to audiobooks, where listeners immerse themselves in a story, real or fictional. These podcasts rely on high-quality products and can be extremely successful. Examples of topics include true crime, journalistic investigations, history lectures, book readings, etc.
Interviews and discussions
This is currently the most popular type of podcast, usually with a fixed host who invites guests to communicate through conversations, panel discussions, or interviews. The topics vary greatly, from relationship issues and finances to politics and ecology.
Hybrid podcasts
This type of podcast is a combination of the two I mentioned earlier: usually, it starts with one host presenting the information and then moves to any form of dialogue between the host and their guests. This is also a very popular type of podcast, as its structure encourages listeners to form their opinion on the matter before the discussion starts.
Repurposed content
You can turn many other types of content into podcasts, for example, interviews, lectures, videos, etc. Today, many podcasters upload their videos on YouTube and podcast platforms simultaneously, thus offering both video and audio formats.
Common features for a podcast app
You'll have two groups of users for your podcast app: listeners and podcasters. You can either create two separate applications for them or create a single app that will allow users to switch between a creator and a listener profile.
Social login and signup
Both listeners and podcasters should be able to log into your app easily. The best way is a social media login that allows them to sign up and log in through their accounts on Facebook, Google, Apple, or Instagram.
For podcasters, you can add a layer of security through two-factor authentication that can include biometrics or phone number verification via SMS.
Personal profile
Your listener's personal profile should contain their information, settings, and favorite podcasts.
Podcast search
Allow your users to search for podcasts through a search by name or author or use filters to discover new content. You can also implement a recommendation page to suggest podcasts to users based on their preferences.
Podcast recorder, uploader, and editor
Your podcast creators should be able to upload their audio files and edit them in the application. The editing of a podcast includes not only its audio but also its description, name, and other information.
Voice and audio editor
This feature automatically enriches human voices and can trim dead air to snip out silences longer than a breath or two.
Media player
Add a media player that will allow users to listen to podcasts without any issues. A good player should have convenient controls and allow users to choose from multiple speed options. Some podcast platforms also allow video content, but to start, you can allow only audio format in your app.
Episode downloader
Users should have the opportunity to control how much content is downloaded to their devices. This can be set manually or by limiting the number of new episodes downloaded for each show. You can also provide users the option of limiting the amount of storage used.
User analytics
Both you and your podcast creators should be able to see how users behave in your app. Of course, your podcasters' views will be different: they should see how their podcast is doing, how many listeners they have daily, weekly, and monthly, how many of them are regular, what the average time of the listening session is, etc.
You, as an app owner, should have insight into the overall number of users, their behavior, favorite features, churn rate, number of downloads, and other metrics that are relevant to your business.
Playlists and favorites
This is a very important feature for a podcast app. It lets users create a playlist of shows that refreshes as new episodes are released.
Four steps to develop a podcast app
Here are four steps to make your podcast app idea come to life and simplify the development process.
1. Research your app's target market
When developing a podcast mobile app, the first thing you need to consider is the target audience. Understanding your users' needs makes development easier and leads to a better final product. Find out as much as you can about your potential users. You can start by researching the following:
Demographics. Find out the average age of your users, where they live, what devices they use, etc.
Behavioral trends. Find out what decreases a user's desire to download an app, your users' security expectations, and so on.
To develop an amazing mobile application, we suggest creating a user persona, or a detailed portrait of your ideal user.
2. Choose a monetization model
The next step is to choose the right monetization model for your mobile application. Now that you know your users' needs, you can predict what your users will pay for. Here are three monetization models to choose from:
Paid. This monetization model is quite straightforward: users pay once to access your app.
Freemium. With this model, users can download your app for free. They can then pay to upgrade their accounts or use premium features.
In-app purchases. With in-app purchases, users can pay for different items, features, or content inside the app, such as stickers, filters, and gifts.
Advertising. You can choose one of the following ad options:

Cost per click. Charge advertisers every time a user interacts with their ads in your app.
Cost per mille. Charge advertisers for every 1,000 ad impressions in your app.
Cost per action. Charge advertisers only when users complete a target action, such as installing an app or signing up for a newsletter.
3. Hire an app development team
The third step is to find a development team you want to work with. The first phase of development will include business analysis, developing a technical specification, estimating the development cost, and planning the project. Before diving into the actual development of your podcast mobile app, you and your team should set up an app development workflow, choose the main features for the app, and design an app concept.
Then your development team should create project milestones and start working on the minimum viable product, or MVP.
4. Create an MVP
Creating a podcast app is a big and complex project. We recommend launching a minimum viable product first and testing its technical and business performance. By using an MVP approach, you'll be able to find out what users like and don't like in your app. Then you'll be able to consider their feedback and improve your app.
Podcast app tech stack
There are many features with which you can build a podcast app. Let's review the options you have
Backend
PHP
Python
JavaScript
NodeJS
Front-end
Kotlin, Java (for Android)
Objective-C, Swift (for iOS)
Flutter or React Native (for both Android and iOS)
Database
Server
Amazon Cloud
Amazon S3
Google Cloud
Microsoft Azure Cloud
Utilities
Google Analytics
Lookback
Elasticsearch
Listen API
Embedly
TestFlight
Crashlytics
Third-party integrations
Facebook, Instagram, and Google API for social login
Stripe, PayPal, Apple Pay, Google Pay for in-app payments
How much does it cost to build a podcast app?
The cost of developing a podcast mobile app depends on these factors:
Product features
Product design
Hourly rate of your development team
Project size and complexity
Technology stack
Number of team members on the project
Time frame
The biggest factor that influences a project's cost is the hourly rate of developers, and that often depends on their location. For example, an application that costs $40,000 to build in the US will cost around $9,000 if developed by engineers in Ukraine.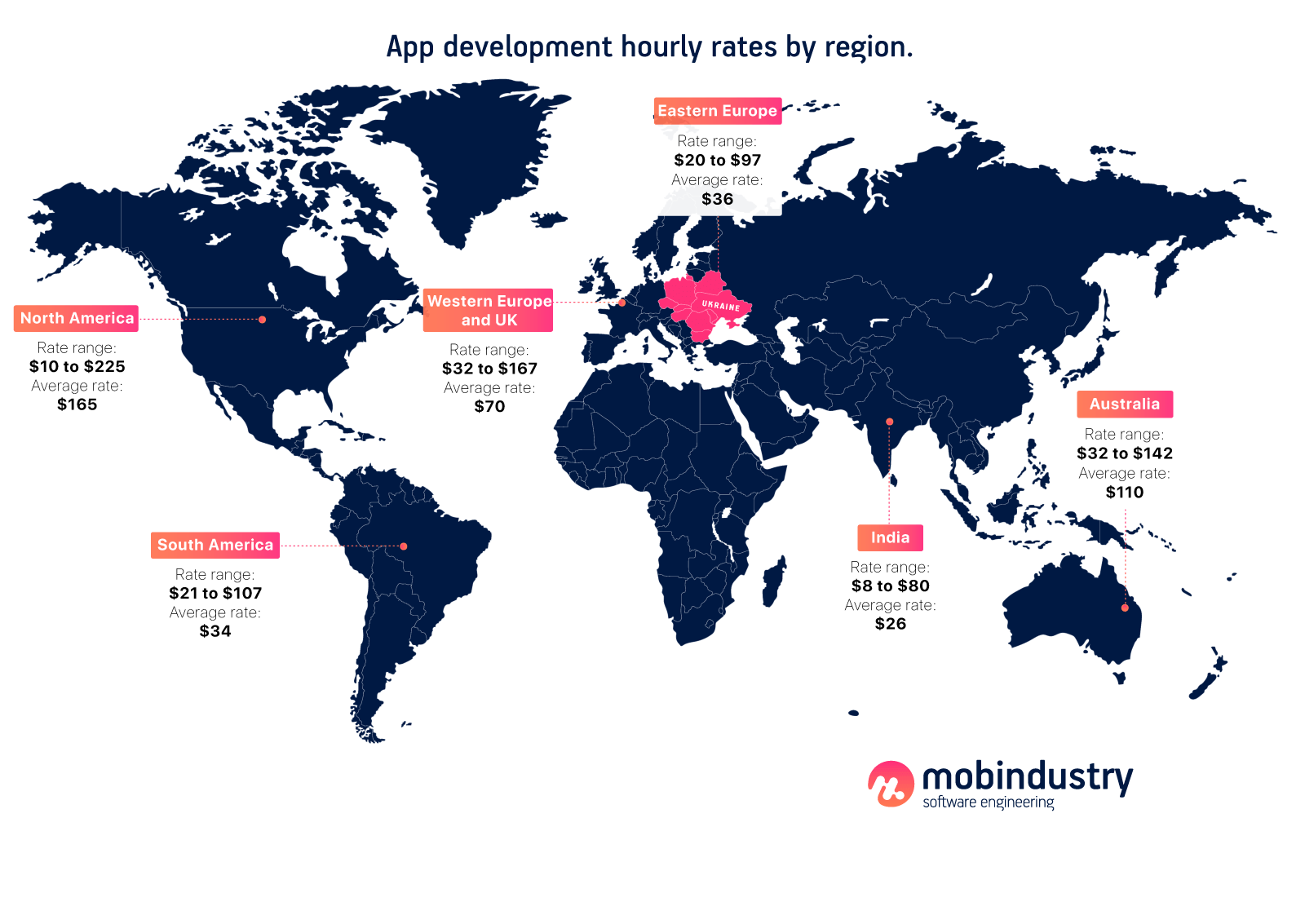 Developing your project with a company based in Eastern Europe is cost-effective and gives you access to top talent.
Сreate your own podcast app
Are you planning to expand your business online? We will translate your ideas into intelligent and powerful solutions.
Challenges in developing a podcast app
Technical complexity
Podcast apps are rather complex from a technical standpoint. Your development team should take care of the audio playback (both streaming and local files), downloads, offline mode, managing RSS feeds, playlists, customization options, and additionally unique features. Even the simplest podcast app isn't easy to pull off, inevitably affecting its development cost.
Competition and lack of features
For the podcast audience, overly simplistic apps don't cut it. It's not hard to get people to download and try a new podcast app, but most podcast app MVPs that flood the market lack features that would encourage users to stay.
to create your own podcast app and make it successful, you must compete with the top products in this category. This means more advanced features, bigger budgets, and more time for development.
Social features + podcasts often fail
Many new podcast apps try to combine podcasting with social media, but many fail to acquire a critical user mass for this. As a result, when new users join the app, they see an empty space where a few creators are trying to encourage discussion. I recommend first getting more users and only then implementing the elements of social media if that's your strategy for increasing engagement and promoting your app organically.
Top 5 podcast apps
Now, let's see which are the best podcast apps on the market.
Pocket Casts
By far, the best podcast app on Android is Pocket Casts. Available for a one-time purchase of $3.99, Pocket Casts offers everything users could want in a podcast app, with an excellent visual design and an easy-to-navigate interface. It's ideal for new podcast listeners, as it offers a storefront for finding new podcasts with featured podcasts at the top and the ability to browse by genre and popularity.
Once users have subscribed to shows, Pocket Casts makes it easy to find and listen to new episodes. Updates take a fraction of a second, and auto-downloading over Wi-Fi makes it easy to ensure users always have something to listen to. Users can sort through downloaded episodes, apply custom filters, and separate audio and video feed to find content quickly.
The listening experience on Pocket Casts is second to none, with easy playback controls to skip backward by 10 seconds or forward by 30. The control panel offers playback speed options to speed up or slow down a podcast, along with the ability to trim silence, reduce a podcast's length, and artificially boost the volume on the phone to hear voices louder and clearer. The sleep timer makes it easy to fall asleep to a podcast without missing the end of the episode.
Pocket Casts is an ideal application for listening to podcasts on Android, but it won't be an option for anyone looking for a free application.
Castbox

Those who don't want to spend a cent can choose Castbox for a solid free podcast player. Castbox has several of the features we've seen in Pocket Casts, including a digital storefront for podcasts and playback options for controlling the listening experience.
Castbox's best accomplishment is its Discover tab, offering what's considered by many to be the best option for finding new podcasts outside of iTunes. It's easy to browse for new podcasts or search by popular tags in Castbox, making it simple to find a new favorite podcast. Playback is solid too, with options for adjusting the playback speed and boosting the volume.
Castbox offers a monthly subscription plan for $0.99 that removes ads, grants unlimited subscriptions, and allows for removing the suggested episode panel on the playback display. However, Castbox also makes it easy to use the app at the free tier, making it an obvious choice for anyone looking to save a few bucks.
Spotify

Spotify has a whole podcast section available in the Spotify app for both paid and free users. It can be a great way to listen to podcasts if you're only looking to subscribe to a few shows at a time. Spotify recently purchased Gimlet Media to help build out its podcast side of the business with new features and exclusive shows. The music streaming giant has used its recommendations algorithm to make it easier than ever to discover your next favorite podcast.
Unfortunately, Spotify doesn't support adding shows by RSS, which limits the ability to listen to things like Patreon feeds.
Overcast

Overcast is exclusive to iOS and supports iPad, Apple Watch, and even Apple CarPlay. The first thing you notice when you open this app is that it asks you to create an account. With the Overcast app, users can download podcasts for offline use, get notified when new episodes come out, and control the playback speed.
On the downside, there's no option to directly import podcasts from Apple Podcasts.
As for discovering new podcasts, users get basic categories and recommendations, but they're not personalized, and there's no trending section. Playback features are quite good and include smart speed for shortening silences and pauses. You can save from 2 to 20 minutes on a podcast using this feature.
There's also voice boost, which makes quieter voices louder and smooths things out overall. Overcast has a premium version for $9.99 per year that gets rid of the ads, provides users with support for file uploads, and offers the ability to change the app icon.
Breaker

The Breaker app was designed to create a community where users can like, comment on, and share any podcast episode, connect to Twitter and Facebook to find friends, and find out what everyone is listening to through an activity timeline. It works great if a user has friends on the app already or has enough friends who are willing to join.
Importing podcasts from Apple Podcasts and other podcast apps is automated, and there are detailed illustrated instructions on how to bring all of your podcasts to Breaker. The first thing users see when they open the app is the episode list. Users can sort this list by oldest, newest, most popular, or any other custom ordering.
The discovery feature shows users episodes recommended specifically for them based on their likes and listens. Also, the app tells users why it recommends episodes. Beyond that, there's a top 20 list of the hottest podcast episodes by day, week, and month. The playback feature lets users change the skip timers, skip silences, and speed up a podcast 3x.
Breaker is only available for the iPhone (no Apple Watch or iPad app), but it's coming to Android as well. It doesn't have a paid subscription service, but it partners with certain podcasters using a service called Breaker Upstream, allowing users to download exclusive content, download content before it comes out, or access premium content.
Quick summary of developing a podcast app
Developing a podcast app is hard and time-consuming. But if done correctly, your app can become successful and bring a lot of value to users. In this article, you've learned how to build a podcast app and make it successful.
Key takeaways:
The global podcasting market was valued at $9.28 billion in 2019 and is expected to grow at a CAGR of 27.5% between 2020 and 2027, when it's expected to reach $60.5 billion.
Key players in the podcast market include Amazon, Apple, iHeartMedia, Pandora Media, and Spotify.
To develop an amazing podcast mobile application, we suggest creating a user persona, or a detailed portrait of your ideal user.
You should find a development team to work with. The first phase of development will include business analysis, developing a technical specification, estimating the development cost, and planning the project.
We recommend launching an MVP first and testing its technical and business performance.
Developing your project with a company based in Eastern Europe is cost-effective and gives you access to top talent.
If you want to create a podcast app but don't know where to start, contact Mobindustry for a free consultation.
Podcast app development
Are you planning to expand your business online? We will translate your ideas into intelligent and powerful solutions.
Rate the article!
🌕 Cool!
🌖 Good
🌗 So-so
🌘 Meh
🌑 …