Best Home Security System Apps to Learn From
Smart homes are becoming more and more popular, and with that popularity, concerns also arise. Security is one of the biggest challenges for any IoT system, and security is imperative for users. Learn how to create the best home security app based on the experience of market leaders
Smart home market overview
Building apps for smart homes is becoming more lucrative each year. According to Statista, by 2023, smart home tech in the US will reach almost 54% of households, and worldwide, smart technology will be in 21.4% of all households by 2025.
The global smart home market is expected to reach $53.5 billion by 2022, and home security system mobile app developers won't find a shortage of new users. The market for smart IoT devices is vast and includes everything from appliances to security devices and entertainment technology.
Security is the top reason most people use smart devices in their homes. According to the Lowe's Smart Home Survey, security cameras were the most popular smart home device among consumers. Also, 62% of consumers in the US claim security is the top priority in a smart home. Smart locks, fire and theft alarm systems, and security cameras are considered the most beneficial smart devices by 71% of millennials.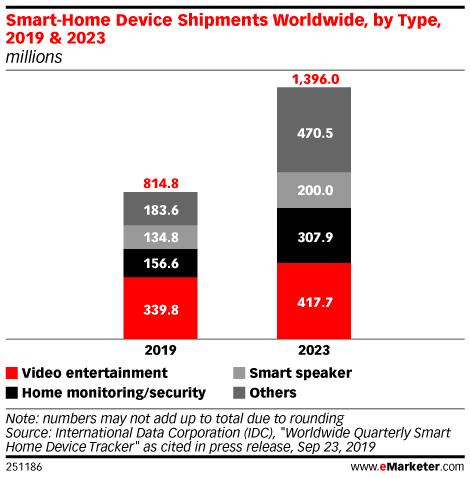 According to eMarketer, monitoring and security devices are the second largest category of smart home devices, and by 2023, their shipment volume is expected to double compared to 2019.
As you can see, security is one of the most important and widespread categories in the smart home market, and it's only natural that both companies and entrepreneurs want to create smart home security applications.
In this article, I'll talk about what a smart home security app is, how it helps consumers, what its goals are, and how to build one. I'll also talk about the best smart home security apps that you can use as references for your own product.
What is a home security mobile application?
A home security mobile application helps users control all security devices in their houses. Most users choose to download a security mobile app to know what's happening when they're away. The app connects to their smart locks, and sensors, automatically monitors the environment and allows users to easily arm and disarm their systems.
Many home security apps also allow users to connect to security cameras, check camera footage, and save videos. If a house is equipped with motion sensors, the app can automatically notify a user if those sensors are triggered.
A security app for smarthomes can also have connected home automation features that allow users to remotely turn on and off their home appliances, control lights, unlock doors to welcome verified visitors, and even talk to visitors remotely via a doorbell camera with two-way audio.
Types of home automation mobile apps
There are two main types of home security system software: proprietary and universal applications. Let's talk about them in detail.
Proprietary apps work only with devices from a specific manufacturer, so they're tied to a company. For example, if you equip your house or apartment with only Apple smart home devices, you'll use the Home app to control all your devices.
However, most smart home users install devices from different manufacturers, as all of them have their pros and cons and people strive to equip their homes with the best devices for their goals and budgets.
This is where universal apps come to the rescue, as they're able to connect to devices from different manufacturers and allow users to create their own smart ecosystems. One of the most famous apps in this segment is Alarm.com. It's compatible with security equipment from multiple big companies.
However, choosing an app that will be compatible with all your devices can be challenging, as the IoT industry is very fragmented. Each manufacturer and each device has its own protocols, logic, and connectivity methods. A lack of regulation and best practices makes it hard to combine devices from different manufacturers.
This is why you should do market and competitor research before you start the smart home automation development process to know what devices are most popular among your users.
Must-have features of a home security mobile app
There are some features that all good home security mobile apps share. Note that this is a bare minimum for a good mobile app, and if you want to stand out from the crowd, you'll need to either make your UI and UX impeccable or add more useful features.
Security control
This is the most important feature for any security app because users download such apps exactly for this purpose. Security control means all your users' devices should connect to your app and be accessible to users from anywhere. Your app should allow a user to:
Arm and disarm a security system
Check the status of the system
Review system events from a mobile device
Device connectivity
If you want your app to be top-notch, you need to provide reliable smart home connectivity. This means users should be able to control all connected devices in their homes via your app. It's inconvenient to have separate applications for each group of devices, and if your app doesn't have connectivity features, it will just be one of many smart home apps installed on your users' home screens.
A user will always be looking for a more convenient way to manage their smart home, and you can give them this opportunity. Your app should be able to:
Lock and unlock doors
Control the lights
Check camera footage
Communicate through a smart doorbell
Control home appliances
Alerts and real-time monitoring
Your users should know that your app will notify them if anything happens in their house. As your app will be used primarily for remote control, you need to get this feature down. During real-time monitoring, each security device should trigger a notification if it detects movement, smoke, a leak, or something else.
During development, your technical team will need to make sure your app works properly and sends notifications even when it's in the background. Modern operating systems often limit the functionality of background apps, so the alert system will need thorough testing.
Device compatibility
Ensuring device compatibility is one of the most challenging tasks, as the IoT industry is unregulated and fragmented. You need to think about what devices are most popular among your target audience and make your app compatible with them. Also, your app should work well on both tablets and smartphones.
It's easier to ensure compatibility with Apple devices, as there are a limited number, home security apps for Android should be well-tested on devices from different manufacturers and with different operating system versions.
Automated routines
Smart home devices are meant to automate daily tasks and make users' lives easier. If you want to create a universal app that will be everything a user needs, you'll have to add automation functionality.
Automated routines allow users to set up algorithms that run in response to certain actions. For example, when an outdoor camera detects that a homeowner has returned, it can automatically turn on the lights and unlock the doors. A thermostat can automatically adjust the temperature depending on the time of day or the outside temperature, and a smart home system can open the blinds at a certain time each morning.
Secure authorization
Your app should be reliable, so make sure you securely authorize your users. The best practice is to allow login and registration through a phone number. You can also add biometric identification for extra security, especially for actions like unlocking doors.
Other features that your app should have include onboarding, settings, personal profiles, and geolocation. You should also pay attention to user experience design, as it's a weak spot for many smartphone home security system apps. Your app should have clear icons and require a minimum number of actions to achieve the desired result.
Best home security system apps
Vivint Smart Home App
Google Play: 4.4
App Store: 4.6
According to many users, Vivint is the best app for home surveillance that covers everything from cameras and thermostats to smoke detectors from different manufacturers in one place. Vivint is compatible with Nest, Amazon, and Element thermostats and other devices from multiple companies.
Vivint's selling point is its flexibility and a convenient user-friendly interface. It has a clear dashboard that allows users to monitor their homes remotely. With Vivint, users can disarm their alarms remotely without having to rush to them and open doors for their guests.
Vivint is a subscription-based service, so if you want to access its Smart Home SkyControl panel, you'll need to pay a monthly fee.
SimpliSafe Home Security App
Google Play: 4.4
App Store: 4.8
SimpliSafe is a competitive app that provides access to live footage from security cameras and allows users to set up alerts for sensors and remotely control smart home devices. It has a simple interface and lots of customization capabilities.
The best SimpliSafe feature is event logging. It allows users to track visitors and know when someone came to their house. The highly customizable alert system notifies users when someone uses their alarm code so they can track everyone who accesses a property, from contractors to delivery people.
ADT Pulse
Google Play: 4.5
App Store: 4.8
To use this app, users will need a Pulse contract. ADT Pulse offers wide functionality and allows users to control each device in their home, from smart light bulbs and alarms to thermostats and entertainment devices like smart TVs and speakers.
ADT Pulse has an emphasis on security: Users can customize alerts if the smart home IoT system detects a breach or a break-in. It's also compatible with smoke and carbon monoxide detectors and automatically sends alerts to emergency services.
Parental control is another strong point of this app, as it can notify parents when their kids are back from school. All alerts are easily customized.
XFINITY Home app
Google Play: 4.5
App Store: 4.8
XFINITY is a communications provider that offers internet, cable, and telephony services but also has a smart home security product users can add to their plan. The best thing about XFINITY is its compatibility with lots of devices from different manufacturers including:
Nest
Ecobee
Zen
Carrier Cor
Philips
Lutron Caséta
Sengled Element
Jasco
Kwikset
August
With the XFINITY home surveillance app, users can control their smart locks, lights, and other smart devices. Users can access the app with their Comcast ID, which is convenient.
Blue by ADT
Google Play: 4.2
App Store: 4.4
Blue is a highly customizable and versatile home security system that users can easily scale since it's compatible with lots of devices including cameras, thermostats, lights, door locks, and garage door openers. Blue allows users to set up alerts and alarms, control devices remotely, configure rules, and view event logs.
Blue also shows footage from security cameras and sends push notifications and emails in case of certain events. Additionally, this home system app has a crime map that users can check at any time.
Alarm.com
Google Play: 3.7
App Store: 4.7
Alarm.com is one of the most popular universal security systems you can monitor from your phone on the market. It works with lots of devices from numerous manufacturers, allowing users to control their entire smart home remotely, automate daily routines and tasks, and watch live footage from security cameras.
Alarm.com has a convenient dashboard that allows users to control all security devices, including locks, lights, and cameras. This smartphone home monitoring system sends alerts when someone enters or leaves a property and in case of any unexpected activity. To make the alert system more convenient, users can customize their alerts to see only specific events.
Alarm.com works with lots of devices from numerous manufacturers, allowing users to control their entire smart home remotely
With Alarm.com, users can also talk to visitors through a doorbell camera and unlock the doors when they're away.
Business features include the ability to arm and disarm security devices across multiple locations, control employee access, track multiple properties at once, and send emergency alerts to specific personnel.
Final thoughts
Security is one of the primary reasons for using smart technology, and it's also one of the biggest challenges for the whole IoT industry. Because of device fragmentation, the large number of device manufacturers, and a lack of industry regulations and best practices, it's tricky to make smart home devices and applications secure.
If you want to create a home security mobile app as an independent business that doesn't have its own hardware production, you'll most likely need to make a universal app that will be compatible with various devices.
In this article, I mostly highlighted universal home security mobile apps that allow users with DIY security systems to control their devices remotely. The most important features of such software are:
Remote device control
Arming and disarming of locks
Communicating with visitors through doorbell cameras
Customizable alerts
Automated routines
If you want to create your own home security system application, feel free to contact Mobindustry. We have created IoT software for multiple industries, from scooter sharing to smart homes.
Rate the article!
🌕 Cool!
🌖 Good
🌗 So-so
🌘 Meh
🌑 …