Best Workout Plan Apps to Learn From
In this article, we explain what workout plan apps are, present a guide on how to build one, and list successful examples.
What is a workout planning app?
Workout planning apps are the largest group of apps in the Health & Fitness category. Their goal is to simplify the creation of workout plans and track their completion. Workout applications allow users to choose from ready-made training libraries or create their own programs.
Most workout apps can be divided into two large groups:
Logbook apps
Workout apps
The first group consists mostly of bodybuilding apps, used simply to record workout results. Logged information can be compiled and visualized to show progress to the user. Examples of such applications are Simple Workout Log, Strong, HeavySet, and Stacked.
The second group of applications is represented by exercise libraries that allow people to choose workouts or create custom workouts according to their goals, health, fitness level, preferred exercise difficulty, and other preferences.
Workout planning apps can be used in the gym (My Workout Plan, FitNotes), at home (Workout for Women, Nike Training Club, Sworkit), or both at home and at the gym (Jefit). People can use these apps to help with bodybuilding, weight loss, Pilates, yoga, HIIT, physical therapy, and many other fitness programs.
The main advantage of workout planning platforms is that they allow users to organize their workouts and customize them as if they had a personal trainer motivating them to stay on track. These apps can target a wide audience or a narrow niche. By researching the market, you can find specific audiences with unmet needs. For example, you may identify demand for:
Exercises for children
Exercises specifically for women
Exercises specifically for men
Physiotherapy training (for physiotherapists and their patients)
Slimming apps (which also include meal plans)
Exercises for seniors
Social media fitness apps (for those who want a community)
Live classes (from fitness studios and personal trainers around the world)
Best fitness planning apps

Fitbit makes some of the best fitness trackers around. Fitbit Coach uses daily activity data recorded by Fitbit fitness trackers to recommend workouts and activities. The app's dynamic workouts adapt not only to what a user has done but also to the user's fitness goals and feedback. A user can tell the app, for example, that a workout was pretty easy.
Fitbit Coach offers hundreds of programs, so there's definitely a workout for everyone. Users have to subscribe for this privilege. A Fitbit Coach subscription is either $7.99 per month or $39.99 per year.
2. Workout Trainer
The Skimble Workout Trainer app offers exercises and workout programs for both beginners and veterans of the gym. A simple questionnaire measures a user's fitness, and the app then generates recommended exercises and training plans personalized according to the user's fitness goals. Notifications, reminders, lane tracking, and statistics help users stay focused; users can even hire individual trainers with different fitness specialties.
While Workout Trainer is one of the best workout apps based on these features alone, it also offers a premium subscription starting at $6.99 per month. Paid subscriptions include expanded access to over 100 workout programs, custom workouts and exercises, as well as additional features such as integration with a portable fitness tracker.
3. Peloton — At Home Fitness
Peloton — At Home Fitness is free to download, and everyone can take advantage of the 30-day trial to try live on-demand activities to help them with running, cycling, and strength training. (Membership is free for owners of Peloton bikes.) Peloton offers guided workouts in everything from yoga to cardio to stretching.
An update to the Peloton app introduced a feature called Tags that allow users to take part in group workouts. Joining a Tag provides workout guidance and allows users to see which of their friends are exercising so they can motivate each other to stay fit.
4. Shred

The Shred app promises daily workouts with a variety of styles to help users stay fit even when they're stuck at home.
Shred lets users choose between different types of workouts — gym, body weight, and cardio — by offering a variety of exercise modes that push users towards their goals. The app has interactive visuals and activity logging so people can see their progress daily. There's even a Shred community that adds extra motivation. (Users can opt out of this feature if they prefer to train alone.)
A seven-day free trial lets users try Shred to see if its approach to home exercise is right for them. Users are then charged $12.99 per month for a Shred membership. After launching on the iOS App Store, Shred is now available for Android, although it's still listed as an early access app on Google Play.
5. Seven
The Seven app asks users to exercise seven minutes a day for seven months and tracks their progress. Users can chat with friends through a support app or use it to engage in friendly competition. If users are unsure about how to do workouts, Seven's 3D guides will help them speed up with each exercise.
7 Club membership ($9.99 per month or $79.99 per year) gives users personalized training plans and access to all workouts.
6. Jefit
The Jefit.com apps are a great resource for users looking to do strength training and bodybuilding. Loaded with an exercise database with thousands of programs sorted by target body part, the Jefit app comes with detailed instructions, a workout planner, an exercise log, a progress counter, and numerous timers and parameters. It also syncs with a user's Jefit profile.
The free version of Jefit contains ads, while the professional version offers more features and removes the ads.
7. Wakeout
Don't confuse Wakeout with some of the more intense workout apps in our roundup of the best workout apps.
Even busy people need to find time during the day to get up from the table and move around, especially if they're staying at home due to the COVID-19 pandemic and are not as active as they used to be.
Wakeout includes over 1000 exercises that users can schedule or start with one tap. The app can even remind users if they've been sitting for too long, while Wind Down treatments help them unwind right before bed.
Users can download the Wakeout app for free, although they'll need to subscribe for $4.99 a month to access any of the wake-up routines and features. This app won't spoil users, but all the movements will most likely help them feel better and sit less.
8. Centr
Centr offers daily workout videos that users can follow in the gym or at home covering a variety of disciplines (HIIT, strength training, boxing, and even yoga and Pilates). Meal plans allow users to find healthy and delicious recipes, while instructor-led meditations and sleep tips create the right psychological space.
Centr offers a seven-day free trial with a monthly subscription for $29.99. However, people might want to consider an annual subscription that offers a very generous discount on the monthly rate, dropping it to $10 per month.
9. ASICS Studio

ASICS Studio gives subscribers access to unlimited guided audio training. This app can help users achieve a variety of fitness goals such as strength training and cardio through workouts led by professional trainers and accompanied by motivational music. Videos and photos provide exercise instructions, and timers and audio prompts make it easy to track the workout pace.
Users can download workouts for offline use, and ASICS Studio integrates with the Health app on iOS to keep users' fitness data in one place. The app comes with a free 14-day trial, after which users need to subscribe to access workouts. Subscriptions start at $9.99 per month.
10. All Out Studio

When you need help, you go to a specialist, so why not get a specialist's help when it's time to exercise? This is the idea behind All Out Studio, which leverages the expertise of publications such as Men's Health, Women's Health, and Runner's World to provide on-demand workouts that users can access from their phones as well as streaming devices such as Apple TV, Roku, and Amazon Fire TV.
All Out Studio offers bodyweight classes, HITT, dance cardio, barre, and more, and users can choose from classes organized by body type, lifestyle, and goals. In addition to the hundreds of workouts already available, All Out Studio adds new lessons every month.
Users need to purchase a subscription at $14.99 per month. By signing up for a year, however, users can save 50%, which is one of the best discounts we've seen among the best workout apps.
11. Freeletics
Freeletics offers hundreds of training programs covering different muscle groups and fitness levels, all designed to use only a user's body weight. Audio and video guides provide step-by-step training instructions. Premium subscribers have access to further training plans, performance analysis, training targets, and a 2×2 workout mode that requires only a tiny training space.
12. 8fit
8fit combines workout planning and nutritional planning to help users reach their fitness goals, whether they're getting in shape, gaining weight, or losing weight. Fitness Assessment functionality helps users determine their starting level by tailoring exercise regimes and meal plans to match their goals.
8fit exercises are based on high-intensity interval training in short but intense bursts using body weight as the primary training tool, making them ideal for indoor workouts without equipment. The meal plans in this app are recommended based on users' fitness goals, tastes, and dietary preferences, and contain lists of foods to eat and avoid.
While the app offers a lot of free features, a premium subscription unlocks more workout options and more complete meal plans.
13. Yoga Studio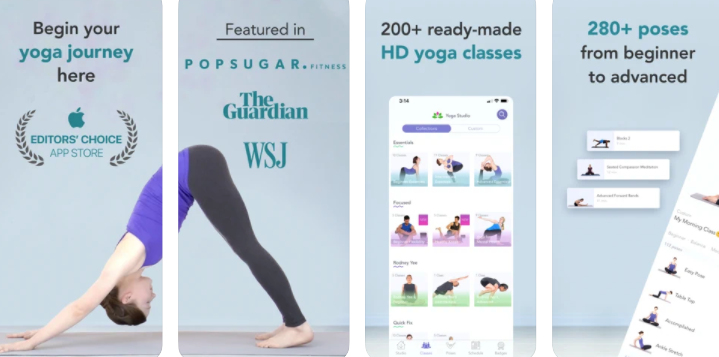 Gaiam Yoga Studio includes a library of over 70 yoga and meditation sessions lasting from 10 to 60 minutes. These sessions focus on strength, flexibility, relaxation, balance, or a combination of all four, and the app lets users filter by duration, concentration, and ability. More advanced Yoga Studio users can create their own classes from an application library containing about 300 poses as well as 20 pose blocks.
Users can download videos and play them later without an internet connection, while class instructors can stream Yoga Studio to their TV using Chromecast, Apple TV, or AirPlay. Yoga Studio has switched to a subscription model, but users can try the app for seven days before subscribing. A monthly pass costs $9.99 and an annual pass costs $69.99.
14. Find What Feels Good

Another take on the yoga app is Find What Feels Good, which offers a library of over 700 videos designed for all levels. Find What Feels Good boasts a global community with daily sessions as well as weekly and monthly report series.
This app makes it easy to stream workouts to AirPlay-enabled devices such as Apple TV and Chromecast. You can even sync videos for offline viewing. The monthly plan costs $9.99, although users can sign up for a year for $99.
15. RockMyRun
If you prefer a running workout, RockMyRun can provide the coveted soundtrack for a run of any length. This app can choose music that syncs with your steps or heart rate, and you can manually set the music to match your beats per minute.
RockMyRun offers carefully curated playlists of songs to help users get the most out of their workouts. The radio stations cover a wide range of genres from hip hop and rap to pop, alternative, reggae, and more. RockMyRun also promises easy integration with other apps including Apple Health, Strava, Nike+, Runkeeper, MapMyFitness, and Runtastic.
While its focus is on running, RockMyRun can come in handy even when you're at home by providing a steady rhythm when exercising on a treadmill or elliptical trainer.
Workout planning app business models
Freemium. Provide users with a free basic feature set for a trial period and offer a subscription. Another option is to make the app free of charge with the ability to upgrade features or get rid of ads. Advanced features have to be really cool for users to want to buy them, however. They might include accessing a large collection of exercises, tracking progress, creating custom workouts, and personalized and more convenient user interactions.
Ads. You can make money from other companies that want to publish their ads in your app. You can charge for ad placement or receive commissions for views and visits to a company's website from your app.
Paid. You can charge users to download your app in the App Store and Google Play.
Now, let's see what features you need to build a fitness app.
Steps to create a workout planning app
Here's a full checklist for building a fitness app from scratch.
1. Create requirements
A written description of your app's functionality is called a software requirements specification, or SRS. This document makes it easy to get your idea across to developers, designers, and other team members. In the beginning, your SRS might just be a list of functions with clear descriptions that can be detailed and prioritized. It's not a problem if you have no experience creating such documentation. At Mobindustry, we help our clients turn their ideas into SRSs.
2. Create content
This is probably one of the most time-consuming parts of fitness app development. You can create content in parallel with the rest of these steps. One of the main reasons people stick with a particular workout platform is a large library of exercises.
3. Hire an app development team
The third step is to find a development team you want to work with. The first phase of development will include business analysis, developing a technical specification, estimating the development cost, and planning the project. Before diving into the actual development of your fitness planning app, you and your team should set up an app development workflow, choose the main features for the app, and design an app concept.
Then your development team should create project milestones and start working on the minimum viable product, or MVP.
4. Create an MVP
Creating a fitness planning app is a big and complex project. We recommend launching a minimum viable product first and testing its technical and business performance. By using an MVP approach, you'll be able to find out what users like and don't like in your app. Then you'll be able to consider their feedback and improve your app.
Final thoughts
As you can see, building your own fitness planning app is not rocket science. You just need to follow our guide and select a development team. Formulate a concept for your application, write a list of features, choose a business model, and find someone to bring your ideas to life.
If you want to build a fitness planning app or if you have any questions on this topic, contact Mobindustry for a free consultation.
Rate the article!
🌕 Cool!
🌖 Good
🌗 So-so
🌘 Meh
🌑 …