How Much Does it Cost to Make an App like TikTok?
If you haven't been living under a rock these past few years, you've probably heard about the TikTok app. If you want to find out why TikTok is so successful, what features a TikTok-like app needs, and how much it would cost to make an app like TikTok, keep on reading.
What is TikTok about?
TikTok is an app for creating and sharing videos. Sounds quite easy and ordinary.
But TikTok's popularity has soared so high that many startups now want to know the secret to its success. Let's find out what makes TikTok so special.
TikTok lets users create videos with music, filters, and animations. The app's community is growing rapidly all around the world. From November 2018 to the start of 2020, TikTok went from 680 million to 800 million monthly active users. People often use TikTok for lip-syncing, dancing to songs, and creating original ideas and challenges.
Here are a few reasons why TikTok is considered an engaging app:
Video sharing on social media
High-speed image capture
Ability to broadcast music videos
Effects and filters
Music library full of trendy songs
History of TikTok: A.me, Douyin, Musical.ly
TikTok is a rather young mobile application. But in its lifetime, it has had many names. Let's dive into the story of how TikTok was born.
A.me, the forerunner of TikTok, was launched in China in September 2016 by the Chinese company ByteDance. Later that year, it was rebranded as Douying. Within the first year, Douying acquired 100 million active users.
TikTok was launched by ByteDance as an app for the international market in September 2017. In January 2018, TikTok ranked #1 among free apps on both the App Store and Google Play in Thailand and other countries.
In November 2017, ByteDance bought Musical.ly, a famous social media platform for video creation. And in August 2018, TikTok merged with Musical.ly to create the world's largest video community.
Now that you know how TikTok was born, let's see how it's doing today.
The TikTok boom
Today, TikTok is a giant video platform with 800 million monthly active users worldwide. According to App Annie, this ranks TikTok sixth among global social media networks.
In 2019, TikTok hit 1.5 billion downloads on the App Store and Google Play. In January 2020, the app was downloaded 64 million times.
According to Apptopia, TikTok's Q4 2019 revenue was 310% higher than for the same period a year earlier.
When building an app like TikTok, remember that 60% of TikTok users are ages 13 to 21. It's clear that the app targets Gen Z.
Nine out of ten TikTok users open the app multiple times a day. The average TikTok user spends 52 minutes in the app daily.
Four factors that make TikTok successful
Fast and easy content creation
YouTube videos take a long time to film, edit, and upload. What TikTok did is limit the video duration and simplify the editing and uploading process. Now everybody can create content crazy fast. But TikTok isn't just about creating videos. When you open the app, you get swarmed by an endless flow of 15- to 60-second clips.
Right target audience
Lots of new social media apps fail because they try to overtake giants like Facebook by targeting all age groups. TikTok did a smart thing and targeted Gen Z users who are more likely to use this type of social media platform.
Brands and celebrities
Famous names spread awareness and increase engagement. Brands like Coca-Cola, Guess, and Michael Kors use TikTok to reach millions of users (and especially younger audiences). TikTok also partners with celebrities like Ariana Grande, Jimmy Fallon, and Khloe Kardashian and works with influencers from other social media platforms like Instagram and YouTube.
Money-earning potential for users
TikTok's users can make money on the platform. For example, the live streaming feature allows users to buy and send gifts to content creators. Gifts can be exchanged for money once the total reaches $100.
Convenient UI
The first opportunity you get to impress users is with your app's home screen UI. When you sign in to TikTok, the landing page shows you a collection of trending videos. The most important task when creating your own app is to make the user interface as simple as possible. By scrolling in TikTok, users can keep watching videos. TikTok lets users set home screen either to show videos from people they follow or to show recommended videos.
Must-have features for your mobile app like TikTok
Profiles
Personal profiles in TikTok show the number of followers a user has, the number of people a user follows, and a user's likes. Users can also change their profile pictures, see all of their own videos, and see videos they've liked.
Likes and comments
Likes on TikTok are similar to likes on Instagram. A user just needs to double-tap a video to give it a like. For TikTok creators, every like (in the form of a heart) counts. These hearts are a measurement of popularity. The more likes a video gets, the more famous it becomes. If users want to save a video they've liked, they can give it a heart and it will automatically be added to their profile. Also, TikTok has a comments section where users can discuss videos and ask questions.
Social sharing
It can be frustrating for users not to be able to share their work. TikTok understands its users' needs and lets them share TikTok videos on other social media platforms like Instagram, YouTube, and Facebook. This allows users to grow their audiences not only on TikTok but on other social networks.
Push notifications
TikTok uses push notifications to improve user engagement in the app. You can use push notifications in your app to notify users about the latest likes, tags, and follows. Also, people usually want to know when their favorite creators are live or have a new video up.
Video recording and uploading
TikTok makes uploading videos easy and convenient.
TikTok lets users upload recorded videos directly to their accounts. Then they can edit them and add effects. This approach saves time and energy.
Video editing
TikTok provides a fully equipped video editor. This eliminates the need to use third-party editing programs. Everything can be done in the app. Users can rotate and crop video and even change the playback speed. Similar to Snapchat, TikTok offers a large set of augmented reality (AR) effects, including for changing eye color and hairstyle and adding makeup. Also, users can add stickers, animations, and filters to their videos.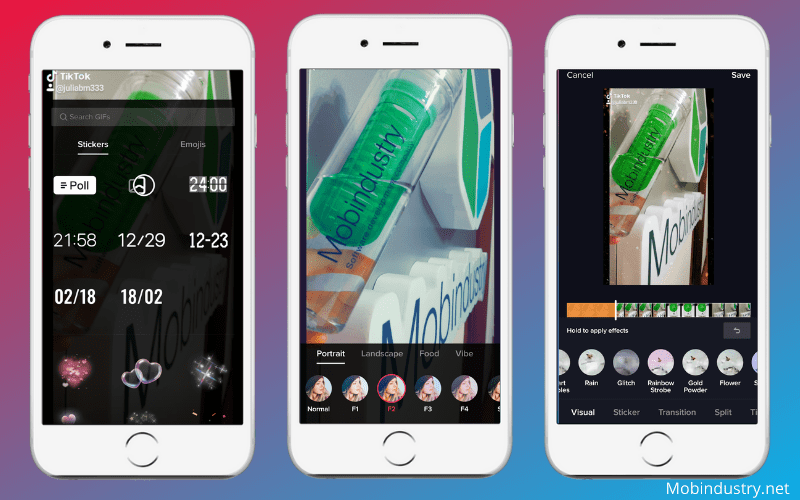 Geolocation
With geolocation, users can receive notifications when Tik Tokers are live streaming nearby. This adds great value to the app.
Real-time analytics
Real-time analytics is mostly used during live streams, allowing users to see how many people are watching their videos in real time. Users can also get notifications about likes and comments in real time.
Live streaming
Lots of social media apps have a live streaming feature. To live stream on TikTok, users have to be at least 16 years old and have 1,000 or more followers. While live streaming, users can receive gifts from their followers in the form of coins. These coins can later be exchanged for money.
Music library
TikTok has a large built-in music and sound library. Users can lip-sync and dance to the songs they like. Music can be added at the start of a recording or after the fact. TikTok always features the most recent and popular songs.
Hashtags
Hashtags in TikTok are a tool for finding interesting challenges, making duets, and creating new trends.
Settings
TikTok has basic settings where people can choose their country and language. Also, users can make their accounts private, visible to friends, or visible to everybody.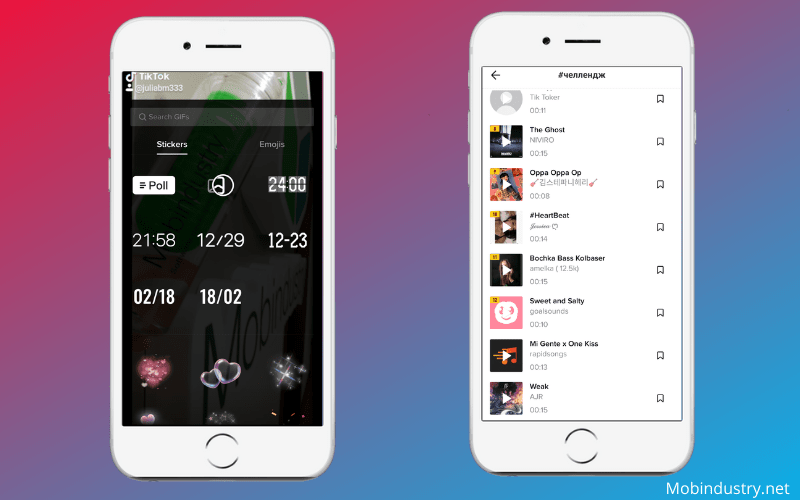 Unique TikTok features
Slideshow maker
Slideshow videos are common on social media. The problem on other social networks is that users need to edit those videos in third-party software and then upload them to the platform. With TikTok, you can easily create a slideshow video right in the app and share it at once.
Timer for video recording
Making a lip-sync video can be difficult because you need to get the timing right and stay focused on the video at the same time. TikTok makes this as easy as possible. The timer feature lets you concentrate on video content. All you need to do is set the timer and wait for the recording to start automatically.
Duet
The Duet feature lets users create side-by-side videos with other people: a friend, someone you follow, a random person, or even a celebrity. Users can sing in duets, record dialogs, and create their own stories. If you want someone to make a duet to your video, just add a #duetwithme hashtag so everybody can see you're looking for a duet partner.
AI-based recommendations
You can start exploring videos on TikTok even if you haven't subscribed to anyone yet. TikTok notices the content you watch, like, and share. By running this information through its artificial intelligence system, the app suggests content you may like on the For you page.
Technology requirements to build an app like TikTok
How does TikTok make money?
TikTok gets its revenue from selling virtual gifts and partnering with brands. One such partnership is with Guess, who ran a "fashion takeover" campaign on TikTok. According to Sensor Tower, TikTok's in-app purchases in May 2019 reached $9 million worldwide, excluding China's third-party Android stores.
In 2019, TikTok was actively testing native ads. But the app hasn't yet publicly released its ad platform. For now, advertisers reach out to TikTok directly to buy ads.
Learn more about TikTok's monetization options.
TikTok business model canvas
Four steps to develop a video app like TikTok
Here are four steps to make your TikTok-like app idea come to life and simplify the development process.
1. Research your app's target market
When developing a mobile app, the first thing you need to consider is the target audience. Understanding your users' needs makes development easier and leads to a better final product. Find out as much as you can about your potential users. You can start your research with the following:
Demographics. Find out the average age of your users, where they live, what devices they use, etc.
Behavioral trends. Find out what decreases a user's desire to download an app, your users' security expectations, and so on.
To develop an amazing mobile application, we suggest creating a buyer persona, or a detailed portrait of your ideal user.
2. Choose a monetization model
The next step is to choose the right monetization model for your mobile application. Now that you know your users' needs, you can predict what your users will pay for. Here are three monetization models for you to choose from.
Paid. This monetization model is quite straightforward: users pay once to access your app.
Freemium. With this model, users can download your app for free. They can then pay to upgrade their accounts or use premium features.
In-app purchase. Users can pay for different items, features, or content inside the app like special stickers, filters, and gifts. TikTok is currently using this monetization model. Users can buy coins and present them to others during live streaming.
Advertising. You can choose one of the following ad options:

Cost per click. Charge advertisers every time a user interacts with their ads in your app.
Cost per mille. Charge advertisers for every 1,000 ad impressions in your app.
Cost per action. Charge advertisers only when users complete a target action, such as installing an app or signing up for a newsletter.
3. Hire an app development team
The third step is to find a development team you want to work with. The first phase of development will include business analysis, developing the technical specification, estimating the development cost, and project planning. Before diving into the actual development of your mobile app, you and your team will create an app development workflow, choose the main features for the app, and design an app concept.
Then your development team will create milestones for the project and start working on the MVP.
4. Create an MVP
Creating an app like TikTok is a big and complex project. We recommend launching a minimum viable product (MVP) first and testing its technical and business performance. By using an MVP approach, you'll be able to find out what users like and don't like in your app. Then you'll be able to consider their feedback and improve your app.
How much does it cost to develop an app like TikTok?
The cost of a mobile app like TikTok depends on these factors:
Features
Design
Hourly rate of your development team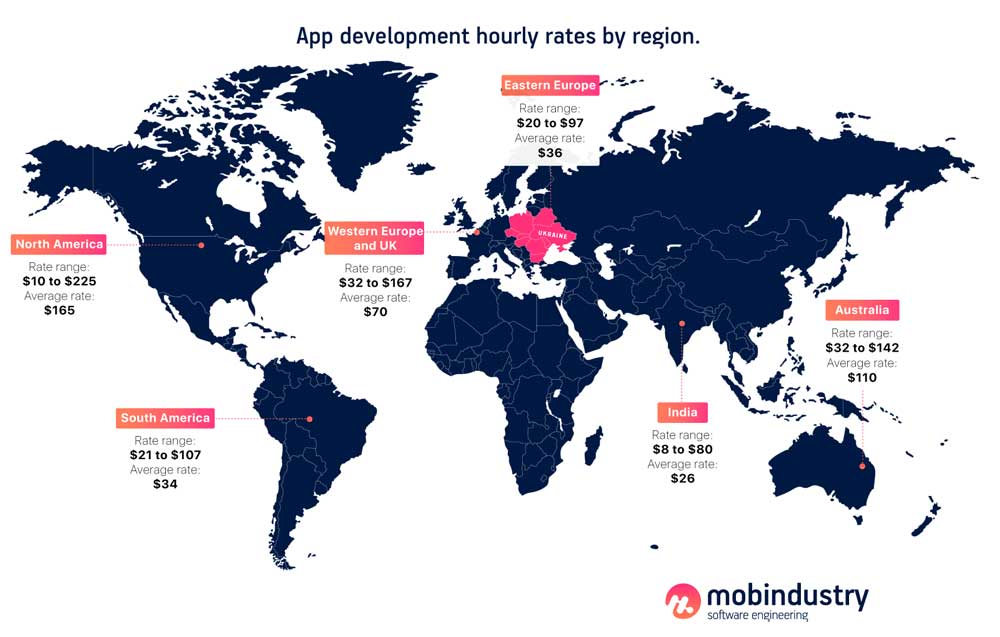 The biggest factor that influences an app's cost is the hourly rate of developers. And hourly rates often depend on location. For example, an application that costs $40,000 to build in the US will cost around $9,000 if developed by engineers in Ukraine.
Developing your app with a company based in Eastern Europe is cost-effective and gives you access to top talent.
Here's a rough estimate of an MVP for a cross-platform app like TikTok.
| | |
| --- | --- |
| Basic features | Estimate in hours (min-max) |
| Personal profile | 24 – 40 |
| Likes/Comments | 16 -32 |
| Video recording/uploading | 40 – 80 |
| Video editing | 80 – 120 |
| Social sharing | 8 – 20 |
| Push notifications | 16 – 24 |
| Music Library | 16 – 24 |
| Live streaming | 24 – 42 |
| Real-Time Analytics | 16 – 32 |
| Geolocation | 16 – 32 |
| Hashtags | 30 – 60 |
| Settings | 28 – 40 |
Conclusion
To create an amazing video streaming social app, you need to ensure users can make content fast and easily. Choose the right target audience, involve brands and celebrities, and provide users with money-earning potential.
To create a TikTok-like app, you'll need to choose a monetization model, find a development team that can build your app, and create an MVP to test how your product performs on the market.
Note that TikTok is so popular because it has a unique value proposition. I suggest you don't try to make a TikTok clone. Instead, get inspiration from TikTok and come up with your own twist on the video streaming social app.
Rate the article!
🌕 Cool!
🌖 Good
🌗 So-so
🌘 Meh
🌑 …