How to Create a Social Media Platform: Technologies, Features, and Cost
In this article, we talk about how to build a social media platform, how much does it costs, and its must have features
Why websites like Facebook are so popular
People love social media. Let's talk about the reasons why.
Always in touch
Social media is the easiest way to keep in touch with friends overseas, families hundreds of miles away, former classmates who have volunteered in Cambodia, and others. Without phone calls or face-to-face meetings, you can keep your finger on the pulse of your friends' lives on Facebook. It's convenient and effortless, which is why people love it.
Sharing common interests and beliefs
Whether you're a bookworm or a big fan of fishing, you can easily find people with similar interests on a social network. Unlike many years ago, when hobbies brought people to clubs and libraries, online channels are now the most popular place for people with shared hobbies to meet. Every hobby has its groups on social media.
Not just networking
Sites like Facebook aren't just for chatting and sharing photos of cats. Social media is now a powerful tool for online shopping. With a few clicks, everything you need can be right at your doorstep. You can order goods and services on social networks in a few seconds.
Brand promotion
Social media is great for sales, promotions, and PR. People talk about brands on social media as well as complain about service or share positive reviews. Most adults using social media like to follow brands. Every social network is a huge source of opportunity for established brands and small businesses alike.
Perks for corporations
On the other hand, a social network is a useful tool for corporate communication. By creating a corporate social networking site, a company can focus on teamwork and employee productivity.
Profit for educational establishments
Facebook started its journey to success at Harvard University. Initially, Facebook was just a student guide with photos and personal information. It also had some stunning images and visuals shared by different people. It is now a social network with over 2.3 billion users (almost 33% of the world's population) with net income of $22 billion in 2018. Are you interested in building a social networking website for a school, a university, or a specific faculty? If you are, watch The Social Network and move on to the next section of our article.
Main reasons to create a social network
Are you thinking about how to create a social networking website from scratch? Are you unsure whether you should start a social media business? This section discusses the top reasons why you should go for it. Here's everything you need to know before moving on to the next sections, which explain how to create a social networking website.
The number of active social network users has already exceeded 3.499 billion people globally. The entire internet has 4.4 billion users, and the vast majority of them are active on social networks. The average person has 8.5 social media accounts and spends 142 minutes a day on them.
Types of social networking sites
Categorizing popular networking platforms is more important than it may seem at first glance. The main types of social networks include:
Community websites
These platforms bring together users with the same hobbies. People love community platforms because they're a really great way to find like-minded people.
Educational platforms
Educational platforms are centered around learning. These are educational web services that allow students and teachers to interact, access research opportunities, and use other social media features.
Scientific & academic communities
A communication platform is needed not only for students and their teachers but for researchers to share their experiences and knowledge.
Corporate social media networks
A corporate social network can become a full-fledged tool for increasing sales of goods, services, and products. A corporate social network is also a good way to unite colleagues and increase company loyalty.
Professional platforms
The best example of a professional social media platform is LinkedIn, which allows professionals from different fields to conveniently communicate. Users can discuss business matters, schedule interviews, and even find or offer jobs.
Dating resources
Dating platforms are becoming more and more popular. They help people find their soulmate and give you, as the owner, a chance to make money.
Informational websites
Quora and Reddit are online platforms for finding answers to your questions. Let's say you want to create a social networking site and don't know where to start. You google different queries, but the results don't suit you. A good solution, in this case, is to ask for advice from those who have already encountered similar problems. This is where informational sites come to the rescue. If you ask a question, you can get a qualified answer, sometimes even several. Of course, you can also answer questions from other users.
Media sharing platforms
Media sharing platforms allow users to share images, videos, and audio. YouTube and Instagram are great examples of such platforms.
Best social network features
The requirements of today's users are high, and you must be prepared to meet all of them. In order to create a high-quality social networking website, consider the following features:
Registration. The main requirements for registration are simplicity (eliminate unnecessary steps), reliability (make sure user data is protected), and versatility (offer several registration options).
Profile. Creating a user account is the next logical step after registering. A profile includes information about the user and offers access to their photo albums, personal information, and more.
Posts. Of course, the main focus is on the ability to publish posts. That is, users should be able to share news, interesting information, and other things with their friends.
Full-featured search by groups, brands, and people. Any social network should help people find each other and find brands and businesses.
Friendship. Users should be able to send friend requests or subscribe to accounts to see the news in the news feed.
News feed. The news feed allows users to see what's happening in the lives of those they follow.
Chat. When planning to create a social network, don't forget about instant messaging. Users should be able to communicate both privately and in groups.
File transfer. Sometimes when communicating, users need to share files. Social networking features should include the ability to easily transfer files.
User status. Some users don't mind sharing their status to notify others about things related to their personal life (married, divorced, in love, etc.), work (starting a job in a new place), and similar things.
Analytics. Analytics are necessary both for users and for you as the platform owner. Users especially need analytical tools if they want to promote their products or services through your site.
Admin access. This feature is intended for those who manage the site, block untrusted users, and perform other administrative functions.
How to make a social network website step by step
How can you create a social network? There is no single answer to this question, since the process is complex and consists of different steps. We've put together a detailed guide that will show you how to create a social networking website from scratch step by step.
1. Idea and concept
Developing a social network should begin with an original idea that is embodied in a concept. Answering the following questions will help you understand how to make a social networking site that stands out from the crowd:
What unique features will make your network different from competitors?
What is the main idea behind the website?
What value can you offer users?
2. Target audience
When you're researching your product idea and deciding how to build a social networking website from scratch, you should also determine who your target audience is
It's not enough to know the target audience's age, place of residence, financial situation, and hobbies; you need to think about your platform users in terms of numbers.
Just imagine you're looking for how to create a social media website for water gun collectors. How many people collect water guns? There is no point in investing money in something that will not return your investment. Once you start thinking about how to create a social networking website from scratch, you should start by doing some initial research on your target audience. This research can be done online, where you can search statistics, find communities, and explore other data.
The next step is to test your idea with real people. You can interact with members of interest-based communities online or in real life. The challenge here is to see how your social media idea resonates with your target audience and understand how to create a social media website that communicates your idea.
3. Strategy
By now, you probably know a thing or two about how to create the social networking website of your choice, but there are a few more important points we should mention. It's time to move on to the next step — building a business strategy for your website.
The wants and needs of the community you're targeting should determine how you build a social networking website and what features you offer. What do your users expect from you? How do you want them to use your social network? Knowing the answers to these questions makes it easy to determine which features to include in your social media website.
You can start with an initial scaled-down version of your app and then expand your network with new features and innovative technologies. If your resources permit, you can immediately launch a more feature-rich network or a full-fledged product. A less risky strategy is to start small, but how to build your social networking site is up to you.
4. Web development vendor
You cannot decide how to create a social networking website from scratch and make it successful without choosing the right web development company. If you are not a developer yourself and are not ready to take on this task alone, you will need someone who can provide professional website development services and who knows how to create a social networking website with all the necessary features. A good option is to choose IT outsourcing in Eastern Europe due to the excellent value for money.
Approach this task with caution, as you need to find a reliable partner who understands innovative technologies and, ideally, has previous experience with social media platforms.
5. Website project
Once you've decided on a software provider, you can move to the first phase of social media development — the discovery phase. At this stage, business analysis is carried out by a professional to determine the platform's functional characteristics. The results of the business analysis are used to create the social network's UI/UX design, which will later be used to build the network from scratch.
6. Development
This stage is the most time-consuming, as it can take months to develop a social networking website even for a site with simple forums, and it can take years of continuous development and iteration to build a complex and non-standard social network. However, a company with experienced professionals will be able to provide you with a plan for building a social media website.
Software testing services are just as important as development itself. The first thing you should look out for is poor performance, as slow websites tend to scare away users. Testing should be done prior to deploying the project so you don't have to troubleshoot issues after the network platform is launched. Keep this in mind when looking for information on how to create a social networking website from scratch.
7. Marketing and promotion
Marketing is an important part of building a social networking website, as without promotion, no one can find out about your new social network. You can promote your website in a variety of ways, one of which is by advertising on existing social networks like Instagram and Facebook. Other methods include email marketing, SEO techniques, blogging, and paid advertising.
As you can clearly see, deciding how to create a social networking website from scratch is not enough, as you also need to keep in mind post-development activities such as promotion and advertising.
8. Ongoing maintenance and support
It's not enough to know how to make a social networking site. You also need to know how to organize the ongoing maintenance of your project in order for it to function effectively in the future. Typically, a good web development provider can advise you on this and provide related services.
How to build a social network website from scratch: Tech background
We looked at how to build a social networking site in terms of organizing the process from research to deployment. This section will help you understand how to create a social networking site from scratch from a technical point of view.
It's also possible to create a social networking site for free thanks to social media website builders like WordPress. WordPress can be used for simple blogs, community sites, and basic social networking sites. However, this approach has a number of disadvantages that can cause technical problems in the future if you decide to expand your product.
If you want to create a social networking website from scratch, take a smarter approach with custom web development that involves two parts: frontend and backend development.
Frontend development includes all elements that are visible to the end user. It uses technologies such as:
Programing languages: JavaScript, ES6+, TypeScript
Markup languages: HTML5, CSS3, Sass, Stylus
JavaScript frameworks: Angular, React, Vue
Backend development happens on the server side, where all the main functions of the site work. The technology stack includes:
Programming languages: Ruby, Elixir
Frameworks: Ruby on Rails, Phoenix
Database servers: PostgreSQL, MySQL
Web servers: Nginx, Apache
Cloud server platforms: Amazon Web Services (AWS, EC2, S3, etc.)
The information above is an overview of the development process and should help you learn more about how to create a social networking website from scratch.
How much does it cost to build a social media website?
The cost of developing a social media website depends on these factors:
Product features
Product design
Hourly rate of your development team
Project size and complexity
Technology stack
Number of team members on the project
Time frame
The biggest factor that influences a project's cost is the hourly rate of developers, and that often depends on their location. For example, an application that costs $40,000 to build in the US will cost around $9,000 if developed by engineers in Ukraine.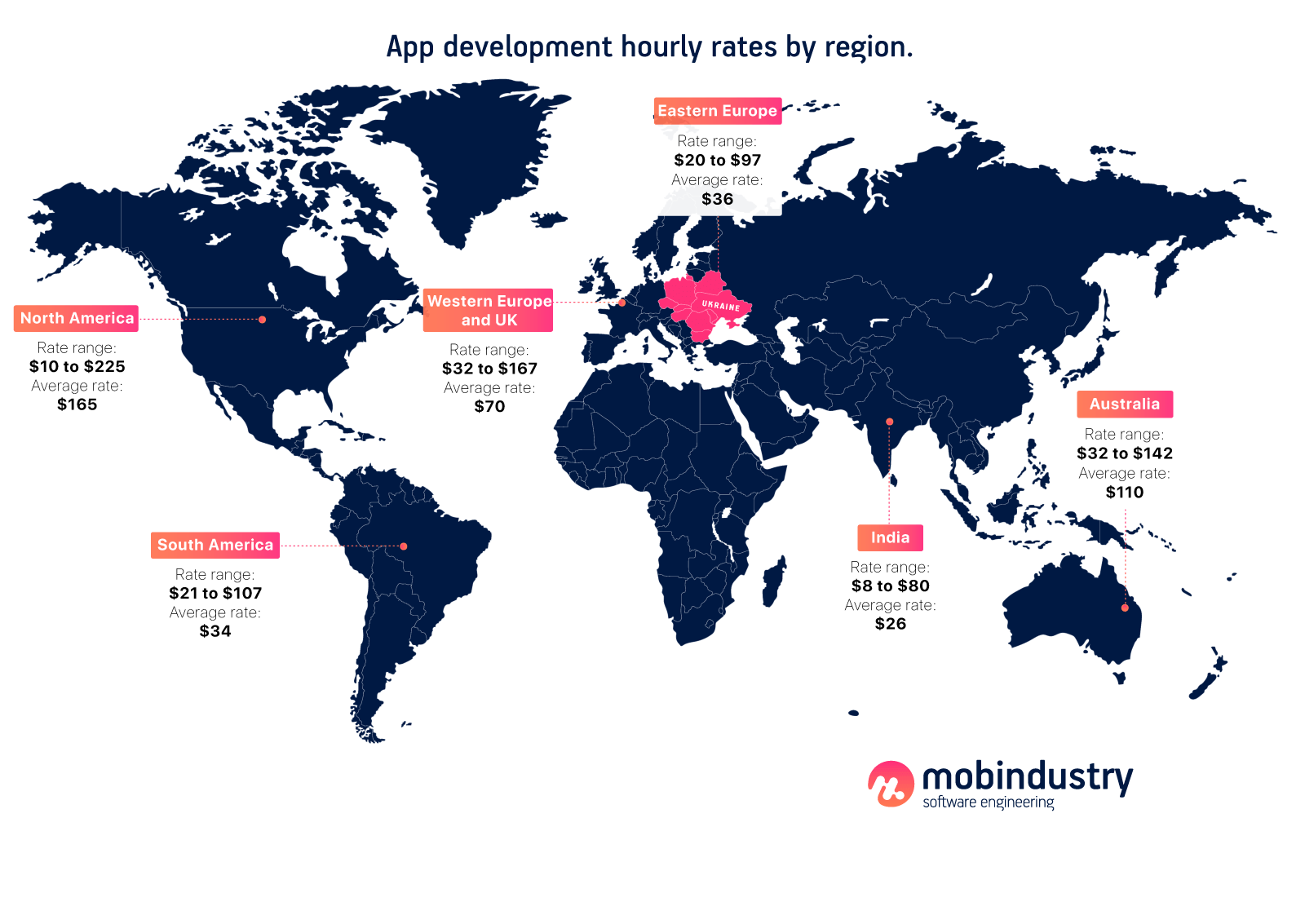 Developing your project with a company based in Eastern Europe is cost-effective and gives you access to top talent.
Final thoughts
It is very important to work with a reliable engineering team. We have already prepared an article on how to find the best application development partner and can help you with all your design and development tasks.
Software development is not cheap, but outsourcing development is a great way to reduce the cost of a brilliant product. It's always difficult to predict the final price of a product, but you can always read about the costs of creating a web application and make a rough estimate of your social network project.
If you want to create a social media website but don't know where to start, contact Mobindustry for a free consultation.
Rate the article!
🌕 Cool!
🌖 Good
🌗 So-so
🌘 Meh
🌑 …