How to Build a Food Waste App Like Too Good To Go
Food waste is a major sustainability issue that causes billions of dollars in losses each year. Learn how you can help the world save resources and money by building a food waste management application like Too Good To Go
Each year, 30% of all food produced in the US goes to waste, according to the UN Environmental Programme. This food is worth $48 billion, and it goes down the drain because of poor management at each stage of the supply chain.
Each year, 30% of all food produced in the US worth $48 billion goes to waste
In the UK, on average 6.7 million tonnes of food are thrown away each year — 30% of all food purchased by households in the UK. The study shows that with better management people could save up to 61% of all the food waste.
In this article, I'll talk about how to develop a waste food delivery app like Too Good To Go. You'll learn about common business models of food waste applications, and find out what the development process for such apps looks like.
Types of food waste management apps
The types of food waste management apps depend on the stage of the supply chain they're used at. Food waste happens at all stages of the supply chain, and the food industry has one of the most complex supply chains that involve food producers, food processors, distributors, restaurants, supermarkets, and eventually consumers.
Consumers in households account for the majority of the food waste, as it is often hard for people to predict their food consumption. The second largest source of food waste is restaurants, and applications like Too Good To Go help them reduce their waste.
You can build an application for any stage of a supply chain and help different actors combat the food waste issues. For example, you can create a waste food delivery app for:
Food producers — to help them deal with overproduction
Logistics companies — to reduce food waste during transportation
Retailers and distributors — to optimize food distribution and preservation
Restaurants — to help sell unused food
Too Good To Go is focused on the last stages of the food supply chain, and I'll use it as an example in this article. Let's talk about this app in more detail.
How does Too Good To Go work?
The Too Good To Go application is a food waste management service that allows restaurants and stores to sell food they failed to use and sell to food-insecure people.
This is a perfect and mutually beneficial way to feed the poorer parts of society while also giving a chance to food that would otherwise be wasted. Too Good To Go offers attractive prices for food — and a really convenient way to collect it from stores and restaurants.
Basically, it looks like a hybrid, between an ecommerce and a food delivery application, depending on your business model. Too Good To Go doesn't offer food delivery services, as it doesn't have a delivery fleet. However, all food can be picked up at restaurants or cafes after the order's placed.
Too Good To Go always has some special offers, for example, Surprise Bags, where a user pays a small amount of money without knowing what they'll get exactly. This allows restaurants to give away food they didn't sell that day, and a user gets great value for their money because often this food is worth 3 or 4 times more than what a user paid.
The features of a waste food app
Let's talk about the functionality of a waste food application. Here are the main features you need to include in an app of this type:
Food and restaurant listing — showcase the food options and your partner cafes, restaurants, and shops, so your users can choose meals
Ratings and reviews — allow your users to leave ratings and reviews for restaurants
Payment gateway — give your users an opportunity to pay for food and get refunds through your application
Special offer screen — showcase the special offers for the day on the main screen of the app
Maps and location — allow your users to choose restaurants nearby by setting the preferred range for a pickup
Integrations with restaurants, cafes, and shops — connect to the restaurant management systems so that your partners can set up the pickup windows for available dishes, list food offers, and get their payments
Connection with refugee and community centers — let people who need it most find your service through various social organizations
You also need to include other features that aren't specific to this type of application, but is absolutely necessary for your users, like:
Login and registration
Onboarding tutorial (optional)
Personal profile
Push notifications and alerts
App settings
Now that you have a clear understanding of what a food management app like Too Good to Go looks like, let's talk about the development process.
Steps of developing an app like Too Good To Go
Step 1. Define your business model
The first thing you need to do before even thinking about development is your business model and a business plan. You can take inspiration from Too Good To Go — their model is successful because they keep their service free for users. Partner restaurants, cafes, and shops are their primary source of revenue, as they charge a subscription fee from them or get a fee from each payment.
Think about your own business model and create an optimistic and pessimistic business plan for your future company — this will allow you to predict future revenue and decide on your investment strategy.
Step 2. Analyze competitors and target market
To minimize the risks of missing the market, you need to conduct thorough research and competitors that are currently operating in the market. Don't only look at your direct competitors that are also fighting food waste — consider all other competitors like food delivery services and more.
We at Mobindustry conduct thorough market and competitor analysis, as well as SWOT analysis and target audience research. If you need help with the business aspect of your app, your goal is to find a reliable vendor.
Step 3. Choose the right mobile app development company
Choosing a reliable mobile app development company that delivers high-quality code on time and on budget while also caring about its business performance, is a challenge.
Where do you start? Here are a few options:
Ask for recommendations
Browse Clutch.co or Goodfirms for reviews
Explore the company's website and portfolio
After you shortlist your candidates, interview each of them and look at how they answer your questions and what solutions they offer right off the bat. It's also a good idea to prepare a Request for Proposal so that you have concrete criteria for candidates. Ask questions and make sure there are no hidden costs of mobile app development in your chosen company.
If you want to see your vendor in action, start with creating a technical specification with them. You'll need it anyway regardless of the company you work with next, but developing a tech spec will allow you to see the company's processes from the inside and decide if they're a good fit for you and your project.
Step 4. Develop and test your application
Now it's time to develop your food waste application. It's important to test an app right as it's being developed. A technical specification you've prepared earlier will serve as a guide and plan for all members of your development team and will ensure timely delivery of your app.
There are many things to know about the mobile app development, so make sure your vendor always keeps you posted about the process of development and testing. A reliable company should conduct regular meetings with you and also send reports.
Step 5. Launch and improve your app
I'd recommend you prioritize your features and develop an MVP first, so you can enter the market as soon as possible, and continue working on your application using feedback from real users. This will minimize the risks of investing a lot into an app and missing the market.
The work on your app won't stop at the release even if you don't implement any new features: don't forget about the importance of mobile app support and maintenance. Maintaining your app will help you stay relevant on the market and keep your users satisfied.
Cost to develop an app like Too Good To Go
It's impossible to name a price for an application without knowing anything about your business goals, requirements, and market. There are too many factors that influence the final cost of food waste app development, and they include:
Number of platforms
Technology stack
Features and functionality
Design complexity
Cost of third-party services
Hourly rates of your development team
The number of features and the hourly rates of your developers is the two most influential factors in pricing app development. The hourly rates usually depend on your developers' location. The same application of the same quality can cost 5 times more in the US if compared to Ukraine, for example.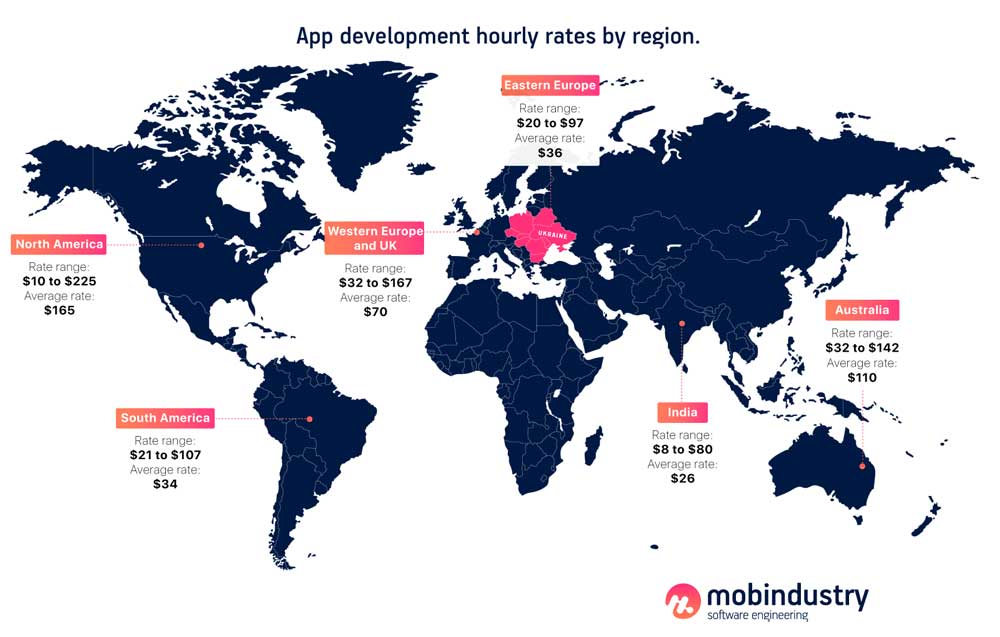 To find out the cost of developing an app like Too Good To Go, I recommend contacting several vendors and asking them for a rough estimate. A detailed estimate is only possible if you have a technical specification for your project.
On average, however, a food waste app like Too Good to Go will cost around $40,000 – $200,000 depending on its complexity and the location of your vendor.
Our experience in mobile app development
We at Mobindustry have 10+ years of experience in developing mobile applications of any scale and complexity. We've created multiple food delivery, logistics, and ecommerce applications with business goals and revenue in mind.
Technologies we use
We use a wide range of web and mobile technologies to deliver the best experience to our clients' users. For a food waste application, I'd suggest a Flutter framework, as it allows you to build a single application for both Android and iOS, which saves around 40% of your budget if compared to development using native technologies.
Wrapping up
An app for restaurant food waste is a great business idea that is mutually beneficial for all actors, from food producers, distributors, or restaurants to consumers and of course business owners. In this article, you've learned how to develop a waste food delivery app. I used the Too Good To Go app as an example, but you can create a great sustainable application for any part of the food supply chain and reduce food waste while also making revenue.
If you'd like to find out more about the development process and cost, and you plan to make a waste food delivery app of your own, please contact us.
Frequently Asked Questions
Your first step is creating a business model and defining the goals of your application, as the whole development process will be built around your idea and business needs. Next is to find a reliable vendor who will be able to plan the development process, offer the most optimal technical solutions and deliver a maintainable application for your business.
There are several aspects to success here. First is your app's quality, as users tend to remove apps that work poorly. The second is user experience which should help people achieve their goals in your app easily and quickly. Think about your users when developing an app, use focus groups for UX testing and make sure your interface is intuitive. Of course you need great marketing for your app to succeed - ask your partner shops and restaurants to inform customers about the possibility to collect the leftover foods in your application, or choose any other strategy that works in your specific market.
Rate the article!
🌕 Cool!
🌖 Good
🌗 So-so
🌘 Meh
🌑 …