How to Choose the Right Platform for Your Business Based on Your Target Market
Almost all businesses need a digital presence, and there are lots of options to choose from: native, cross-platform, hybrid, and progressive apps, adaptive and responsive websites… In this article, we analyze what platforms people use most in different parts of the world and what technologies can allow you to maximize user satisfaction and reach.
Mobile vs web worldwide
Currently, mobile and desktop market shares are rather equal globally. There are some points where one platform wins, but in the end both are relevant, and there's no one-size-fits-all platform every business should use.
Let's look at worldwide statistics and the pros and cons of web and mobile platforms. This is how desktop, mobile, and tablet market share has been distributed since 2014:
In just five years, mobile market share has reached and surpassed desktop. It's currently at approximately the same level, with mobile just a bit higher than web.
However, traffic to mobile websites is also a part of overall mobile traffic. Currently 52% of all websites are accessed through mobile devices:
According to the latest report from ComScore, 80% of all time spent on mobile devices is dedicated to mobile applications.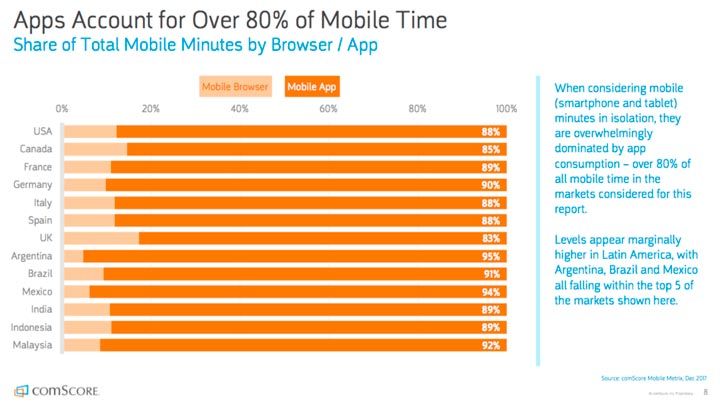 Though launching an app may seem like the best idea given this data, in reality most of the time people spend in apps is dedicated to popular applications like Facebook, Instagram, banking apps, and fitness apps.
So let's talk more about the pros and cons of mobile apps and websites.
Mobile apps vs websites
Mobile applications
Mobile applications, whether native or cross-platform, are built specifically for smartphones. This means they can use mobile phones to their fullest potential.
Mobile apps have access to hardware such as cameras, GPS chips, microphones, and NFC. In general, they're more functional than websites and can support QR code payments, mobile payments, augmented reality features, geolocation features, and so on.
Another benefit of mobile apps is their native feel and pleasant user experience. A mobile website can never be as convenient as a mobile app.
However, there are downsides too. Currently, it's much more difficult to acquire users for a mobile app than it used to be. It's only easy for businesses that already have a loyal audience which welcomes the app.
Mobile development – especially native development – is also more expensive, as entrepreneurs often build apps for both iOS and Android to cover the market fully. With cross-platform apps, a business can save significant money, but it often means sacrificing complex functionality.
Websites
The main advantage of websites is their availability. There's no need to install a website, and it can be accessed from any device and any operating system. This makes websites better in terms of user acquisition: all you need to do to become a user is enter a URL.
Moreover, websites require less time and money to create. They're great for products and businesses that don't require mobile-specific functionality to operate and that need to achieve maximum reach at the beginning.
Some web technologies like progressive web apps (PWAs) even make websites more like mobile apps by giving them a native feel.
Now let's talk about how to choose between a mobile app and a website depending on the location of your target audience.
Choosing the right platform by region
Though mobile apps and websites are equally popular globally, people in some countries mostly use mobile phones, while people in others prefer desktop computers. We'll analyze device usage in these regions:
North America
South America
Europe
Africa
Asia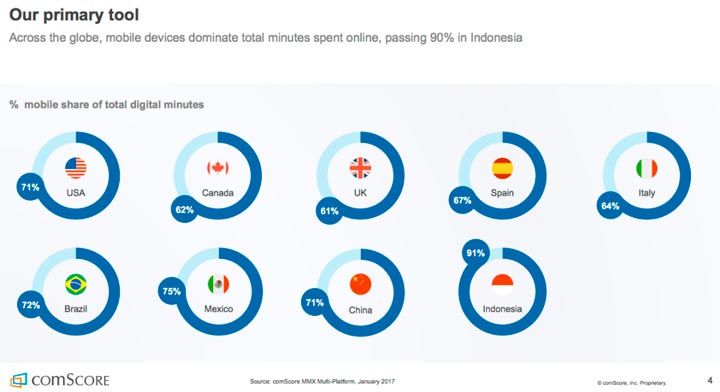 According to ComScore, mobile currently is the leading source of all digital traffic in almost all parts of the world. Americans spend 71% of their internet time on mobile, while Canadians and Brits (along with other Europeans) spend around 64% of their online minutes on mobile.
The most mobile country is by far Indonesia, where people mostly access the internet via mobile phones and barely use desktop computers, dedicating only 9% of their online time to them.
Now let's talk about each region in detail.
North America
In the United States, mobile and web are rather equal in terms of use and access: according to PewResearch, 81% of Americans own a smartphone and around 75% use a desktop computer or laptop.
This is how the market share of desktop computers and mobile phones was changing for the US since 2018:
According to this chart, desktop computers are still dominant in the US market. This means that if your business doesn't require mobile-specific features, you can start with a website for your MVP.
This will help you determine whether your product meets market demand. In any case, your website should be adapted for mobile. The best practice is responsive design that allows the app to adjust to any screen size.
If you plan to sell through your app – be it products, memberships, or subscriptions – note that in North America the conversion rate for mobile apps is three times higher than for mobile web.
If you already have a website and want to increase your conversion rate, you should consider creating a mobile application.
South America
Because 4G connections appeared later in South America than in the US and Europe, to this day the region is predominantly web-first, with 64% of the market share held by desktop computers.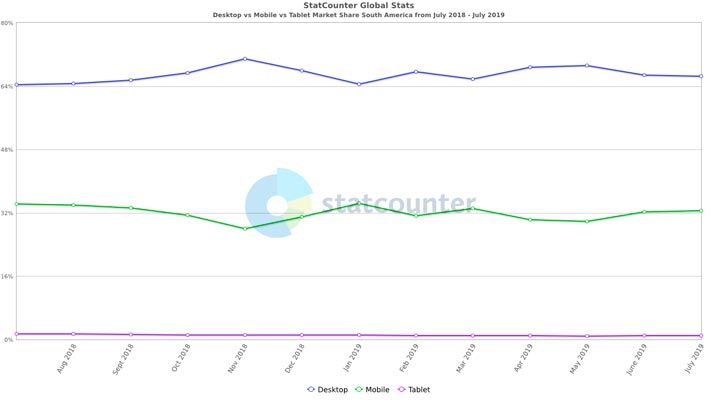 But this situation may change: South America is a growing mobile market due to the establishment of 4G networks.
The growth of mobile users is rapid: currently, 75% of South Americans access the web through their mobile devices, and their engagement makes them one of the most active groups of app users in the world.
South America is one of the promising emerging markets for investors and entrepreneurs: the startup ecosystem is valued at $37.7 billion, and 69% of startups are using mobile apps and websites to provide services and connect with customers.
If you want to enter the South American market, you should probably go mobile with either an app or a mobile website. A progressive web app may be the best option, as it's more cost-effective and provides a native feel while being essentially a website adapted for mobile devices.
Europe
In Europe, mobile is also predominant, although desktop computers still account for almost half of all online transactions.
According to Criteo, 55% of all transactions in Europe go through a mobile device. However, this doesn't mean 55% of transactions go through mobile apps, as 29% of transactions take place on mobile websites.
This means that responsive websites get a 74% share of all digital transactions in Europe (across desktop and mobile). This is especially good for ecommerce companies, which often start with a website to promote and sell products.
However, for some domains in Europe, mobile apps are a better option:
Food delivery
Real estate
Social messaging
Dating
Video and audio streaming
Both mobile apps and websites are great options for businesses in Europe; however, for some businesses, mobile apps are more effective – especially for those that do direct sales.
Africa
Some say that Africa isn't just mobile-first: it's mobile-only. This is close to the truth, but not entirely accurate. According to StatCounter, the desktop market takes around 40% of the digital market in Africa.
Africa is predominantly mobile, but these mobile phones aren't what people from Europe and North America are used to. In most of Africa, people mostly use old-fashioned cell phones with black and white displays instead of smartphones; but in some countries, mostly in North Africa, users are actively adopting smartphones.
As for tablets, they account for only 2% of the market share. Though there are many people who use tablets in Africa, they don't account for much of the market.
According to ZDNet, in the next 7 years, over 300 million new mobile users will access the internet in Africa
If you want to start your business in one of the fastest-emerging economies with huge growth opportunities, you should definitely go mobile. Note that mobile traffic in Africa is still expensive, so creating complex and heavy applications may not be the best idea.
Responsive mobile websites and lightweight mobile apps are the best options for this market. They will be able to attract current and new users. According to ZDNet, in the next 7 years, over 300 million new mobile users will access the internet in Africa.
If you plan to create a mobile app or a mobile website for the African market, be sure to figure out the devices your audience uses, as the smartphone market in Africa is very different from in Europe and the US.
The three most popular phone manufacturers in the African market are:
Samsung is the only well-known global brand that's popular in Africa. To make sure your app works properly for your target market, you'll need to test it on devices from these manufacturers.
Asia
Asia is by far the most mobile region on our list. It has a large population of active mobile users who are the first in the world by number of mobile transactions and who have access to the biggest mobile app market out there.
Lots of companies and entrepreneurs are trying to enter the Asian market because of its prospects for growth and resources for innovation. The best way to do that is with a mobile app.
The most attractive Asian countries that actively use mobile apps are:
In Indonesia, 45% of a population of 250 million own a smartphone, and only 15% use a desktop computer or laptop. People mostly access the internet via mobile devices – a crazy 90% of the time.
In China, the market share of mobile devices and desktop computers is rather equal: 55% and 45% respectively.
In India, 80% of internet access can be attributed to mobile devices.
As Asia is the biggest mobile market in the world, you'll naturally need to go mobile if you want to gain popularity and acquire users. Be sure to test your application on the devices most popular in these countries. In China, people mostly use Huawei, Xiaomi, and Apple devices.
India uses Xiaomi and Samsung, but also some less well-known manufacturers (in Western markets):
In Indonesia, people mostly use these brands:
Samsung
Oppo
Asus
Advan
Lenovo
Wrapping up
The choice of platform for your startup or existing business depends on:
Your domain
Your budget and deadlines
Your business model
Your target country or region
In this article, we analyzed how your target audience's location influences your choice of digital platform. While some regions like North America and Europe use desktop computers and mobile phones equally, other places like Asia and Africa are mobile-first.
You can kill two birds with one mobile-adapted website in any location, as your site will work on both computers and smartphones. However, some businesses prefer to develop mobile apps. Apps offer higher conversion rates, better customer satisfaction, and mobile-specific features that can help a business develop and even find additional sources of revenue.
If you need software for any type of platform and you're looking for developers who will consider all your business needs, be sure to add Mobindustry to your shortlist. We create responsive websites for all screens and platforms as well as high-quality cross-platform and native apps.
Rate the article!
🌕 Cool!
🌖 Good
🌗 So-so
🌘 Meh
🌑 …