How to Conduct Agile Market Research for Your Digital Product
In this article, you'll dive into the world of market research, find out how to make it agile, and get a guide to conducting your own Agile market research for a digital product.
Purpose of market research
As a startup owner, you need to understand what market research you really need to conduct for your digital products. In simple terms, market research is the process of collecting qualitative and quantitative data to assess the overall situation and structure of the market, which in turn helps you assess the possibility of providing benefits to consumers with your digital product.
When conducting market research, you should collect data on your target audience, end user needs, and alternative products. Once you have your data, you can use mathematical and statistical tools to analyze and interpret it. Accurately interpreting the market size, market value, market expansion opportunities, and number of products sold and purchased gives digital product owners the ability to make informed decisions about launching their startups at the right time. Conducting thorough market research will also enable digital product owners to choose sustainable growth strategies that will help them in the long term.
If this is your first time conducting market research, you should be well prepared to cover all the basics, including your content, marketing operations, sales, customer service, and support, before making any strategic decision to launch your startup.
The best way to begin market research and analysis is by creating a specification. You can use this document to understand the key points needed to keep your startup running smoothly. And if there is any deviation from the specification, you can always look to it to find the correct path.
What is Agile market research?
Agile market research doesn't emphasize flawless results from the first iteration. It views projects as constantly improving. The idea is to get results fast and often.
Think of it this way: Agile market research is not one big initiative but a series of goals and project milestones. Where traditional approaches try to refine each stage of research before moving on, Agile research accelerates the process to get results faster.
When is Agile market research the right choice?
An Agile project is not always the best approach to your market research needs. While Agile can deliver results in real time, it is by no means a replacement for traditional workflows. However, there are several important advantages to starting an Agile market research project.
First, the Agile research process is unprecedentedly flexible. If you anticipate changes in your project's scope or purpose, a flexible research design can easily adapt to those needs.
However, as with any project, the sooner you make big changes, the better. For example, a customer service (CX) program is not a one-off research project. Many organizations conduct regular customer satisfaction surveys (CSATs).
Another scenario in which a flexible approach can be applied is when you have interested customers. If your customers want to provide ongoing feedback on a project, Agile research can easily support changes they request.
Why conduct digital product development market research?
Market research captures customer preferences, enables your organization to understand the end user experience, and prioritizes the wants and needs of the target audience. Ultimately, conducting market research throughout product development is critical to assessing market demand and ensuring that the final product meets user requirements.
While most market research is oriented at end users, it's important to note that other stakeholders must also be involved, including:
Sales representatives
Leadership teams
Customer support teams
Distributors
Engineers
Marketers
How to conduct market research
Phase 1: Generate digital product ideas
Exploratory research is a good starting point for any organization and is useful even if the organization is in the early stages of concept testing.
This type of research allows you to understand the current level of customer satisfaction and choose your direction for optimizing and marketing your current product/service offerings.
However, the main goal of exploratory research is to understand general market needs and identify new products or services for your organization. Exploratory research answers questions like these:
How aware are consumers of the products available on the market?
Are buyers satisfied with available products?
How can you improve the products on the market?
What new products or features are buyers interested in?
What do customers need?
What customer needs are not being met?
What type of customer would be most interested in a new variety of this product?
What does the customer's decision-making process look like when considering buying a product?
Here are some research options available for generating new product ideas:
Voice of the customer (VoC)
Ethnographic/observational research
In-depth interviews
Focus groups
Online surveys
Competitor assessments
Phase 2: Digital product concept
After conducting research (formal or informal), you should have identified market needs and can begin to develop a new product customers will be interested in. The main goal of digital product concept research is to enable your target audience to evaluate a new product and make sure it meets their needs.
Digital product concept research will provide insights into changes that need to be made before the product is finalized and released to the market. It can also help you with marketing ideas for product launches. Depending on the complexity of your product, this type of research may need to be repeated at several stages of product development.
Questions that concept research answers:
What do customers like about the concept/product?
How can the product be improved?
What will the buyer use the product for?
What are the product's most important features/characteristics?
How likely is it that customers will buy the product?
How much will buyers pay for this item?
Market research and the Agile movement
The growing use of Agile development creates excellent opportunities for market research, which is essential to create the right products and services. There are three main routes for agile market research:
Standardized products. When customers can buy tools like Link test from ZappiStore just by logging in, paying a small fee, and downloading content, then get quick results, it is easier for them to use these tools iteratively because they are fast, cheap, and simple.
DIY tools. More and more DIY tools are popping up, including for surveys, sampling, and advanced analytics. One problem with this route, however, is that a lack of experience on the part of the Scrum team can lead to poor research or, what's worse, poor interpretation of research results. Thus, the challenge in marketing research is to make use of tools that are likely to generate meaningful and credible interpretations of data.
Real-time dashboards and reports. An Agile team doesn't want to wait for reports and presentations; they want to learn and repeat, and they want to use systems that allow them to access information faster and on their terms.
How to get started with Agile product development research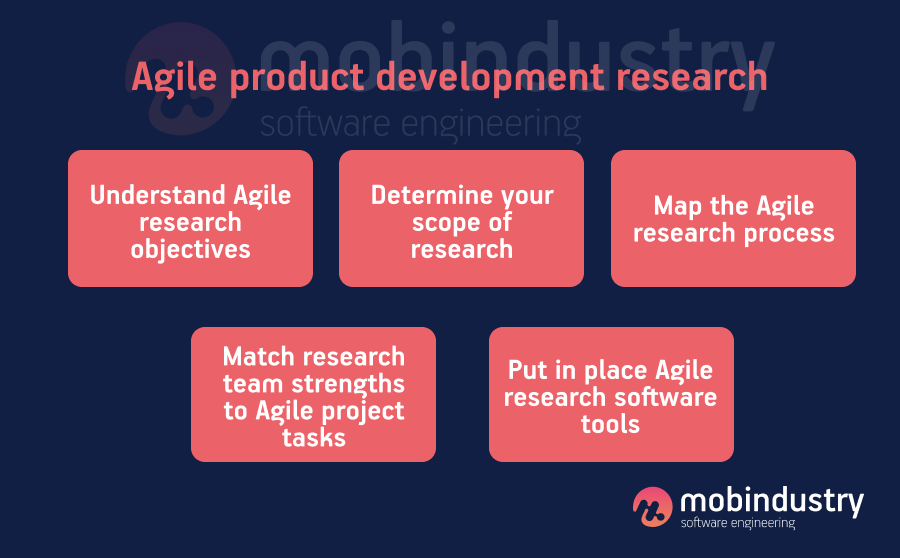 Step 1. Understand Agile research objectives
First of all, it's vital to consider flexible market research as a quick and cheap solution to your problems. The goal of Agile research is to balance efficiency and effectiveness.
The goals of your research methodology should be to eliminate development downtime and ensure that the final product is customer-centric and successful. The key to this is a lean iterative process and thoughtful task allocation.
Here are a few questions you need to fully discuss and understand the answers to in order to understand your agile research objectives.
Think about what you want to learn from your research. What are your expectations?
Also, think about who you want to involve in testing the product. What are their characteristics and demographics?
How long do you want research participants to test the product?
Step 2: Determine your scope of research
The scope of your research is determined by several factors, and many of them coincide with your objectives.
Answer questions such as:
Who do you want to target?
How long will the research take?
What steps and instructions are used in your research?
When it comes to product testing, you need to be as specific as possible.
Step 3. Map the Agile research process
A unique component of Agile research and the component that takes it to the next level is its iterative nature. Each Agile research and development phase should be broken down into iterations, or sprints. After the first research sprint, the first development sprint begins, during which the second research sprint occurs.
The results of the second research sprint are implemented in the second development sprint, during which the third research sprint occurs, and so on. In fact, you are breaking down your marketing research into chunks, the granularity of which will be determined by the results of previous sprints and development requirements.
By mapping the Agile research process to the development process, you:
Reduce wasted time by conducting research and development in tandem
Reduce resource waste by involving the product development team from the start
Reduce the loss of understanding with iterative analytics dashboards that keep you up to date
Reduce your risk with iterative customer feedback that keeps development moving in a client-centric direction: no tangents to fix, no misinterpretations, no late project assumptions that should have changed slightly due to obstacles found halfway through
Step 4. Match research team strengths to Agile project tasks
Ensuring that every member of the team is achieving peak performance and completing tasks according to their strengths is at the heart of every successful Agile research project.
In an Agile environment, it is also important that members of the research project team are semi-autonomous. There should never be a command hierarchy (bureaucratic procedures, unnecessary filtering of information, etc.). Duplication of specialties can lead to waste within teams and undermine the goal of adopting an Agile philosophy.
The research project leader is responsible for removing barriers to research success and for facilitating the exchange of information between the research team and the development project owner.
Agile market research team structure
For a flexible research project team to operate at full capacity, it should not have more than 8 to 10 people. If it has more, the team will lose its agility.
If you really need to empower Agile exploration, add a new team to your existing team rather than adding new team members.
Below is a list of the roles that might be required to complete a dynamic market research project for the development of a digital or physical product.
1 research strategist
1 qualitative researcher
1 quantitative researcher
2 community moderators
1 qualitative analyst
1 quantitative analyst
1 research presenter
Step 5. Put in place Agile research software tools
Whether you're doing qualitative or quantitative research, having easy-to-use, intuitive, fast, and efficient software for conducting research and analyzing the results will naturally help you achieve the goal of Agile market research.
Lack of access to such software is an obstacle to research flexibility — even to project completion — and therefore it is the responsibility of the research leader to find suitable platforms, programs, and packages.
Final thoughts
A market research team cannot be created overnight. You need to carefully assess the benefits of Agile market research for your organization to decide whether to create a team or outsource. There is no one-size-fits-all approach.
There are certain market research projects that are totally inappropriate for Agile. However, if you do decide to start Agile product development research on your own, the steps above will give you a solid foundation for doing so.
If you have questions regarding the topic of Agile market research but don't know where to start, contact Mobindustry for a free consultation.
Rate the article!
🌕 Cool!
🌖 Good
🌗 So-so
🌘 Meh
🌑 …