How to Create a Church App: Features, Technologies, and Cost
People like to stay connected to their church even if they can't make the Sunday service every week. While many people perceive churches and religion as very traditional, many churches have already adopted technology to connect to people. In this article we tell you how to create a church app for Android and iOS and give you information to calculate its cost.
Why create a church app?
Visiting church on Sunday used to be a tradition among many families around the world. Today, however, people often have trouble finding time for religious services and truly being part of a religious community.
Mobile devices are an important and almost inseparable part of our lives, and churches can benefit from mobile technology as well, finding effective new ways to communicate faith, receive donations, and give people wider access to religious events.
Small churches don't really need to connect to a great number of people, while for large churches mobile app can become a game changer
If your church or religious organization is medium-sized or large, this article is for you. Of course, small churches can also develop their own simple applications that allow them to reach out to people and help them stay connected, but usually mobile applications are more useful for large churches.
Why? The first reason is of course the range of possibilities that an app offers. Small churches don't really need to connect to a great number of people, while large churches can not only share news and plans with hundreds and thousands of people but also save money and time by sending push notifications instead. This will allow churches to spend their money more effectively on other more important needs.
According to a survey by OurChurch.Com, most people believe that mobile applications are more useful and more important than mobile websites. This research also shows that half of all large churches are generally interested in developing their own mobile applications.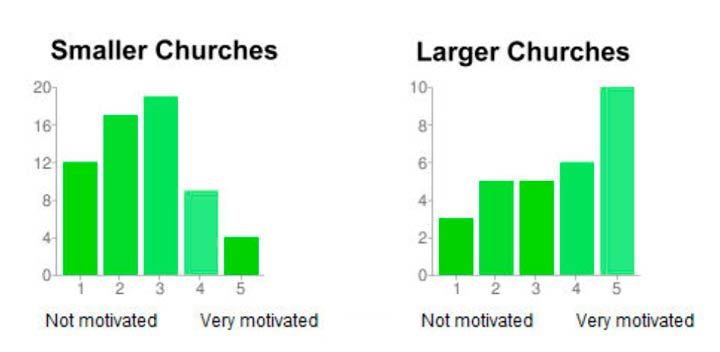 Parishioners of large churches are also more likely to use a church application according to the survey.
The second reason why apps are a better idea for larger churches is their price. Mobile applications require investment, and if the app contains many features, this investment can be pretty big. In this article, we show you how much time it can take to develop a mobile application for a church. From this, you'll be able to calculate the approximate price of your app depending on the features you want.
Large churches usually require fairly complex applications, but they're also able to get the most out of the mobile technology. Let's see what a church can get from a mobile application.
Benefits of mobile apps for churches
Mobile applications offer tons of possibilities for reaching your congregants more effectively. There are a number of things that mobile technology can help your religious organization with:
Communicating with members/attendees
Managing volunteers and charity services
Receiving donations
Video streaming
Sharing thoughts
Let's talk about these opportunities in more detail.
Communication
Spreading the word is one of the biggest reasons why people create applications. But tools like push notifications are useful not only for businesses. Churches can use push notifications to inform parishioners about upcoming events and news.
If your religious organization is big, sending push notifications can be way more effective than sending emails. With push notifications, you can be sure no one will miss your next event.
Managing volunteers and charity services
Charity services and volunteering require strong organization. Otherwise, nothing will work as planned. Besides, volunteers are often busy and mobile, and they need to be kept up to date.
With the help of a mobile application, volunteers can log information into a database and eliminate most paperwork and the need to put the same info into an app, website, and bulletin. With a mobile app, these can be filled in simultaneously.
Donations
Donations are very important for church operations. As churches are non-profits, they get their finances from people who attend them. Often, donations are collected during services or on websites, but mobile applications give the ability to gather money more effectively via payment gateways.
Collecting donations can become much easier and effective if you use digital tools like a mobile app. With a mobile app, your members will be able to give donations at any time and from wherever they are. You'll also be able to show them where exactly their donations go and show what has been achieved with the help of the money received.
Video streaming
Some people don't have time to go to church every weekend or can't attend some events for various reasons, but video streaming capabilities can solve this problem and give access to every important event that happens in your church or religious organization.
Sharing thoughts
Religious communities help people overcome difficulties, and mobile applications can help with this too. A mobile app can have social features like forums where people can discuss their problems and seek understanding and advice from their peers.
These are some of the core benefits that your religious organization or church can enjoy from a mobile application. However, there are way more possibilities that mobile technology has to offer, so let's talk about the features that can be of use for a church.
Best features for a church app
A church application can be really simple, containing only some news and bulletins, but a large religious organization needs more than that to grow its services and bring them to more people.
Let's talk about the most important features for a church mobile app.
News feed
You can create a news feed in your mobile app that will notify users of everything that has occured in both your church and your broader religious community.
Information about your church
You'll need a separate screen in your app with all the information about your church — its location, number of members, photos and names of priests/pastors, and so on.
Event calendar with reminders
This tool works great for events and for religious practices such as fasting and praying. You can add, describe, and manage events so congregants will never miss an important date.
Online registration for baptisms, funeral services, etc.
You can manage your services more effectively if you add online registration. This will make it easier for people to register for your services and plan their visits.
Push notifications
Push notifications are a core part of any app. They not only inform users about upcoming events or changes in services but also remind them about your app. You can also add deep links to send users to relevant parts of your app.
Map of the church
If your church is large and has several campuses, having a map is a great idea. Show parishioners how to get to different parts of your church. You can also add an indoor map to help people navigate inside a building if it's large.
Evangelism tools
You can educate your parishioners through a mobile application. For example, you can add religious texts, prayers, and songs that users can access at any moment. You can also add the ability to make notes on texts.
Favorites
Allow users to add parts of religious texts that they like to their favorites so that they can find them quickly.
Search
If you have any texts in your app, search is a must. For accessibility, you can add voice search into your mobile application. Best apps for ministry are accessible, and we believe that this should be a priority for any church app. Voice search is the first step to making your church app accessible.
Social media integration (Facebook, Twitter, YouTube)
Religion is about sharing and communicating with others. Social media connects people and allows them to share thoughts, news, and opinions. Facebook and Twitter are the most popular social media platforms according to those surveyed by OurChurch.Com, so make sure you integrate them into your mobile app. If your church has a YouTube channel, be sure to integrate it into your mobile app as well.
Bulletins
Add a bulletin to your mobile app so that users will always have it with them without needing to carry a printed version.
Sermon notes
People often make notes during sermons, and you can add a note-taking feature to your mobile application. This will allow parishioners to keep notes in one place and never lose them.
Church blog
If your church website has a blog, you should definitely add it to your mobile app as well. The development time for blog functionality will depend on the type of media in your blog: audio, video, or text.
Сalls
You can let users make calls right from your application. This way they'll be able to call their priest, pastor, or administrators of your church or religious organization.
Video streaming
Video streaming allows you to share events in your church with hundreds or even thousands of people in any part of the world.
If you develop a ministry app with video streaming abilities, you can stream sermons, holiday services, and special events right in your app and archive them if necessary.
Secure donations
A mobile application is a secure and convenient tool for collecting donations. Mobile apps are more secure than websites, and paying through mobile gateways is much faster than making payments through websites. You can collect donations right in your app and then show users how you use the money.
Offline work
If there's a poor internet connection in your church, it's a good idea to create an offline work logic for your app and allow users to download some data from the application to their devices, such as the calendar, religious texts, or the bulletin.
These are the most popular features associated with church applications. Now let's talk about the price.
How much does it cost to develop a church app?
Creating a church app, especially a custom one is rather expensive, and if you want to create one for your church you'll need a budget not only for its creation but also for its maintenance.
If you want a complex application for both Android and iOS, the budget will double, as developers will need to create a similar app for each platform.
An application's cost depends on three things:
Features
Number of platforms (iOS, Android)
Developers' hourly rates
If you want a complex application for both Android and iOS, the budget will double, as developers will need to create a similar app for each platform. Hourly rates of developers depend on the development company and its location.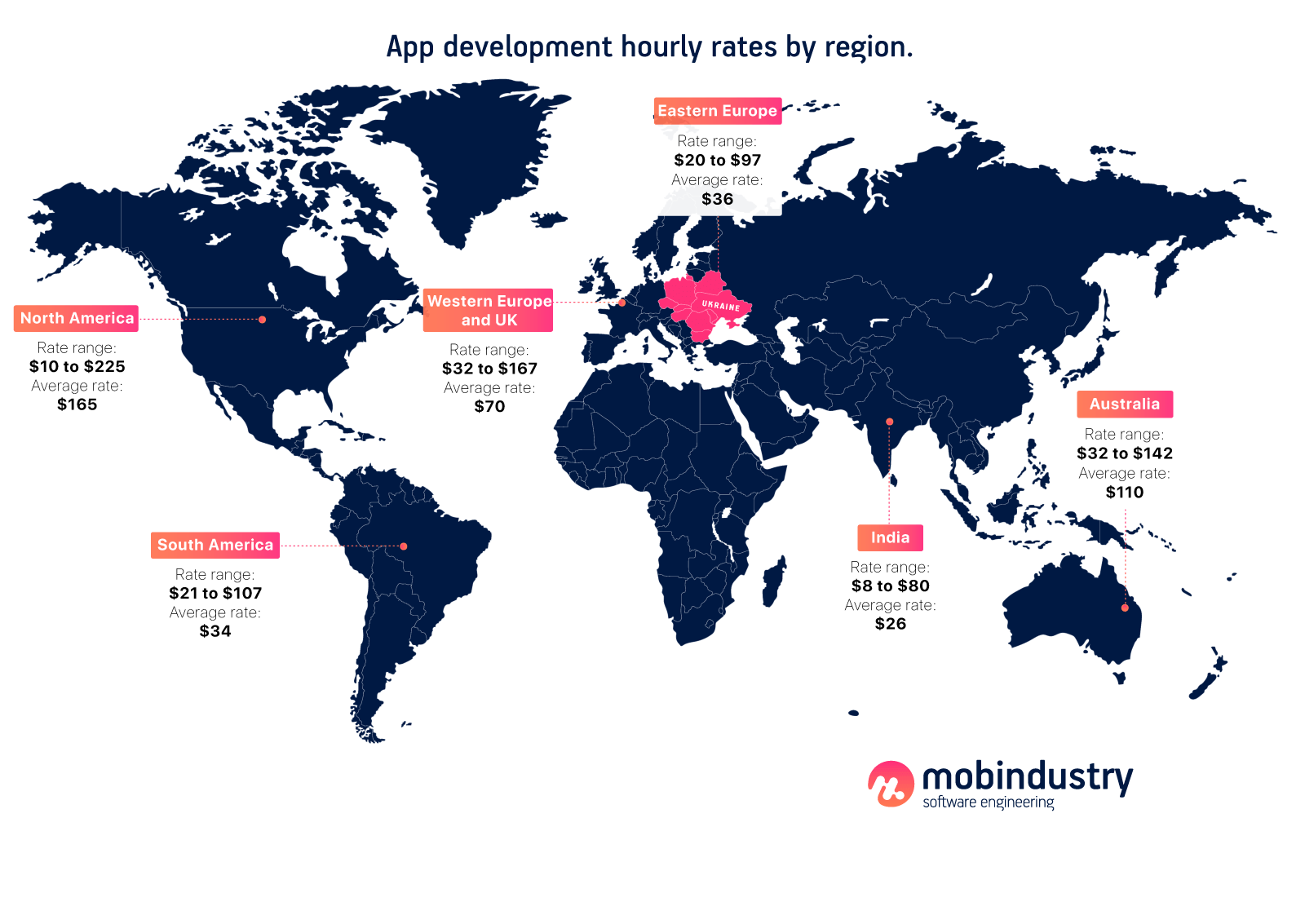 As you can see, rates are very different across different regions. North America and Australia are the most expensive places to develop applications, while South America, India, and Eastern Europe are the most cost-effective.
Our company is situated in Eastern Europe, and we create high-quality apps for a reasonable price. To understand how much a church app might cost, let's explore how many eight-hour work days it takes to develop each feature.
| | |
| --- | --- |
| Feature |                Days               |
| News feed | 2–4 |
| Information about the church | 2–5 |
| Push notifications | 2–4 |
| Church map | 1–6 |
| Tools | 3–6 |
| Social media API (Facebook, Twitter, YouTube) | 1–2 |
| Bulletin | 1 |
| Notes | 1–3 |
| Favorites | 2 |
| Blog | 2–10 |
| Video streaming | 4–10 |
| Payment gateway | 2–4 |
| In-app calls | 1–2 |
| Text search | 2–4 |
| Offline functionality | 3–6 |
| Event calendar with reminders | 2–5 |
| Online registration | 2–4 |
This is a rather extensive list of features for a church app, and you can choose the ones that fit your needs best and calculate the approximate budget based on the hourly rate of the company you choose for your development team.
You should also note such church app development stages like communication, testing, design, and release to app stores will also require time. The estimate in hours we provided in this article will allow you to calculate an approximate budget for a church app. If you want a more detailed estimate, we'll be glad to provide one.
Final thoughts
In our opinion, not every church needs an application, and churches with fewer than 100 weekly visitors likely won't find a mobile application all that helpful.
However, large churches and religious organizations can find an app to be a great investment that will not only help them gather donations and connect people within their community but also give them a reputation as an innovative and modern organization that opens new opportunities for its members.
If your church is big and you want to continue to spread the word about what you believe in, a mobile application can be a great way to attract newcomers, especially younger generations. Сontact us to get a detailed estimate of the cost of your church application and a full instruction on how to make an app for church.
Rate the article!
🌕 Cool!
🌖 Good
🌗 So-so
🌘 Meh
🌑 …