How to Create a Femtech Startup: Mobile Apps for Women
Femtech is a rising industry that's attracting tens of millions in investment and has all the chances of becoming a multibillion-dollar industry. The term femtech was coined back in 2015 by a Danish female entrepreneur who founded one of the first femtech startups. Now there are already lots of femtech apps out there, but the market demand is still far from being met.
Femtech is a trend that's being mentioned in the world of startups more and more often. New healthcare apps geared specifically toward women appear constantly, but there's still plenty of room for new technologies and software products that speak honestly and openly about women's issues.
According to research company Frost & Sullivan, the femtech market will reach $50 billion by 2025.
Elvie – a company that develops software for expectant and new mothers – recently raised $42 million to expand its product line. Just in the past six months, Elvie's revenue has tripled.
These are only a couple examples of femtech startups that have gained popularity and funding. So why is the popularity of femtech apps growing so much? There are several reasons:
Feminism and women's issues have taken center stage in Western society, and investors and innovators of all genders are starting to make and support products that help women
Many topics earlier considered uncomfortable are now more openly discussed, and the demand for information about women's bodies, fertility, and health is greater than ever.
There are lots of hardware devices appearing on the woman's market, and a mobile application is the primary way of connecting to them.
According to statistics, 66% of women look for healthcare information online, and also women are 75% more likely to use digital tools for healthcare than men.
I would certainly recognise it as a growing industry, as more and more femtech is emerging, but I probably wouldn't realise just how underrepresented femtech was in the beginning, and still is to an extent.

Ida Tin, founder of Clue
All this makes women a perfect audience for digital products aimed exactly at them. The perfect time for creating these products is now, as the femtech market is far from saturated.
Femtech app development services
Looking for a team for your femtech app? We'll turn your idea into a meaningful and profitable digital solution!
Types of femtech applications
There are many femtech apps on the market, and they fall into several categories:
Period and fertility trackers
Pregnancy and nursing care
Pelvic health
General health
Mental health
Nutrition and fitness
Lifestyle apps
Let's talk about these categories in detail.
Period and fertility tracking apps either connect to special hardware or provide women with information about planning their pregnancy. These applications help women control their reproductive health, find the most fertile time in their cycle, and get valuable advice. Clue is one of the most popular apps of this kind, and it's already raised $30 million.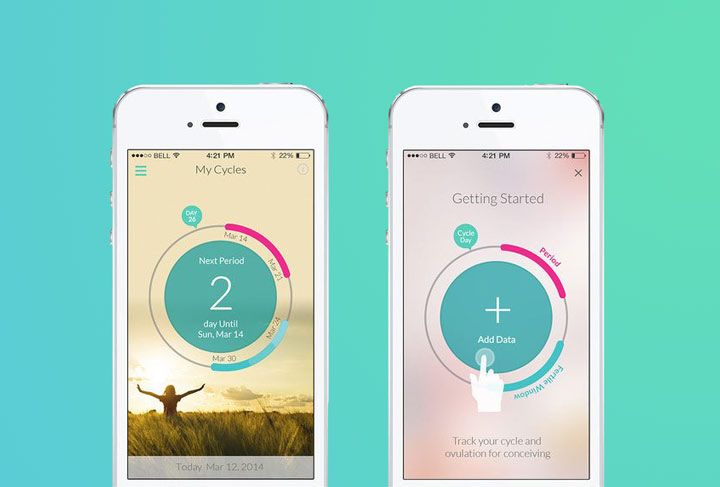 Pregnancy and nursing care apps help expectant and new mothers to track their health before and after delivery and get all necessary information to take care of themselves and their babies. I previously did a thorough analysis of one of these apps, Babycenter, which I found to be absolutely amazing and really useful for women who are about to have a child. (Babycenter is available for both Android and iOS.)
Pelvic health applications can either connect to special hardware or function as independent software that provides information for women about their sexual and pelvic wellness. These apps are often targeted toward women with menstrual issues or who are going through menopause.
General healthcare apps for women include medicine tracking apps and telemedicine apps that connect users directly to their doctors, nurses, midwives, nutritionists, and counselors. For example, Maven is a healthcare application that connects women with healthcare professionals through video and text chats. With Maven, women are able to book appointments and get prescriptions for medicine and birth control.
Mental health applications for women include digital products for meditation and apps for connecting to mental health specialists. These applications can also help women track their mood and emotional state and get personalized advice.
Nutrition and fitness apps developed especially for women take their specific needs into account and develop workout and nutrition programs tailored for each user. Fitness applications for women can also involve intimate gymnastics: usually such applications are developed to work with hardware.
Lifestype apps help women live their best lives in terms of both physical and mental health. They can provide guidance in fitness, meditation, sleep and other things that improve the overall quality of life.
Femtech app development services
Looking for a team for your femtech app? We'll turn your idea into a meaningful and profitable digital solution!
Successful examples of femtech startups
Femtech startups are constantly appearing all across the world, with the US and Europe leading this industry. I've already mentioned some of these startups above, so let's put them into a list of top femtech startups to watch in 2022 and beyond.
Maven
Maven is an on-demand virtual clinic for women that partners with health professionals and insurance companies to offer health plans for pregnant women and during postpartum. In 2020, Maven raised over $45 million, and in 2021 their valuation reached over $1 billion. Since their launch, Maven has helped over 10 million patients.
Flo
Flo is a women's health application that helps to track periods, ovulations and plan pregnancy. It also helps during pregnancy, postpartum periods and menopause. Flo is an advanced period tracker that not only tracks the cycle, but also helps to document the overall health and mood of a woman.
Oula
Oula is a virtual maternity care platform that provides patients with expert midwifery and obstetrics. This startup was launched in 2019, and in 2021 it started to provide telemedicine options for pregnant women in between their hospital visits. Oula offers midwifery coaching, virtual prenatal visits and more, uniting both online and in-person interactions with doctors and women's health professionals.
Challenges that femtech startups face
Though women are very open to using digital products for their health, femtech startups face certain challenges unique for this industry. Let's look at them so you know what to prepare for.
1. It's hard to persuade investors
Investors often don't understand female issues, as the majority of the venture funds are run by men. It can be hard for a female founder to explain an issue to investors and persuade them that women really need a certain product and will gladly use it.
2. Women founders are less likely to ask for money
Many female founders don't even ask venture funds for money. If you as a founder are hesitant to request funding, I would suggest creating a simple prototype of your future product so that you not only pitch your idea, but also already have something to show your investors.
3. Women get less funds
Even if you as a female founder decided to ask investors for funding, and got it, it's more likely you'll get less funds than male founders. Unfortunately, this inequality in the world of VC still exists, so you need to think of ways to make the development of your future product as cost effective as possible.
Femtech app development services
Looking for a team for your femtech app? We'll turn your idea into a meaningful and profitable digital solution!
How to create a femtech app
If you plan to enter the femtech market, you need to start with an idea. Whether or not it requires hardware, you'll need a software platform that allows users to interact with your product or service.
This means you'll need to develop either a website or a mobile application – or both. Let's discuss the steps you'll need to take.
1. Formalize your idea and do market research
Though the demand for femtech applications is high, there are already some strong competitors you need to keep in mind and analyze.
Your idea has to resonate with a certain target audience. Surely, your audience is women, but you need to take your marketing strategy further than that. Consider the age, location, average income, and background of women who will use your application.
Examine the market and learn what other solutions for your target audience are already out there. Then find a way to make your product better.
As femtech is rather new, you need to make sure your target audience is aware that such apps exist. If they're not, you'll need not only to promote your product vis-à-vis competitors' but to explain how your femtech product can help your audience in general.
Learn your audience better. Consider the age, location, average income, and background of women who will use your application
If your idea requires approval from healthcare organizations, you'll need to research that as well and make sure you're able to obtain it.
And if your idea and business model requires hardware or partnership with healthcare providers, you'll also need to find partners.
2. Get investment
The number of investors who are willing to support rising femtech startups is growing day by day. Currently, there are over 50 venture firms that regularly invest in femtech startups. Here are just some of them:
Andreessen Horowitz
Arboretum Ventures
BlueTree Allied Angels
Bonnier Growth Media
Bow Ventures
BoxGroup
Catalyst Health Ventures
Ceyuan Ventures
Chrysalis Ventures
Correlation Ventures
DreamIt Ventures
Drummond Road Capital
There are also some femtech-specific funds that are financed almost exclusively by female investors. For example, Portfolia is a venture firm that makes meaningful investments in women's health and wellness startups.
After you conduct market research, formalize your idea, and create a business plan, be sure to present your idea to investors and get funds to grow it. To increase your chances of getting investment, create a prototype of your product that you can present.
Also, don't forget to decide how you'll monetize your application. Here's a complete guide on how to choose the right monetization model for an app:
3. Research all relevant legislation and necessary permissions
As femtech is closely related to healthcare, your product is likely to require approval from regulatory bodies.
If you create a product that stores or transfers users' personal data, you need to make sure it's compliant with different acts that regulate the way companies handle sensitive healthcare information and personal information in general.
For example, if you develop a femtech mobile app for the US market, you need to make sure it's HIPAA compliant, as HIPAA is the main act that sets security standards for any healthcare software that works on US territory.
If you create a product that stores or transfers users' personal data, you need to make sure it's compliant with regulatofy acts
For the European Union, you'll need to comply with GDPR and any other country-specific legislation.
4. Find a reliable team of software developers
After you get the necessary funds, you need to allocate them as effectively as possible. Note that you'll need a significant part of your funds for marketing. Often, new startups focus 90% of their funds on development, leaving 10% for marketing; but often it's not the right strategy.
You have lots of options when it comes to development, and it's possible to save up to 70% of your budget if you outsource your development to a country where healthcare app and web development rates are lower.
Another strategy is to spend 80–100% of the budget on development and then enter another investment round to meet your marketing goals. At any rate, you should consider getting the same quality for less money with a company abroad.
To find a reliable team, you can refer to your connections, read company reviews, and get a one-hour consultation with each team you've shortlisted to make sure you're right for each other.
In case you're shortlisting development companies right now, you can see how we work here.
5. Create a scalable MVP
After you decide on your development team, you can start planning your MVP. An MVP will allow you to save money and make sure there's market demand for your product. You need to pick the most important features your product needs to really bring value to users.
Some view an MVP as a half-ready product, but this is a wrong perception. An MVP needs to have all the features that allow users to make a complete customer journey.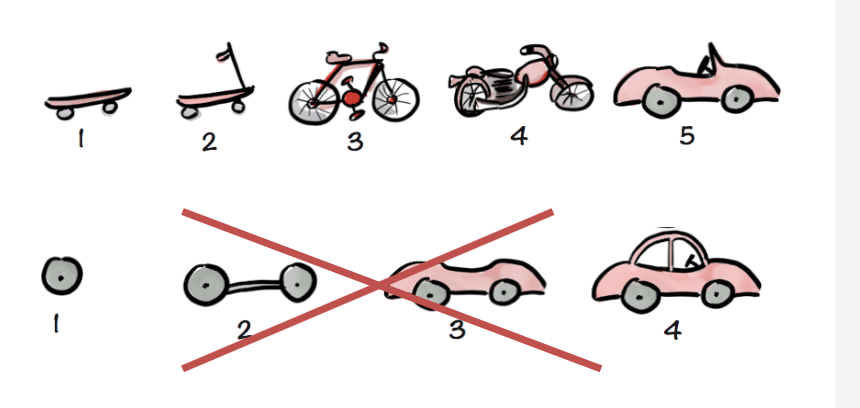 To create an MVP, you'll need to consult mobile experts: they'll be able to conduct market research, make a list of possible features, and help you decide on those to include in the MVP.
After the scope of features is approved, a business analyst needs to create documentation with all the technical requirements. This will be the main document for both you and your development team. Then the development process begins. It includes these steps:
1. Preparation stage – Developers prepare the development environment, research third-party services, and prepare API documentation.
2. Development and QA – Development and quality assurance happen simultaneously, allowing us to test your product more thoroughly and in less time.

3. Deployment – This is when you release the application to the app markets. It involves lots of activities, from validating the application's compliance with app market rules to optimizing it for the app stores.
It's imperative to include analytics into your MVP. This will allow you to see the market response after you launch the app.
6. Analyze the market response
Analytics is your best friend when it comes to launching a femtech startup. You'll need to analyze your app's traffic and see how your target audience actually uses your app.
Analytics will give you valuable insights you'll be able to use later to change your product or tweak it according to market demand.
7. Improve and maintain your product
After you see the market response, you should analyze your product from a technical and marketing perspective and make improvements accordingly. At this point, you can start adding features from your backlog that didn't make it into the MVP.
These features will make your product more advanced, unique, and convenient to use. Depending on your business model, your monetization strategy will differ. For example, if your product is subscription-based, you'll need to constantly add new features, content, and perks that keep users interested in your app.
After deployment, you need to maintain your application. The femtech market is growing fast, and with time you'll start having more and more competitors. If at the beginning of the development process your development team chose a scalable architecture, it will be much easier for you to add features, scale your user base, and maintain your app.
Final thoughts
Femtech is an industry that's in trend, and this trend is only going to grow in the future. While there are already many femtech products, there's still lots of room for innovation.
If you want to create your own femtech application, start with market research and defining a strategy. Put your audience first and make sure you solve a real problem modern women experience. This is the true path to success in femtech: speaking honestly about something that wasn't previously okay to talk about and creating a truly valuable product for women.
At Mobindustry, we can provide you with mobile and web expertise and experience in developing health and IoT applications.
Femtech app development services
Looking for a team for your femtech app? We'll turn your idea into a meaningful and profitable digital solution!
Frequently Asked Questions
The cost of software development can range anywhere from $15,000 to $100,000 and beyond depending on your project scope, developers' hourly rates, feature complexity and other factors. There's no way to accurately estimate a project without proper planning, so it's best to define your requirements and the business goals you want to achieve, and then ask for a quote from companies with relevant experience. Depending on the location, the cost of development can be 2-4x different.
These are the main factors that influence the cost of developing any software product:
Project scope
Tech stack
Feature complexity
Team structure or collaboration model
Developers' hourly rates
API integrations
On average it takes 2-3 months to build an MVP of your software, but depending on your needs and number of features, it can be down to one month
Rate the article!
🌕 Cool!
🌖 Good
🌗 So-so
🌘 Meh
🌑 …