10 Best Mobile App Analytics Tools with Comparison
How can you improve your application and get people to enjoy it more? For this you'll need to become an explorer and see what your users are doing – then you'll be able to find out what works and what doesn't.
Introduction
Once your application is ready after long months of development, it seems like the journey is over. But actually, it's just begun. Now you need to make sure your app is successful. Mobile app analytics is here to help you.
Just as you have certain markers to track your progress in real life – for example, financial goals or educational achievements – apps have mobile app metrics that gauge different aspects of their performance.
Types of Mobile App Analytics Tools
First, analytics tools aren't only for improving your app; they're also part of why you developed your app, as they're a source of tons of valuable information about your customers.
There are three types of mobile app analytics that can give you information of various kinds:
Marketing analytics
In-app analytics
App performance analytics
Let's have a closer look at each of these types.
Marketing Analytics
Marketing and advertising have become crucial parts of any app's success. The times when there were few applications and whoever was the first in the field was successful have passed. Now we have tons of applications appearing every day, and app stores are flooded.
Look at how the number of apps grew in the Google Play Store from December 2009 through December 2017:
The Apple App Store has experienced rapid growth as well, and Statista has made some predictions on the further growth of the platform:
As you can see, competition in the mobile market is huge, so marketing has become one of the major tools to help apps stand out from the crowd.
There are lots of marketing and advertising strategies, and you never know which will work best for you. This is why you need mobile app marketing analytics tools.
Here are some of the questions you need to answer to define your marketing campaign:
How many people have installed your application and how did they learn about it?
When and how do users open your app? Through other applications or push notifications? At what time of day do they use your app most?
After what events do your users buy your app or purchase something in it?
What makes your users register and what drives them away?
Which content gets the most attention?
What content do your users share most often?
Who invites whom to your app? How many people are invited daily/weekly/monthly?
You can also track how your application ranks in app stores. With search being the top way for users to find apps, app store optimization (ASO) is extremely important.
Of course, there's no way to check if your ASO is working other than to use app store analysis tools.
Once you've got answers to these questions, you can deal with another challenge: what to do with all that data.
According to a survey by CMOS, lack of processes and knowledge in marketing are the main obstacles to companies' using data provided by analytics tools.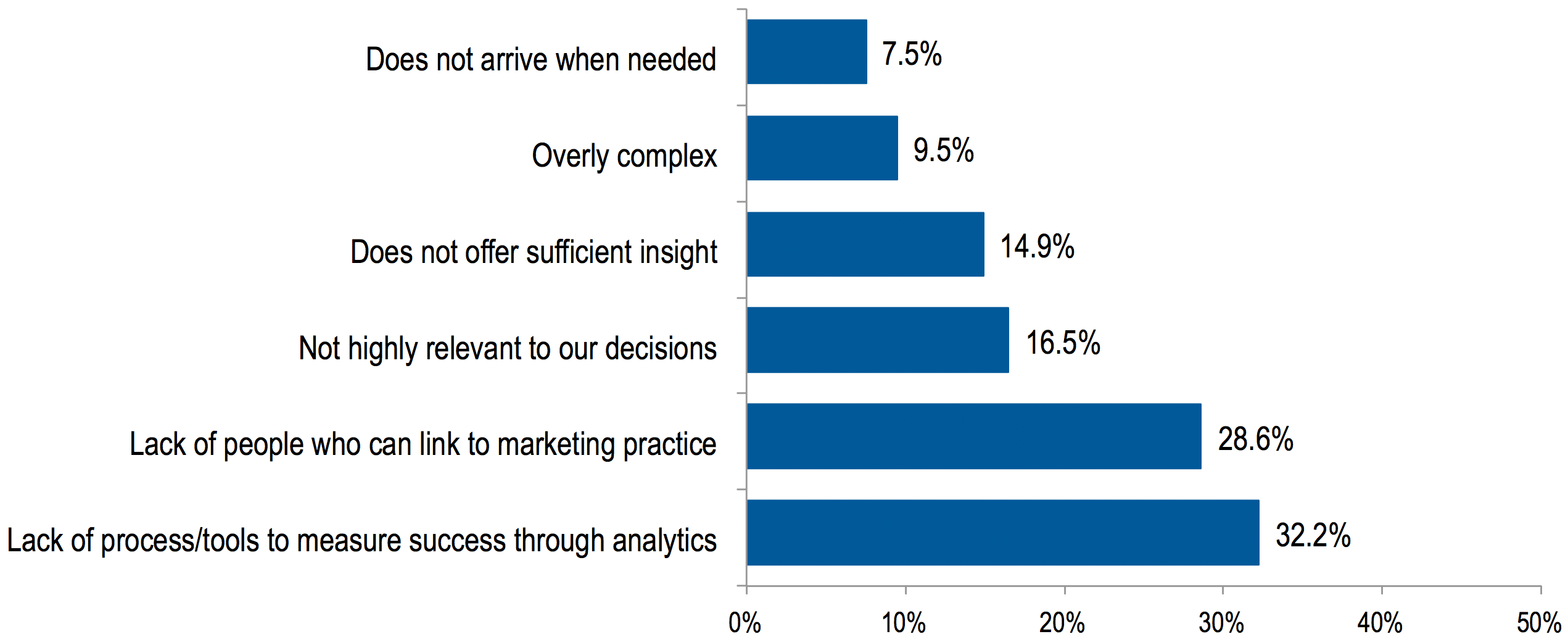 Though it's sometimes hard to decide what to do with all your data, modern tools offer not only facts but also tips on how to interpret them.
If you use your data wisely, you'll be able to effectively target your ads and marketing campaigns and tailor them to your audience.
This will lead to more downloads from the app stores, as you'll have the opportunity to see which keywords lead potential users to become actual users.
Mobile App Analytics
Marketing analytics tools also track user behavior, but in their case concerning not marketing campaigns and ad reactions but the app itself. How do people react to features? Which ones do they use most? Is there something that prevents them from using certain functionality?
All these questions can be answered with the help of mobile app analytics. No wonder specialists predict this market to reach $6 billion by the end of 2024 – every app owner who wants significant growth uses analytics.
To measure success, you'll need KPIs, or key performance indicators. KPIs are measurable values that quantify all aspects of your app-user interactions.
Your main KPIs should help you answer these questions:
Which types of devices do people use your app on?
Which device manufacturer and operating system is the most popular?
How do your users behave? What do they purchase, click on, and do in your app?
How many users return after a day/month/three months?
How much time do users spend in your application? How quickly do they close it or switch to another app?
Where are your users found, what languages do they speak, and what is the average user's gender and age?
How many people use your app daily? Monthly?
What is your average revenue per user?
The next type of analytics will help you to answer even more basic questions. Without answers to these questions, your app wouldn't even be able to operate properly.
Mobile development services
Are you planning to expand your business online? We will translate your ideas into intelligent and powerful solutions.
App Performance Analytics
App performance tools help you understand whether your app works. They provide the most basic type of analytics that you'll definitely need.
Mobile app performance metrics include:
Carrier latency
API latency
Uptime
Crashes
Exceptions
Errors
Data transactions
All this data will help QA specialists and developers keep your app running smoothly, which will definitely make your app grow.
Now let's look at a comparison of mobile application analytics tools to help you choose the right mobile app analytics platform for your needs.
Best Mobile Analytics Tools
There are undoubtedly some famous giants in the market for mobile analytics. According to Statista, these tools were the most-installed mobile analytics SDKs of 2016:
Our list include more than these top five tools, but we'll begin with them.

Price: Custom tiers for enterprise, otherwise free
Type: In-app
Platform: iOS, Android
Google Analytics for Mobile Apps is probably the most famous tool for analyzing an application's success.
The Google Analytics SDK for mobile is part of the company's Universal Analytics, and it works for any platform. It provides all sorts of information about your audience including how they access your app, how long they use your app, and where they're located.
Google analytics recently added a new property type, App + Web, that allows you to combine app and web data for unified reporting and analysis. Now you can measure your app and website together in Google Analytics
Pros
Great for omni-channel products
Easy to use for those who are already familiar with Google Analytics
Provides performance analytics
Cons
No integration with iTunes for conversion analysis
No cohort analysis

Price: Free
Type: In-app, performance
Platform: iOS, Android
Flurry is one of the biggest mobile analytics platforms on the market. Its software is integrated into the Yahoo Developer Network. Flurry offers not only a standard set of in-app analytics but also crash and error reports.
Pros
Completely free with no data limits
Offers crash and error analytics
Provides one of the detailed demographic estimates
Price: Free
Type: In-app
Platform: iOS, Android
Facebook is an expert in gathering data. Facebook Analytics is a mobile app analytics software that offers almost real-time data on demographics, behavior,and many other things across multiple channels.
Pros
Insights and trends
Push notifications based on user behavior
Identification of top customers
Cons
Too tied to the Facebook platform
Price: Freemium
Type: In-app
Platform: iOS, Android
Mixpanel is an event-based tool that can track events such as account creation, shares, purchases, and so on. It also offers funnel analysis, cohort analysis, and marketing automation.
Cons
Data points limit (25,000 per month) in the free version
Price: Freemium
Type: Marketing
Platform: iOS, Android
App Annie provides all the information you need to build your business with mobile applications, and apart from standard mobile analytics metrics that concern marketing it's also famous for its insights. App Annie sets the standard for other analytics companies by providing top-notch app analytics and reporting.
Pros
Valuable marketing insights and trends
Deep analysis
Cons
Expensive extended version

Price: Freemium
Type: In-app
Platform: iOS, Android
Amplitude is focused on funnels, user activity, and revenue, and can be event-centered. But it's especially focused on user behavior, with its key feature being behavioral cohorts. This means that you can define user groups based on events or actions that users take.
Pros
Behavioral cohorts
SQL option for getting custom data allows you to get data from the system that isn't available in the dashboard
Cons
SQL option is only available at the enterprise level
Enterprise level is expensive ($995/month)
UI is not perfect

Price: Free trial
Type: In-app
Platform: iOS, Android
Smartlook is one of the most unique tools in this list, as it allows you to see exactly what happens when someone is using your app. It features the usual analytics and statistics, but its killer feature is recording real user sessions. This gives you the unique ability to determine how actual users relate in your app, and what makes them abandon it (if you have that problem). Smartlook also features session replay, event tracking and funnels.
Also, Smartlook SDK allows to record mobile games based on Unity.
Pros
Heatmaps
Great design
Session recordings and replays
Cons
It's sometimes hard to find where things are
Price: Freemium
Type: Marketing
Platform: iOS, Android, Windows Phone, Blackberry
Localytics provides a wide range of data to help you promote your app. App usage, session durations and return rates, heatmaps, funnels, and cohort-based retention – all of this can be later used with a marketing add-on for customer targeting. You can also send push notifications and messages within the app.
Pros
Easy to use
Cohort-based retention
Unlimited apps supported by the free version
Cons
Free version has a data point limit

Price: Free trial, then $9/month per seat
Type: Performance
Platform: iOS, Android
Bugsnag is the main competitor to Crashlytics. Apart from the Android and iOS platforms, it supports over 20 programming languages including PHP and Ruby. You can easily track the most harmful errors in your application. It offers advanced analytics that include dynamic counts and breakdowns, pivot tables, and multi-dimensional filters.
Pros
Advanced analytics
Ability to snooze and prioritize errors
Cons
Unlike Crashlytics, it's paid
Bonus app analytics tools
Here're some tools that didn't make it to the list but are still worth mentioning.
AppsFlyer is a marketing analytics and mobile attribution platform. The tool has the following features:

user acquisition attribution
people-based attribution deep linking
smart banners
performance metrics.It works with iOS, Android, Windows, Unity, Amazon and TvOS.

CleverTap is a mobile marketing solution that brings together user data from online and offline channels on one centralized platform. CleverTap's machine learning models let its users create differentiated customer engagement strategies that help marketers drive omnichannel growth.
Pendo is a product experience platform that helps software product teams understand which features customers are using, which features they are ignoring, which ones are driving delight and which are causing pain and confusion.
Our experience
We've integrated analytics in every application we developed, as it's one of the most important components of any app. Due to analytics we managed to make necessary changes to our big delivery and ecommerce projects and increase sales, engagement rate and conversion rate.
For example, in this case study you can learn how we used analytics to improve our client's ecommerce application and make it more valuable for end users, and more profitable for its owner.
Our team usually uses a set of analytics tools that cover all our needs. They include:
Google Analytics
Flurry Analytics
Fabric
Crashlytics
Conclusion
As you can see, there are lots of tools on the market that can help you make your app better by getting valuable insights about return on investment, user traffic, your audience, and your app in general. All of this information can help you launch successful marketing campaigns.
Now you can choose the tool that suits you best. Of course, this isn't a full list of mobile analytics tools, but we've chosen the best of the best. As you can see, the platform doesn't matter. Whether you need iOS or Android app analytics, any of these tools will work.
At Mobindustry, we also use some of these tools and use the data collected by them to make our applications better for your users. If you have any questions about app analytics, contact Mobindustry for more information. We'll gladly share our experience in using these tools with you.
Mobile development services
Are you planning to expand your business online? We will translate your ideas into intelligent and powerful solutions.
Rate the article!
🌕 Cool!
🌖 Good
🌗 So-so
🌘 Meh
🌑 …