IT Consulting: What It Means and How It Can Help Your Business
Tech expertise is something almost every business needs, and with IT consultancy, it's easier than ever to acquire it. Learn about IT consulting and how it can help your business achieve any tech-related and business goals
What is IT consulting?
IT consulting for business is a service an IT company provides to businesses of different sizes and in different domains to help them translate their business needs and goals into technical solutions. Often, IT consulting is provided at the initial stage of a project, before the project is even planned.
Every year, the world of technology changes: new programming languages, frameworks, libraries, tools, and software development practices are introduced, and navigating them can be confusing for people who don't deal with these technologies on a daily basis.
When a business realizes they need a certain digital product or a full digital transformation, they often start researching by themselves, trying to figure out what exactly they need to achieve their goals. There are so many products, services, and technologies that it's easy to get lost.
To avoid spending thousands of dollars on a solution that will become obsolete in a few years or will require lots of effort and resources on maintenance, businesses consult with third-party IT specialists.
Who needs IT consulting?
IT consulting is a great tool for any business that doesn't possess strong technical expertise or that needs to adopt a new type of technology that they're not familiar with.
For example, an application development consultant might benefit an online retailer who has decided to expand their digital presence and get a mobile application. There are so many ways to do this and so many questions a business owner can have. For example:
Should I choose an off-the-shelf solution, or do I need custom development?
What platform should I develop for?
Should I use cross-platform or native technologies?
What databases do I need?
What will I pay for third-party services?
How do I develop my UX strategy?
What features should my product have?
Where can I find reliable software developers who will provide me with a high-quality product?
How can I organize the mobile app development process?
How can I release my app once it's ready?
How can I choose the features for an MVP?
What architecture is scalable and maintainable in the long term?
These are only a fraction of the questions a business owner can have, and they're only about a mobile application! Imagine the questions that might arise for a large enterprise that needs to redesign its whole system that's involved in almost all internal processes and operations.
For enterprise solutions, every mistake can cost a company hundreds of thousands of dollars
For enterprise solutions, every mistake can cost a company hundreds of thousands of dollars, so it's vital to work with an expert who knows the latest software development standards.
So, who is an IT consultant, what do they do, and how can you find one? I'll answer all of these questions in this article.
Who is an IT consultant?
We are all used to consultants. They're happy to help us at stores or during our university years when we're trying to pick a career. However, an IT consultant is a bit different.
An IT consultant doesn't just consult businesses on different IT solutions, strategies, and technologies. This is someone who actively participates in product development and lives inside the complex world of technologies.
An IT consultant is often a technical lead at a software development company or a CTO who has extensive experience in software development for different businesses. This immersion in a tech environment helps them give timely advice to their clients and partners.
IT consultancy services
Are you planning to expand your business online, but you don't know where to start? Let us share our vast experience in development with you
What does an IT consultant do?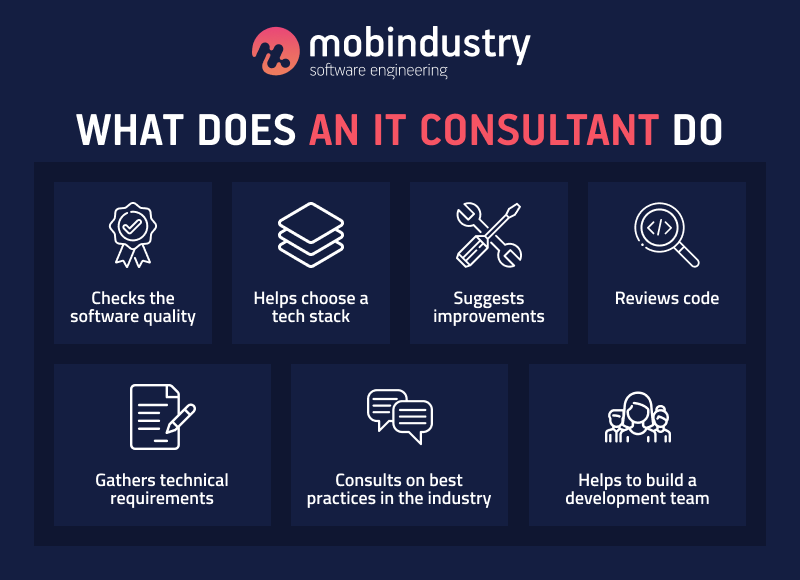 An IT consultant can save you thousands of dollars. I'll talk later about how to find consultants, shortlist them, and choose the right IT consultant for your company. For now, let's review the main IT consultant roles and responsibilities.
Gathering a product's technical requirements. A consultant analyzes your business in terms of its industry, size, workflow, and business goals and provides you with general technical requirements for your software. You can use these requirements during the discovery stage with your future vendor or your own tech team.
Choosing the perfect tech stack. An IT consultant must be able to suggest a tech stack for your project in which each technology, tool, and framework works together and fits your needs, scale of operations, and future plans.
Suggesting changes and improvements to your current system. If you already have software that helps you with your business processes, an IT consultant can review it in terms of code, technologies, architecture, or functionality and suggest improvements that will improve the efficiency of your business operations.
Helping you build and manage a development team. If you decide you need to create software from scratch, an IT consultant can help you with getting a development team. For example, a consultant can assess your candidates' skills by conducting technical interviews, or they can help you find and manage a third-party development team.
Check software quality. After your software is ready, you can involve an IT consultant to make sure you've received high-quality software from your vendor. In this case, an IT consultant will cooperate with QA specialists to make sure your software works correctly and corresponds to the technical requirements.
As you can see, a consultant can offer a whole range of IT consulting services according to your needs and the current tech expertise in your company.
IT consultancy services
Are you planning to expand your business online, but you don't know where to start? Let us share our vast experience in development with you
Benefits of IT consulting for businesses
1. Saves time and money
Generally, there are two ways in which a company can gain expertise: by hiring specialists in-house and by consulting with third-party professionals. Software development consulting saves time and money because you don't need to hire specialists full-time: you pay only for software consulting services, then integrate the expertise you've acquired into your current business processes.
Also, a consultant helps you save time on research because they've already done it and continue to explore new technologies and practices on a daily basis. This is why it's important to choose a consultant that currently works in a field that interests you.
2. Ensures quality
An IT consultant helps you make sure you're on the right track, can check the quality of your code, and can look at your digital processes in a new way.
3. Brings unique expertise to your company
You can find a consultant in any field, from mobile to blockchain development, and they'll help you set up software you've never worked with before and explain how to integrate it into your business.
4. Prevents future complications
Experience allows IT consultants to analyze software and see potential future drawbacks, such as scalability issues. An experienced consultant is able to assess how well your current system can be scaled and predict the issues you may encounter.
The same goes for maintenance: an IT consultant will make sure your software doesn't become a costly burden in a few years.
How to find an IT consultant
So, you've decided you need an IT consultant for your business. Where do you actually find one? There are a few options.
1. Request a recommendation from partners. Ask your partners whether they know a specialist with the expertise you need and whether they could recommend someone as an IT consultant. This is a good way to find a reliable consultant if you don't know anyone in the IT industry.
2. Look for advice from software development companies that you've already worked with. If you already have vendors that you know are reliable and professional, you can ask if they provide IT strategy consulting services. Also, there are IT consulting companies where you can get this service.
3. Check reviews on GoodFirms or Clutch. If you haven't worked with a software development company yet or you need other expertise, check GoodFirms and Clutch to find companies with good reviews and ratings. Shortlist companies and contact them to learn more about their services.
4. Hire a freelance consultant. Another way to find a consultant is to check freelance websites like Upwork and look for freelance specialists. Freelancers work on different projects for different clients, so experienced freelancers can give you valuable insights. Reviews from previous clients will help you find a reliable freelancer.
As I stated earlier, it's vital that your IT consultant works in the software development industry continuously, explores new technologies, and meets new challenges in different domains. The perfect place to find such a specialist is a software development company that regularly creates software for different businesses in different industries.
That's why I advise you to ask your current vendor about information technology consulting services or find a development company you trust.
No matter where you find your potential consultants, you need to verify their expertise before you start working with them. Let me give you an idea of how that typically goes.
IT consultancy services
Are you planning to expand your business online, but you don't know where to start? Let us share our vast experience in development with you
Hire a perfect IT consultant in 5 steps
Finding an IT consultant is a challenge, but building an effective collaboration also requires a specific approach. Let's break down the process of getting an IT consultation.
Step 1. Gather your requirements
Before you start looking for an IT consultant, you need to know exactly what they'll help you with. List all your requirements, expectations, and goals so a consultant knows what you're aiming for.
Without a plan, you may just waste your money on a consultation. Note that you don't need to create a detailed technical plan: this is probably what a consultant should do for you. It's best to list what you want to achieve at the end of the consulting period.
Step 2. Shortlist your candidates
I've already mentioned how and where you can find your consultant. Whether you decide to hire a freelancer or work with a software development company, it's best that you have several candidates.
Check the reviews and recommendations of each candidate or software development company. Freelance websites and listings like Clutch will allow you to learn more about your candidates.
Step 3. Sign an NDA
Before you say a word about your company, business plans, and current software or allow a consultant to look at your code, you need to protect your data.
For this, both you and your candidate should sign a non-disclosure agreement, or an NDA. An NDA protects you from data leaks and regulates all steps of data sharing and data exchange.
Your potential contractor should be willing to sign an NDA before discussing your project and should follow compliance requirements in their country or region. For example, contractors in the European Union should follow the GDPR.
Step 4. Interview your candidates
Now that you've protected your data and chosen the most suitable candidates on the market, it's time to find out how well the communication goes. To do this, you can arrange an interview via phone or video conference and ask questions. Here are some tips on conducting an effective interview with your potential IT consultants.
Ask for previous work samples and completed projects. Pay close attention to their style of work, performance, and end results.
Verify credibility and ask for certifications and qualifications that confirm the professionalism of your candidates. Make sure they continuously increase their qualifications in new technologies and approaches.
Pay attention to soft skills like:
Communication skills
Creative approach
Conflict management
Teamwork
Adaptability
Ask about what methodologies, tools, and technologies an IT consultant uses in their work, and learn what metrics they use to assess the results. A professional IT consultant will share a variety of methods and tools and suggest the best approaches for your particular case.
Step 5. Make a final choice and sign a contract
This step depends on what hiring strategy you choose. If you've decided to get a consultation from a software development company, you'll be able to sign a contract that protects your legal rights and imposes penalties in case of any violations.
With a freelancer, you'll only be protected if you choose to work through a freelance platform. Note that the fees on freelance platforms can reach up to 30%.
After you've completed all these steps, you can start to collaborate with a consultant on your project.
IT consultancy services
Are you planning to expand your business online, but you don't know where to start? Let us share our vast experience in development with you
How we provide IT consultation services
With 10 years of experience, we already have all processes ready to meet any kind of request from any kind of business. We provide all kinds of services, from mobile and web development of any complexity to business analysis and maintenance.
Let me share our typical consultancy process apart from the steps I mentioned above, such as signing an NDA and conducting an interview.
Step 1. Service analysis call
During this call, we discuss your goals and requirements. It's best if you get ready for this call by answering the following questions:
What are my expectations?
Who will use or currently uses the software I want to develop or improve?
What business goals do I want to achieve?
At this stage, we will get to know your business and figure out what currently stops you from achieving your goals. At this point, we'll also start gathering technical requirements for your product.
Step 2. Projecting
Now is the time to build a concept of your new product or the changes you want to make to your software. During this step, we'll discuss:
Platforms
Technologies
Operating system versions
The skill set of your future team
Third-party services and tools
API strategy
List of resources for backend developers
Possible difficulties and pitfalls
The development workflow
Quality assurance strategy
Internal acceptance principles
Roles and responsibilities of all stakeholders
The list of our activities will change depending on your goals and requirements. For example, if you don't need to develop a new product and you just want to modernize or improve your current software, we'll emphasize code review, quality assurance, and functional review and testing.
Step 3: Creating a team
After we analyze your business and current needs and create a strategy, it's time to help you build a team that will bring all your plans to life. Whether you outsource development or involve your in-house staff, it's important that each participant in the process understands their responsibilities and duties.
The list of your team members will depend on your needs, but typically, each software development product needs these specialists:
Business analyst who creates a technical specification
Quality assurance specialist who tests the software
Project manager who makes sure everything is done on time and within the budget
Backend developer who is responsible for databases and servers
Frontend developer who creates the client-side software
Final thoughts
IT consultancy is one of the best investments you can make in your business. It can save you precious time to market as well as future expenses caused by inefficient architecture, technical issues, maintainability issues, and hidden costs for third-party services.
I advise you to hire IT consultants from software development companies, as they know all the ins and outs of software development for businesses. Unlike most freelancers, who provide only technical support, software development companies immerse themselves in their clients' businesses and not only provide technical solutions but analyze how features translate into the real world.
If you'd like to shortlist Mobindustry as your software development consulting company, we'll be happy to talk and provide you with credentials, qualifications, and previous projects we've completed for our clients. Don't hesitate to contact us if you have any questions on IT consultancy and software development.
IT consultancy services
Are you planning to expand your business online, but you don't know where to start? Let us share our vast experience in development with you
Rate the article!
🌕 Cool!
🌖 Good
🌗 So-so
🌘 Meh
🌑 …