IT Outsourcing to Eastern Europe in 2023: Everything You Need to Know
Finding good tech specialists locally is a challenge: no wonder the recruitment industry is worth billions! Many businesses expand their search worldwide and look for agencies overseas that offer the same or even better expertise, often with lower rates.
The global shortage of tech talent in numbers
The shortage of IT specialists has been an issue for the past few years, and the situation is only getting more critical. According to Kornferry, by 2030, the global talent shortage is expected to reach 85.2 million, with the largest gap in the IT industry.
On average, it takes around 4 months to fill the positions in the IT industry. Of course, this number depends on the job level, specific skills required, and competition from other employers.
In 2022, 44% of companies anticipated a significant tech talent shortage in the upcoming years. Now, there are only 65 candidates available for every 100 vacancies. This extends the time to fill the position and the HR and recruitment expenses.
Let's take a look at the tech talent shortage in different countries.
| | | |
| --- | --- | --- |
| Country | Percentage of Employers/Companies Reporting Tech Talent Shortage | Number of months to fill positions |
| United States | 82% | 4.5 |
| Canada | 67% | 3 |
| United Kingdom | 69% | 5 |
| Germany | 64% | 3 |
| France | 58% | 3 |
| Japan | 83% | 4.5 |
| China | 71% | 3.5 |
| India | 56% | 3 |
Understandably, businesses are trying to find alternatives of spending months and thousands of dollars on finding the right in-house candidate. Outsourcing to Eastern Europe is one of them.
Often, Eastern European developers possess exceptional engineering skills, know the English language, and are culturally close to the Western world, which helps in communication. Let's review the tech talent market in Eastern Europe.
Eastern European tech talent market
Eastern Europe has been a destination for outsourcing companies for years and continues growing rapidly. With over 1 million tech specialists, this region offers a diverse pool of talented specialists in software development, artificial intelligence, and cybersecurity. Projections for its growth are optimistic, with an expected increase of 5% annually.
One of the main advantages of Eastern European tech talent is its high-quality education system, producing a skilled and adaptable workforce. Moreover, the region's tech talent is known for being cost-effective and providing a high value-for-money service.
Eastern European tech talent is known for being cost-effective and providing a high value-for-money service.
Eastern European tech specialists can fulfill any technical need, including web and mobile app development, big data, cloud computing, AR, VR, and more. Artificial intelligence and machine learning are also rapidly growing areas of expertise in Eastern Europe, with an increasing number of companies specializing in these fields.
There are over 20,000 outsourcing companies in the region, providing services to global corporations. Ukraine, Poland, Romania, Bulgaria, and the Czech Republic are the leading countries providing tech talent.
Ukraine is currently the largest provider of software development in Eastern Europe, with a strong focus on software development, while Poland is known for its cybersecurity expertise.
Let's talk about counties that can be your next destination for seeking top tech talent in the world.
Top Eastern European Countries for Software Development
Ukraine
Ukraine is one of the leading countries in the world for software development outsourcing.
In 2022, Ukraine had over 285,000 IT specialists. However, after the beginning of a full-scale invasion of Russia, between 50,000 and 57,000 IT specialists went abroad, according to IT Research Resilience. Approximately 7,000 IT specialists joined the Armed Forces of Ukraine or the territorial defense. So, today, Ukraine has approximately 228,000 tech specialists.
Most of them are working in safe places, thus minimizing the risks for both them and their clients.
Ukrainian tech companies managed to retain most of their contracts and generated $2 billion in revenue in the first quarter of 2022, growing 25% from last year. All this was during full-scale Russian aggression.
Today, over 4,000 outsourcing companies sustain 13% of Ukraine's total export, amounting to $7.6 billion.
Despite all odds, Ukraine produces around 20,000 tech specialists each year, thanks to the country's excellent education system. Ukrainian universities and technical colleges offer a range of courses in computer science, software engineering, and related fields, which provide students with the skills and knowledge they need to succeed in the tech industry.
Many Ukrainian IT companies offer courses, internships, and mentoring programs that also increase the number of qualified specialists ready to provide the best service to their business clients.
Lots of the top software development companies in Eastern Europe are located in Ukraine and have offices all around the world.
One of the main advantages of hiring Ukrainian tech specialists is their high level of expertise and professionalism. Ukrainian developers are known for their strong technical skills, attention to detail, and ability to work efficiently in teams. They are also highly motivated and dedicated to delivering high-quality work.
The tech expertise in Ukraine covers all popular technologies in web and mobile development, as well as more niche and complex technologies in blockchain, AR, VR, AI, ML, and cloud computing. Ukrainian security expertise is known all around the world.
The unique and robust expertise, great education system, and large pool of specialists make Ukraine a solid destination for IT outsourcing.
Poland
Poland's strong IT market was worth around $17 billion in 2022 and continues to grow. Many of the 300,000 specialists in this sector work in over 2,000 IT outsourcing companies.
These companies provide mobile app development, web development, game development, and cybersecurity. Additionally, Poland has a strong reputation in fields such as AI and machine learning, blockchain, and cloud computing.
Polish developers are famous for their strong work ethic, high quality of work, commitment, and English proficiency. All this makes Poland a great place to build a product with a perfect balance between cost and quality.
No wonder the demand for Polish developers is so high. This may even be a downside: according to the Polish Economics Institute, Polish IT companies struggle to hire new specialists. They report 42% of their job openings need to be easier to fill, and it may take up to 6 months to find the right candidate.
One-fifth of Polish IT companies had to abandon projects, and 61% reported product delivery delays. This means that you, as a client, may encounter longer waiting times or even broken deadlines.
Still, the demand is so high for a reason, and Poland remains an attractive destination for outsourcing software development projects of any type and complexity.
Romania
Romania has emerged as one of the most attractive outsourcing destinations in Eastern Europe, providing foreign clients with a rich pool of skilled IT professionals.
According to a recent study conducted by ANIS, the Employers' Association of the Software and Services Industry, the Romanian IT market has witnessed significant growth, reaching EUR 9 billion in 2022 from EUR 4.6 billion in 2015, and is projected to exceed EUR 12 billion in the next two years.
The IT outsourcing segment is the largest and is projected to generate a market volume of $344 million in 2023, with revenue expected to grow at an annual rate of 8.40% (CAGR 2023-2027), resulting in a market volume of $1.3 billion by 2027.
Romania is home to numerous IT outsourcing companies, ranging from small startups to large multinational corporations. These companies offer a wide range of IT outsourcing services, including software development, web design, and mobile app development. The IT market in Romania is comprised of over 21,847 companies, which represents an increase of 60%.
The IT and services sector in Romania has an impressive pool of specialists, with over 192,000 employees, and large companies employ the majority of the workforce (47%). Additionally, the market is supplied with approximately 15,000 new graduates every year.
In summary, Romania has established itself as a competitive destination for IT outsourcing, offering a diverse pool of IT service providers, skilled IT professionals, and a thriving market.
What do you get as a client when working with Romanian IT outsourcing companies?
The main advantage is of course the highly competitive rates — the prices for software development are attractive for businesses that are looking to optimize their budgets without sacrificing the quality.
Romanian companies keep a strong focus on technology, and the Romanian government supports the IT sector by developing a great tech infrastructure and environment for businesses to operate in.
By outsourcing your project to Romanian IT companies, you may have some communication difficulties, as many Romanian IT professionals may not be fluent in English. However, this is possible to overcome.
Overall, Romania is an excellent choice for businesses looking to outsource their IT services.
Bulgaria
Bulgaria has established itself as a significant player in the global IT outsourcing market, offering quality IT services at competitive rates. The country's IT outsourcing market has witnessed significant growth in recent years and was worth €832.9m in 2022. The market is also expected to grow at a CAGR of 5.7% between 2021 and 2028.
Currently, about 100,000 Information and Communications Technology (ICT) experts are working in the Bulgarian IT industry in general. About 30% of them are employed in IT outsourcing in Bulgaria. It is predicted that by 2024, there will be more than 112,000 IT specialists in the Bulgarian market.
Bulgaria has over 2300 software companies, from startups to well-established multinational corporations. Some of the most well-known companies in the Bulgarian outsourcing market include ScaleFocus, Musala Soft, and Telerik Progress.
Working with Bulgaria as a foreign client offers several advantages. One significant advantage is the country's competitive cost structure, which offers lower rates than many other European countries. Moreover, Bulgaria offers a favorable business environment characterized by a stable economy, low taxes, and a highly skilled workforce.
Just like in Romania, language barriers, cultural differences, and time zone differences may become challenges in communication and collaboration. However, Bulgaria is a great destination for outsourcing your IT project.
The Czech Republic
If you are considering outsourcing your software development project, the Czech Republic is a country worth your attention. Its IT sector is among the most dynamic in Europe and has attracted many foreign companies in recent years, thanks to its favorable investment environment.
The Czech Republic has 7,700 IT and software development companies, some of which made it to the Global Outsourcing 100 in 2021. The local software industry has shown resilience in the face of the COVID-19 pandemic and is expected to continue growing at a 4% annual rate.
However, the country's rapid growth has led to a shortage of IT professionals, leading to a spike in wages and making it more challenging to find suitable candidates.
Despite this challenge, the Czech Republic remains an attractive destination for outsourcing due to its skilled workforce, favorable business environment, and competitive rates.
With over 7,000 ICT graduates annually and an estimated 156,000 IT specialists, the country is well-positioned to continue to grow its IT industry. The IT services export value was $1.33 billion in 2021. The IT market share in the Czech Republic is expected to increase by $2.22 million from 2021 to 2026 at a CAGR of 3.72%.
So, the pros of outsourcing your software development project are the favorable investment environment, skilled specialists, and competitive rates. The cons include talent shortage, which can influence the speed of development or pose risks — if a developer leaves, it may take time to replace them.
The usual cons, like language, time zone, and cultural differences that come with outsourcing overseas, apply here too.
Estonia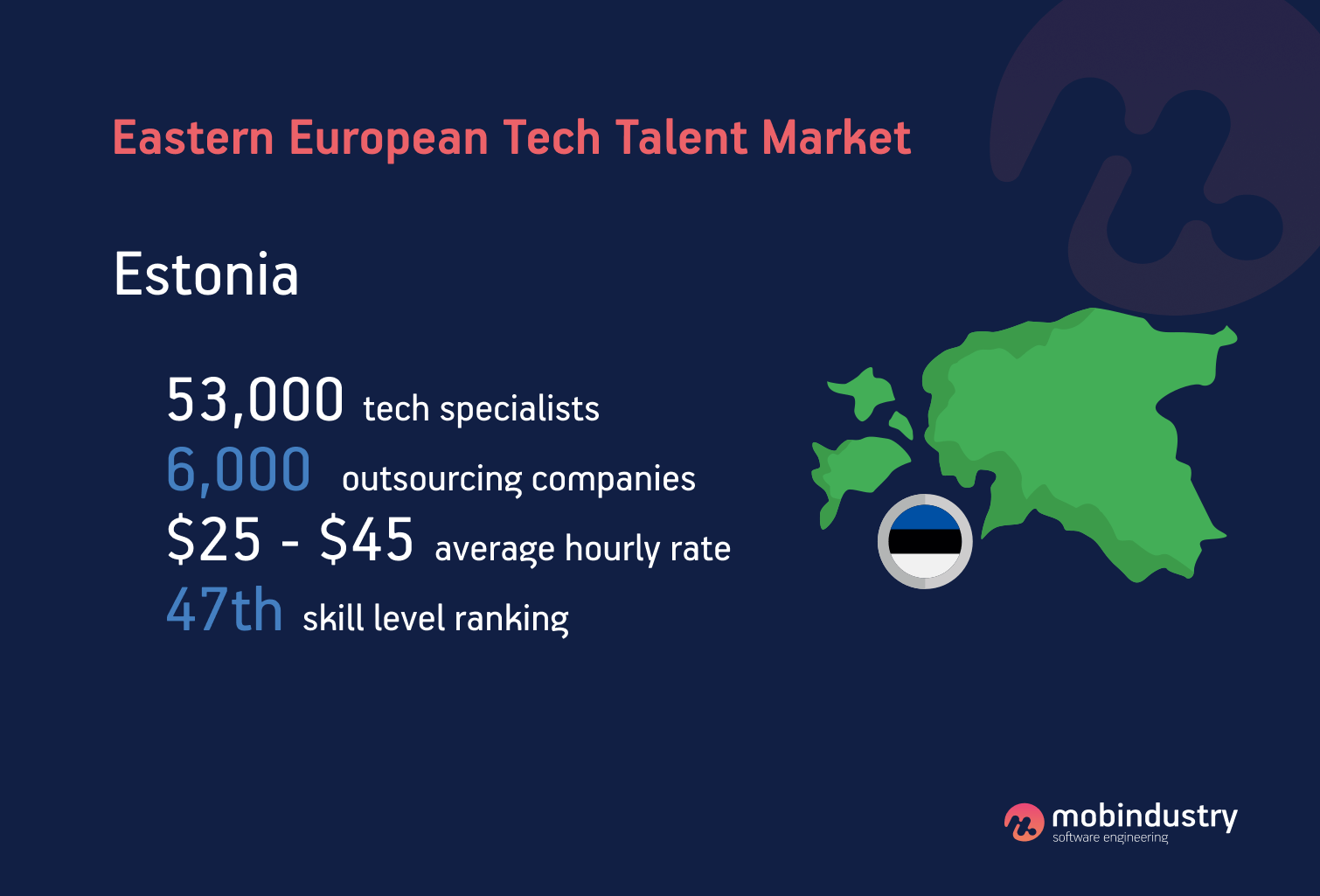 Estonia is becoming an increasingly attractive destination for businesses seeking to outsource their software development projects. The country's IT industry is thriving, and it has been recognized as the most competitive in the emerging Europe region.
According to Invest in Estonia, the IT sector is one of the fastest-growing industries in the country. The IT market size in Estonia was estimated to be around €1.5 billion in 2020, with a growth rate of around 6%. Estonia boasts the highest number of startups per capita — 1,450 startups and 10 unicorns.
The IT outsourcing market size is also growing, with more and more businesses choosing to outsource their software development projects to Estonia.
Estonia is home to about 6,000 companies operating in the Estonian ICT segment, employing over 53,000 specialists. The country has a well-educated and skilled workforce, with over 1,500 graduates in the field of IT every year.
The revenue generated by Estonia's IT industry is also impressive, with the sector contributing around 5% of the country's GDP. The country's IT sector strongly focuses on innovation, with companies like Skype and TransferWise originating in Estonia.
Estonian developers are ambitious, competitive, and innovative, and this country is great for you if you want to build the next disruptive startup.
Comparison of Eastern Europe Software Developers
Let's now compare all the Eastern European countries I mentioned in this article, based on the number of developers, most popular technologies, and the worldwide ranking based on skill level.
| | | | |
| --- | --- | --- | --- |
| Country | Number of Developers | Most Popular Languages | Skill Level Ranking |
| Poland | ~300,000 | Java, Python, JavaScript | 3rd |
| Ukraine | ~228,000 | JavaScript, Java, Python | 6th |
| Czech Republic | ~156,000 | Java, JavaScript, PHP | 22nd |
| Romania | ~192,000 | Java, JavaScript, C# | 28th |
| Bulgaria | ~112,000 | JavaScript, Java, PHP | 42nd |
| Estonia | ~53,000 | Java, JavaScript, Python | 47th |
All these metrics are important, as they define how skilled the developers are and how easy it will be to find new talent in case you want to expand your team or the tech stack of your product.
Each of these destinations is ultimately a great choice that gives you an amazing balance between the cost and the quality. Eastern Europe is famous for its strong technical education that was established back in the previous century.
I mentioned the attractive cost several times in this article. Let's explore, what salaries software engineers receive in Eastern Europe, and what rates outsourcing companies usually charge.
Software engineer salary in Eastern Europe
Let's explore the average annual salary and hourly rate charged by outsourcing IT agencies for software engineers in Eastern European countries.
| | | |
| --- | --- | --- |
| Country | Average Annual Salary (USD) | Average Hourly Rate (USD) |
| Ukraine | $20,000 – $40,000 | $20 – $55 |
| Poland | $30,000 – $50,000 | $25 – $60 |
| Bulgaria | $18,000 – $30,000 | $15 – $25 |
| Romania | $20,000 – $40,000 | $20 – $40 |
| Czech Republic | $35,000 – $55,000 | $30 – $50 |
| Estonia | $25,000 – $45,000 | $25 – $45 |
These rates and salaries depend on multiple factors as the technologies engineers work with, their skill level, and of course, their experience. However, even the most experienced developers in Eastern Europe usually don't charge over 60$ per hour.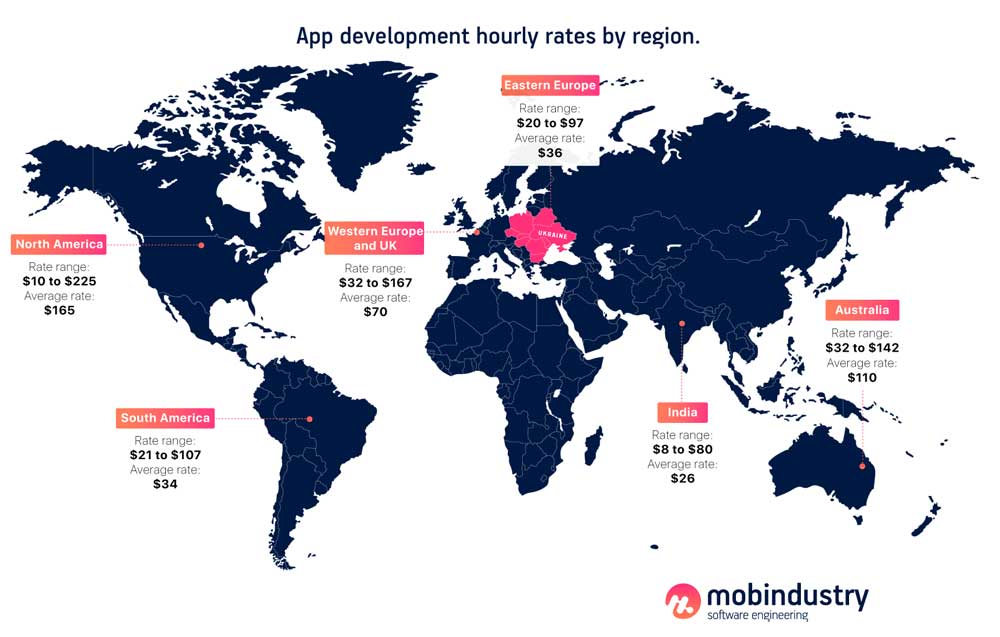 Compare this with developers from Western European countries, North America and Australia:

| | | |
| --- | --- | --- |
| Country | Average Annual Salary (USD) | Average Hourly Rate (USD) |
| The United States | $103,000 | $100-$150 |
| The United Kingdom | $55,000 | $60-$100 |
| Germany | $65,000 | $50-$100 |
| Australia | $78,000 | $50-$80 |
| Canada | $70,000 | $50-$100 |
This difference in rates and salaries has a simple explanation: the cost of living. As you've seen from my analysis, the IT sector generates a significant part of the GDP for most Eastern European countries. Outsourcing to Eastern Europe creates a win-win situation for both parties.
Let's discuss the pros and cons of outsourcing software development to Eastern Europe.
Benefits and challenges of Eastern Europe software outsourcing
Benefits
Highly skilled specialists. Eastern Europe's education system, especially its approach to STEM, has been top-notch for decades or even centuries. The engineering school in Eastern Europe produces one of the best computer science graduates in the world. Moreover, top engineering companies often have mentorship and internship programs to help grow the next generation of engineers.
Cost-effective. The cost of living in Eastern European countries allows developers to charge lower rates. The difference between developing in the US and in any Eastern European country can reach up to 5x difference without any sacrifice to the quality.
Time zone proximity. Many Eastern European countries overlap with Western countries in terms of their time zones. This means you can communicate more effectively and increase the delivery speed while being in different countries.
Cultural compatibility. You'll notice that many Eastern European countries have a cultural affinity with Western countries. This makes the collaboration smoother and easier, especially compared to Asian countries that are more culturally different. You can also expect a strong work ethic and professionalism from the members of these countries..
Challenges
Language barriers. Although English is widely spoken in Eastern Europe, there may still be some language barriers. Make sure you speak to your team before hiring them so that you can assess the ease of communication.
Cultural differences. Despite the similarities in culture, there will also be some cultural differences. However, as international collaboration becomes more and more common, this aspect is becoming less noticeable each year.
Time zone differences. Your Eastern Europe outsourcing partner will still be in another country or another continent. You and them will need to make adjustments in your workflow and find time for communication that will be convenient for both parties.
Quality assurance. Ensuring software quality can be challenging when outsourcing development. Make sure you collaborate with a reputable team that has high-quality standards. You can sometimes double-check the quality of delivered code so you know the team upholds the standard consistently.
Key takeaways
In this article, you've learned about the biggest hubs for high-quality and cost-efficient software development outsourcing. If you're looking for unparalleled talent that can fulfill your business and technical needs, Eastern Europe is one of the best destinations.
All countries on our list are amazing candidates for outsourcing development. Your choice should ultimately depend on your needs, budget, and cultural preferences.
Cost efficiency is often a factor that attracts businesses to Eastern Europe from all over the world. However, businesses stay for professionalism, great communication, and focus on efficient, durable, and reliable software solutions.
Ukraine has one of the largest numbers of developers in all of Eastern Europe and doesn't experience any shortage of specialists. This is an important factor, as it allows you to be flexible in terms of team expansion and technology availability.
If you're looking for an Eastern European company to outsource your web or mobile project to, look no further and contact us with your idea.
Software outsourcing to Ukraine
Are you looking for a team of skilled tech experts? We go beyond that by putting emphasis on your business objectives, target audience, and market trends!
Frequently Asked Questions
Eastern Europe is a popular destination for IT outsourcing for several reasons:
Highly skilled workforce
Competitive pricing
Proximity to Western Europe
Cultural compatibility
Strong data protection law
Ukraine is a rising star in the world of IT outsourcing, with a growing reputation for excellence in software development and engineering. The country has more than 200,000 software developers, with a significant portion of them working for companies that provide outsourcing services. The country is home to numerous IT companies, including some of the world's leading tech giants.
One of the reasons Ukraine is a great destination for IT outsourcing is the country's strong engineering school. Ukrainian universities offer world-class computer science and engineering programs, producing highly skilled and educated professionals who are in high demand in the IT industry.
Ukraine offers cultural compatibility and language proficiency, with many IT professionals speaking English fluently. This makes communication and collaboration easier, leading to better project outcomes and faster delivery times.
Ukraine's highly skilled IT professionals, strong engineering school, competitive pricing, cultural compatibility, and favorable business environment make it a great destination for IT outsourcing.
Yes, we're proud to be Ukrainian. We have offices in several Ukrainian cities, and an office in Estonia.
Rate the article!
🌕 Cool!
🌖 Good
🌗 So-so
🌘 Meh
🌑 …