Where to Outsource Software Development in 2023: Top Destinations
Outsourcing software development is no longer a trend; it is a proven strategy to optimize costs and reach a wider pool of professionals. A skilled, dedicated team can be ideal for both a new startup and a finished product. And you might be wondering which countries are the best for outsourcing software development to.
Cost optimization is considered one of the main advantages of outsourcing software development. Other advantages include access to a large pool of experts, flexibility, time savings, and the fact that management of outsourced software development is simplified by, among other things, cloud technology and project management tools.
Criteria for choosing an outsourcing software development company
How should you choose a software provider? This question worries anyone who is looking for a business partner for the first time or who has had a negative experience with outsourcing in the past. Some people prioritize attractive developer rates and end up with substandard software.
Others choose companies that cannot fully meet their needs. To help you, we have compiled a list of the main factors to consider when choosing a software development partner. Keep in mind that they may be priced differently for each project depending on your goals and the resources available.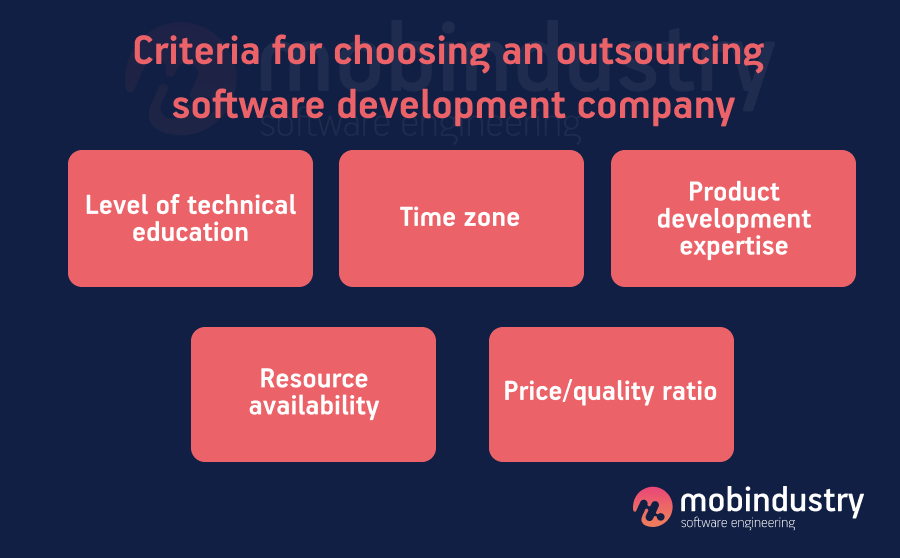 Level of technical education
Everyone needs high-quality software products, and only experienced specialists can create such software. Turning to outsourcing, you have the opportunity to choose a company from anywhere in the world. You should take into account regional differences and the level of technical training of specialists in the country you intend to outsource to. Be sure to study both the general level of education in the region and the expertise of a particular company.
Time zone
Even if you're delegating software development, you will need to interact with a remote team, and a small problem such as a time difference could one day become a major problem. Therefore, we advise you to consider an outsourcing service provider in a time zone that allows at least part of your working hours to overlap. This will enable you to quickly resolve questions and effectively interact with each other.
Product development expertise
There are many software development companies, and each has a different specialization. You need to know what technologies developers are working with and whether they are familiar with popular programming languages that can be used in your project.
If you're planning to implement blockchain, artificial intelligence, or other advanced technologies, make sure the company you choose has relevant experience. For example, if you want to create a mobile app for the App Store, you need a company with in-house Swift developers who have experience building apps that meet Apple's requirements.
Resource availability
The availability of company resources is also an important criterion when choosing an outsourcing partner. Make sure that the company you intend to work with has all the necessary specialists to solve your problems and that you won't have to wait for a developer to be free or for the company to hire a DevOps specialist, for instance.
Also, partnering with a full service company can save you time and money. For example, Mobindustry has a staff of experts to help you with all your software development tasks, from business analysis and design to programming, testing, and support.
Price/quality ratio
While the main benefit of outsourcing is cost savings, you shouldn't focus on costs alone. Many people think that all software companies can provide the same services, the only difference being in rates and branding. However, this is far from the case. Companies differ in their knowledge and experience, and they provide different qualities of service.
Your task is to find the best price/quality ratio. In this context, you should be guided not only by general information about the work of the company but also by whether it meets the requirements of your specific project. Determine some acceptance criteria that affect your product's quality, then select an outsourcing partner based on them.
Top software outsourcing destinations
Let's take a closer look at each region's IT environment to determine the best countries to outsource software development to.
Europe
Although Europe is one of the main consumers of IT outsourcing services, it is also a popular outsourcing destination. The cost of developers in Western Europe and Eastern Europe is very different. Many entrepreneurs from Germany and Great Britain, for example, outsource software development to their colleagues in Eastern and Central Europe. According to the State of European Tech 2019 report, Europe has 6.1 million developers.
According to statistics, the most popular outsourcing destinations in Europe are Poland, Ukraine, Romania, the Czech Republic, Hungary, Bulgaria, Belarus, and Croatia.
Ukraine
Ukraine is a world-renowned country for software development outsourcing. Companies including Grammarly and DepositPhotos have been created by Ukrainian engineers. In addition, such international giants as Oracle and Google have opened R&D centers in Ukraine. According to a 2019 IT sector report, Ukraine is the largest exporter of IT services in Europe.
The information technology market in Ukraine is constantly growing, and this is not surprising. About 39 technical universities in Ukraine annually graduate about 30,000 technical specialists. And the IT market has good government support. In total, according to Escadra, about 200,000 IT specialists work in Ukraine.
You can find a specialist in any technology and with any level of experience in Ukraine. Plus, compared to the US and Western Europe, Ukrainian developers charge affordable hourly rates.
A convenient time zone, an open culture, and a high degree of professionalism make Ukraine one of the leading countries for software outsourcing.
Ukrainian software and IT companies follow global trends and, as a rule, focus on the development of leading technologies. In Ukraine, you can find development teams with great interest in big data and AI, mobile app development services, blockchains, and cryptocurrency projects.
In addition, Ukraine has more senior developers than middle and junior developers. This high level of expertise allows outsourcing companies to contribute to the success of projects for leading FinTech companies.
Ukraine is also ranked as one of the best web development outsourcing countries. Ukrainian developers have strong frontend skills and work with Java, Ruby, and PHP.
Romania
Romania offers its citizens access to free education which has resulted in one of the most diverse technology scenes in Europe. Romanian developers ranked 20th in the world in all HackerRank programming tests.
Romania has invested heavily in its IT infrastructure over the past several years. The country also offers other key benefits for employers in Western Europe and North America, including a significant overlap in working hours with Western Europe and even some US time zones.
Poland
The software development market in Poland is well developed. International companies are happy to open their R&D centers there, as Google, IBM, and Motorola have done. The total number of IT professionals in Poland is 295,300, and about 70,000 students study computer science every year. Although the software development market in Poland does not have such an impressive growth rate as in Ukraine, it continues to develop and, according to Statista, is expected to reach $2,834.2 million by 2021.
Although the cost of development in Poland is not the lowest, it is still relatively low compared to Germany, Great Britain, and the United States. In addition, the country has a convenient geographical position in the center of Europe. A favorable political environment, a strong economy, and highly qualified technical resources contribute to Poland's success in the software development outsourcing market.
Poland stands out for its high standards of quality and usability. PHP is the most commonly used programming language in Poland, while Java and .NET are also widely used. According to customer reviews, Polish software engineers demonstrate a good work ethic and minimal cultural differences.
Hungary
The pool of IT specialists in Hungary is not as large as in Ukraine or Poland at only 80,000 specialists. However, Hungary is popular for research and development centers due to its favorable business environment. According to statistics, most of the income from the technology industry in Hungary is received by enterprises controlled from abroad.
IT outsourcing in Hungary is popular for several reasons. First, Hungary is a member of the European Union, which means that its services are in line with European standards.
Second, Hungary provides high-quality software development services and has a stable market. However, in a sense, the country's IT market has reached its maximum.
If you are looking for a long-term partnership and an active community, Ukraine has more potential.
Asia
The Asian market has over 10 million software developers. First of all, the region is known for relatively low development rates, which does not always mean low quality. Software and technology consulting services is one of the fastest-growing markets in Asia.
Given the innovative business environment, this is not surprising. Asia is home to many technology startups. According to McKinsey, in April 2019, Asia had roughly more than one-third (119) of the world's 331 unicorns (startups worth over $1 billion). India, the Philippines, and China are the main players in the Asian outsourcing market.
The Philippines
According to the Philippine Software Industry Association, the Philippines currently has over 190,000 technicians, and this number is expected to reach 210,000 by 2022. One of the main benefits of working with the Philippines for companies in Western countries is that English is the official language.
Moreover, due to the country's history, Filipino culture shares a lot in common with Western culture. This will make your communication easier. You can consider the Philippines as one of the best software outsourcing destinations.
India
According to ResearchAndMarkets, the IT outsourcing market in India was estimated at INR 5,649.47 billion in 2019 and is estimated to reach INR 8,830.14 billion by 2025. Key industries within which Indian IT outsourcing companies work include banking, financial services, insurance, telecommunications, manufacturing, and healthcare. The undoubted advantage of outsourcing to India is the slow pace of development, but many companies are faced with cultural and linguistic barriers.
Latin America
Latin America is a popular outsourcing destination, mainly for North American companies, due to small or even no time differences, close proximity, strong English skills, and relatively slow development. Argentina, Brazil, and Mexico are the most popular software development outsourcing countries in Latin America. Let's take a closer look at each of them.
Argentina
Argentina has a pool of approximately 139,000 software developers. The country's education system is focused on computer science, which means that in the near future even more qualified developers will enter the market.
Argentina invests heavily in education and is taking steps to include computer education in all school curricula. Statistics show that 70% of Argentinian university students combine study with work, and it is relatively easy to find competent employees in any field.
Developing software and mobile devices, transferring data to the cloud, and integrating DevOps practice are the main activities of Argentine engineers. However, keep in mind that Argentina is developing and remains a rather unstable economic environment, which can cause certain difficulties. For example, laws regarding the entry of foreign businesses are often unreliable.
Brazil
The Brazilian IT market has grown significantly over the past few years. Brazil has the largest number of developers of any Latin American country today. Many American companies choose to hire Brazilian specialists because they are highly skilled and well educated. There are about 1,714 technical and continuing education courses in information technology in Brazil, with 100,000 people taking them each year.
Mexico
Mexico is another popular software outsourcing destination. In response to market demand, the Mexican government is modernizing the country's education system to replenish its workforce with well-educated professionals. Currently, there are about 223,398 software developers working in Mexico. In the SkillValue rankings, Mexico ranked second place for having the best engineers in the world in terms of value for money.
Final thoughts
Now that you've learned more about the best software outsourcing destinations, let's try to figure out which country is the best to outsource to. According to the latest skill value report based on technical scores of +550, the five countries with the best developers in the world in terms of value for money are Slovakia, Mexico, Poland, Hungary, and Ukraine.
When choosing a software development partner, you must consider factors that are critical to your particular project. For US companies, for example, Mexico can be a great option because of its geographic location, especially if you want to actively participate in the development process or are looking for experts to expand your internal team.
At the same time, you will find lower rates in Eastern Europe. Not surprisingly, many companies choose Ukraine as the best country for software development outsourcing.
If you want to outsource software development but don't know where to start, contact Mobindustry for a free consultation.
Frequently Asked Questions
To help you, we have compiled a list of the main factors to consider when choosing a software development partner:
Level of technical education
Time zone
Product development expertise
Resource availability
Price/quality ratio
Ukraine
Romania
Poland
Hungary
Rate the article!
🌕 Cool!
🌖 Good
🌗 So-so
🌘 Meh
🌑 …