10 Best Project Management Software Tools for Managing External IT Teams
In this article, we talk about the importance of project management software tools for managing external IT teams. And also provide you with a list of ten best project management tools.
What is project management software?
Project management software helps project managers (PMs) plan, execute, and control their projects through all stages of the project lifecycle. It contains tools that help project managers, project teams, and stakeholders work together effectively. The ultimate goal of this software is to facilitate efficient value delivery by improving organization, communication, and project management.
Project management software covers a huge range of functions. Some project management tools focus on specific aspects of project management like resource management, time tracking, or Gantt charts, while others try to do it all.
Various tools offer features to make every step of your job easier, from creating an initial plan or proposal before you get started to communicating your successes and shortcomings after all is said and done. The best project management software will meet most of these needs so you don't have to switch between tabs or use multiple applications.
Mobile and Web Development
Are you planning to expand your business online? We will translate your ideas into intelligent and powerful solutions.
Benefits of software development management tools
Promote a clear understanding of requirements and goals
External development teams need to be aware of project requirements. But the scope of work can be extensive, and requirements change over time.
To keep each goal clear, it's important to use task management tools. This way, the project manager and team members will always be on the same page. In management software, each task has a description, schedule, and instructions. This software is something like an informative, logical, and structured to-do list.
Increase transparency and accountability
Project management software for developers makes your work environment transparent. This will make team members equal, and their task lists will be visible to everyone. Each developer from the external development team will be able to report the status of their problem. This indicates a good process of accountability and aims to keep employees accountable for the project's progress and success. On the other hand, with project management software, managers receive these task reports fast.
Keep the team organized and on the same page
There's no point in manually managing a team when project requirements change. Doing so is tedious and requires a lot of attention to detail.
Software development project management tools show project changes to an external development team. They also show that the project manager can solve any problems that arise on the spot. With project management software, everyone will be aware of project progress and customer feedback.
5 steps to choose the best project management tool
1. Define your needs
First, you need to identify problems in your current workflow. It's also important to consider the company as a whole, as a project management tool must be cross-functional in order to expand to the organizational level. At the end of the day, it would be a headache to collaborate with different departments using completely different project management software.
With this in mind, you need to consider your company's culture and your organization's project management methodology. You want your project management tool to fit seamlessly into your organizational structure.
2. Put together an evaluation team
When you get to this stage, it's important to organize a team that can represent multiple organizational functions for the best impact. For example, the sales department will use a project management tool in a completely different way than the marketing department. In addition, managers may be interested in higher-level views, while specialists need to navigate the details of a project. Good project management tools offer this flexibility.
Then, you need to create standards of evaluation. It's difficult to judge the effectiveness of a tool if everyone has a different vocabulary. Finally, make a list of the best tools to promote your business.
Mobile and Web Development
Are you planning to expand your business online? We will translate your ideas into intelligent and powerful solutions.
3. Test the tool
Having decided which project management tool or tools to test, it's time to test them. Set a time frame during which you will use each tool to its fullest. It's time to see if a particular project management tool suits your needs.
4.Implement the tool
Now you can stick to your schedule and make a plan. When do you want to attract everyone? How much training will your team members need and who will provide it to get the most out of your project management tool?
5. Review and iterate
After implementation, you should analyze the impact of the chosen tool on your organization. Did it really meet the needs you intended to satisfy? Get feedback from your team after everyone is trained. Is there anything you need to improve?
Project management tool features
To help you out, here is a list of six essential project management tool features that you simply cannot live without to launch a successful project.
1. Kanban board
Kanban boards are workspaces to visualize your project and are useful for successful project management. A Kanban board uses a simple board and card system that allows each team member to see not only individual tasks but also the overall picture of the team's activities.
Originally created by Toyota Motors for its manufacturing facilities, Kanban has been adapted and used in many sectors over the past several decades. A Kanban board can reside in physical spaces such as on a whiteboard, or it can exist in a digital space within Kanban software.
2. Task management
A project is a set of tasks that must be completed in order to achieve a goal. Some of these tasks are sequential or mutually dependent. Some can be done at the same time. Each task should be assigned to a person or people on the project team. The more complex the project, the more tasks it includes. Task management is an important part of project management, and it's important to have tools to help you manage tasks effectively.
3. To-do lists
As simple as it is, a to-do list helps you and your team get the job done. Of course, it's much more efficient to keep your to-do list in a central, visible place that everyone on the team can easily access. Good project management software should include a to-do list so each team member can check and see what has been done and what remains to be done.
4. Time tracker
Every aspect of your project takes time, but when you come to the end it can sometimes be difficult to know who spent how much time on a task. The situation gets more complicated if you're preparing for a similar project. You may feel like you need to know how much time to set aside for each task and phase of the project, but if your team was unable to keep track of their time before, it's like a guessing game. A good time tracker aids in accurate billing, insightful team management, and careful planning.
Mobile and Web Development
Are you planning to expand your business online? We will translate your ideas into intelligent and powerful solutions.
5. Collaboration
Whether you have a team of 2, 20, or 200, collaboration is vital to successful project completion. A good project management system needs to include strong collaboration features so team members can communicate and work well together, whether in the office or around the world. Good tools for collaborating on projects include real-time updates, communication, and automatic notifications.
6. Integration
Projects have many moving parts. You need to know how one variable affects others when something is changing. In other words, look for features that will help you analyze trade-offs and how resource allocation affects the overall project timeline.
7. Detailed reporting
Reports are the best way to get a strategic overview of project health. Specifically, you need to know how things are going at the end of each week or month. Also, it's worth looking at software that consolidates all information related to schedule, cost, team productivity, and resource usability into a structured document.
A good online project management tool lets you create project reports that give you and your team insights into project completion, budget status, inefficiencies, and more. Many project management software tools come with standard reporting functionality. It's even more helpful when you can customize these reports for your project.
10 best project management software tools for managing external IT teams
#1 Trello
Trello is a visualized task tracker that allows you to track ideas from day one through implementation. Trello can be of great help in managing a team's to-do list, and its user interface is easy to use. However, among its shortcomings are a lack of Gantt charts and rather limited calendar integration. You can use Trello for free or get a premium subscription for $5 or $17.50 per user per month.
Things you can do in Trello:
Create unlimited tasks
Focus on specific tasks (date, A to Z list, importance)
Personalize your Kanban boards
Manage every task on cardboard
Share ideas, files, and images with colleagues
Pros
Simple and user-friendly interface
Easy task management and scheduling
Useful bonuses for additional functionality
Cons
No views other than Kanban
No reporting features
Cannot manage complex projects
Functionality depends on external integrations
No additional features like built-in smart cards, documents, and Gantt charts
#2 Jira
Jira is a flexible, easy-to-use cross-platform management tool for tracking the progress of tasks as well as for tracking bugs. Using Jira, you can:
Create user stories
Solve problems
Distribute tasks between teams and evaluate them
Plan your iterations
Create your own Scrum or Kanban boards
Track project performance
In addition, Jira has advanced features and API integration. It's always free for up to ten users a month. Standard, Premium, and Enterprise subscriptions are also available. A Standard 10-user package will cost you $70 a month. The Premium package for 10 users costs $140 per month, and the Enterprise package for over 800 users is billed annually.
Pros
Supports roadmap requirements
Great for Agile
Available integrations
Highly customizable
For different types of users
Cons
Not the best mobile app
Complex integration and migration
Reports are not reusable
Limited file size upload
Confusing UI
#3 Wrike
Wrike is award-winning project management software suitable for teams of five or more as it allows an unlimited number of users. The tool allows users to customize workflows, dashboards, reports, and request forms.
Wrike's simple interface allows users to switch between Kanban boards, interactive drag-and-drop Gantt charts, and traditional workload views, allowing them to choose how to visualize their priorities. Wrike also includes to-do lists, sub-tasks, schedules, shared workflows, file sharing, and real-time communication and collaboration. Users can gain an expanded view of their project with performance reports, management and resource allocation tools, and more.
Wrike has an easy to use, intuitive interface and navigation with separate spaces, folders, and tasks. You can switch between the home screen and schedules, dashboards, calendars, reports, and a stream for notifications and messages. There's also a dedicated help center with online tutorials, videos, getting started guides, and a thriving community.
Wrike offers a number of specific solutions for different types of teams or organizations, including marketing and professional service teams. Users can also try different templates for common organizational processes.
Wrike offers over 400 built-in integrations, including for the most popular file management software from Microsoft, Google, and Dropbox as well as sales and marketing software from Salesforce and Marketo.
Pricing starts at $9.80 per user per month. There are four different pricing tiers, including a free version and plans that offer the ability to invite free external collaborators to a paid account.
Pros
Different ways to view the same data
Comprehensive end-to-end task modeling
Many possibilities for customization
Cons
Freemium plan has no subtasks
No offline access
Commenting system is pretty simple
#4 ClickUp
ClickUp is a project management software tool with powerful features for managing and executing all of your team's projects on one platform. Users can schedule projects and tasks, manage resources in a centralized workspace, and communicate and collaborate with team members and guests.
Task management features include task checklists, subtasks and task templates, as well as the ability to filter, sort, search, easily reorder, and view tasks in the way that's most convenient for the group. Users can also create Gantt charts, calendars, and timelines for visualizing tasks.
ClickUp also includes features for creating, sharing, and co-editing wiki pages and documents. Users can comment on documents and tasks, assign comments, and interact with other team members to improve communication and collaboration. Reporting features include the ability to create custom dashboards as well as six built-in report types for group reporting.
ClickUp offers built-in integrations with Slack, G Suite, Dropbox, and many more tools as well as over 1000 integrations through Zapier.
The free ClickUp plan is reliable and includes all basic features. The Unlimited plan starts at $5 per user per month and offers additional features.
Pros
Free plan allows unlimited members
Unlimited file storage at all paid account tiers
You can send (create) a task by email directly from Outlook
Cons
Read-only permissions are only available for paid accounts
Report pack limited to paid plans only
Detailed customization takes time
#5 Zoho Projects
Zoho Projects is award-winning collaboration and project management software from Zoho. It offers flexibility and customization to suit the needs of traditional project managers as well as Agile teams. With a simple Gantt chart generator and Kanban-style task management combined with high-level features such as resource use charts, critical path, baselines, and automation features, Zoho Projects offers a complete and unique experience for teams of all sizes.
All aspects of the user interface, from theme colors to the location and visibility of various modules, can be changed according to the user's preference. By converting projects to templates, users can reuse previously created deadlines and assignees for future projects. Zoho Projects also offers its customers a free connection, free support, and a comprehensive online reference guide.
Zoho Projects excels when multiple engines are involved. It is especially popular with IT companies, consultants, and educational organizations. With Blueprints, users can create and automate workflows, notifications, and escalations. This tool is used by over three million users and hundreds of major brands around the world.
Within the Zoho ecosystem, Projects can connect to multiple proprietary Zoho services such as Zoho Books, Zoho CRM, and the Zoho Finance suite.
Zoho's new Marketplace also allows third-party integrations. Zoho Projects starts at $4 per user per month (billed annually) and comes with a 10-day free trial. A free version is available for three users and two projects.
Pros
Unlimited number of projects
Simple workflow automation
Reliable communication functions
Simultaneous tracking of multiple tasks
Cons
Doesn't integrate with Quickbooks
Some reporting features are missing
Lack of options for export file types
#6 Forecast
Forecast is a one-stop resource and project management platform used by software and consulting companies in over 40 countries. It is equipped with tools to manage everything from quotes to invoices, and it also offers intelligent automation to predict project timelines, predict capacity needs, and improve efficiency. The Forecast AI leverages expertise gained from hundreds of thousands of projects and creates rules based on this user data.
Automatic scheduling in Forecast is great for scheduling projects, providing estimates, and automatically allocating resources to tasks. Forecast has a drag-and-drop module that allows you to instantly adjust plans and resources. Another cool feature is that Forecast automatically creates a budget for each project with key financial metrics to track planned and actual data.
It also supports various types of invoicing (fixed price, time and materials) simultaneously and in real time, and you can customize the most recent reports.
Forecast also has a unique feature for managing projects on an ongoing basis. A dashboard with fixed periods and totals allows you to track the financial performance of ongoing projects without losing sight of the staff workload and the time it takes to complete work.
Forecast includes multiple turnkey integrations with major project management tools and two-way sync with Jira in the marketplace. It also complements accounting systems like Quickbooks and Xero with PM capabilities. Forecast starts at $31.76 per user per month (€27 per user per month) with a minimum requirement of 10 seats. They offer a 14-day free trial.
Pros
Predictive tasks for spreadsheets
Can manage resources across multiple projects
Easy to plan projects and timelines
Cons
Milestones are grouped together, not separated
Additional adaptation / training fee
Steep learning curve
#7 Asana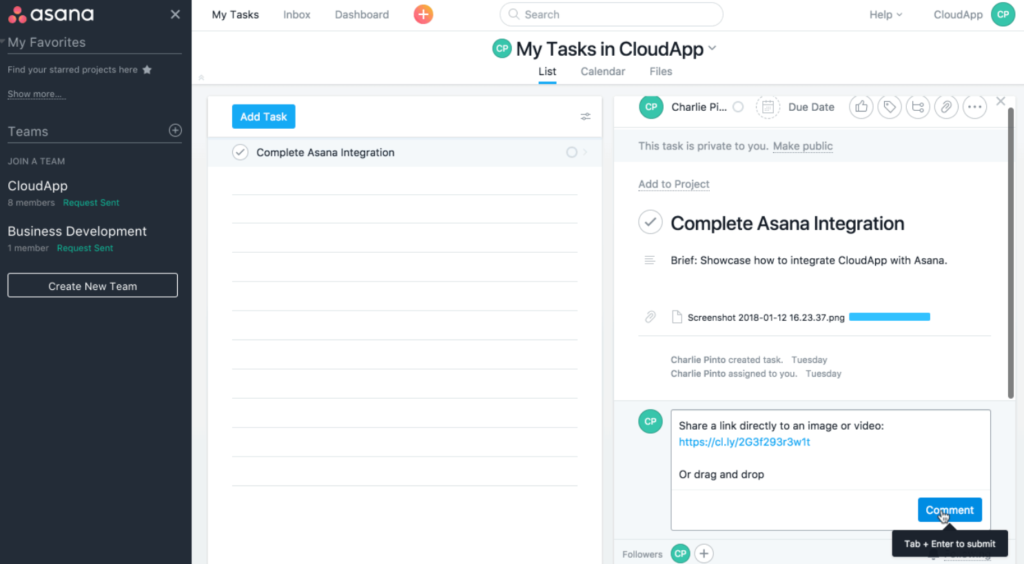 Asana is a flexible collaboration-oriented Saas project management tool with workflows that automate repetitive tasks. It is intuitive, with a variety of task displays, and it supports custom fields and forms. You can even invite unlimited guests, and there are options for creating custom rules and approval workflows.
Asana offers many opportunities for productivity and collaboration, while many of the core project management features are implemented through integrations that may not be suitable for all users. This is good for big businesses, but it's not ideal for freelancers. Some users feel that Asana's interface is too simple and the system is too rigid, but it has powerful task management and collaboration features. If your style of organizing software projects matches well with Asana, you'll love this tool.
The free Asana plan is for up to 15 users. You can use it to manage tasks by viewing them in lists, calendars, and Kanban boards. The Premium plan costs $10.99 per user per month and supports charts, reports, custom fields, automation rules, and more.
The Business plan offers many additional features such as approvals, portfolios, rule builders, workload, and advanced integration that are not available in other plans.
It is priced at $24.99 per user per month when billed annually.
Pros
Project schedule for easy workflow management
Tons of useful integrations
Drag-and-drop functionality for task management
Cons
Limited features in the free version
Difficult for project team members to work together on a plan
Not designed for heavy project management
#8 Monday.com
Monday.com combines a visually appealing interface and helpful project visualization tools in intuitive and easy-to-use project management software. This software is flexible and offers a transparent way to organize your work. There are project templates at the top from which you can create your own boards, and there are many display options available, such as map view and calendar view.
One common reason for customer dissatisfaction with Monday.com is the lack of repetitive tasks. Some users also find it difficult to navigate the mobile application.
Additionally, Monday.com's pricing is complex. There is no freemium plan, and you will have to spend time researching the number of users and the automation and integration steps you will need each month. Paid plans start at $39 per month for five users.
Pros
Open API architecture allows you to add custom integrations
Detailed reporting capabilities
Ability to add freelancers and third-party agents
Cons
No free plan
Mobile apps need work
#9 Kissflow Project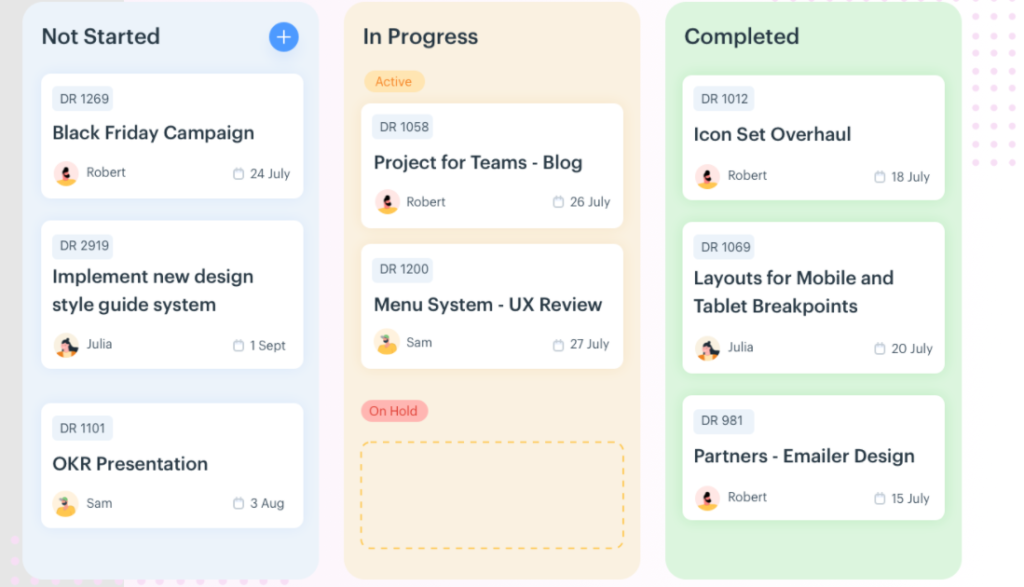 Kissflow Project is a collaborative project management tool focused on collaboration, transparency, coordination, and productivity. Its tracking features have been simplified to provide a clearer view of the items and tasks that really matter.
The customizable Kissflow Project platform gives you complete control and adapts to your team's needs. It offers multiple views for projects including Kanban boards, list views, and tracks. The project states feature helps users reduce the amount of tracking they need to do by allowing team members to mark tasks with one of three statuses: suspended, in progress, or completed.
Kissflow Project allows users to exchange project plans, documents, and other files and to discuss projects directly in the software. Team members also receive reminders when deadlines are approaching. Another great feature is the ability to assign priorities to team members.
Kissflow includes built-in Microsoft and G Suite integrations, and the platform offers REST APIs and webhooks.
Pricing for Kissflow Project starts at $35 per month.
Pros
Multiple views such as Kanban, Lists, and Tracks
Waiting and running states are available to track progress
Powerful reporting features
Cons
No Gantt charts
No way to set up recurring tasks
Not designed for complex projects
#10 Xebrio
Xebrio project management software covers all stages of the project development lifecycle from project requirements analysis to deployment. Xebrio helps teams by providing accurate and comprehensive requirements analysis and tracking, milestone tracking, seamless collaboration and task assignment, and issue tracking.
Xebrio breaks down complex large-scale projects into smaller, manageable pieces. This project management software provides a clear understanding of product requirements and user stories; allows all stakeholders to participate in high-level planning; allows you to quickly manage and assign tasks; enables you to easily communicate and collaborate, track issues, and plan sprints and releases; and lets you closely follow time and budget constraints.
Notable features include approval workflows, requirements tracking, Kanban boards, task lists, file sharing, milestone tracking, and software development project management solutions (QA integration; interconnected test builds, test cases, and test plans; integration and deployment metrics). Xebrio starts at $7 per user per month and comes with a 30-day free trial.
Pros
In-app discussions, file sharing, and messaging
Easily provide viewing access to stakeholders
Affordable entry-level plan
End-to-end requirements traceability
Cons
No free plan available
Plans / packages not listed on site
Focus on software developer features
Final thoughts
When it comes to choosing the perfect project management platform, no software is better or worse. It all depends on the requirements of your business, the metrics you use, your budget, and other considerations.
If you want to use a project management tool for managing external IT teams but don't know where to start, contact Mobindustry for a free consultation.
Mobile and Web Development
Are you planning to expand your business online? We will translate your ideas into intelligent and powerful solutions.
Frequently Asked Questions
Project management software helps project managers (PMs) plan, execute, and control their projects through all stages of the project lifecycle. It contains tools that help project managers, project teams, and stakeholders work together effectively. The ultimate goal of this software is to facilitate efficient value delivery by improving organization, communication, and project management.
Promote a clear understanding of requirements and goals
Increase transparency and accountability
Keep the team organized and on the same page
Rate the article!
🌕 Cool!
🌖 Good
🌗 So-so
🌘 Meh
🌑 …