5 Best Types of Agricultural Mobile Apps to Consider for Your Agribusiness
Modern agriculture faces lots of challenges including soil degradation, pollution, lack of resources, emissions, and excessive water consumption. As civilization evolves, the main industry that feeds it should evolve too. Cloud-based technology and mobile devices will become the center of this global change.
If you're wondering if it's possible to create a mobile app for that one specific issue you need to tackle to make your agribusiness thrive, we guarantee you that it's absolutely achievable. Today, there are hundreds of applications for agriculture that solve problems and help producers, distributors, farmers, and big agricultural companies gather valuable data, manage crops, observe fields from above, and create smart strategies for optimizing their processes. If you're thinking about agriculture app development, this article is for you.
Though technology is already being used to solve lots of issues that arise for anyone involved in agribusiness, there are still tons of things to be done. Data from Statista shows the rapid growth in market value of smart agriculture solutions: by 2025, different IoT devices, drones, and software for them is projected to be worth over $15 million.
In this article, we explore how mobile technologies can help different members of the agricultural sector to increase profits and apply a smart approach to different parts of the food production chain:
Agrichemicals
Breeding
Crop production (farming)
Distribution
Farm machinery
Processing
Seed supply
Marketing and retail sales
First, we'll explore what types of mobile apps for farming can bring profit to people engaged in agriculture, then we'll talk about trends in agricultural app development.
1. Mobile app for smallholder farmers
Farmers in developing countries are actively adopting smartphones, and this gives room for mobile applications that can meet their needs. In recent years, lots of applications have appeared for individual farmers. However, the demand is far from satisfied. Let's find out what goals an agriculture app can help a smallholder farmer fulfill.
If you're out of context, it's extremely hard to create an app that will bring value to farmers.
There are dozens of big and small issues that a farmer mobile app helps tackle. There are four key ways that mobile applications can be useful.
Goals and solutions
There are dozens of big and small issues a mobile app for a farmer can tackle. All of them fall into four major domains where mobile applications can become particularly useful.
1. Providing information
A mobile application can provide farmers with valuable information that can help them improve their planting, cultivating, and harvesting. This information may include agricultural best practices, weather forecasts, and data on disease epidemics. Such applications can also train new farmers and allow experienced farmers to apply new methods.
2. Offering financial services
Financial services include payments, loans, and general banking services. An app can also let a farmer choose an insurance plan and pay for it directly from the app.
3. Providing access to input markets
Inputs include all products a farmer needs for farm operations, such as:
Seeds
Fertilisers
Pesticides
Irrigation system
Electricity
Workers
An application can become a marketplace where a farmer can find all necessary products and compare their prices.
4. Providing access to output markets
Selling is another challenge for any farmer. If you want to close the gap between farmers and potential buyers, you can create a mobile application that helps farmers by providing information on prices, marketplaces, and next links in the big supply chain.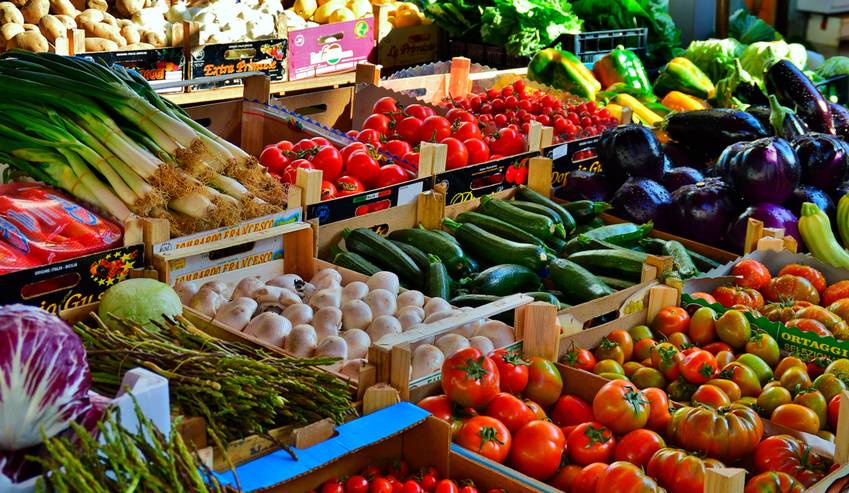 This means creating a whole marketplace for farmers where they'll be able to compare and control market prices for different products and also get more opportunities to promote and market themselves.
Agriculture | Farming App Development
Are you planning to expand your business online? We will translate your ideas into intelligent and powerful agricultural solutions.
Challenges
A real challenge of creating a mobile application for farmers is context. If you're out of context, it's extremely hard to create an app that will bring value to farmers. Currently, there are many apps for smallholder farmers, but many struggles to scale and reach financial sustainability.
The main reason is a lack of context and understanding of what farmers really need for their work. To solve this issue, it's best to thoroughly learn the market you want to create your app for. The perfect case is when app creators belong to these farming communities themselves.
Digital technologies in agriculture
Here're the main digital technologies in agriculture.
Field Monitoring
Data Management
Variable Rate Applications (VRA)
Automation In Agro Machinery
Countries with digital strategies affecting the agri-food sector
Best agriculture apps
Agronote. It's one of the best apps for farm management. Agronote is for recordkeeping of expenses, income, livestock, and machinery procedures.
AkerScout. It's an app for the farm market, it helps identify and prioritize crop damage to address problem areas needing immediate attention.
Bushel. The app platform integrates into grain elevators' accounting systems and provides growers access to their contracts, scale tickets, prepays, cash bids, and markets.
Crop Nutrient Advisor. The app allows agricultural producers to identify crop nutrient deficiencies, and get product recommendations; check spray tank compatibility, and more.
CropRecords. The app lets users create jobs for spraying, seeding, fieldwork, and harvesting, and track them.
2. Mobile solution for a large agriculture enterprise
Large agricultural enterprises need full-fledged apps for internal management and control. A cloud-based approach is the best option for this, as many people should have access to information that changes dynamically.
Goals and solutions
Mobile solutions for large agribusinesses can serve different goals:
Instruction and knowledge
Сrop storage monitoring
Updating certification status
Analyzing the current harvest progress and comparing it to previous
Managing and tracking field staff
Monitoring fields, crops, and soil
Adjusting strategy to weather conditions
Planning and estimating harvest
As you can see, by uniting a mobile app with a web application and a common database, you can digitize the whole enterprise and automate most processes that now require lengthy data collection and analysis.
Large agricultural enterprises are usually cloud-based and omnichannel, meaning that information is shared across platforms: web, mobile, and tablet.
Large agribusinesses need mobile applications to coordinate all their processes and guide people who work in the field. As with apps for smallholder farmers, it's very important to ensure offline logic in these apps.
Challenges
Though the omnichannel approach promises automation of many time-consuming processes and coordinates staff, it can be a challenge to set up this whole system. An omnichannel app requires a well-thought-out architecture and can take lots of time and examining your business needs to set it up.
3. Mobile marketplace for producers and distributors
Producers of agricultural equipment and supplies can get more farmers and enterprises to partner with them by offering a mobile marketplace for their products.
Goals and solutions
Currently, it takes farmers too much time and effort to get information on available products. Here is how it usually happens:
A producer gets a request from the farmer about certain products.
The producer sends the farmer a spreadsheet with all supplies that are currently available and their current prices.
The farmer examines it, chooses products, and sends back a list with all the needed supplies and their quantities.
This all happens via email and takes lots of time, not to mention it's simply inconvenient. How can a mobile app make this process faster?
It's simple: a mobile marketplace for farming products, seeds, crops, and equipment will immediately show your customer's current prices and allow them to choose products right away without needing to contact you first.
Other benefits include:
Fewer steps in the sales funnel, meaning more conversions
Real-time information on the price of supplies in different markets for farmers
Knowledge sharing and cooperation
Agriculture | Farming App Development
Are you planning to expand your business online? We will translate your ideas into intelligent and powerful agricultural solutions.
4. Mobile app for distributors
A mobile app for distributors will provide similar benefits to a mobile app for producers, but will require a few other features.
As distributors work with different producers of products for farmers and agricultural enterprises, they need a CRM system to optimize the sales pipeline. A CRM system helps to:
Process the orders
Optimize the sales funnel
Manage customer support
Organize marketing campaigns
Basically, a mobile app can connect to your CRM system and send all information from every client to one place.
Notifications and alerts are necessary for distributor apps as well: an app can notify a salesperson about a confirmed order or remind them of a meeting with a customer.
5. IoT mobile app
An IoT application in the agricultural context usually means a mobile application that connects to drones and sensors on agricultural machinery. IoT is a technology that's key to precision farming, a farming strategy that focuses on observing and measuring specific crops and then responding to this data. A farm planning app uses mobile technologies to make the most out of resources.
Precision agriculture is made possible mostly with the help of two technologies: IoT and big data. This allows farmers and enterprises to get high-quality agronomic insights and analytics they can use to decide on their next steps.
Agriculture is the biggest industry that uses drones for soil and field analysis as well as for crop monitoring, assessment, irrigation, spraying, and planting.
Сonnecting drones to mobile devices allows you to control drones in the field and immediately see the data that drones collect.
Other IoT applications can be explained by analogy with a smart home. Just like you can turn on the kitchen lights or connect to your smart fridge with your phone, with agricultural IoT you can control devices in your water supply system or greenhouse and also get information on temperature, humidity and pressure.
IoT is the future of smart agriculture. It will help us reduce waste and provide meaningful data for both individual farmers and big enterprises.
Conclusion
The potential of mobile technology for farming is huge, and the demand for food by a growing population is pushing the whole agricultural sector towards adopting mobile tech, Big data, and IoT.
Mobile apps for agriculture are a great option as they give farmers an opportunity to work in the field more effectively. Countries with the biggest agricultural sectors in the world, including China, the US, Ukraine, India, and a large number of African countries are adopting mobile technology for use in farming.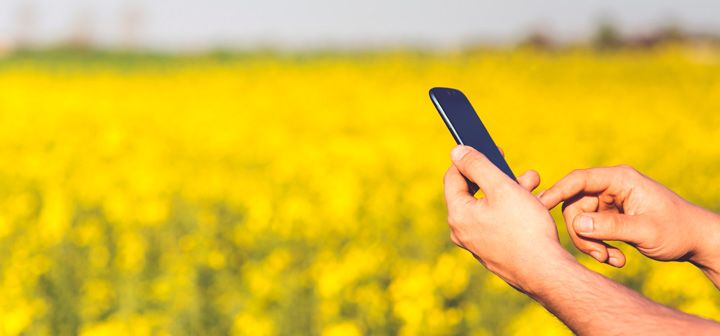 If you want to create a mobile application for individual farmers, for big agribusinesses, for distributors, or for producers of agricultural equipment, be sure to conduct thorough market research and create a mobile application for devices typical for specific countries.
Note that apps for tablets are the most convenient for farmers and distributors.
Contact Mobindustry if you have an idea for an agriculture application. We have experience creating apps for tablets and using IoT technologies to meet specific business needs.
Get an example of the Discovery Phase documentation for your digital project
Get our exclusive materials on software development for business
Rate the article!
🌕 Cool!
🌖 Good
🌗 So-so
🌘 Meh
🌑 …