How to Create a Booking App like Booksy: Business Model, Features, and Cost
People are already used to ordering everything via their mobile phones: from food delivery to taxis. Why would any other services be different? Learn how to build a booking app for various businesses and make the process of scheduling appointments as easy as online shopping.
What are salon booking apps and how do they work?
Although many people still call businesses to make an appointment, the younger generation dreads calls and loves to have everything on their phones. With apps like Booksy, scheduling an appointment at a hair salon, booking a table at a restaurant, or buying a ticket to the cinema is as easy as it gets.
Instead of looking through dozens of brochures, Instagram accounts, and websites to compare the services and offers, users of booking apps can have everything in one place.
In this article, you'll learn about how to build a booking application, and how to generate revenue from it. We'll take one of the most popular apps Booksy as our reference, and discuss the process of building such an app from A to Z.
Mobile and Web app development
Are you planning to create a digital platform? We'll build a solution that skyrockets and brings maximum value to your users and maximum profit for your business
What is Booksy?
Booksy is a calendar and appointment management application, that brings businesses and their customers together. It was founded in Poland and is headquartered in San Francisco. Today, Booksy is a top 1 application for appointment booking in the beauty, lifestyle, and wellness industry.
In 2021, Booksy raised $70 million to acquire other salon booking applications and expand its presence. Today, Booksy is available in the US, Poland, South Africa, Spain, and Brazil, and is one of the most popular booking apps for salons.
Booksy is extremely profitable. In just three years, their revenue has grown by 1500%, and the team size increased by 500%.
Booksy allows users to view the businesses in their preferred area, search businesses by categories, and schedule appointments in a calendar, where they can see all the available timeslots.
Businesses, on the other hand, get a new channel for customer discovery and can manage their appointments, schedules, and payments right through an application. Another benefit for businesses is that Booksy is available for customers 24/7, so they can get appointments scheduled at any time including late hours.
Basically, Booksy is a mobile Point-of-Sale (POS) system, that manages all the stages of the customer journey before the appointment itself.  
How Booksy makes money: business model
Booksy is completely free for customers: they can search for businesses, schedule appointments, and pay for services without any fees. Service providers, however, pay a small monthly fee to be listed in Booksy. This way, a business gets exposure and becomes more available and friendly to mobile users.
Booksy offers several payment options for service providers. One of them is a subscription that costs $29.99 per month, which gives business access to all main features like a calendar and appointments, payment processing, business management, marketing tools, etc.
Booksy is completely free for customers. It charges businesses a monthly subscription and offers additional marketing and advertising services
If you need additional staff members to have access to your company's Booksy profile, each member costs an additional $20 per month. After the number of staff members exceeds 14 people, the cost doesn't change anymore, so for 14 members or more, you'll pay $309,99 per month.
Booksy also offers marketing services. This feature is called Boost, and it gets businesses promoted right on the platform. With Boost, a business pays only for the customers they actually got through Booksy.
The platform charges a 30% fee from the first service a new customer got: the minimum commission is $10, and the maximum is $100. A business will never be charged more than that, even if 30% of its service is more than this sum.
Booksy is extremely profitable. In 2020 it was named one of the fastest-growing companies in the world. In just three years, their revenue has grown by 1500%, and the team size increased by 500%.
Mobile and Web app development
Are you planning to create a digital platform? We'll build a solution that skyrockets and brings maximum value to your users and maximum profit for your business
Must-have features for your salon booking app
I'll use Booksy as an example to describe the main features you should include in your salon appointment booking app. You can definitely add other unique features if you'd like to take inspiration rather than create a Booksy clone.
Booksy has two separate applications for clients and businesses: Booksy and Booksy Biz. Let's learn about the core features of both of these apps.
Booksy for clients
Personal profile
A personal profile contains important data about the client including their name and phone number, as well as their reviews, family and friends, gift cards, account settings, payment information, and more.
Search and categories
Users can search for the services they're interested in either through search or by browsing the categories that are listed on the main screen of the app.
Personal recommendations
Booksy provides personalized recommendations based on user's preferences, location, and previous appointments in the Explore section of the app.
Map
Users can search for nearby businesses right on a map, and find the closest salon with available dates.
Calendar and appointments
This is the core feature of the application, where users can see the available time slots for a specific service and book an appointment right away. The scheduled appointment will also show up in their Google Calendar.
Favorite services and businesses
Users can see the places they've already visited and plan to visit on the main screen of an app.
Gift cards
Users can get a gift card or buy it themselves for another user, and find them in a Gift card section in their personal profile.
Reviews
To make the process of searching and choosing a business easier for customers, Booksy encourages them to leave reviews. Users can see the reviews and ratings for each business listed on the platform.
Payment processing
Users can pay for the services right through the Booksy application using credit cards, mobile wallets, checks, cash, gift cards, memberships, and packages.
Referral program
Booksy rewards users for inviting friends and businesses to their platform.
Integration with Instagram and Google
Businesses can add Booksy buttons to their social media profiles in Instagram and Google Business. They will redirect the user to Booksy and allow them to make an appointment right away.
Push notifications
Users receive notifications about the new special offers from businesses nearby, and reminders for their upcoming appointments.
Mobile and Web app development
Are you planning to create a digital platform? We'll build a solution that skyrockets and brings maximum value to your users and maximum profit for your business
Booksy Biz for service providers
Business profile
Here business owners can tell potential customers all about their business by adding a description, photos, and a list of services they provide. This profile also contains information about the nearest available timeslots for the services.
Calendar and appointment management
A calendar shows all the appointments and free slots and allows business owners or managers to focus on business.
Staff management
Booksy allows users to easily manage staff and schedule their appointments according to their availability.
Customer service and engagement tools
Booksy offers various tools like email templates, promotions, message blasts, and client invitations to help businesses connect with their customers and build a community.
Payment processing
Booksy offers all kinds of payment options: cash, credit card, or in-person payments. Customers can also pay conveniently right through the application.
No-show protection rule settings
Businesses can protect themselves from customers that don't show up to the appointment they booked by taking prepayments and setting a cancellation policy.
These are all the basic features in Booksy that businesses get with a standard subscription. The Booksy Biz Pro offers advanced features and tools for managing a salon business and increasing the average paycheck through this app for beauty salons. They include:
Commissions and tips
Inventory management
Complete checkout solution
Statistics and reporting on business performance and revenue
Offer expansion with retail products, packages, memberships, and advanced gift card options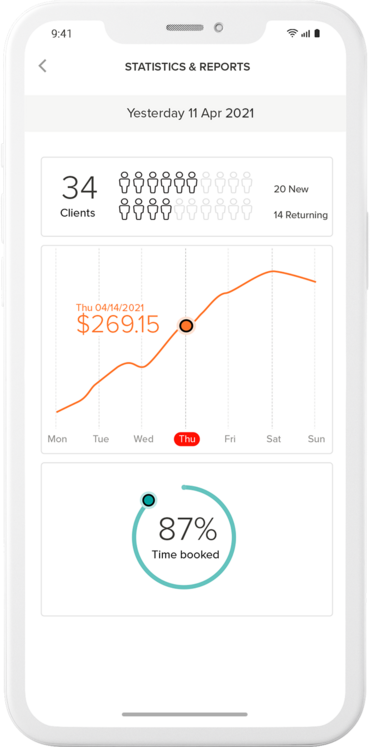 Booksy Biz Pro also gives businesses access to the desktop and tablet versions of the Booksy Biz application.
As you can see, Booksy and Booksy Biz are great and comprehensive solutions for online booking and business management. Let's now discuss the process of building a similar product.
Mobile and Web app development
Are you planning to create a digital platform? We'll build a solution that skyrockets and brings maximum value to your users and maximum profit for your business
5 Steps to build an appointment booking app like Booksy
Step 1. Envision your idea and gather requirements
If you're reading this article, you probably already have a vision: you want an app like Booksy! However, you need to make your product unique and tailored to your specific target audience, market, and region. Or, maybe you'd like to build an app for other types of businesses, and not specifically a salon mobile app.
Think about your user persona and try to envision, what problems they need to solve with your future product, and how you can make it as personalized and convenient as possible for them.
Gather your findings in a list of requirements. Even if they're quite vague, a good salon booking software development vendor will turn them into concrete specifications.
If you don't have an in-house development team, partnering with a vendor is the best and most cost-efficient option for you. By finding vendors from other countries with a lower cost of living, you can also save money and repurpose them for other business expenses like marketing activities.
How do you find a reliable vendor? Here are some options:
Ask your business partners and acquaintances for a recommendation
Browse listing platforms like Clutch.co and Goodfirms for reviews
Visit the vendor's website and look at their portfolio, and list of services and content that interests you
After you shortlist vendors, communicate with them and watch what solutions they offer. If you need to, involve a third-party expert to check the technical skills of your developers.
Now that you found your perfect candidate, it's time to sign a contract and prepare for the development.
Step 3. Go through a discovery phase
Solutions like Booksy are rather feature-rich, so you need to plan your development beforehand. A discovery phase is a process of extracting requirements, learning the target market, and turning the user expectations and your business goals into a technical specification document.
A technical specification is a document that describes each and every aspect of your future product, and it helps all the team members and stakeholders to be on the same page. This document ensures that you'll get exactly what you expect and need at the end of the development process.
Step 4. Develop software
Now it's time to develop your application. If you decide to follow Booksy's model, you'll need two apps for customers and businesses, and also an admin panel for you, where you'll be able to manage users, receive payments from subscriptions, and make changes to your app's content.
To accelerate development and release your application sooner, you can prioritize features and build an MVP first. This will allow you to continue the development based on real feedback from your actual users.
Note, that if you choose native technologies, you'll need to create a custom iOS app and an Android app for both end-users and businesses. If you'd like to save money, I recommend cross-platform technologies like Flutter: this way, you'll create one app for businesses, and one app for end-users, that will work on both platforms.
As your appointment booking app is being developed, you can start marketing your future product: contact businesses and inform them about upcoming opportunities, so that you have a base of businesses and clients before the product is live.
You can also launch a promo campaign according to the lean startup methodology, while your development team's taking care of all the technical aspects.
Step 5. Release your applications and track their performance
Once your product is finally live, and you get your first users, it's time to track the metrics. Integrate analytics beforehand, to watch your users' behavior, convention rates, and revenue.
Encourage users to leave feedback, so you can use it in further development of your product and grow your business.
Step 6. Improve and maintain your product
The work on your appointment booking applications doesn't stop at the release. Now you need to perform regular maintenance that includes:
Bug fixing
OS updates
Library and framework updates
Security checks
Refactoring
The development of new features, redesign, and improvement of the existing functionality is also included in this stage. Your goal is to keep your software updated and relevant to your users, so they see value in it and become your loyal customers.
Mobile and Web app development
Are you planning to create a digital platform? We'll build a solution that skyrockets and brings maximum value to your users and maximum profit for your business
How much does it cost to build an appointment booking system?
A booking system like Booksy consists of these main parts:
A mobile app for customers
A mobile app for businesses
A website
An admin panel
A desktop and tablet app versions for Pro users
As you can see, it's a rather complex product with several pieces of software for salons, and the cost of its custom development depends on lots of factors like:
Tech stack
Number of platforms (iOS, Android, web)
Native iOS and Android app development, or cross-platform development
Functionality
Design complexity
Team size
Team members' hourly rates
The hourly rates of your developers and other specialists is the biggest factor that influences the cost of development. The average hourly rate of US and Ukrainian developers can have up to 5x difference, while their skills are the same.
Another influential factor is the technology and number of platforms. For example, you can build native applications for each platform, or you can choose cross-platform technologies like Flutter, and then you'll save around 30-40% of your development budget.
A full system like Booksy will cost around $100,000 – $150,000 depending on all the factors I mentioned above. If you'd like to get a detailed estimate for your unique project, don't hesitate to contact us.
How Mobindustry can help you build your salon booking app
We at Mobindustry have over 11 years of experience in building web and mobile applications for all kinds of businesses, and we pride ourselves in offering a business partnership rather than just technical support.
We offer full-cycle development, from business analysis and planning to deployment and support. We'll help you prioritize features for an MVP because we understand how important time to market is.
If you have any questions about building an appointment app for salons, don't hesitate to contact us. We'll give you a consultation and a quote, and lead you through the next development stages as your dedicated technical and business support team.
Mobile and Web app development
Are you planning to create a digital platform? We'll build a solution that skyrockets and brings maximum value to your users and maximum profit for your business
Frequently Asked Questions
The development time depends on your strategy (native or cross-platform), your team size and also the scope of work. But the MVP for such an app like Booksy can take around 2-4 months to complete depending on the factors I mentioned above.
Definitely. Businesses are looking for a platform to attract customers, and customers want to get a convenient and free way to book appointments without having to call or come in person. Booksy has proven to be highly profitable, and you can repeat their success by choosing your unique niche and market, as Booksy is present only in a handful of countries.
Without a doubt, we can deliver you a great solution for your online booking business, and develop all parts of this system, from backend to apps for both businesses and customers. After the development we won't leave you without support, and you can always lean on us when it comes to maintenance, marketing, business advice and IT consulting.
Rate the article!
🌕 Cool!
🌖 Good
🌗 So-so
🌘 Meh
🌑 …