How to Create a FinTech App and Why FinTech Startups Should Outsource Their Tech Tasks
As the popularity of FinTech grows, the number of products grows as well. Companies and startups put time to market as their priority and turn to FinTech development outsourcing to focus on their business strategy and marketing
FinTech Market Overview
What is FinTech?
FinTech is an umbrella term for any technology that has something to do with finances. Everything from banking and blockchain platforms to budgeting apps can be considered FinTech technologies.
FinTech is one of the fastest-growing industries in the world, as financial services and financial management companies are adopting technology to offer greater convenience and security.
In this article, I'll give you a 360-degree view of the modern FinTech market and explain the ways in which you can enter it and cash in on your FinTech idea. Let's start with a market overview covering the current state of the market and experts' predictions for the future of FinTech.
FinTech market in 2020–2025
According to The Business Research Company, the FinTech market is expected to reach $309.98 billion in 2022, growing at a CAGR of 24.8%. As of 2020, it's worth an estimated $127 billion.
The number of FinTech startups is growing as finances go mobile. The value of mobile transactions are expected to grow 212% in 2022 according to Inflexion, leading to mobile transactions accounting for 88% of all banking transactions.
Traditional banks that can't offer the convenience and efficiency of mobile apps to consumers are turning to FinTech
Traditional banks that can't offer the convenience and efficiency of mobile apps to consumers are turning to FinTech. According to PwC, in 2017, 83% of financial institutions such as banks and insurance companies were planning to invest in top FinTech startups in the next three to five years. From these investments, they expected an average return of 20%.
The biggest FinTech market is the Americas, which account for 35% of the global FinTech market and have the largest number of FinTech startups. Asia, however, adopts financial technology the fastest, as both China and India are mobile-first countries.
Demand for mobile applications in the financial sector is growing rapidly: 46% of consumers use only digital banking services for their day-to-day needs.
The FinTech market continues to grow, and with technologies like blockchain, artificial intelligence, cloud computing, and chatbots, growth will only accelerate. What's most important for any financial institution today is to take the first step toward digitization: creating a mobile application that will reflect the institution's services and enhance the customer experience.
Let's now talk about types of FinTech software and discuss how they help financial institutions gain and retain customers.
FinTech development services
Are you planning to create a successful FinTech startup? We can help you build a secure and powerful mobile or web solution
Types of FinTech software
To build software that corresponds to your business needs, you need to get a grasp of what technology is capable of and how your competitors are using it. There are many development paths you can take.
Let's consider what type of app is best for you based on the types of financial services you provide.
Digital payment apps
The digital payments category is the largest FinTech sector. According to Statista, the value of digital transactions worldwide will reach $8 billion by 2024, growing at a CAGR of 17% between 2020 and 2024.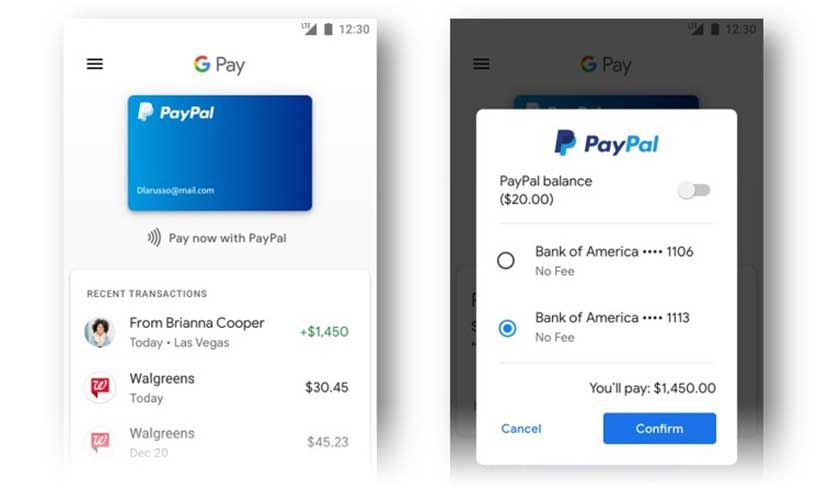 Digital payments are becoming more and more popular due to their speed and convenience. E-wallets, payment processors, and cashless payment apps belong to this category.
Often, businesses and apps (such as ecommerce apps) integrate payment processors for fast checkout. The most popular digital payment apps and processors include:
PayPal
Braintree
Stripe
Apple Pay
Google Pay
Venmo
Payoneer
Zelle
With blockchain technology conquering the market, many of these payment apps have started to offer cryptocurrency transactions. However, many standalone blockchain payment apps are also being developed. If you want to enter the digital payments market, make sure you offer something new to your target audience.
Mobile banking apps
Many traditional banks are now offering mobile applications, but few of those apps live up to customers' expectations. Great mobile banks are present mostly in mobile-first countries, where traditional banks are flexible and users adopt convenient banking with enthusiasm.
Mobile banking startups offer many advantages: a range of services for customers allows banks to be more competitive and promote additional services, creating new sources of revenue.
Mobile banks usually offer these features:
Fast money transfers
Access to customer service
Secure authentication
Spending trackers and statistics
ATM and branch locator
QR code payments
To improve service and create additional value for customers, mobile banks often exceed expectations and add features for:
Splitting bills
Getting cash back
Managing savings
Purchasing tickets
Google Pay and Apple Pay integration
Mobile banks also often offer additional services like the ability to buy plane or train tickets, order delivery, and pay mortgages. The main purpose of a banking app is to make banking services convenient for customers, as this allows banks to unburden their customer support staff and minimize personal visits to branches.
Digital lending apps
There are different types of digital lending software. Some come in the form of simple apps and websites; others are AI-powered products that efficiently handle the relationship between lenders and borrowers.
FinTech lending platforms work according to different business models. One bizarre example is a Nigerian digital lending app called Okash, which notifies everyone in a user's contact list in case of a missed payment. There are more FinTech examples of apps that do this in China and the Philippines.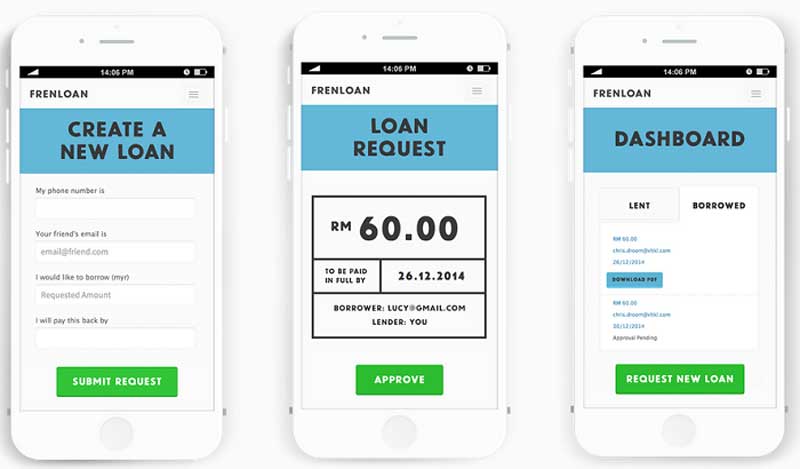 Other FinTech ideas for digital lending apps are based on artificial intelligence (AI) algorithms that determine the amount of money they'll lend a particular user based on the user's credit history. Here are two of the most popular financial technology startups for lending to take inspiration from:
ZestFinance uses machine learning to gather data on people who have little or no credit history. It recently partnered with Baidu and is now able to give more precise credit scores for Baidu users in China.
Lenddo is another app that uses machine learning to analyze users with little credit history. According to Lenddo, the company uses over 12,000 variables to determine a person's credit score, from social media use to geolocation. Lenddo doesn't share any personal data with lenders — only calculated scores.
Investment apps
Investment applications are great guides to stock markets. They provide users with analytics and financial data and offer a full range of instruments for investment management.
In most cases, an investment app works like a financial advisor. Some even offer automated and customizable investing.
One of the best startup investment apps is Robinhood. Robinhood offers commission-free stock, ETF, and options trades. It also provides access to select cryptocurrencies.
Another example of fintech investment apps is Addepar. Unlike Robinhood, which is aimed at average users, Addepar offers investment services to businesses, business managers, advisors, and seasoned investors. Addepar provides advanced analytics and stock market reports.
Insurtech apps
Insurtech software ranges from simple websites that offer insurance to complex solutions that are able to assess users with the help of AI and offer the most suitable insurance plans for them.
Insurance applications help users optimize their interactions with insurance companies. Instead
of calling an agent, a customer can simply place a claim through an app. Some insurance application creators use artificial intelligence and machine learning to manage risks and encourage healthier lifestyles or safe behavior.
For example, the app called Attain is the result of a partnership between an insurance company and Apple. Attain has created fitness plans with personalized goals and tracks users' daily activity levels using IoT devices. If users are active and improve their wellbeing, Attain rewards them with insurance discounts.
Other insurance applications use IoT devices as well. For example, a car insurance app can connect to a smart car and analyze the vehicle's speed and how careful the driver is.
Regtech apps
Regtech helps to resolve finance-related regulatory issues. This type of FinTech app relies heavily on machine learning, AI, and big data to assess risks and compliance with laws and regulations.
Regtech technologies are usually used by businesses to analyze their own processes and make sure they're compliant with the law. Regtech is used for analytics and automation, helping businesses to reduce the number of legal errors.
Regtech apps help businesses to analyze their processes and confirm compliance with the law
Platforms like 6clicks and PassFort help businesses identify and assess risks. They also provide recommendations to businesses on how to avoid or minimize those risks.
Consumer finance apps
Consumer finance applications usually don't offer payment processing services. Their main goal is to help consumers manage their money, plan their budgets, save, and track expenses.
Consumer FinTech apps often synchronize with accounts of banks and payment services like PayPal, Google Pay, and Apple Pay.
Consumer finance applications are rather simple, being entry-level apps in terms of the budget needed for their development. However, the competition in this field is rather intense, so consumer finance startups need to invest lots of money in design and marketing. A consumer finance application needs to have a very simple user experience (UX) to encourage users to track their expenses.
The most popular budgeting FinTech apps include Mint, PocketGuard, and Goodbudget.
Consumer FinTech apps also include financial literacy applications for children and teenagers. These apps allow parents to give children pocket money, track their expenses, and set spending limits.
FinTech development services
Are you planning to create a successful FinTech startup? We can help you build a secure and powerful mobile or web solution
Why develop a FinTech app?
FinTech is one of the fastest-paced sectors in the financial industry. While traditional banks are often slow to adopt technology, FinTech startups are taking over the market, targeting both regular consumers and businesses.
If you work in finance and you feel like your company's processes could be optimized, FinTech software is a great investment. Let's see where financial technology is essential, and demand is still unmet.
Bank transformation
Traditional banks struggle to adopt technology but see it as an important part of their development. FinTech products helps banks stay relevant, though only 7% of all US banks have invested in their own FinTech branches and R&D departments according to CBInsights.
Other banks prefer fintech development outsourcing to focus more on their operations or prefer to invest in FinTech startups. In 2018 alone, US banks invested $3.6 billion in FinTech unicorns.
Why are banks so eager to enter the FinTech sector? The reason is simple: competition. People expect more than reliability from banks, and mobile applications can provide what they're looking for.
Better service. Mobile apps allow customers to manage their finances online without having to go to the bank. This saves time and allows banks to offer additional services.
Branding. A bank that has a convenient mobile application can use a multitude of marketing tools — from gamification and loyalty programs to personalized offers based on big data collected from the mobile app — to attract and retain customers.
Lower prices. Because a mobile app covers most of customers' needs, a bank can save money on support and provide more competitive prices.
Banks need mobile apps, and they need good ones. The challenge of most banking applications is to make a truly convenient app with an intuitive user interface.
Develop financial literacy
Another reason to create a FinTech app is educational. More and more people are showing interest in investing, and buying stock in companies has stopped being the privilege of financial professionals.
Many FinTech startups help regular people save and grow their capital by providing them with convenient mobile investment solutions, for example, fintech savings apps.
Provide new financial services
Experts argue that FinTech software is already becoming a standard in the financial services industry, and startups that find creative ways to help people manage their money support this claim.
There are currently dozens of financial services that mobile and web apps can provide — everything from making payments and taking out loans to checking information on private and public equity markets and investing.
Startups find new ways to help people manage their finances, invest or borrow money with the help of the latest technologies
FinTech startups may seem similar, but they provide their services to particular audiences. For example, OnDeck provides loans exclusively for small business owners. Another startup called Tala provides credit to customers in Mexico, the Philippines, Kenya, and Tanzania, helping people with little or no credit history.
Using new technologies can also be a selling point for financial startups. Let's see what trends there are in FinTech and how you can implement them in your business.
Top 4 FinTech trends 2023
Blockchain
The blockchain is the fastest-growing sector in the financial technology industry, and one of the latest fintech technologies. By 2024, blockchain technology will become a $20 billion industry and will be used to facilitate most financial transactions.
The value of the blockchain market is projected to soar from $231 million in 2017 to $6,700 million by 2023, growing at a CAGR of 75.2%. Why is the blockchain such an important technology for FinTech companies?
High compatibility with current financial systems
Faster and cheaper transactions
Growing cryptocurrency market
Growing popularity of ICOs (initial coin offerings)
Blockchains in FinTech are great for:
Payments
Clearance and settlements
Smart contracts
Identity management and protection
The challenges of adopting blockchain technology include regulatory requirements and a lack of use cases. The blockchain is still new to most companies, and it can be hard to implement blockchain technology, especially when regulations surrounding it are uncertain in most countries. However, blockchain-based FinTech startups are on the rise, and the most popular fintech apps include blockchain transactions.
Machine learning and AI
According to Autonomous Research, financial institutions will be able to reduce costs by 22% by 2030 due to artificial intelligence. The value of AI in FinTech is expected to grow to over $22.6 billion by 2026. Compare that to only $1.2 billion in 2017!
But saving money isn't the only benefit of machine learning and artificial intelligence. These cutting-edge technologies are used in the FinTech for various purposes:
Cost reduction
Risk assessment
Chatbot support
Market analysis and forecasting
Financial assistance
Security
Identity management
Automation
Fraud detection
Currently, many FinTech startups are able to build complex models of financial markets based on real-time data to provide better service for customers. Artificial intelligence helps people make better financial decisions and cut costs of customer support.
Biometric authentication
Mobile technology has provided financial products with many ways to ensure security. Biometric authentication is one of the most reliable methods of identifying a person and preventing identity theft. No single security method can ensure 100% security, but voice, face, and fingerprint identification is reliable.
Apart from security, biometric identification is also convenient: users don't need to type in passwords each time they enter an app. For mobile products, such low friction is vital for a pleasant user experience.
Coupled with two-factor authentication, biometrics are one of the best ways to log in to an app and approve transactions. A couple of years ago biometric authentication was one of the biggest trends in FinTech, but now it's already considered a default option for banking apps.
Chatbot banking
Chatbots are used in different industries, retail being one of the earliest adopters of this technology. FinTech companies have also found chatbots beneficial. Modern FinTech solutions including both startups and traditional banks use chatbots for support and to provide fast transactions.
Support chatbots are one of the latest developments in fintech. They help users quickly get information on their finances or offers from a bank. This allows banks to unburden their human support specialists and involve employees in more complex issues.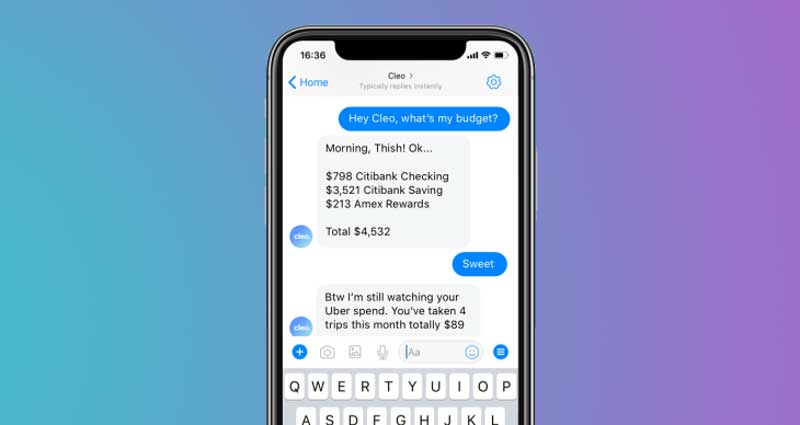 Some banks even allow customers to make transactions right in messaging applications like Facebook Messenger and WhatsApp.
Conversational banking is great for users, providing instant answers to many inquiries. This is especially important for Millennials and customers of younger generations, as they're already used to receiving immediate answers and fast service thanks to mobile technology.
FinTech challenges and risks
Security is the most important aspect of any FinTech software. No matter how convenient and advanced your app is, if it isn't secure, it won't be able to bring you users and revenue. Moreover, a single security breach can kill trust in your business, so security should be the top priority for any FinTech product.
Here are the main threats to FinTech software:
Malware attacks
Data breaches
Security vulnerabilities
Identity theft
These are some of the potential causes of security breaches:
Third-party components. If you use third-party services in your app (for example, a payment gateway or mapping API), make sure they're reliable and regularly updated.
Cloud-based threats. Though cloud-based services are generally considered secure, they still can suffer from breaches and vulnerabilities. It's vital to make sure your cloud service provider is reliable and performs regular security checks.
Legacy systems. Using legacy software can lead to many vulnerabilities, as each year it becomes harder and harder to support such software, update it, and scale it. It's important to regularly perform code refactoring, get rid of parts of software that no longer work for your business, and release updates.
Regulatory compliance. FinTech applications that provide financial services need to comply with regulatory requirements. Failure to comply can lead to major data breaches and fines.
FinTech security trends include:
two-factor authentication
biometric security
registration via phone number
dynamic CVV2 codes
To make sure your FinTech app is secure, you need to maintain and update it as well as perform regular security audits. The best way to ensure your system's security is with penetration testing. Penetration testing helps you analyze how a hacker would approach your software and what you can do to prevent breaches and protect the entry points to your system.
7 steps to create a FinTech application
1. Choose a niche
We've already discussed types of FinTech applications. But before you start development, you need to choose a niche. Our advice is to go for more complex solutions, as the market for simple FinTech applications (such as budgeting apps) is already oversaturated, so it's hard to develop something unique.
When choosing your niche, think about your FinTech target market. There are many countries that still don't have great FinTech solutions and technologies, and you could enter those markets with something fresh and relevant to a particular set of problems, regulations, and needs.
Here are some FinTech niches to choose from:
Wealth management
Payments
Lending
Insurance
Personal finance
Cryptocurrency
Money transfer
Trading
Regtec
Mortgage solutions
Before you start the development, you need to think of your fintech digital strategy, and it will depend on your target market and niche.
2. Make sure you comply with legal requirements
Legal requirements are unique to every country or even every state or region within a country. Make sure you meet all applicable legal requirements and make sure you have a legal advisor who can help you ensure compliance.
For example, in India, there are no regulatory bodies specifically responsible for FinTech: all FinTech companies are regulated on a case by case basis by the Insurance Regulatory and Development Authority of India (IRDAI). In the US, the situation is similar: there's no single entity that oversees FinTech regulations, so a FinTech startup needs to comply with a myriad of federal and state laws.
The situation is the same in most countries. Governments haven't yet reacted to the new FinTech industry, so FinTech companies need to figure out how to navigate hundreds of laws, standards, and regulations.
3. Clarify your project vision and define features
The first stage of fintech mobile app development is establishing a vision for your project. You should be able to describe the main goal of your product, what issues it will solve for users, and what main features it should have.
If you have no previous experience developing a FinTech product, your IT team should help you define the FinTech app features, specifications, and so on. Let's discuss what your development team should look like.
4. Create or hire a development team
A development team for a FinTech application usually consists of the following specialists:
Frontend developer
Backend developer
Project manager
Business analyst
Quality assurance specialist
Designer
Product manager
The number of specialists on the team will depend on your deadlines, the size of your project, and your chosen technologies. For example, if you decide to develop native apps for both Android and iOS, you'll need two frontend developers.
Hiring your own in-house team of engineers has its advantages, but it will cost you more in terms of both time and money. The recruitment process can be long and tiresome, and local specialists may be more expensive than offshore fintech developers.
That's why many FinTech companies end up outsourcing development to professional teams that can create a project from scratch and maintain it after the release.
FinTech development services
Are you planning to create a successful FinTech startup? We can help you build a secure and powerful mobile or web solution
Choose the financial software development company depending on the company's experience, hourly rates, and communication skills. A professional software development team will offer you to create a technical specification for your project before development to make sure you're on the same page and will deliver the project as planned and within your deadline.
A technical specification consists of a thorough plan and an estimate for each sprint, wireframes, and often design and acceptance criteria. These documents will help you and your development team to have a clear understanding of the project.
5. Focus on the user experience
In FinTech applications, the user experience is the second most important factor after security. Build a FinTech app around your users. A good business analyst should help you identify your core audience, define user roles in the app, and build features around users' needs.
The user experience should be smooth and friendly at each step of a user's interaction with your app, from signing up to completing a task (for example, transferring funds). It's vital to keep your app secure without sacrificing the user experience. For example, most FinTech apps allow users to log in with a fingerprint or Face ID. However, once a week or once every two weeks, a user needs to enter their password.
6. Develop an MVP and test it live
To make sure your application finds a market after you release it, we always advise making a list of MVP features, developing them, and releasing an MVP version of your app as soon as possible. Feedback from real users will show you what to develop next.
It's also a great practice to analyze competitors — not only your direct competitors with apps similar to yours but also competitors who offer other ways to complete similar goals.
After your MVP is released, you need to gather data with the help of mobile analytics and learn about user behavior. New data and first reviews on app markets will help you determine the list of features to add next.
7. Refine and support your app
Application support is a very important part of your software lifecycle. Mobile app maintenance includes:
updating your app to the latest versions of operating systems
updating libraries and third-party services that you use in your app
fixing bugs
performing regular security checks and updates
refactoring code
updating the legacy parts of your app
Though it isn't a part of maintenance per se, adding new features and changing the design so it corresponds to the latest trends is also a vital part of your product's lifecycle.
FinTech development services
Are you planning to create a successful FinTech startup? We can help you build a secure and powerful mobile or web solution
How much does it cost to create a FinTech app?
The cost of FinTech app development depends on several factors:
Technologies used
Design complexity
Project size
Hourly rate of the development team
Number of team members
Your deadline
The project size and complexity and the hourly rate of FinTech app developers are the most significant factors that influence the cost to develop a FinTech app. The hourly rate of a development team can make a 3x to 5x difference in the project's final price.
For example, if you hire developers in the US, your FinTech app might cost $100,000 to develop. The same application developed in Ukraine would cost around $40,000.
Outsourcing FinTech app development is a great way to reach talented specialists, get an established team with experience developing apps similar to yours, and cut costs to later allocate to marketing.
How Mobindustry can help you develop a FinTech app
Our team at Mobindustry has experience developing FinTech applications. We've created several FinTech banking apps that allow users to check their balances, apply for credit cards, transfer money, pay bills, see spending statistics, save money, find the nearest ATMs and bank branches, and get special loyalty program offers.
Our engineers create six layers of security protection for FinTech applications using various technologies like hashing, obfuscation, and encryption. We provide all fintech development services from business analysis to development. We also offer regular security checks, all kinds of testing (including penetration testing), and maintenance services.
Mobindustry creates apps for businesses, banks and startups
Here are the usual steps we take to create an application:
We shape your vision and translate it into technical specifications, including wireframes, a detailed estimate, and a development plan.
Our backend specialists build a secure and scalable infrastructure for your FinTech ecosystem along with a development environment.
Our designer designs a compelling UI/UX for each screen based on wireframes and your branding.
We develop and test mobile apps simultaneously according to the continuous integration paradigm to optimize the development process and produce high-quality code.
We release your app to the App Store and/or Google Play, making sure it's compliant with each store's rules and regulations and taking care of app store optimization for the best search visibility.
We support and maintain your final product. You decide how much time a month you'd like to spend on app maintenance, and we do the rest
If you have an idea for a FinTech application, don't hesitate to share it with us. We'll handle the full-cycle development for you.
FinTech development services
Are you planning to create a successful FinTech startup? We can help you build a secure and powerful mobile or web solution
Frequently Asked Questions
The typical cost for a fintech app development is somewhere between $25,000 to $60,000+, reaching $200,000 and more depending on your app complexity and your team's hourly rate. To get a quote, contact us.
First thing you need to do is determine your business goals, vision and target audience. Even if you don't have a clear picture of how your fintech app will look like, we recommend finding a reliable team of app development specialists who will be able to help you with creating a technical specification. A technical specification is a document that describes a future project from A to Z, including technologies, features, third-party integrations and wireframes.
Rate the article!
🌕 Cool!
🌖 Good
🌗 So-so
🌘 Meh
🌑 …