How to Create a Meditation Application like Calm and Headspace: Features, Steps and Costs
Stress is the disease of the 21st century, and the demand for therapists, mindfulness techniques, and new meditation practices is growing every day. Calm and Headspace were the first apps to deliver all this with the help of technology. You can do the same with your own unique twist and join the meaningful and profitable market of meditation apps
Mindfulness market growth and prospects
The mindfulness meditation application market is expected to reach $4,377.95 millions by the year 2027, growing at a CAGR of 41.3% from 2018 to 2027. Another research from Statista shows that the revenue of medication apps is expected to reach $4 billion in 2022, and grow at a CAGR of 13% between 2022 and 2026. This will grow the market volume to $6.7 billion by 2026. The United States will be the country to generate the most revenue from the meditation app industry in 2022.
There are several reasons for the rapid rise in popularity of meditation apps:
High levels of anxiety among millennials
Increasing levels of stress
More awareness of mental health issues
Positive influence of meditation on different areas of life
Word of mouth
Convenience of technology
Though the US is the biggest market for mindfulness apps and will continue to be so, the South Asia region will be the fastest growing market, with less competition and more potential users.
Meditation applications usually earn money from subscriptions and in-app purchases, but the significant growth of this market is a result not only of current subscribers paying more for services but a stream of newcomers joining meditation apps.
When most entrepreneurs think of creating their own meditation apps, they aspire to compete with Calm and Headspace, the two top meditation apps on the mindfulness app market. Let's talk more about how they work and their paths to success.
Wellness app development services
Are you planning to bring piece to the world with a meditation app? We're here to translate your idea into an advanced technical solution
Types of meditation apps
There are several types of meditation apps. Some entrepreneurs choose to go niche and create apps for specific tasks, and others merge several types of apps in one product, for example, offering both meditation and sleep apps.
breathe meditation app
walking meditation app
best meditation app for beginners
weight loss meditation app
best guided sleep meditation app
meditation music app
mental health tracker app
yoga app
Most popular apps, like Calm, Headspace, Sanvello (former Pacifica) or Buddhify combine functionality from multiple types of meditation apps to increase their potential audience.
Calm and Headspace strategies
Together, Calm and Headspace share 70% of the US meditation app market. Calm was launched two years later than Headspace, but quickly earned the trust and love of its audience as well as recognition from the app market platforms, winning an App of the Year award from Apple in 2017. This was the year Calm caught up with Headspace and became more popular and profitable than its older competitor.
Both Calm and Headspace offer guided meditation sessions as their core feature. However, their approach is different. Headspace uses cartoony animations to guide users through sessions, while Calm focuses on peaceful scenery and soothing soundtracks. The majority of users prefer Calm as their sleep app due to its bedtime stories narrated by actors. Another way to fall asleep with Calm is to listen to music.
Currently, Calm supports six languages, while Headspace supports only four. This gives opportunities to startups in regions outside the US to create meditation apps for specific audiences.
Let's talk about what you'll need to create a mobile app for meditation and mindfulness. We'll start from the must-have features you can use for literally any mental health business ideas.
How to make a meditation app: must-have features
Login and signup
Offer registration through social media, email, and phone number. You can also allow users to choose from different social media accounts such as Facebook, Instagram, and Google. Be sure to make your signup page short and the registration process quick.
Onboarding tutorial
Your application should be as clear and simple as possible. This is important for any kind of app but is especially important for meditation apps. To present all your features in a structured and user-friendly way, develop an onboarding tutorial that guides your users through your app. Onboarding tutorials are usually animated, so if you go this route you'll need to invest in smooth and clear animations.
Personal profile
A personal profile in your meditation app should include information about the user, including their subscription plan, settings, personal meditation stats, and session history. The information included in personal profiles depends on your app. Just be sure you don't require more information than necessary.
Meditation course for beginners
While an onboarding tutorial shows how to use your app as a piece of software, a meditation course is designed to teach a user to meditate. It will probably consist of several sessions. For example, Headspace offers a free meditation course that consists of ten sessions. After this course, users can enjoy more advanced meditation programs.
Meditation library
To be competitive, your library should include hundreds or even thousands of meditation sessions. You should categorize them and offer each user sessions that are suitable for them. For each session, you should show how much time it will take, its category, and other information so users know what to expect. A library for sleep meditation app can include bed-time stories, soothing music, etc.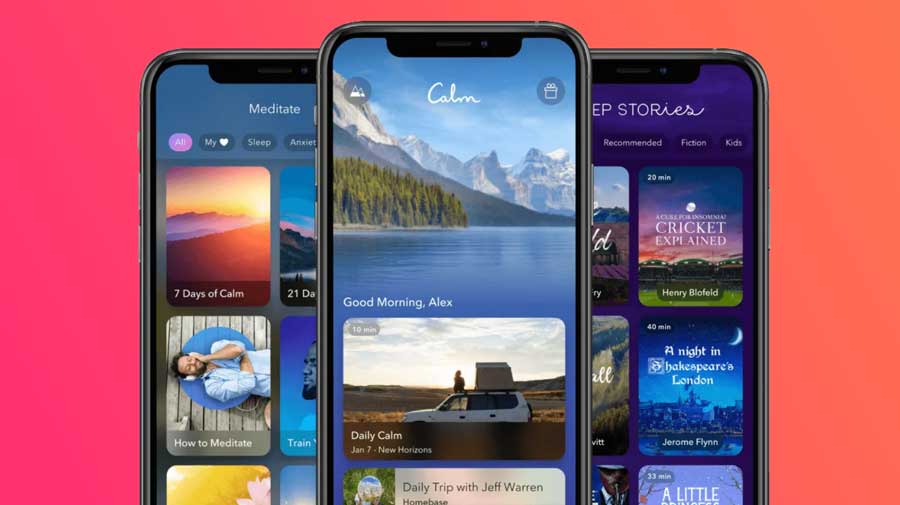 Search and categories
Put all your meditation materials into categories: sleep, work, relationships, emergency meditations, and so on. This will help your users efficiently find whatever they need.
Player
After a user chooses a meditation program, your app should play it. Use a noticeable play button and a subtle background for both music and images.
Discover screen
On this screen, you can present your meditation programs and materials and also show updates and the most popular sessions. The discover screen should offer materials in different categories and always have something new.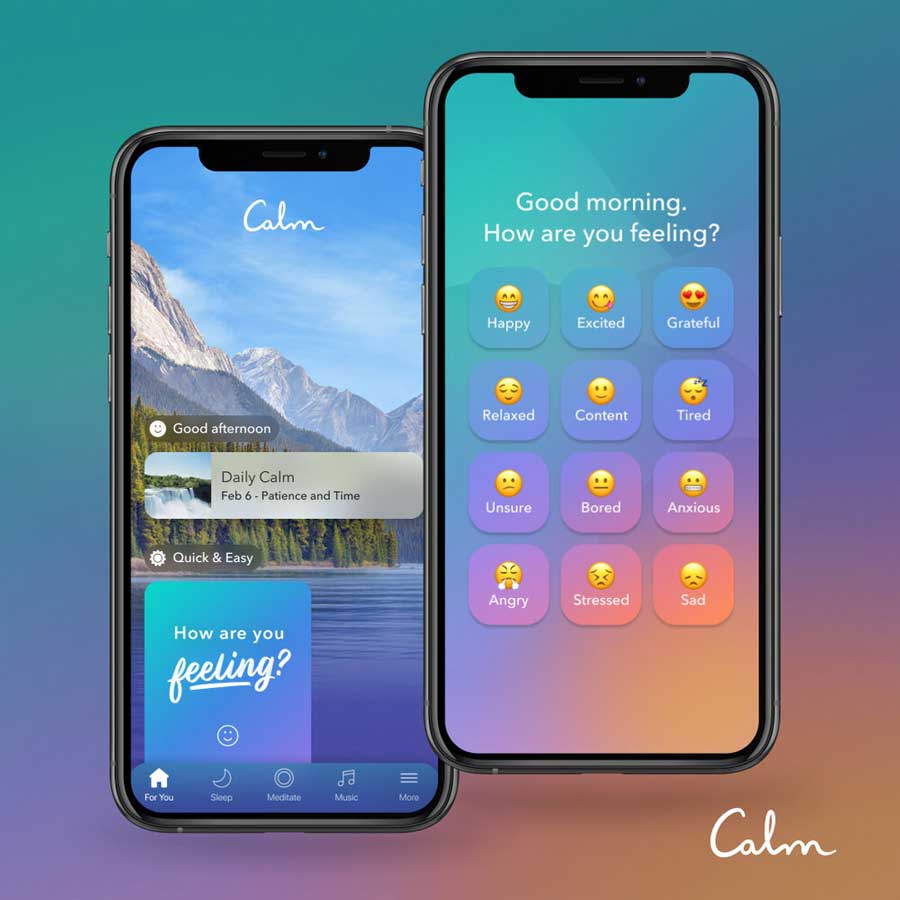 Push notifications
With push notifications, you can inform your users about everything that's happening in their profiles and in your app: for example, you can tell users about their personal progress, remind them to return to your app for another meditation session, motivate them, and inform them about new meditation programs and updates to your software.
Personal statistics
Allow users to see statistics on how they're progressing in everyday meditation. If you integrate with wearables, you can also show stats from smartwatches and fitness trackers to demonstrate how a user's quality of sleep is improving over time. Personal statistics should be visual, so take care about data representation and add animations.
Integrate with wearables to show stats from smartwatches and fitness trackers and demonstrate user's meditation progress
Monetization
We'll talk about the best monetization strategies for a meditation app a bit later. However, if you monetize your app via in-app purchases or subscriptions, you should think about creating a separate screen and functionality that will allow users to make purchases, unlock content in your app, and change or cancel their subscription. If you plan to monetize your app with ads, you should think about it when designing your app in order to free space for them.
Many meditation apps offer access to limited content according to the freemium monetization model
Also, don't forget to add a free trial to your application. Many meditation apps offer three to ten days of access to full functionality for free, or provide access to limited content according to the freemium monetization model.
Additional features for a meditation app
Integration with wearables
If your self-care app helps users improve their quality of sleep, integrate it with wearables. This will allow you to provide more information on your users' sleeping habits and sleep quality, as all modern smartwatches and fitness trackers have this functionality.
Chat support
In case your users have questions, they should be able to ask them right from your app. You can implement chat support in the form of a chatbot that can answer simple questions; you can involve your support team for more complex inquiries.
Stories
The stories feature has proved useful for lots of apps and originated on social media — on Snapchat, to be precise. Currently, stories are used in education, fitness, and wellness apps. You can add this feature to encourage your users to share stories of how meditation has helped them overcome anxiety and depression or improve their overall lives.
Wellness app development services
Are you planning to bring piece to the world with a meditation app? We're here to translate your idea into an advanced technical solution
Gamification
To increase engagement with your app, you can gamify the user experience and create challenges for users who find it difficult to stick to a meditation schedule. With gamification, you can increase the time users spend in your app, improve the in-app experience, and entertain your users.
Users should see all they need on the first screen. For this, it's best to create a navigation bar with icons that will guide users through your app and divide its content into logical parts.
Meditation programs
Meditation programs are the core of your app. To keep users engaged, you should provide a big library of meditation sessions for different goals and constantly update and improve it. This will help you get ahead of your competitors.
Targeting
According to a CDC survey, meditation is popular among all age groups in the US.
For maximum reach, it's best to target users in all age groups and demographics and with a variety of meditation goals. However, you can also choose another strategy and go niche: for example, create a meditation app specifically for children, as meditation is becoming more popular among kids too. Over the period from 2012 to 2017, the percentage of US children who meditated soared from 0.6% to 5.4%.
Integration with wearables
We've already talked about integrating with wearables, as it's a great way to make your app more advanced and cater to a wider audience. People who meditate are more likely to pay attention to their health, so they often use fitness trackers and wearables.
To get data from wearables and display it, you'll need to use APIs from the manufacturers of your target devices. WatchOS and Wear OS by Apple and Google are two primary operating systems for smartwatches.
How to monetize a meditation app
According to Fact.MR, the biggest thing that hampers growth of the meditation app market, is a low subscription rate. People are reluctant to pay for meditation apps, and this slows the growth of meditation app startups.
How can you overcome this hurdle and return your investment in a wellness business? Let's see what monetization strategies there are and how you can work with them.
Subscription model
A subscription or membership model is one of the most popular monetization strategies for lots of modern apps. It's perfect for apps like streaming services that constantly add new content. Meditation apps work great with the subscription model as well, which provides the benefit of predictable revenue.
Don't forget to add a free trial and several subscription tiers so your users can see your app's value and choose the best way to pay.
In-app ads
Ads are the most popular way to monetize any app, but you should be careful with them. There are many types of ad monetization depending on what you get money for (e.g. clicks or conversions), and it's usually harder to predict your income with ad revenue. Also, ads harm the user experience, so some people may turn away from your app if it contains ads. The majority will tolerate ads to be able to enjoy your free content, however.
In-app purchases
You can allow users to buy separate pieces of content in your app: for example, meditation programs or sessions. You can also combine in-app purchases with ad monetization and offer a paid ad-free version of your app.
Partnership and sponsors
Another way to monetize your app is to communicate with brands and promote them through your app in exchange for sponsorship. This strategy can help you grow your user base faster, as people are more likely to use a free app.
Freemium model
Provide a free version of your app with the possibility to upgrade to a paid version. To make this work, you should offer additional features or unique content for paying customers.
Final thoughts
The meditation app market is currently full of applications of different quality and size. Meanwhile, Calm and Headspace are trendsetters for the whole digital meditation industry. In this article, we've talked about the features for a meditation app MVP and additional functionality you might consider adding once you've attracted an audience.
To make your meditation app successful, pay attention to its design and marketing. Work with influencers and experts in your field to promote your app on social media. To save money on development and allocate it to marketing, we advise you to outsource development to a location where it will cost less without sacrificing quality.
If you want to create your own meditation app, don't hesitate to contact us. At Mobindustry, we specialize in healthcare and wellness applications. Contact us for a detailed estimate.
Wellness app development services
Are you planning to bring piece to the world with a meditation app? We're here to translate your idea into an advanced technical solution
Rate the article!
🌕 Cool!
🌖 Good
🌗 So-so
🌘 Meh
🌑 …