Multistreaming: Market Overview, Best Services and Opportunities for Business
In this article, we dive deep into the world of multistreaming. You'll find out what the main benefits of simultaneous streaming are and and what solutions you can use to stream to audiences on various platforms.
Live streaming market overview
According to Cisco, video traffic will account for 80% of global internet traffic by 2021. And according to Neil Patel, live streaming will be a $70.5 billion industry by 2021.
Live broadcasts can outperform other media and even affect user behavior. Clicktale claims consumers are almost 40% more likely to share videos than written content. As a marketer, the medium you use to broadcast your message can have a direct impact on your content's virality due to how different demographics interact with their preferred content types.
Additionally, 74% of millennials in a study said live video is helpful when shopping online, and 82% of viewers in another stud said they would rather watch a live stream than watch a brand's social media posts.
By 2021, live video will account for 13% of all consumer internet traffic. For content creators, competition and audience fragmentation can be a challenge.
By 2027, the global video streaming market is projected to reach $184.3 billion.
According to HubSpot, content consumption has skyrocketed on the three most popular social networks over the past two years: Facebook (up 57%), Twitter (up 25%), and LinkedIn (up 21%).
Views continue to grow, more streaming platforms have emerged, and content creators are looking to expand their reach. The best way to adjust to the change is to use multistreaming services.
According to Forrester, users watch live video 10 to 20 times longer than on-demand content, which makes live broadcasts a powerful way to deliver interactive content.
What is multistreaming?
With traditional live streaming, you have to choose where to stream your video. Multistreaming allows you to stream the same live video to multiple sites at once. With the right tools, multistreaming can ensure your video appears simultaneously wherever you need it. For example, you can stream your shows on YouTube, Facebook, and Twitch.
Basic features of a multistreaming service
Streaming to multiple platforms. Streamers can simultaneously stream to different platforms.
Stream recording. Streamers can download video files or audio-only versions of streams for podcasting and other purposes.
On-screen captions. Streamers can easily add text messages to or show chat comments in their streams.
Screen sharing. Streamers can switch between their webcams and screen sharing with one click.
Cross-platform chat. Streamers can read and reply to messages from multiple streaming platforms on one screen.
Analytics. Streamers can see how large their audiences are across all platforms.
Multistreaming solutions
Content creators have three multistreaming solutions at their disposal.
Software multistreaming
Streaming software such as Wirecast and vMix allows users to stream video broadcasts to multiple destinations simultaneously. Wirecast even has recommended encoding presets for different live video formats.
However, the more platforms you broadcast to, the more processing power and upload speed you'll need.
Each additional recipient of a live video feed eats away a good chunk of CPU and bandwidth. This means your computer may struggle to cope with three or more platforms at the same time, causing dropped frames, buffering, and audio and video delays. Launching a multiplatform software broadcast requires a fairly powerful machine and a fast internet connection, which makes this option the least reliable and rather expensive.
Cloud multistreaming
Another option is a cloud-based multistreaming service like Switchboard Live. This service distributes a video stream to the platforms of a user's choice, including:
YouTube
Facebook Live
Twitch
Periscope
Users can also stream to multiple accounts at once on the same platform (for example, to two or more YouTube channels). Switchboard Live takes care of the most expensive operations in terms of computing power and bandwidth in the cloud. Here's what that means for users:
No need for an expensive high-performance computer for multiplatform broadcasts
High-quality video on all channels even with a mobile 4G connection
For most people new to multistreaming, a cloud-based solution will be the most cost-effective because it doesn't require powerful hardware or lots of bandwidth. Multistreaming with cloud platforms is just as demanding as streaming to a single delivery network. So developing a cloud multistreaming platform can be a good idea if done correctly.
Comparison of the Restream and Castr multistreaming services

Castr is a multistream live video streaming platform that gives users complete control over which streaming services they broadcast to. With Castr, streamers can start their own broadcasts in just five minutes. This is the easiest way to broadcast live to more than 30 channels simultaneously, including YouTube, Facebook, Mixer, Twitch, and GoodGame.
The Castr multistreaming service allows streamers to control many types of broadcasts. It's ideal for news channels, educators, and trainers with online courses, and sports events.
Castr's features include:
Streaming to several platforms at once. Users don't even have to restart the streaming software or encoder. They can add platforms and keep streaming.
Low latency. Castr data centers are located in key regions around the world for low-latency streaming. No matter where the user is, a data center is always close by.
Custom RTMP. If users need to stream to a private server or a platform outside the Castr universe, they can do so with custom RTMP packages.
RTMP pull. RTMP live stream links can be used as a source for broadcasts.
Cloud recording. Storing video streams takes up a lot of space. But thanks to the cloud, users never have to count gigabytes.
Multiple reception. Castr can receive and forward HLS, RTMP, and MPEG-TS streams. Not all services can boast this capability.
Comparison with Restream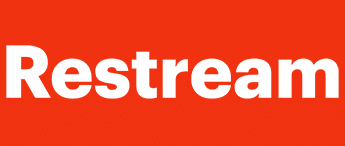 Restream is another multistreaming service with functionality similar to Castr. Both services allow users to stream to many platforms at once. Unlike Castr, Restream allows users to sign up for a free subscription, but its functionality is slightly limited — for example, with a free subscription, users can't add two identical platforms, and Facebook broadcasts to groups and personal pages are not available. For these features, you'll have to switch to a paid subscription.
The subscription prices also vary. Castr starts at $9.99 a month, while Restream starts at $16 a month, which is even higher than the second-level subscription to Castr that allows you to create 10 broadcasts to one platform and keep a record of streams in the cloud for up to 24 hours (a feature not offered by Restream).
Restream has its own chat, unlike Castr, but it isn't ideal, and users often complain about problems with it. It's also worth noting that Castr provides multiple merges (RTSP, RTMP, HLS, DASH), while Restream only uses FTL and RTMP,.
Now, let's see what the advantages and disadvantages of these services are so you can learn from their successes and mistakes.
Restream advantages
Stream to a large number of platforms
Ability to fine-tune the service
Detailed statistics on streams
Chat functionality available
Restream disadvantages
To add two accounts on the same platform, you have to pay an additional $5 a month
Not possible to add three accounts for the same platform
Technical problems with the chat
Castr advantages
Stream to a large number of platforms
Ability to fine-tune the service
Detailed statistics on streams
Cloud recording of streams
Affordable subscription as well as a free days- or months-long trial period depending on the chosen plan
No loss of quality when streaming to different platforms
Castr disadvantages
No free version
Aggregating chats can be hard
How much does it cost to build a multistreaming platform?
The cost of developing a multistreaming platform depends on these factors:
Product features
Product design
Hourly rate of your development team
Project size and complexity
Technology stack
Number of team members on the project
Time frame
The biggest factor that influences a project's cost is the hourly rate of developers, and that often depends on their location. For example, an application that costs $40,000 to build in the US will cost around $9,000 if developed by engineers in Ukraine.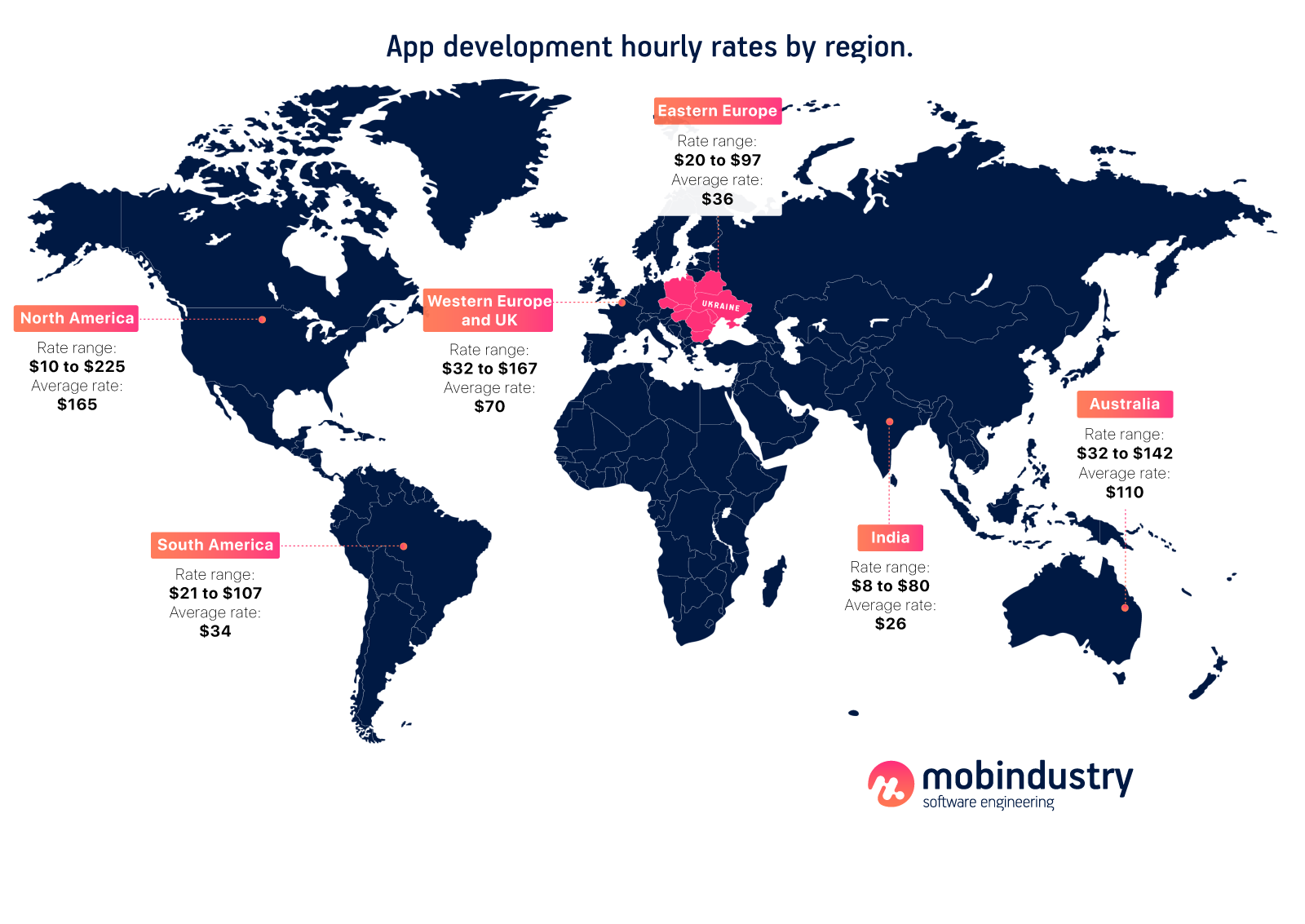 Developing your project with a company based in Eastern Europe is cost-effective and gives you access to top talent.
Four steps to develop a multistreaming platform
Here are four steps to make your multistreaming platform idea come to life and simplify the development process.
1. Research your target market
When developing a multistreaming platform, the first thing you need to consider is the target audience. Understanding your users' needs makes development easier and leads to a better final product. Find out as much as you can about your potential users. You can start by researching the following:
Demographics. Find out the average age of your users, where they live, what devices they use, etc.
Behavioral trends. Find out what decreases a user's desire to use a multistreaming platform, your users' security expectations, and so on.
To develop an amazing multistreaming platform, we suggest creating a user persona, or a detailed portrait of your ideal user.
As you should when developing any other business product, when it comes to creating a multistreaming platform, you should have a plan and a purpose. First, find out who your target audience is. Multistreaming can be useful for the following groups:
Podcasters
Digital marketers
Entrepreneurs
Business owners
Anyone else with a personal brand
2. Choose a monetization model
The next step is to choose the right monetization model for your multistreaming platform. Now that you know your users' needs, you can predict what your users will pay for. Here are three monetization models to choose from:
Paid. This monetization model is straightforward: users pay once to access your multistreaming platform.
Advertising. You can get revenue from showing ads on your multistreaming platform.
Subscription. Users can choose subscription plans with different features. Plans can start at free and go up in price as more features are added.
3. Hire a software development team
The third step is to find a development team you want to work with. The first phase of development will include business analysis, developing a technical specification, estimating the development cost, and planning the project. Before diving into the actual development of your multistreaming platform, you and your team should create a project development workflow, choose the main features for the multistreaming platform, and design a platform concept.
Then your development team should create project milestones and start working on the minimum viable product, or MVP.
4. Create an MVP
Creating a multistreaming platform is a big and complex project. We recommend launching a minimum viable product first and testing its technical and business performance. By using an MVP approach, you'll be able to find out what users like and don't like in your multistreaming service. Then you'll be able to consider their feedback and improve your platform.
Quick summary of developing a multistreaming platform
If done correctly, multistreaming can bring success and value to your business.
Key takeaways:
Multistreaming is simultaneously streaming the same video to multiple sites
By 2027, the global video streaming market is projected to reach $184.3 billion.
Different platforms have different audiences, so by going live to more than one, you can put your content in front of more eyes. If you do it correctly, you can multiply the number of people seeing your streams.
Multistreaming can be useful for podcasters, digital marketers, entrepreneurs, business owners, and anyone else with a personal brand.
Developing your project with a company based in Eastern Europe is cost-effective and gives you access to top talent.
Rate the article!
🌕 Cool!
🌖 Good
🌗 So-so
🌘 Meh
🌑 …