Best way to deliver travel service
Travel agencies exist for people who want everything to be planned for them so they can enjoy their time without having to worry about flights, tickets, hotel bookings, and tours. You've probably already segmented your target audience, but let me make an assumption: your average clients
are middle or upper class;
are in their forties and above;
appreciate great service and organization;
are ready to pay for comfort;
readily use mobile apps and devices — millennials aren't the only ones who love them!
This audience appreciates when you take care of everything for them, and a mobile application can make this easier than ever both for you and your clients.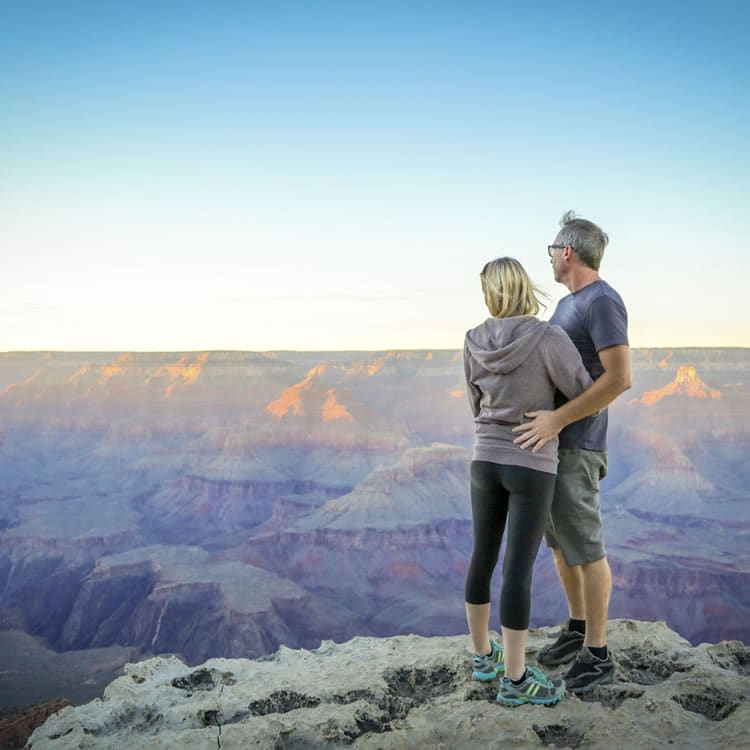 With a help of travel agency app development, you can make your client journey as swift and easy as possible. Without needing to come to your agency, your clients will be able to:
Share their preferences
Choose a tour
Pay for it instantly
Enjoy the tour
Tourists use mobile apps a lot, and mobile applications have already become a must even in places with poor internet connection
Compare this to needing to contact your agency and come to your office or choose a tour on your website, then:
wait for an email with all the details;
print or save information about tours, flights, hotels, and transfers to a mobile device;
look for details in emails;
pay from a credit card on a website;
use tons of other travel apps during the trip.
In this article, we'll show you a business model that will allow you to present the best travel package service for your clients. You'll find out how to make a travel app and how much it will cost. But first, we'll find out what role travel apps for agencies play in the modern mobile market.
Mobile apps and travel agencies
Tourists use mobile apps a lot, and mobile applications have already become a must even in places with poor internet connection. Booking.com, Airbnb, Skyscanner, Google Maps… there are hundreds of applications out there with billions of users.
Your target audience uses mobile applications constantly and likely has over two travel apps installed on their mobile devices. Why not add your branded app to their home screens?
Out of the 24 most popular types of mobile applications, travel apps are in the top 10. That's not a surprise, as people use them for lots of things. These are the most popular internet services people use when travelling, according to Statista:
As you can see, travel agents don't use apps to attract clients, but it's not because people don't want to use their apps. Rather, it's because travel agents don't have them.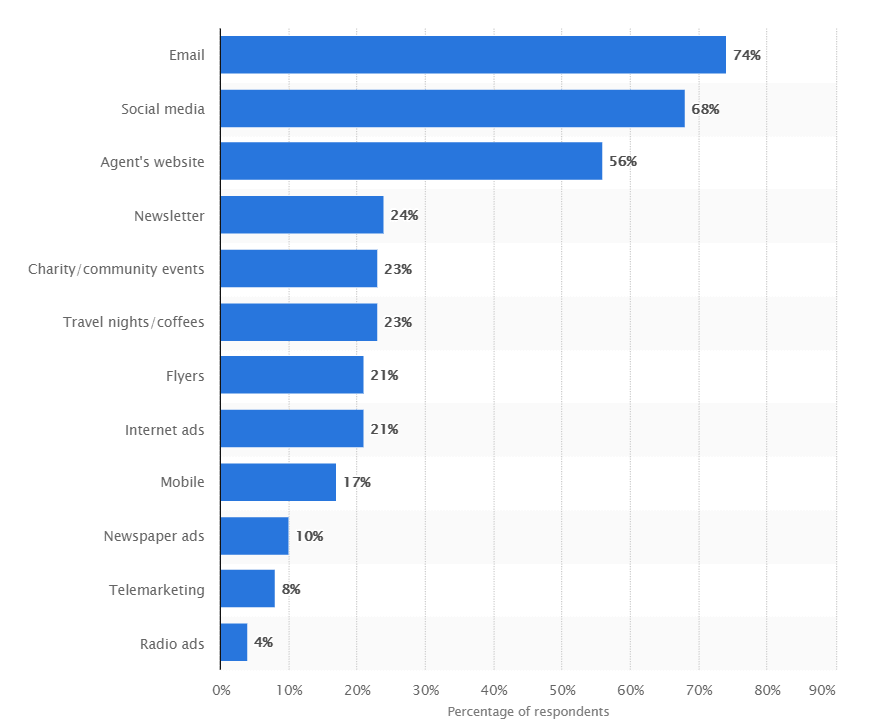 This chart shows what marketing channels travel agencies use to attract clients. As you can see, travel agencies barely use mobile apps, even though most in their audience use mobile devices when travelling.
Concerns about travel application development
Why don't travel agencies create their own mobile applications? There are three main concerns:
Apps are expensive
No experience working with a mobile channel and other marketing tools work just fine
People won't download the app
These concerns are understandable.
Indeed, if your travel company isn't very big, you probably don't need to create two complex native travel agents mobile apps. Android or iOS native mobile development might be unreasonable.
But there are other options — for example, cross-platform development or using special app builders. Cross-platform applications are twice as fast and half as expensive to develop. But you should be aware of the pros and cons before considering a hybrid app for your travel business.
Travel application development with builders can work for an MVP, but it will be much harder to customize apps made with an app builder tool according to your needs. App builders also charge you monthly for using their service. You need to learn all about the features they offer and whether the monthly cost will pay off in the long run.
If your travel agency has never worked in the mobile market before, you'll need some guidance to help you avoid mistakes. Learn the market and get a professional consultation from developers and product managers you can trust.
The last concern is shared by most mobile app owners across domains. While people spend over 90% of their total time on mobile devices in apps, just eight to ten mobile apps account for most of this time. Most apps are deleted just a few days after they're installed.
In this respect, however, travel apps are lucky: according to Statista, travel apps boast one of the highest uninstall periods, or the number of days it takes for the average user to uninstall an app after the last interaction.
Users keep travel apps on their devices longer than any other type of app save ecommerce apps. Another piece of good news is that you can effectively influence the number of downloads by offering your clients unique offers and other benefits they can get only on mobile.
But while your users will get these benefits, what do you get from a mobile app?
Goals and benefits of a travel agency app
Before starting to develop a mobile app for travel agency, you need to make sure your expectations match a mobile app's capabilities.
Note that your application will have less reach than your website. Your mobile application will be targeted at people that already know your travel agency, though potential clients can also install it if you promote it to them.
Here are the main goals of mobile applications for service businesses:
Increase customer loyalty
Build a deeper connection with clients
Providing a better experience
What do I mean by building deeper connections? This has to do with the insights you get about your clients. This information is priceless, and you'll never get it through any other channels. It includes:
Date of birth — Send personalized push notifications with special offers.
History of past trips — Know where your clients have already been and make relevant suggestions for their next adventures.
Accommodation preferences — Suggest the best hotels for your clients.
Travel seasons — Find out when your clients typically travel and offer the best deals as the season comes.
Tourist behavior — Is your client a fan of calm leisure at the seaside or an enthusiastic explorer? Find this out and tailor your offers according to their interests.
A mobile application can create an opportunity for you to personalize your service and see all statistics on your tours, user preferences, and user behaviors. This is information that most tourism agencies currently lack.
Your clients love mobile!
You should too! Benefit from mobile technology and increase loyalty, conversion rate and revenue with a travel agency app
By creating a mobile app for existing clients, you can make them loyal to your agency. If they have an app installed, they're likely to use your services over anyone else's. Here are other benefits of a tourist app:
Engage clients throughout the entire journey, from onboarding to return.
Reduce operating costs, as customers will be able to get as much information in their apps as possible and you'll be able to update it in real time. Your agents will spend less time on each customer and therefore will be able to take more clients.
Get additional opportunities for upselling hotels, flights, tours, activities, and more.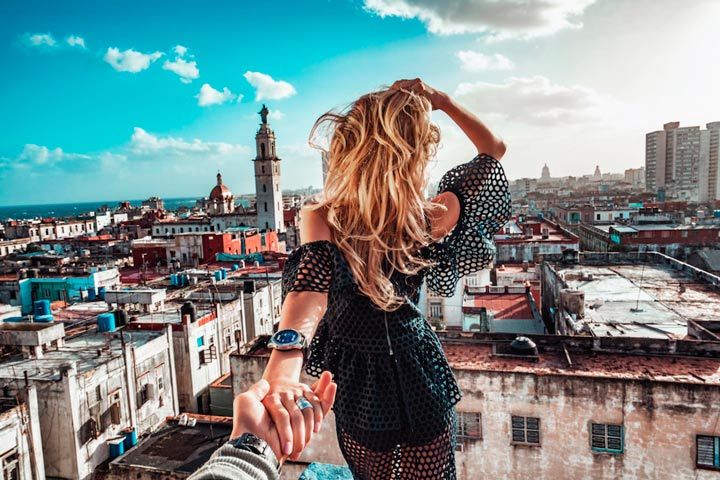 Currently, 20% of your customers probably bring in about 80% of your revenue. If you make those 20% of customers loyal to you and make their customer journey easier, it will increase revenue.
Let's find out what features mobile users need in a travel agency mobile app.
Best travel app features
Features for choosing tours
1. Personal user profiles — Manage information about users such as name, profile picture, birthday, and travel preferences.
2. Tour package catalog — Showcase all the tours you offer with beautiful pictures, short descriptions, descriptions of accommodation, and dates.
3. Search with filters — Allow your customers to quickly find their dream destinations. Include filters by date, destination, transport type, and accommodation for the most effective search.
4. Catalog of hotels available for each tour — Each tour probably includes a few hotels to choose from. Show available hotels for specific dates and be sure to include pictures, descriptions, and reviews.
5. Catalog of excursions available for each tour — Your travel agency probably either has its own excursions or works with partners who are glad to show your clients around. Allow your clients to choose tours they're interested in, or just show the excursions that are included in the tour by default.
6. Online tour package booking — Make booking a tour even faster and more convenient for your clients.
7. Mobile payments — Use any payment processor that's suitable both for you and your clients. PayPal, Braintree, and Stripe are the most popular. With mobile payments, your clients can pay for the whole tour or make a prepayment right from a mobile device.
8. Travel details on flights and accommodation — Help your customers avoid losing any information and having to print it or save it elsewhere. It's much more convenient to have everything in one place. Make sure users can access this feature even if they're offline.
9. Tour packages and hotel reviews — Reviews prove your credibility and help clients choose from all available options. You should also let users leave reviews in your app to build a stronger community around your travel agency brand.
Features that are helpful during the trip
10. Online check-in — Allow users to register for a flight right from your mobile app without having to stand in line and pay for registration.
11. Maps and hotel directions — Help users get to their hotels after the flight. If you want to take extra care of your users, make sure to add offline mode to this feature.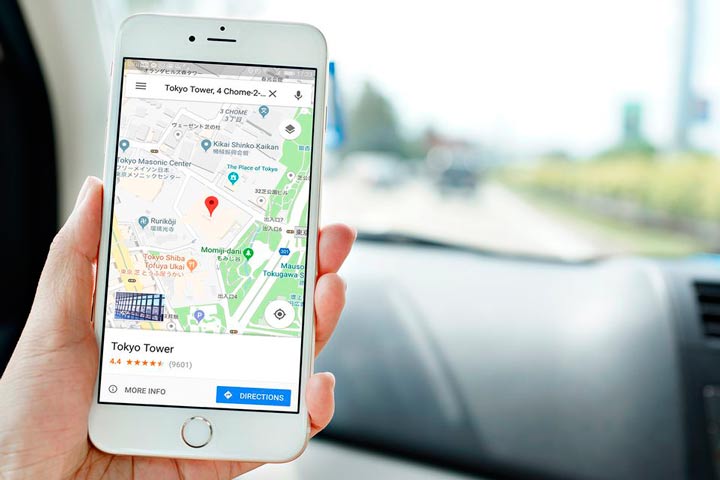 12. Downloadable maps — Offline maps that users can download while they're still at home or from any Wi-Fi spot should include the most common routes, sightseeing spots, and places such as restaurants and restrooms.
13. General information about weather, airport wait times, and visa requirements — Provide a manual of sorts that your clients can check whenever they need. You can add information that your clients often ask for so they don't have to Google every single issue.
Features that are helpful during the trip
14. Push notifications — This is one of the most important features that instantly increases the retention rate of your app. To increase loyalty, notify users about something of value. This can be real-time alerts on price changes, new tours, or personalized offers.
15. Special offers — Show eye-catching tours on the main screen of your app before a user even starts using search and filters. Be sure to add different categories here such as top deals, "recommended deals, and last-minute deals.
17. Loyalty system — Your loyalty system can include points, miles, or any other internal currency your client can earn and spend during a trip on car rentals, flights, or anything else — be creative about it!
18. Birthday deals — With a mobile app, you'll know more about your clients, including when their birthdays are. Offer something special for a user's birthday, whether a tour or some extra points in the loyalty system.
Travel app development cost
In this section I'll give you an idea of how much can a travel mobile app cost. We have estimated each feature I presented you earlier in 8-hour working days a developer will need for implementation.
Note, that development cost also includes time for communication, preparation stage and work of business analytic, QA-engineer, project manager and other team members for the best quality of your app. Cost also includes fees for servers and third-party services such as maps.
You can read more information on additional costs of travel mobile app development in our article.
The cost also depends on developer's hourly rate. Here you can see what average rate you'll pay for the same job in different parts of the world.
For example, an app that could cost $15 000 in Ukraine will cost you over $30 000 in North America, so the location of the team you choose also matters a lot. Consider this when you calculate the cost of each feature.
Here is the estimate:
| | |
| --- | --- |
| Feature | Estimate in days |
| Personal user profile | 2 – 3 |
| User preferences | 2 – 3 |
| Tour package catalog | 2- 3 |
| Tour package description (profile) | 2 -3 |
| Search | 2 – 3 |
| Filters | 1 – 3 |
| Catalog of hotels | 1 – 3 |
| Profiles of hotels | 2 – 3 |
| Catalog of excursions | 1 – 3 |
| Оnline booking | 2 – 4 |
| Mobile payments | 2 – 4 |
| Travel details on flights and accommodation (my reservations) | 1 – 2 |
| Offline functionality | 1 – 2 |
| Tours package and hotel reviews | 1 – 2 |
| | |
| Online check-in | 1 – 2 |
| Maps & hotel directions | 2 |
| Downloadable maps | 1 – 2 |
| General information | 2 – 4 |
| | |
| Push notifications | 2 – 4 |
| Special offers and promotions | 1 – 2 |
| Top and recommended deals | 1 – 2 |
| Last minute deals | 1 – 2 |
| Loyalty system (points, miles, etc) | 3 – 6 |
| Birthday deals | 1 |
Our experience
At Mobindustry we've already created a location-based travel application Triposo. It's main idea is to provide offline maps to users who travel to certain destinations. Apart from online maps, Triposo offers tours, city walks and unpopular, but beautiful destinations with mini-guides made by other travellers and locals. In this app users can also book hotels, tours and activities.
Currently Triposo has over 50.000 destinations, and when we created this applications, in was a real challenge to provide complex offline maps that could be downloaded independently. We needed to implement a unique distribution system for separate region with its own set of locations, guides and booking opportunities.
To add even more value to users and get ahead of competitors, the business added other useful features like currency converter, phrasebooks, weather forecasts and information about locations, festivals and culture.
Final thoughts
Some travel agencies create apps where people can book everything from flights to hotels. But this doesn't give clients any reason to install these apps, as people already have other big services with thousands of options.
Just as there's no point trying to build another Facebook, you don't have to create another aggregator. Focus your app around your own unique offers and show that you care about your clients. You can also make an app for travel agents as a complimentary part of your client app, to optimize work of your staff.
To make your target audience happy, lift all the worries from your clients and make your tours super easy to book and enjoy. You can offer your clients a catalog of ready tours they can buy right away without having to worry about anything, or let them create their own custom tours.
The most important features for a travel agency app include:
Catalogs
Push notifications
Search and filters
Travel details
These features are a must. Everything else you can start adding later once you've gathered feedback from your first users.
If you want to create a travel agency application, be sure to contact us. We have experience in travel app development, and we can not only deliver the features, but also make your app a great addition to your business.
Your clients love mobile!
You should too! Benefit from mobile technology and increase loyalty, conversion rate and revenue with a travel agency app
Get a Free Consultation!