Telemedicine trend
The global IT healthcare market is predicted to reach $20 billion by 2020. Telemedicine accounts for one-quarter of this market. Why has telemedicine app development experienced such a big boom? There are several reasons:
Available at all times. People postpone visits to doctors for many reasons: they're too busy to bother going to a clinic with a minor issue, their doctor isn't available, and so on. In some countries, particularly in Africa, there's a shortage of doctors, and they have no possibility to satisfy everyone's needs.
Telemedicine applications for healthcare are accessible because it requires less time: to visit a doctor, a patient only needs to launch an app and press a few buttons.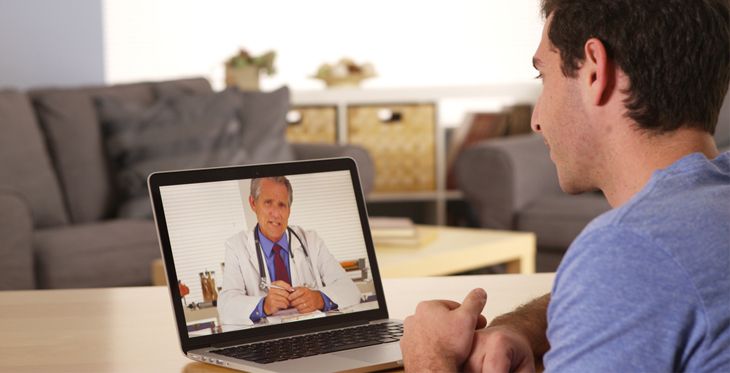 Cost-effective. Telemedicine is definitely profitable. It's much easier and cheaper to create and maintain a single mobile app than to open your own clinic. This is why many entrepreneurs are currently starting this type of business.
For healthcare businesses that already have a physical location like a hospital, clinic, or medical center, telemedicine offers an additional source of revenue. With an mHealth app, doctors can help more patients each day and medical facilities can provide better service.
According to Statista, as of 2017, almost 30% of healthcare organizations reported saving around 20% of their costs with the help of telemedicine. Another 42% of organizations reported saving from 5% to 19% of the cost of providing their services.
Secure. If they comply with all laws and regulations, mobile healthcare apps can securely exchange data between doctors and patients.
Less red tape. Mobile apps send all data to servers that store it and connect it to a CRM. With the help of a mobile app, conversation recordings, and health record sharing, doctors and patients can access data at all times from a telemedicine software platform and make your work more effective. This means that when a patient goes to a different doctor, they can immediately see the patient's health history and help the patient more effectively.
These are just some of the reasons why telehealth apps were used by over 7 million people across the world in 2018. The more telehealth products there are, the more people use them. According to American Well, 65% of all patients in the US are willing to use telemedicine on a regular basis.
Further, we'll talk about the features you need to make a solid telemedicine app, the details to consider, and the potential budget for a native app. Note that you can also create a cross-platform solution for around 30% to 40% less.
Top telemedicine technologies
Telemedicine software is varied: you can make a relatively simple app that just connects doctors and patients, or you can create an app that's integrated with your whole business ecosystem and helps you automate your processes and optimize doctors' work.
Most telemedicine startups with complex apps use these technologies:
Machine learning teaches software to derive insights from huge blocks of data and thus helps doctors make faster and more accurate decisions about their patients' health.
Artificial intelligence powers chatbots, voice recognition, and other features that can help patients before the doctor steps in. This helps to optimize doctor's time and provide instant help at all times.
Blockchain technologies help to provide highly secure data transfers and data storage, which is paramount for healthcare apps that store sensitive patient data that hackers are hungry for.
Big data technologies gather every single detail about a patient's health history, making it faster for a doctor to dive into the context and help each patient based on their individual needs, previous diseases, allergies, and so on.
All these technologies are rather costly to implement, but they make a big difference in the way your business functions, allowing you to save money in the long run and provide the best service possible.
In the next section, we'll discuss must-have features for a telemedicine application and describe the best ways to implement them.
Must-have telemedicine app features
These features make up the client application for patients. You can choose the most important ones for your MVP, then gradually add the others.
Features for patients
Registration. During registration, be sure to request only the data you need for your app to operate. Remember that the longer the registration process, the fewer people will go through it. Also, to increase the number of registered users, provide several ways to register: email, phone number, social media. However, if your app stores sensitive personal data, we don't recommend social media registration or login.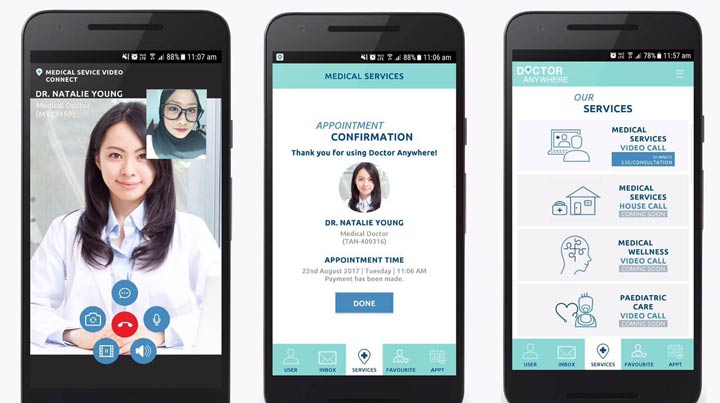 Personal profiles. In personal profiles, you can request more information about users. However, don't ask too many questions. Also, a personal profile should include medical records and settings.
Doctors' profiles. If your app is an aggregator for doctors who can provide remote consultations, doctors' profiles are a must. A doctor's profile should include a photo, name, area of expertise, and credentials. Also, don't forget to add ratings and reviews.
Ratings and reviews. Allow users to rate doctors so other patients feel safe and can choose the best option for them. The app's logic can automatically show doctors with the best ratings first.
Search and filters. Generally, users will be looking for something particular in a telemedicine app, so search and filters are an absolute must. A patient should be able to choose a doctor by criteria such as specialization, rating, language, and so on.
Calendar and appointments. This feature allows users to book appointments with doctors and see their schedules. When someone books an appointment, this time slot should be shown as taken for all other users. Also, users should be able to edit and cancel appointments.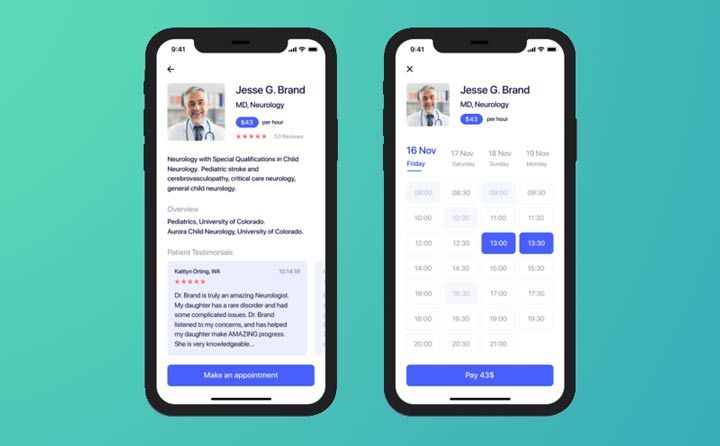 Text/video chat. This is the main feature that connects doctors to patients. You can implement either text chat, video chat, or both for the most convenient experience. Don't forget to add the ability to attach media to text messages so users can share files and photos.
Geolocation. A location-aware feature is needed to verify that a patient and doctor are from the same area – for example, that they're located within the same state in the US. This is important as states have different regulations.
Payment gateway. Integrate any payment gateway that's convenient for you and your audience to allow users to pay for consultations. We usually recommend proven services like PayPal, Stripe, or Braintree.
Push notifications. Push notifications are your primary way of communicating with your users. Send notifications to remind users of upcoming appointments, notify of successful transactions and incoming messages, and promote your services.
In-app calls. Apart from video and text chats, you can also implement regular phone calls from your app. Sometimes this may be more convenient for users who don't have a stable internet connection. Also, calls can be used for emergencies.
Insurance plan. Add the ability to attach an insurance plan to a user's profile to keep everything in one place and automatically send bills to the insurance company.
Features for doctors
These features will help doctors provide fast and helpful consultations.
Registration and login. Doctors should be able to register with the help of their email or mobile phone, but additional verification should be required to create an account – for example, a scan of a doctor's licence.
Doctor profiles. A doctor's profile should contain important information like experience and education, and allow doctors to list and verify their credentials.
Schedule and calendar. In a calendar, a doctor should be able to mark available hours for remote consultations and immediately see when an appointment is taken. Also, after an appointment is scheduled by a patient, the doctor should confirm it.
Text and video chat. This functionality is the same for patients and doctors. Text chat is easier to implement, so you can use it for your MVP. However, video calls are more effective, so you might want to consider them in the future.
EHR review. Before a consultation, give the doctor an opportunity to check the patient's medical history and add new information to it.
Video session recording. To control the quality of your service, you should be able to record video and audio consultations. This will protect both your users and doctors in case of a dispute.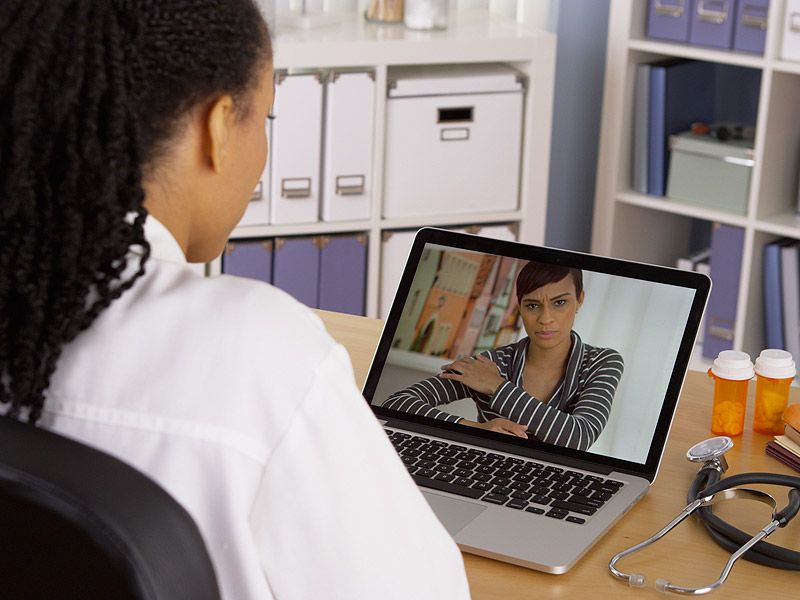 To divide the functionality for patients and doctors, you can choose one of two options: create two separate apps united by a single backend, or make two types of profiles in one app. Your choice depends on the architecture of your app, and you can choose what's best for you with the help of your developers and business analysts.
Challenges
Though the telemedicine industry is lucrative, it has its own challenges. Ignoring them can make your app not user-friendly at best and vulnerable to hackers at worst.
Design
UI/UX design is a challenge because a telemedicine app has to be highly functional, clear, and accessible for people with disabilities. This means it should have voice control features and a layout that looks good with fonts of different sizes and different color palettes.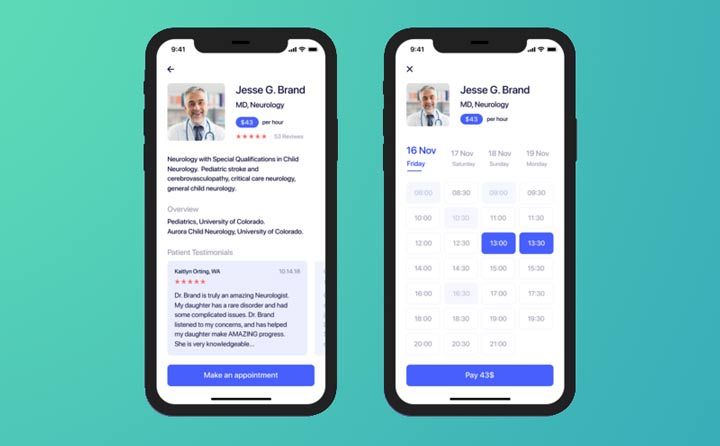 Also, telemedicine applications have two types of profiles: for doctors and for patients. When creating a design, you should pay attention to these differences and approach the design from the user's perspective.
Security
Security is the most important issue for telemedicine apps, as they involve sensitive information. To make your app secure, encrypt and obfuscate all personal data you send and receive, and use third-party servers that are compliant with all applicable laws and regulations in your target country.
For example, telemedicine apps operating in the US must comply with HIPAA, the Health Insurance Portability and Accountability Act.
Integrating with your current system
If you want to create a telemedicine app for your hospital, clinic, or medical center, you'll need to integrate it with your current management system. This requires both technical and management skills.
Technologically, you'll need to make sure that all the information you'll be getting from the app will get into your current web CRM correctly and will help you get more insights instead of just piling up.
Budget for a telemedicine app
The cost of developing any app consists of several factors:
Technology stack
Number and complexity of features
Design and its complexity
Hourly rate of the development team
The number and price of third-party services you'll use in your app (e.g. Google Maps)
The feature scope and hourly rate are the two factors that affect the development cost the most. Development company rates are usually based on a company's experience and location.
The whole telemedicine app development process typically consists of these steps:
Business analysis – creating a technical specification and wireframes according to your business needs
Design – includes detailed mockups
Development and quality assurance – these two processes happen simultaneously, and their duration depends on the technology stack
Security check – compulsory for telemedicine apps and includes security testing
Deployment – releasing the app to the app stores and optimizing app store profiles for search
Maintenance and support – includes bug fixes, updates, and tweaking the existing features
In this table, we'll show you how many eight-hour days it may take to develop each feature we discussed in this article. Note that this estimate doesn't include preparation, design, or maintenance: all this is required to develop a telemedicine app.
| | |
| --- | --- |
| Feature | Estimate in days |
| Personal user profiles | 2–4 |
| Login | 2–3 |
| Onboarding + tutorial | 1–2 |
| Doctors' profiles | 2 – 4 |
| Ratings and reviews | 1–3 |
| Search | 1–2 |
| Filters | 1–2 |
| Doctor listings | 1–2 |
| Calendar | 2–4 |
| Mobile payments | 2–3 |
| Appointments | 1–3 |
| Text chat | 3–6 |
| Video calls | 4–6 |
| Push notifications | 2–5 |
| Data encryption | 2–4 |
| Patient medical histories | 2–3 |
| Consultation history | 1–2 |
| Consultation records | 1 |
Now you can calculate the cost of starting a telemedicine app startup.
Final thoughts
Telemedicine development requires lots of attention to functionality, convenience, and security. Apart from following security best practices, you and your development team should make sure the app complies with legislation in your target country.
Telemedicine is all about enabling communication between doctors and patients, and features like text and video chats help to diagnose patients as accurately as possible. Also, these features require the most attention in terms of security, as they're the main way sensitive information is shared.
To make your app more credible for users, you should add detailed information on each doctor and allow patients to review and rate doctors. This will make your telemedicine platform trusted and eventually more popular, as people will share their positive experience with friends and relatives.
In this article we discussed main telemedicine features and the cost of telemedicine startup.
We can build a telehealth app of any kind, from a small cross-platform MVP to a big enterprise solution that integrates with your internal management system. Don't hesitate to contact us and ask any questions regarding telemedicine development. We'll make sure each patient finds a doctor through your app.
mHealth development services
Are you planning to use telemedicine to your advantage? We will translate your ideas into an intelligent and powerful mHealth solution
Get a Free Consultation!