Scooter Sharing
App Development
Jump into the growing market of micromobility services with a reliable
scooter sharing app
Benefits of an eScooter business
Market potential

The global scooter sharing market is expected to generate $553 million by 2025, growing at a CAGR of 24.4% from 2019 to 2024.
Low entrance cost
Scooter sharing requires moderate investments compared to other businesses: only $40–50K depending on the number of scooters.
High demand

Because of congestion, lack of parking space, and environmental concerns, more people are choosing scooters to move around cities.
Low maintenance costs
Compared to carsharing services, the maintenance cost of scooter sharing services is low. On-demand software maintenance costs only $500 a month.
Market challenges
Getting permission from cities
Your scooter sharing business depends on city laws. Some big cities have banned scooters from their sidewalks and streets, so you'll need to find a city that welcomes your service.
Parking issues and public safety
Users can leave scooters on curbs and sidewalks, so you'll need a maintenance team to take care of abandoned scooters.
Lack of infrastructure
Few cities have infrastructure for scooters, such as charging stations and docks. Some startups are trying to solve this problem by building docks for scooters and bikes.
Seasonal business
People use scooters when it's warm and dry outside, so expect lower revenue in autumn and winter.
Must-have features for a scooter sharing app
Push notifications
Onboarding
Google Maps integration
Real-time GPS tracking
ID verification
Smart lock functionality
In-app payments
Social media integration
QR code / ID scanner integration
Ride statistics
Booking functionality
Main features of the admin panel
Web link and log-in
Customer management dashboard
Station management
Vehicle management
Monitoring for damaged vehicles
Ride management
Payment management
Notifications
Revenue data analysis
Reviews & ratings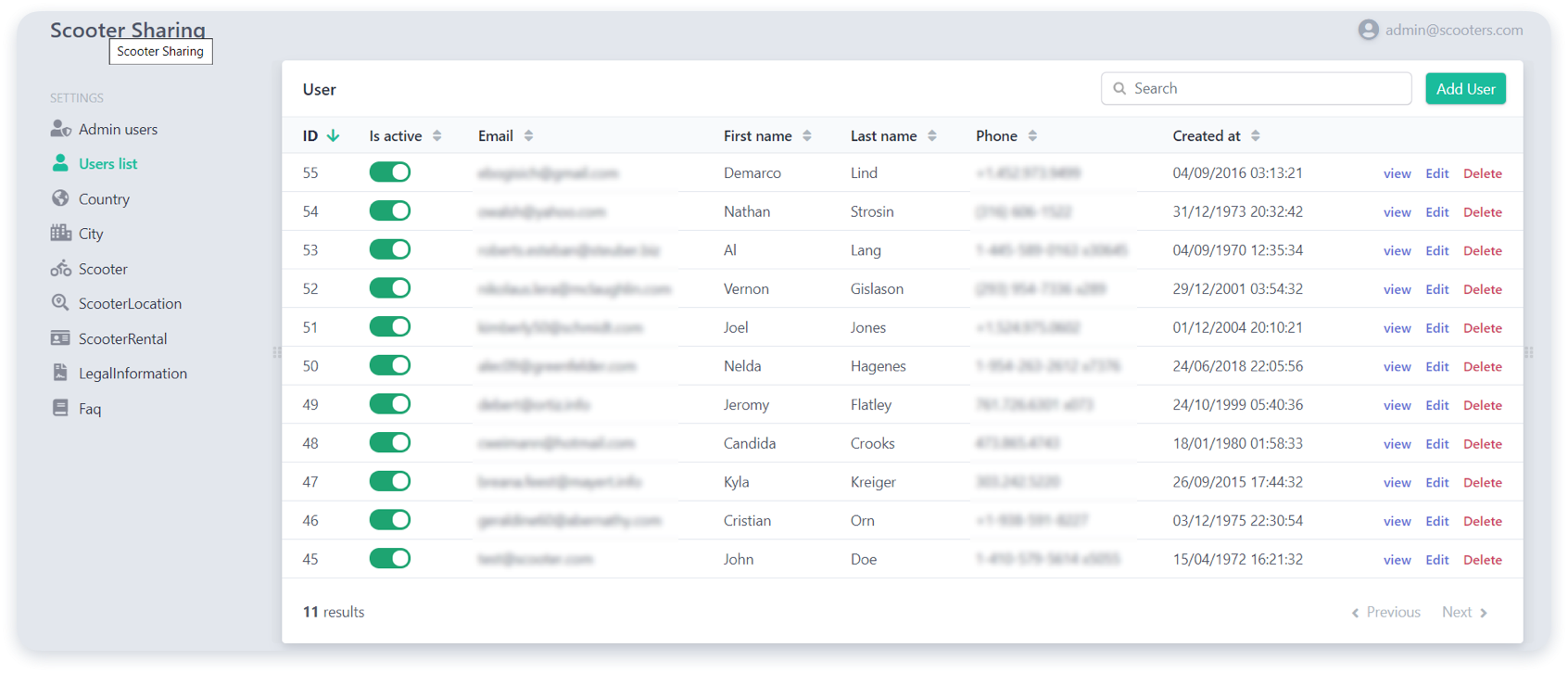 Our tools for scooter sharing
Servers
DigitalOcean Cloud Services
Amazon Web Services
Linode
Vultr
Microsoft Azure
Recommended hardware
See what our partners have to offer
Teltonika IoT controller
The TST100 IoT controller provides a range of adjustments and convenient software for uploading data to IoT devices
Anti-theft system (the main board and brakes lock in case of damage)
High level of data protection
Simple integration with kick scooter and sharing software
Power-saving functionality
Segway Max
Segway Max is the most reliable option for scooter sharing. Main features:
Fast-charging battery
60 km range
Tough frame
Fitrider
Budget solution swappable battery design. Main features:
Swappable Battery
Non-Folding Frame
55km range
Why choose Mobindustry?
80%
of clients recommend us
43%
of clients return for another project
Other types of apps we build
What our clients say
"Great company to work with. Clear client oriented communication, attention to the details, great skills. Reliable partners who offer great solutions"
"Mobindustry – is hands down the best provider for mobile app development. We have been successfully working on Android version of our project with the help of their amazing team. Highly Recommended"
"Mobindustry proved to be a proactive and business-oriented agency."
"It was good to work with Mobindustry. The diligent team, good communication and coding skills. Guys were fast in responding to our propositions and comments."
Share your idea
What happens next:

Our representative will contact you
within 24 hours
We'll gather all your product requirements.
Our team of business analysts and developers will prepare an estimate.
Want to get fresh news and exclusive materials on developing IT solutions?
Subscribe to our newsletter – no spam or promotions!