How to Create a Clothing Rental Platform Like Rent the Runway
Thinking about creating a clothing rental platform? In this article, you'll dive into the world of rental businesses and explore the business model of Rent the Runway, the most famous rental platform today. You'll also find a step-by-step guide on how to build your own clothing rental platform.
According to Research and Markets, the global online clothing rental market reached $1.26 billion in 2019 and is expected to reach $2.08 billion by 2025. North America leads the online clothing rental market, followed by the Asia-Pacific region.
North America is expected to contribute significantly to the online clothing rental business due to a growing focus on fashion.
What is Rent the Runway?
Rent the Runway is an online service for renting clothing and accessories. It was created in 2009 as a completely online brand but has grown to the point of opening physical stores in New York, Chicago, Washington, D.C., San Francisco, and Los Angeles.
Rent the Runway allows people to rent clothes for four to eight days at prices that can be as little as 10 percent of the retail value.
Customers receive two sizes of each item to make sure they find the right fit, and everything including dry cleaning is included in the price.
In 2016, an add-on service was launched that allows people to rent four items a month for a fixed fee. Each month, subscribers can exchange their items for new ones or keep them for another month. Rent the Runway is one of the first retail brands of its kind and has grown rapidly since its inception.
This brand puts fashion first and ensures that everyone has access to clothes they feel good in, no matter their budget. The Rent the Runway application and website simplify the whole process and make the service accessible to everyone.
Business model for an online clothing platform
An online clothing rental platform isn't just a fashion company. It's also a tech company that reinvents the fashion industry. At the core of a clothing rental platform's business model lies strategic partnerships with designers and agencies to give their audiences access to the latest clothing and accessories.
As the owner of a clothing rental platform, you'll rent out apparel and accessories and charge a percentage of the rental price as a commission. This commission should cover your service charges, dry cleaning, and other incidental charges.
When a user places an order, items are shipped from the renter's warehouse to the specified packing address. You should also provide insurance during the rental period to cover any accidental damage.
Clothing rental platform components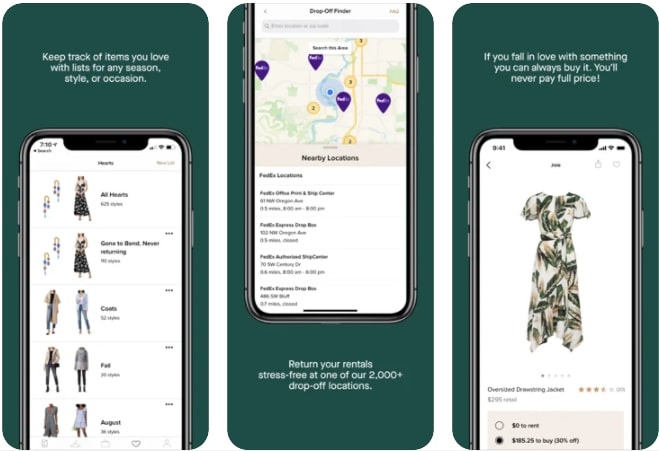 Homepage
The homepage of a clothing rental platform should focus on finding and renting clothes. It should have a neat design and use white space wisely. It doesn't have to be long, but it should only contain important information.
Display popular clothes on the homepage as a slider to grab the attention of visitors. The ideal place for this section is just below the fold. This section should also display the following for each item:
Item name
Product pictures
Designer name
Rental price
Add to favorites option
You can provide discounts on a customer's first rental to encourage users to rent on your website or app and increase conversions. Display a discount pop-up and a sign-up link when a user visits your rental website's homepage. Many online retailers follow this strategy to increase user registrations and connect via email even if the visitor doesn't place an order.
Checkout process
Once a user has chosen clothes they want to rent and entered shipping information, they'll need to pay. A payment gateway is one of the most important features of any online rental platform. You can let users pay by PayPal, credit card, or bank transfer. Don't forget to focus on the security of your payment gateway.
In addition, consider allowing your customers to pick up orders from nearby locations rather than have them delivered.
User account
Registered customers should be able to view and manage order details, profiles, and rewards through user accounts with these sections:
Upcoming order — View and modify orders
Order history — View order history
Profile — Update the profile
Credits — View referral credits
Invitations — Send invitations to earn credits
Ratings — Enter personal information to get a style rating
Remember that users should be able to manage all aspects of their activities on your website and app through their respective accounts.
Clothing listings
Product pages on your site should be a source of inspiration for both online stores and users; they should be informative and uncluttered. From the rental process to viewing images, everything should be organized with the user's needs in mind.
It's pretty obvious that you need to use high-quality images. In addition to product images, there should also be a place to display photos of customers who have previously rented products. These images can be taken from reviews and will help buyers see what the clothes actually look like.
Rental form
The clothes rental process should be quick. Ask users for required information such as postal code, size, and delivery date and place a Rent button at the end of the form.
This section can also provide the following:
Stylist notes
Size chart
Product details
Buttons to share the product on social media
Review system
Implement a ratings and review system that allows users to easily find relevant reviews. Here are a few things you can include to meet the needs of your users:
Filters such as size, height, and bust
Fields to enter age, body type, and height
Review and photo sliders
Recommendations
Sometimes, one piece of clothing isn't enough. This is why you should add a You May Also Like section right below the product description on your website and app. From design to implementation, everything should be in order with clothing recommendations.
Popular competitors of Rent the Runway
Glam Corner
Glam corner is an online clothing rental service based in Sydney that launched in 2012. It's one of the premier designer clothing rental websites for women in Australia. The platform is famous for its wide range of designer dresses and gowns.
Gwynnie Bee
Gwynnie Bee is perfect for women who want to look stylish and elegant every day. It offers a casual and formal collection for women of every shape and size. Customers need to create size profiles before they start browsing.
Style Lend
Style Lend gives people the opportunity to choose from thousands of unique designer pieces hand-selected from the most stylish wardrobes in New York City. Customers in New York receive items the same day. If a dress isn't perfect, a customer can return it for another stylish look without any problem.
American Eagle Style Drop
American Eagle allows subscribers to rent jeans, tops, dresses, and more for $50 a month. Customers can rent three items at once and are allowed unlimited supplies plus discounts on items they wish to purchase.
Four steps to developing a clothing rental platform
Here are four steps to make your clothing rental platform idea come to life and simplify the development process.
1. Research your platform's target market
When developing a clothing rental platform, the first thing you need to consider is your target audience. Understanding your users' needs will make development easier and lead to a better final product. Find out as much as you can about your potential users. You can start by researching the following:
Demographics. Find out the average age of your users, where they live, what devices they use, etc.
Behavioral trends. Find out what decreases a user's desire to use your clothing rental platform, your users' security expectations, and so on.
To develop an amazing clothing rental platform, we suggest creating a user persona, or a detailed portrait of your ideal user.
2. Choose a monetization model
The next step is to choose the right monetization model for your clothing rental platform. Now that you know your users' needs, you can predict what your users will pay for. In addition to making money from renting clothes, your online clothes rental platform can generate revenue through the following channels:
Commission. Earn a small commission on every rental on your platform.
Advertising. Make site or app ads part of your long-term monetization plan. You can choose one of the following ad options:

Cost per click. Charge advertisers every time a user interacts with their ads in your app.
Cost per mille. Charge advertisers for every 1,000 ad impressions in your app.
Cost per action. Charge advertisers only when users complete a target action, such as installing an app or signing up for a newsletter.

Featured or sponsored listings. Allow clothing owners to post their offers on the homepage and other special areas of the website for a small fee.
Subscriptions. Offer subscriptions with benefits such as reduced shipping costs, refunds, or even a free rental after registering.
In addition, you can upgrade your online designer dress rental platform by adding a selling feature. Allowing fashion brands to sell their products on your platform will open up another source of commission.
3. Hire an app development team
The third step is to find a development team you want to work with. The first phase of development will include business analysis, developing a technical specification, estimating the development cost, and planning the project. Before diving into the actual development of your clothing rental platform, you and your team should set up the development workflow, choose the main product features, and design the concept.
Then your development team should create project milestones and start working on the minimum viable product, or MVP.
4. Create an MVP
Creating a clothing rental platform is a big and complex project. We recommend launching a minimum viable product first and testing its technical and business performance. By using an MVP approach, you'll be able to find out what users like and don't like in your platform. Then you'll be able to consider their feedback and improve your app.
How much does it cost to build a clothing rental platform?
The cost of developing a clothing rental platform depends on these factors:
Product features
Product design
Hourly rate of your development team
Project size and complexity
Technology stack
Number of team members on the project
Time frame
The biggest factor that influences a project's cost is the hourly rate of developers, and that often depends on their location. For example, an application that costs $40,000 to build in the US will cost around $9,000 if developed by engineers in Ukraine.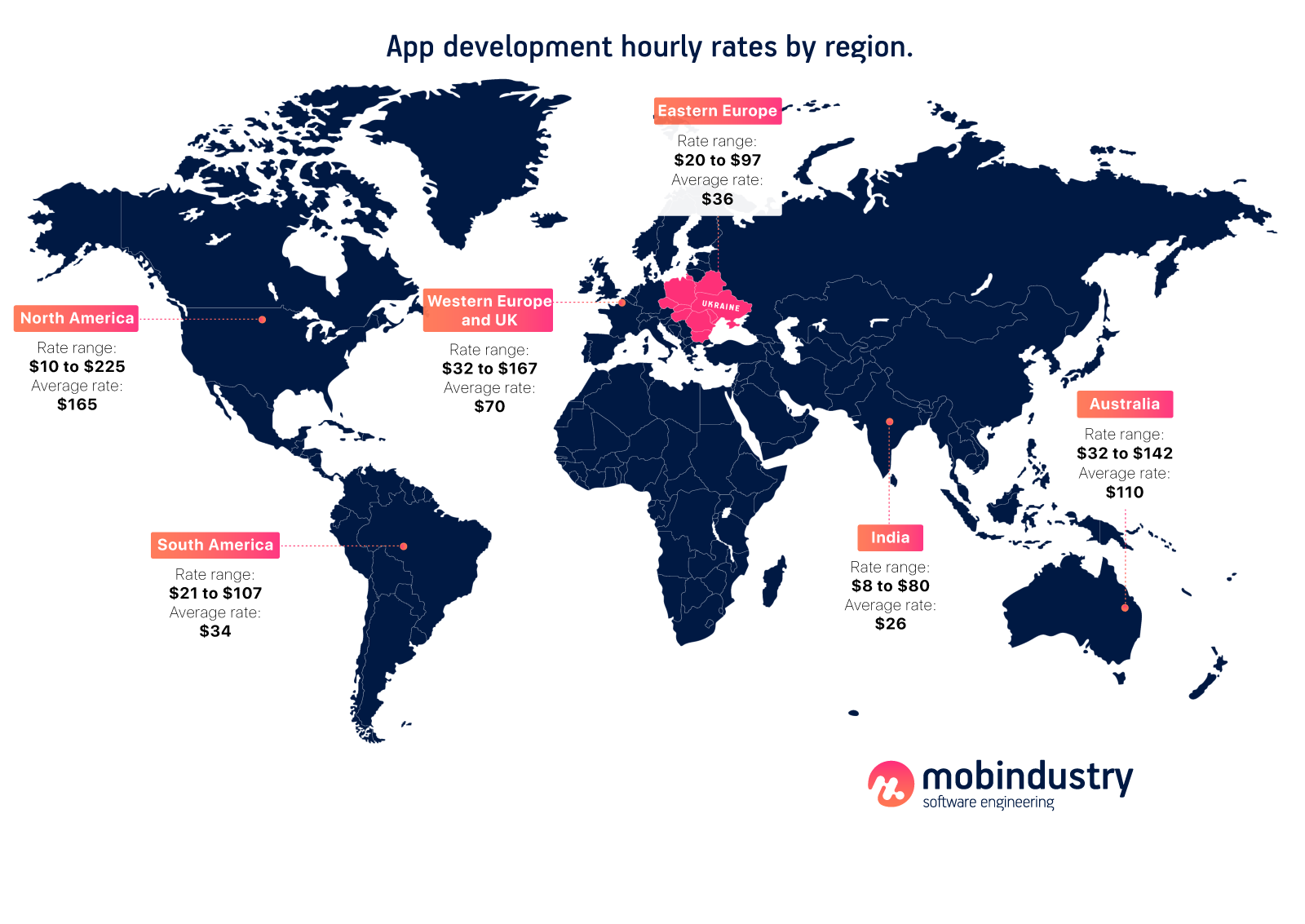 Developing your project with a company based in Eastern Europe is cost-effective and gives you access to top talent.
Quick summary of developing a clothing rental platform
A clothing rental platform, if developed correctly, can become successful and bring a lot of value to users.
Key takeaways:
The global online clothing rental market reached $1.26 billion in 2019 and is expected to reach $2.08 billion by 2025.
As the owner of a clothing rental platform, you'll rent out apparel and accessories and charge a percentage of the rental price as a commission. This commission should cover service charges, dry cleaning, and other incidental charges.
Create a clothing rental platform MVP first and test its technical and business performance.
Developing your project with a company based in Eastern Europe is cost-effective and gives you access to top talent.
If you want to create a clothing rental platform but don't know where to start, contact Mobindustry for a free consultation.
Rate the article!
🌕 Cool!
🌖 Good
🌗 So-so
🌘 Meh
🌑 …