How Much Does It Cost to Make a Shopping App in 2023?
The cost to develop a shopping app is pretty high. But in the modern world it can be even more expensive for an online retailer not to create one. Competition in the ecommerce market is intense, and a mobile app can be a major advantage for your business since more and more people are using smartphones to shop online, and retail is shifting to mobile commerce or mCommerce for short.
Why mCommerce?
Smartphones take one of the top places on the list of things people can't leave home without. We use smartphones everywhere, and they've already become our companions that help us complete different tasks throughout the day like communicating, ordering food, managing finances and finding routes. Shopping is one of them. Want to make your own shopping app, this article will come in handy.
According to research by Google, over 58% of mobile device owners use smartphones for monitoring prices, comparing products, and making purchasing decisions. Mobile phones are also the primary source of information about deals, offers, and discounts. Though in 2016 only 38% of all purchases worldwide were made through phones, this number is growing.
This chart shows the percentage of US retail sales that come from mobile phones. The share of sales via mobile devices is increasing rapidly. One of the factors that might be a reason for that, is the convenience of purchasing through smartphones thanks to payment gateway like Braintree, PayPal, and Stripe.
Apart from making actual sales through your mobile shopping app, you can also enjoy many other benefits from offering your customers a mobile app. Let's talk about them.
Benefits of mobile apps for retailers
Mobile apps have lots of advantages because of the capabilities of modern smartphones. The capabilities of smartphones result in tons of new opportunities to help your business work more effectively, attract new clients, and increase sales.
1. Access to smartphone hardware – Unlike mobile websites, mobile apps can interact with
Cameras
Microphones
Geolocation
Accelerometers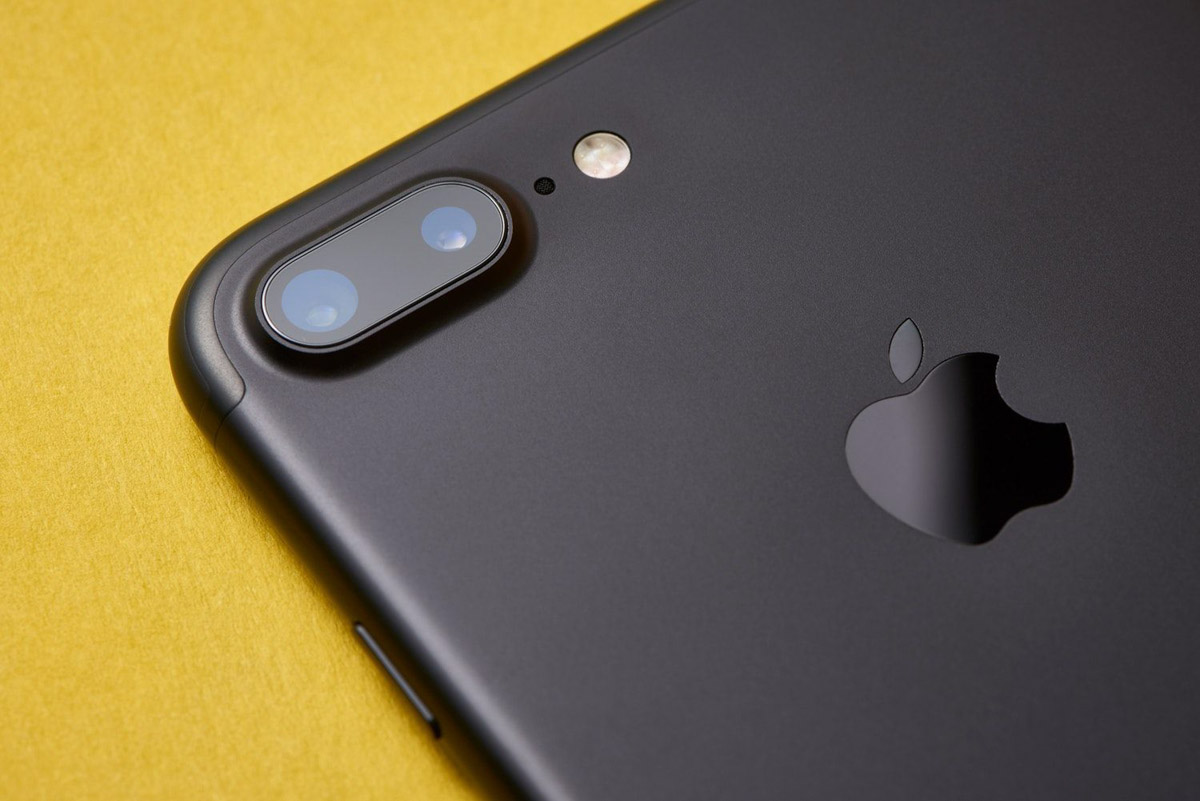 For a retail app, access to geolocation is probably the most interesting capability. Why? Because it allows you to:
Show the location of your brick-and-mortar stores (if you have any)
Deliver orders right to your customers and show accurate delivery statuses
2. Great user experience – Content in a mobile app loads much faster than on a mobile website.
3. Community around your brand – You can add social features to your mobile app and allow your customers to share items they've bought.
4. Engagement – A great way to encourage engagement is to add gamification to your app. Gamification is one of the most effective marketing strategies, and mobile apps open tons of possibilities to get creative with it.
5. Push notifications – Push notifications boast great open rates. You can enrich them with media content and inform users about new offers and discounts in an engaging way.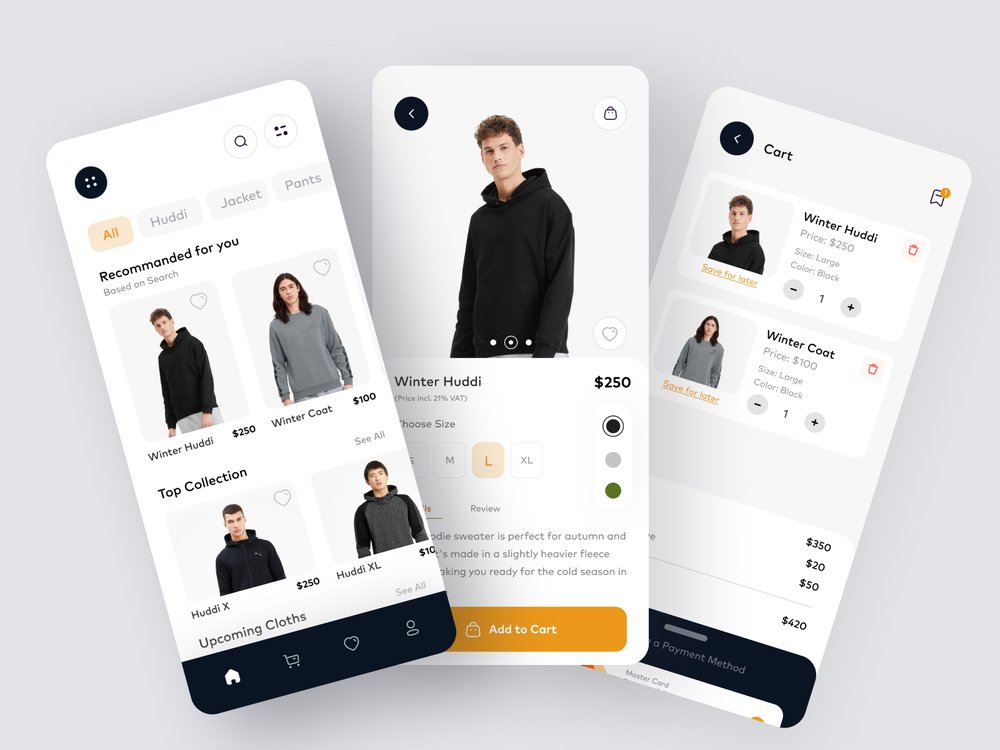 6. Payments – Paying in a mobile app is fast and convenient. Mobile payment processors also have a great number of options: multiple payment methods, support for various currencies, and so on.
7. Personalized approach – Mobile app analytics allows you to know more about your customers. When do they make purchases? What kinds of devices do they own? Do they have kids? What hobbies do they enjoy? All this can make your marketing campaigns more personalized and effective.
What do all these advantages of mobile apps result in?
More user engagement
Higher conversion rates
New possibilities for marketing
Increased customer loyalty
The best thing about mobile apps is that their capabilities allow you to be really creative. There are some basic features you definitely need in your ecommerce app, however, or else it won't work for your customers. Now we'll talk about how to create online shopping app.
Let's explore what you'll need for your retail mobile solution as a baseline and then get creative and imagine what you could add to your app to make it stunning.
Ways to build a store app
Application construction software. The easiest and the cheapest way to make custom ecommerce app is to use shopping app builders, which require no coding experience. Despite the fact that it is quite tempting to choose this approach, it might be not the best option. If you're planning to create shopping app with advanced features like geolocation and a system of rewards for buyers this option is not for you.
Mobile app development company. This approach is way more expensive. However, if you want to develop a good quality shopping app you should hire an ecommerce app development company. The app made by a team of professional developers is more reliable and most likely to become successful. The team for shopping app development usually includes a developer, a project manager, a designer of mobile interfaces, a copywriter, and a marketer. Also, when you hire an ecommerce app development company you can get constant support for your app.
How to create a shopping app: must-have features
Here are the basic features you'll need to create a mobile app for online shopping. These features will make up a standard, solid ecommerce app.
1. Onboarding
If you want to develop a mobile shopping app that will actually attract users, onboarding should be quick and easy: don't make users spend too much time filling in information. The best way to make onboarding quick is to allow users to register through third-party services like Facebook and Google.
You should also think about what happens if your customer forgets their password.
Onboarding includes not only registration, however. It should also include a tutorial that shows new customers how to use your application.
2. Personal profiles
The first thing your app will require from a customer is to register. While registration isn't usually necessary just to browse a website, it's harder to reach your website customers unless they've registered. With personal profiles, you'll be able to get additional information about your customers and tailor your marketing campaigns according to their preferences.
Personal profiles should include all information necessary for delivery, for example, mailing address, zip-code, so that customers don't have to type in the same information over and over. This includes payment data, addresses, names, and other details.
3. Multiple accounts
If you own a marketplace, you should think not only about accounts for customers but also for sellers. Seller accounts should include their own set of features such as the ability to add products, receive payments, and communicate with customers.
4. Landing page
The landing page of your app is the first thing your customers will see after onboarding. Make sure it includes the information that's most interesting for your users. For example, your landing page can display banners with the latest deals or the most popular product categories.
5. Product catalog
The product catalog in your ecommerce app is the core of your app. Your catalog should be image-driven, and the most common way to do that is to make tiles with pictures, product names, and prices. Another way to do it is to make a list with the same elements that go directly underneath one another. You can also show a fragment of a product description if it fits into your app layout well.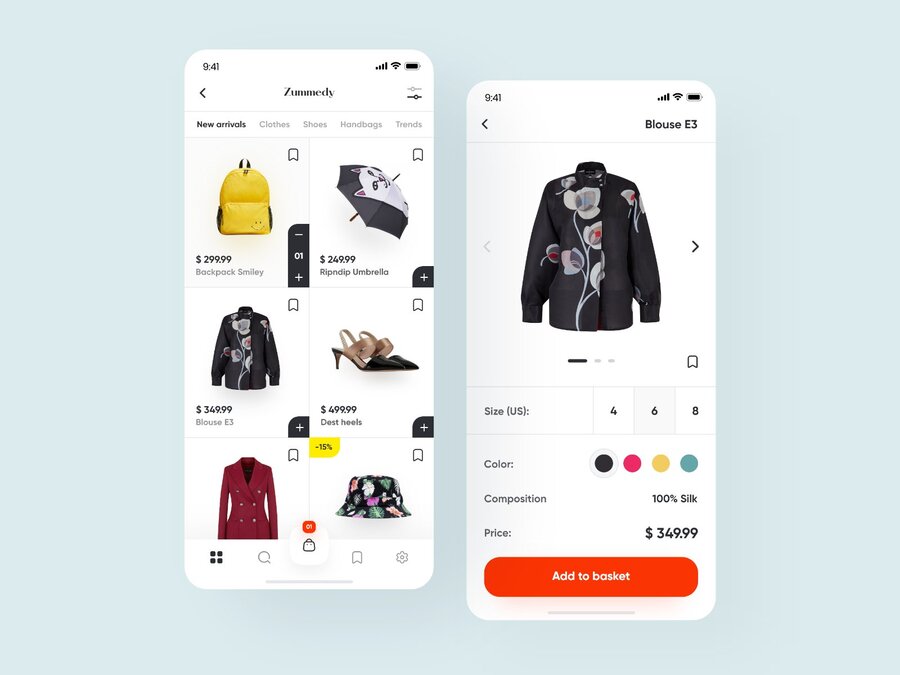 The best practice is to allow your customers to choose the layout. This enhances the user experience a lot, as users can control how they browse through your catalog.
6. Product pages
Each product in a catalog has a separate page with information about it. This page should include:
Product image
Price
Description
Reviews
Add to Cart button
7. Advanced search & filters
Product search should be conveniently divided by categories. It's good practice to add smart search to your app that can predict what the customer is typing in.
However, filters are the main way that customers search for products: by price, kind, color, and other characteristics.
8. Favorites & cart
Your customers should be able to add any product to their favorites or cart. The cart is one of the final stages of the purchase process, and the most common problem for retailers is cart abandonment. You can minimize cart abandonment by adding bright call-to-action buttons and offering discounts.
9. Push notifications
Push notifications are one of the greatest advantages of mobile apps. They're instant and bright, and the open rate for push notifications is quite impressive according to studies. With push notifications, you can communicate with your customers, encourage them to buy, and inform them about bonuses and discounts.
Push notifications also help to prevent cart abandonment and encourage sales by informing users that a product from their favorites is now cheaper or back in stock.
10. Loyalty programs
Loyalty programs are an effective marketing tool that drives sales. Personal profiles of your customers should include main information about the loyalty program and bonuses, and also discounts should be displayed in the cart. For example, if you offer a 10% discount for your customer, this should be subtracted from the sum in the cart, and your customer has to see exactly how much money are saved.
11. Product ratings and reviews
Ratings and reviews are a must-have: people are less likely to buy a product online if they haven't seen it in person. With online shopping, often the only thing customers can rely on are the opinions of other people who have already tried the product.
12. Communication with sellers
Your customers should be able to connect with sellers in case they want to add comments to an order or ask something about a product. To allow for this, implement chat functionality in your app or connect your app to a messenger like WhatsApp or Telegram.
13. Payments
Payment support is one of the most important features in a retail app. Your app has to handle payments quickly and easily, as most users will not complete a purchase if something goes wrong during checkout.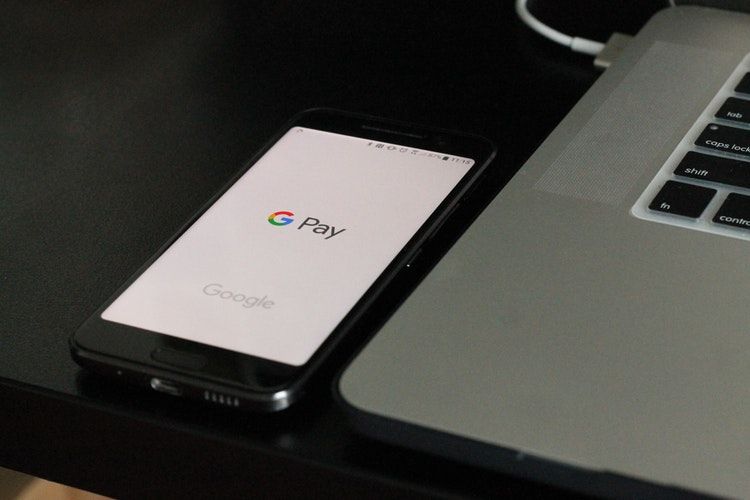 If you own a marketplace with hundreds of sellers, adding a third-party escrow service that will hold money until products are delivered is a great idea. This will increase trust and loyalty toward your business.
14. Order and delivery status
After an order is placed, you need to inform your customers on its progress: it's common practice to send a push notification when an order is sent and include the estimated time of delivery. When the product arrives, you should also send your customer a message.
15. Order confirmation
After a customer gets a product, they need to confirm the delivery and have the ability to place a complaint if something is wrong with their order.
16. Analytics
Analytics is one of the most important features in a mobile app for retail. Actually, a whole app won't make sense without it, as without data you have no idea how your customers react to your marketing campaigns and approach your business.
Analytics can tell you who your customers are, how they behave, what problems they face, and what products they like most. This allows you to tailor your marketing campaigns according to users' needs and provide the best service possible.
These are all the features you'll definitely need in your retail app. They'll cover all your customers' needs, but as they're are pretty much standard across all ecommerce applications, you might want to add something more.
Additional features
Here are some possible killer features for your app. If you wonder how to build an online shopping app that will stand out from the crowd, consider adding these features.
17. Augmented Reality
Augmented Reality (AR) is one of the hottest trends right now, and adding AR capabilities to your retail mobile app can make it really outstanding.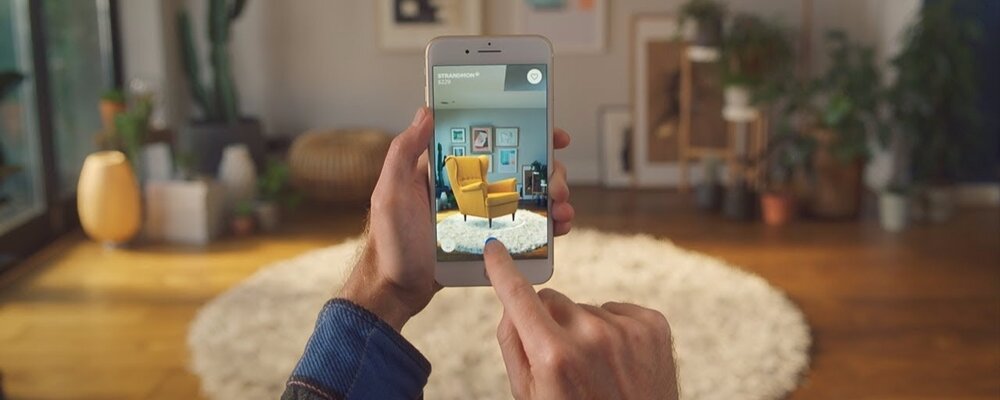 AR has lots of capabilities, and you can use it creatively for your marketing campaigns. For example, you can allow users see 3D models of your products or even place them at their homes. Also, AR can allow flat pictures on your leaflets become alive.
18. Gamification
Gamification is one of the most effective marketing strategies. Some top retail companies use gamification to increase loyalty and engagement and boost sales. You can also mix gamification with AR and make a virtual game.
19. Maps (for offline stores)
If you own brick-and-mortar stores, you should definitely integrate mapping into your mobile app.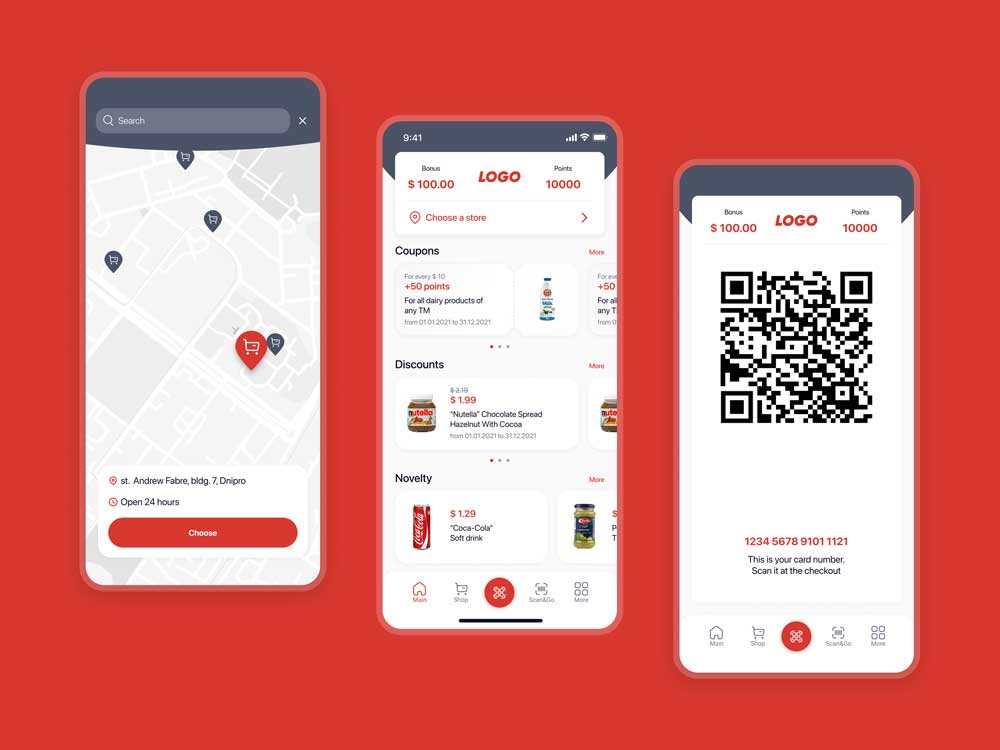 With a map, your customers will be able to see nearby shops along with their working hours and directions to them.
20. Blog
A blog is useful for promotion. For example, if you sell or rent out clothes, it's a good idea to post guides to style and tell your customers what's new and trendy this season.
21. Voice search
Voice search is a trend that isn't going anywhere soon. Top companies including Google, Apple, and Amazon are working hard on their voice assistants. You can integrate voice search as well: this is a winning move.
Now you know how to make a shopping app and what features you should add to make your app really awesome. Now let's discuss how much it might cost to develop each of them.
Cost to build a mobile shopping app
The cost of developing a shopping application for one platform can lie anywhere between $25.000 and $200.000 and higher. Let's figure out what factors exactly influence the cost of your shopping app.
Factors that determine the cost of e-commerce app development
The cost of any mobile app development depends on these main factors:
Tech stack
Number of features
Overall app complexity
Design complexity
Your development team size and hourly rates
The online shopping app cost very much depends on the hourly rates of the team you hire. This is why many companies prefer to outsource their projects, as hourly rates depend on the country and company you choose. Here you can see hourly rates in different regions:
Shopping app cost in the US or UK is quite expensive. At the same time, you can save money if you build a shopping app in Eastern Europe, as it is much cheaper for the same quality of work.
How much does it cost to develop a shopping app? Let's look how many days it takes to develop each feature.
| | | |
| --- | --- | --- |
| Feature | Days min | Days max |
| Onboarding | 2 | 6 |
| Personal profiles | 2 | 4 |
| Landing page | 1 | 3 |
| Product catalog | 1 | 4 |
| Product pages | 3 | 6 |
| Advanced search & filters | 2 | 4 |
| Favorites & cart | 2 | 6 |
| Loyalty program | 2 | 8 |
| Push notifications | 2 | 8 |
| Communication with sellers | 2 | 10 |
| Product ratings and reviews | 2 | 4 |
| Payments | 2 | 7 |
| Order and delivery status | 2 | 5 |
| Analytics | 5 | 30 |
| | | |
| Voice search | 5 | 30 |
| Augmented Reality | 20 | 120 |
| Gamification | 20 | 80 |
| Maps (for offline stores) | 2 | 5 |
| Blog | 2 | 8 |
This is a very rough estimate that doesn't cover other costs such as project preparation, release, time spent on communication, and other details that support the shopping app development process. As you can see, it takes time to develop a shopping application, but you should be ready to maintain it afterwards.
Final thoughts
Now you know how to make an online shopping app. Apart from app features, there are some other things you need to consider to make your app great.
Chances are you also have a website. Make sure that your app is similar to your website in terms of design and colors. Also, make sure that actions are synchronized across platforms. For example, if your customer adds some products to their cart in the app, they should also appear in the cart on the desktop website. Many people prefer to choose products via mobile apps but make purchases on a website. A seamless experience across platforms improves the user experience and increases sales.
You should also optimize the loading time of your app. While mobile apps in general load much faster than mobile websites, it's still important to optimize the loading time. As there will be many images in your app, make sure you compress them. Also, don't add overly complex animations. Remember that your customer's goal is to choose a product and buy it. If animations don't help with that, don't add them just to be fancy.
If you want to create a shopping app, you can trust your project to Mobindustry. We've already worked with a multimillion-dollar European retail company. The mobile app we built allowed their business to increase revenue and get a new audience.
Rate the article!
🌕 Cool!
🌖 Good
🌗 So-so
🌘 Meh
🌑 …